How It Really Feels To Dissolve Your Face Fillers (And How Long It Takes)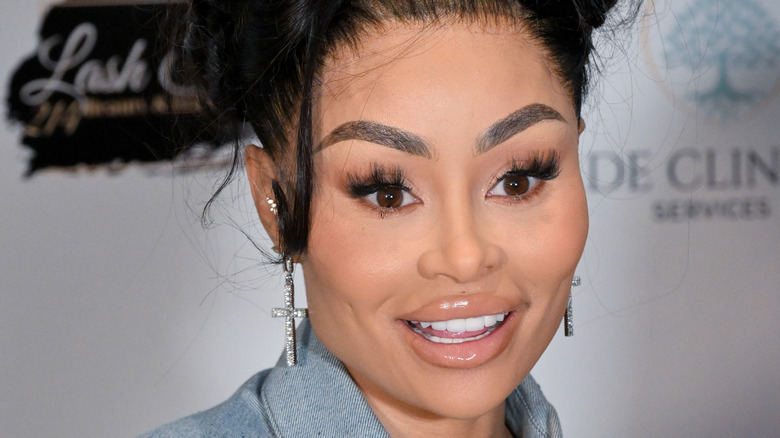 Paras Griffin/Getty Images
Getting any type of cosmetic procedure done can be extremely exciting. Whether it's Botox or a nose job, these types of surgical and non-surgical beauty techniques can be just the boost your self-esteem needs. Nevertheless, sometimes it is the reversal of these procedures that makes you feel better about yourself. In fact, one such correction has been in the news recently, leaving many injectable fans considering switching up their looks.
Instagram influencer Angela White, popularly known as Blac Chyna, made headlines when she revealed to her nearly 17 million followers that she was dissolving her face fillers. After being thrust into the spotlight in 2011 when she began dating rapper Tyga, she built a friendship with rapper Nicki Minaj after appearing in several of her music videos.  Throughout her career, her dramatic cosmetic surgery has often been the highlight of her allure. Now, Chyna is aiming for a more natural appearance, and that includes dissolving the fillers that have given her perfectly rounded cheeks. This change has left many wondering if removing their fillers is worth the trouble.
Only hyaluronic acid-based fillers can be dissolved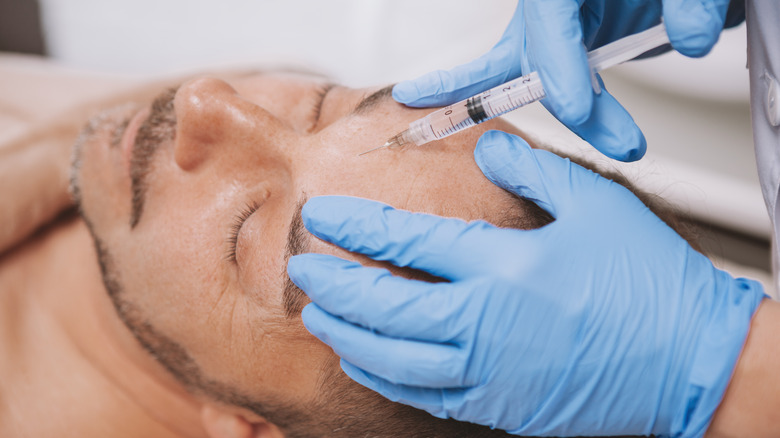 Ihor Bulyhin/Shutterstock
While several types of fillers exist, such as Calcium hydroxylapatite used in Radiesse, only those that use hyaluronic acid can be successfully dissolved. Fillers that are not hyaluronic acid-based must be surgically removed, though that process can be extremely complex, requiring a high level of skill and pre-surgery examinations. Some patients elect to brave the risks due to complications or a desire to go enhancement-free.
For those who've gone the hyaluronic route, an easier removal awaits. A licensed administrator can inject hyaluronidase into the area containing the fillers. The hyaluronic acid is then broken down through a process known as hydrolysis. While Blac Chyna reported seeing a difference immediately, it could take up to two weeks for the filler to be completely dissolved. The American Board of Cosmetic Surgery recommends allowing the body to absorb the fillers on its own, but for those unwilling to wait, manual removal can be the best choice. It's important to keep in mind that even the least dangerous fillers can come with risks that could outweigh the benefits. 
Dissolving your fillers may come with its own issues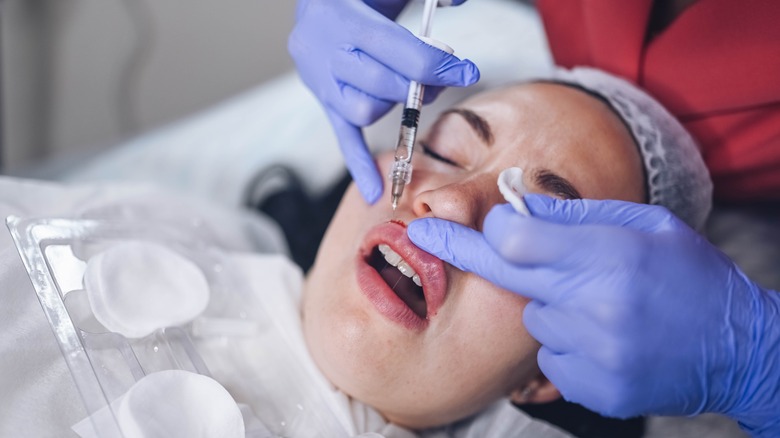 Alina Troeva/Shutterstock
Removing fillers could also come with its own set of problems. When using hyaluronidase to dissolve hyaluronic acid fillers, there is a chance some may be left behind. As a best practice, Dr. Eman Abdallah, founder of Emana Medical in Beverly Hills, told InStyle that she massages the area where the hyaluronidase is applied to disperse it evenly. Per Dr. Abdallah, this helps to ensure the enzyme touches all of the filler, resulting in a near-total removal.
If fillers require surgical removal, there is a good chance that not all the filler can be taken out surgically. As London Facial Surgery confirms, in some instances, filler can attach itself to nerves, creating a possibility for nerve damage. Visible surgical scars may also be a post-surgery concern. If a patient has gotten black market fillers, which are typically made of liquid silicone or similar substances, the risks are even greater. These removals could require multiple surgeries. R&B singer K. Michelle revealed that she underwent 13 operations to remove her black market butt injections on the "Tamron Hall Show." This is due to how they travel from the initial injection site. Unfortunately, these same misfortunes can occur to illicit injections put into the face.
It seems that hyaluronic acid is the safest filler type because it is a body-producing substance. As an added bonus, they're also easy to get rid of. Now, it is up to patients to determine whether or not removal is necessary.