The 2023 CMT Music Awards Is Every Stylist's Nightmare With Four Copycat Looks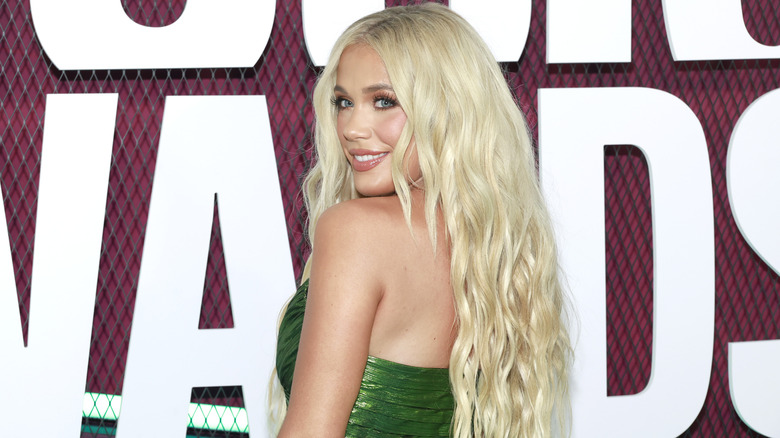 Emma Mcintyre/Getty Images
Nobody wants to show up to an event wearing the same outfit as someone else; it's the entire reason the pre-prom dress coordinating group chat exists. For obvious reasons, folks especially want to avoid this fashion faux pas at a major televised event where fashion is sure to be under a microscope. The biggest country stars are sometimes completely unrecognizable when they hit the red carpet with over-the-top glam looks in hopes of taking home a CMT Music Award or just taking in the love of country music. For four country singers, however, this night turned out to be an unexpectedly coordinated fashion moment. 
Both stars Megan Maroney and Kylie Morgan and Marley Sherwood and Kimberly Kelly hit the red carpet in matching dresses, and it left country fans seeing double . . . twice. While the stars managed to style their gowns differently, it was easy to see that these matching moments were major mistakes and certainly took away from the great fashion choices that were made. So, who wore it best? The jury's still out on that, but regardless, these ladies are likely wishing that they made a different choice in dress for such a big night.
Megan Maroney and Kylie Morgan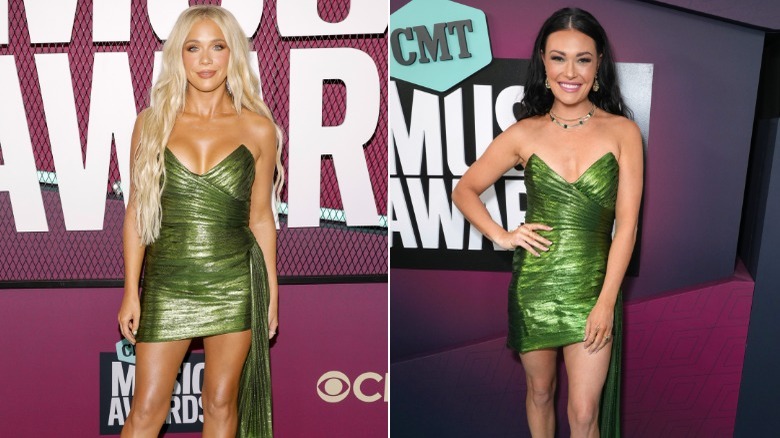 Kevin Mazur/Getty & Jason Kempin/Getty Images
We all know it's not easy being green, but someone should have warned Megan Moroney and Kylie Morgan. We know Megan Moroney for her song, "Tennessee Orange," but we suspect she's feeling more Tennessee green with envy toward Kylie Morgan who stole her green dress' thunder. Not only were these two country stars going head-to-head in the Breakthrough Female Video of the Year category, but they were also going head-to-head when it came to bringing a splash of green to the red carpet.
Both stars came to stun in identical green mini dresses that aligned with the night's theme of major metallic moments. To make the matching mistake even more noticeable, both singers paired the asymmetrical strapless number with high-heeled metallic green strappy sandals. 
While it was hard to ignore the fortuitous twinning, there were a few differences with how the country crooners chose to style the dress. Moroney let her long blonde locks be the star of the show, as her hair was kept down in waves and pushed in front of her shoulders with minimal jewelry. "If He Wanted To He Would" singer Kylie Morgan kept her hair behind her ears and paired it with a dainty necklace and earrings. 
Kimberly Kelly and Marley Sherwood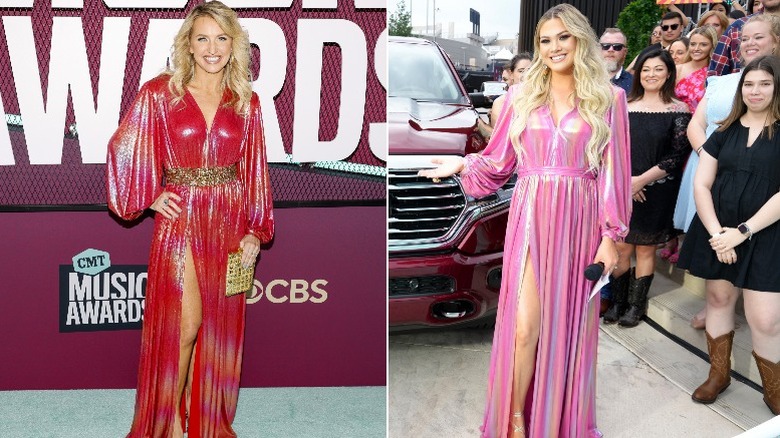 Jason Kempin/Getty & Jeff Kravitz/Getty Images
While this matching moment was a little less obvious, it's safe to say that Kimberly Kelly and Marley Sherwood were seeing red (and pink) when they noticed they were dressed in matching attire. Both singers paired their loose platinum blonde curls with the same long-sleeved, metallic gowns.
Unlike the evening's other matching pair, these two managed to pair their coordinated dresses with different footwear. Additionally, Kelly rocked the dress in a fire engine red hue paired with a sparkly gold belt, while Sherwood opted for a bubble gum pink version with minimal accessories. 
While it's easy enough to tell these two looks apart, they definitely made a bit less of a splash as a result of showing up in the same outfit. Still, it's safe to say that these stars are all good sports and know that they're all truly one-of-a-kind –– even if their dresses aren't.