Look For One Hydrating Ingredient To Give Your Hair's Volume A Major Boost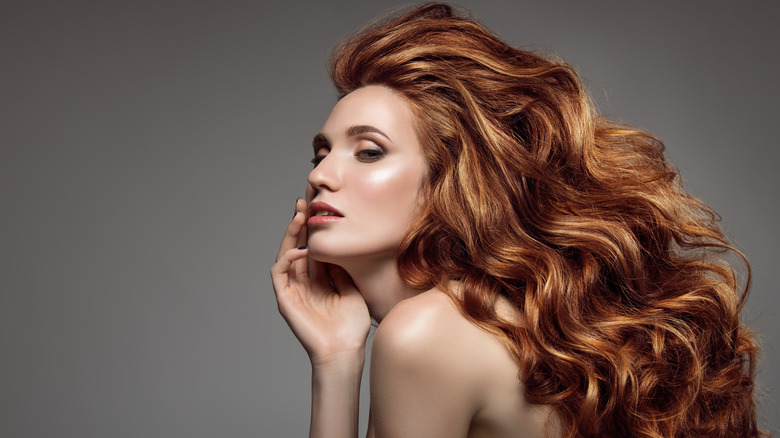 YuriyZhuravov/Shutterstock
We may receive a commission on purchases made from links.
If you struggle with dry hair, you know just how difficult it can be to achieve a full, voluminous look. Whether you're going for the '90s supermodel blowout or the faux out blowout, having hydrated hair is vital to nailing the look. 
There are plenty of haircare products that claim to hydrate and add volume to your locks, but there is one ingredient you should keep an eye out for when purchasing your next staple item. Panthenol is an ingredient that is often found in hydrating hair treatments and products that gives the hair a major moisture boost.
According to the National Library of Medicine, "Panthenol is an alcohol derivative of pantothenic acid, a component of the B complex vitamins." There is an endless list of benefits that make panthenol a haircare ingredient to look out for, including that it gives your hair more moisture. And hydration is key to achieving bouncy, voluminous hair. 
Panthenol hydrates and strengthens the hair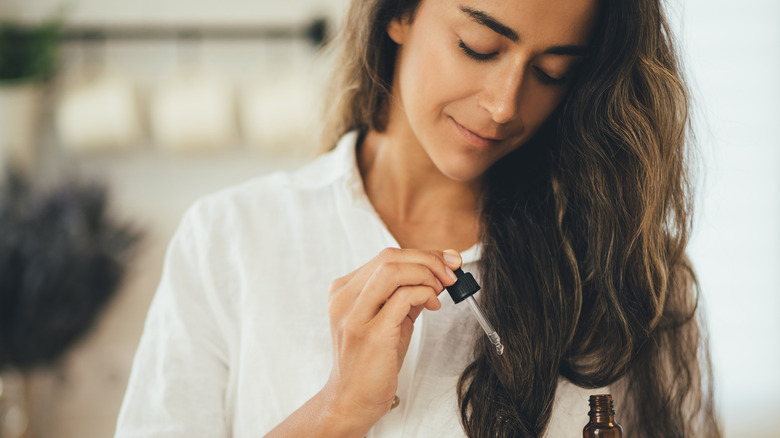 polinaloves/Shutterstock
Brendan Camp, a double-board certified dermatologist, tells Byrdie: "Panthenol acts as an emollient, soothing cracks in rough skin and hair. Panthenol is also good for rough textured hair because it can smooth out imperfections in the hair shaft."
A study that tested panthenol and other ingredients found that panthenol may help slow down and reduce the appearance of thinning hair. It can also help to improve your hair's suppleness by intensely moisturizing it (via Byrdie). Since panthenol penetrates deep into the shaft of the strand, it strengthens the hair and makes it less prone to breakage. This is great if you use heat styling tools and products on your hair regularly. According to Prose, this staple ingredient works to prevent fraying, splitting, and frizzy hair by locking in moisture and leaving the hair with a glossy shine. When your tresses strong, hydrated, and smooth, you'll be able to get a lot more volume from your locks.
How to find the best panthenol products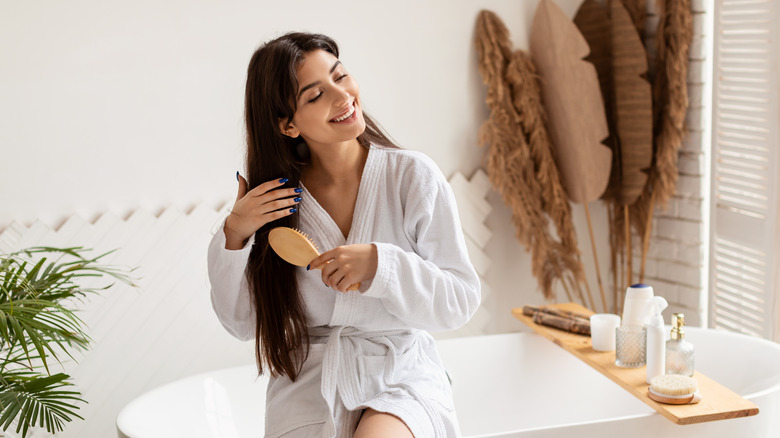 Prostock-studio/Shutterstock
If you're on the hunt for products with panthenol, look for those that have panthenol listed closer to the top of the ingredients list. Products that have panthenol lower on the list won't be as effective as those where it's closer to the top. Expert Dr. Brendan Camp advises that the ingredient be present at least one percent within the formula for the best possible results (via Byrdie).
When it comes to locking in moisture after your shampoo routine, we recommend Briogeo's Don't Despair Repair Super Moisture Conditioner. This conditioner uses panthenol, algae extract, and argan oil to intensely hydrate the hair and restore breakage. For a moisturizing treatment, we recommend trying Oribe's Signature Moisture Masque. This nourishing mask uses panthenol and Japanese bamboo to revive your locks and give you shinier, healthier hair. To give your scalp a little TLC, try the Nécessaire The Scalp Serum, which is fragrance-free and will hydrate both your scalp and hair.