Nail Growth Serums Are The Secret To A Long, Healthy, Natural Set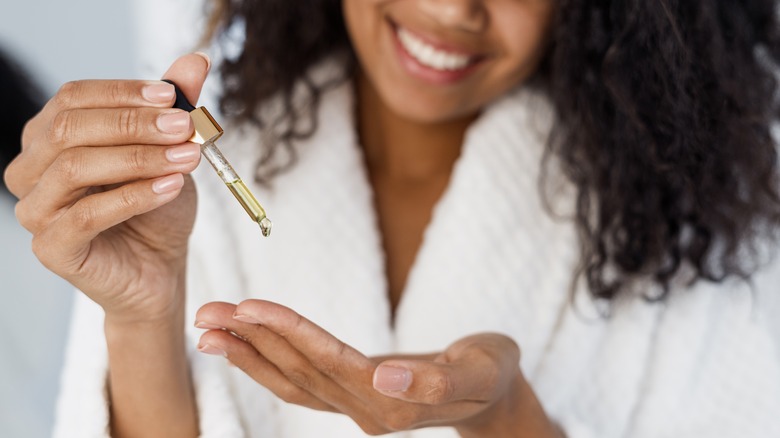 brizmaker/Shutterstock
We may receive a commission on purchases made from links.
Tired of covering up damaged nails that just won't grow with acrylics and press-ons? It's time to consider adopting this doctor-recommended practice that can help you kiss breakage-prone nails goodbye. The number one trick to activating your healthiest nail set is incorporating a high-quality nail serum into your everyday beauty routine. Not only do these serums boost the overall appearance of your nails, but they also improve your fingernail growth rate and strength. 
As one of life's little luxuries, nail serums work overtime to tackle common issues in cuticle care, like brittleness and peeling. They supply nails with the vitamins and proteins needed to finally cut ties with breakage and say hello to naturally beautiful nails. We're breaking down some of the best nail serums for damaged nails, what ingredients to look out for, how often you should apply nail growth serum, and who might benefit the most from their use. 
Ingredients to look for in nail growth serums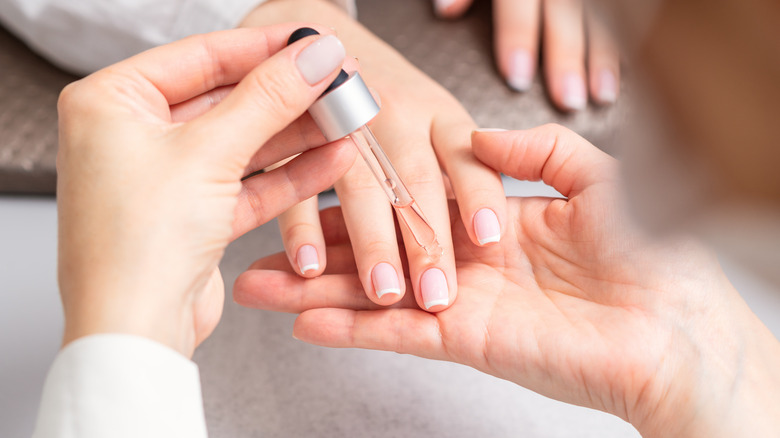 Michelle Aleksa/Shutterstock
Coating your nails with a nutrient-dense serum can be the fastest way to get your fingernails looking beautiful and healthy, especially if you're using a serum that's formulated to tend to your specific needs. If you're looking to increase the rate of your fingernail growth, then try out a product containing biotin, like Sally Hansen's Miracle Nails. Alternatively, you could opt for a nail-hardening product with keratin in it, like Nail Aid's 3-Day Growth serum. For a treatment that combines hydration with nail growth, find a product that consists of keratin and hyaluronic acid, like Typology's Hand & Nail Serum.
To combat brittle nails, board-certified dermatologist Dana Stern, MD, recommends buying products containing plenty of phospholipids. In her interview with Glamour, Dr. Stern suggests to "massage [the product] into your cuticles several times daily, and if doing a lot of handwashing, you may do after each wash." The founder of nail care brand Sundays, Amy Ling Lin, shared a similar sentiment in her interview with Glamour, noting that "very similar to skin care, your cuticles need a daily moisturizer." 
The difference between moisturizers and serums, though, is how deeply they sink in, with serums penetrating more layers compared to moisturizers due to their thinner consistency. The best order to apply moisturizers and serums is to coat your nails with a serum first and add a hand moisturizer on top for maximum hydration.
Who would benefit the most from nail serums?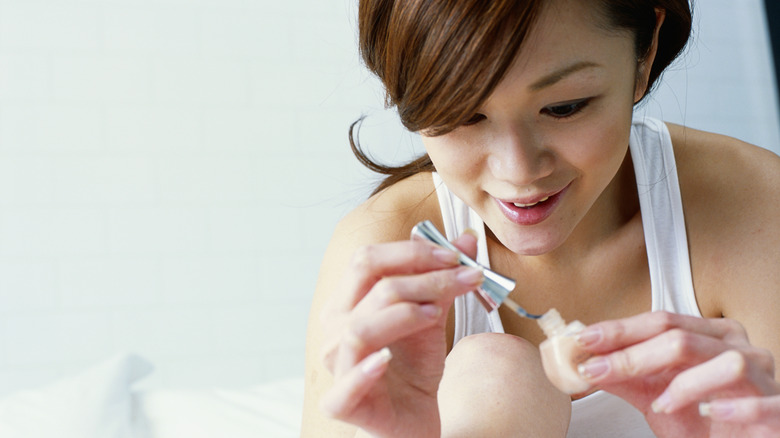 Ryuichi Sato/Getty Images
Poor fingernail health isn't just caused by bad habits, like peeling off gel polish or nervous nail biting. In fact, dry and brittle nails can be a sign of issues occurring within the body. WebMD cites aging, malnutrition, anemia, cancer treatment, and low thyroid levels as catalysts for damage-prone fingernails. If this is the case for you, applying a nail serum every day will work to enhance your nails in conjunction with whatever else your doctor orders. 
Luckily, the appearance of nails can be transformed quickly with nail serums. "If someone has brittle nails or breakable nails, it can be cured within two to four weeks by using nail-strengthening products, taking vitamins and minerals as well as monitoring your lifestyle," Amy Ling Lin shared with CNN. Nail serums are a beneficial part of any nail maintenance routine, whether you refresh your manicure every two weeks or are just starting to consider the benefits of cuticle care.