Ditch Your Eyebrow Pencil For Your Self Tanner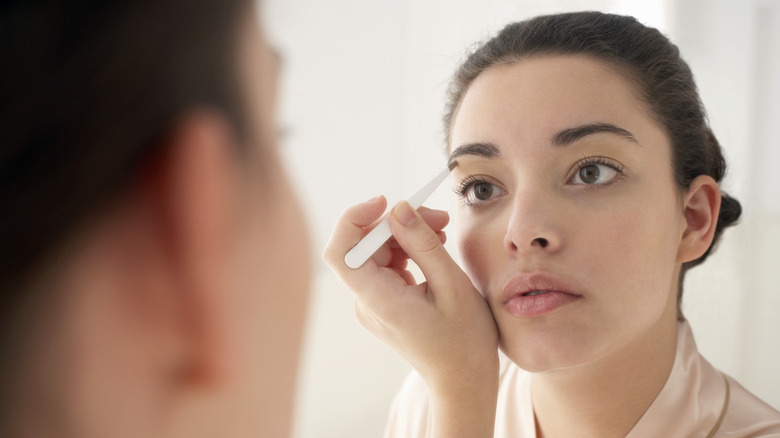 Christopher Robbins/Getty Images
When doing your makeup or maintaining your brows, there are probably some eyebrow mistakes you don't know you're making. Let's face it, eyebrows are one of the most difficult parts of the makeup routine, whether your go-to is filling in, tinting, tweezing, or all three.
Now, TikTok, the home of many beauty hacks, has come up with a new eyebrow trend that involves self-tanner. Dubbed the "fake tan eyebrows" trick, the makeup hack uses self tanner to fill in and tint your eyebrows. It may sound crazy, but the hack supposedly acts like a semi-permanent eyebrow tint, meaning it could be good for short vacations or city break trips. This doesn't mean you should jump straight in, though. Using self tanner can be tricky to get right, and the last thing you want is to end up not being able to leave the house for days. 
Just like there are some things you should know before using self tanner on your skin, here's everything you need to know about swapping out your regular eyebrow pencil for tanner.
This hack could potentially give you the eyebrows of your dreams
If you're thinking of giving it a try yourself, TikTok has you covered with tutorials like this one from @tiktokteenagers, aka Cece. In Part 1 of her journey trying out self tanner on her eyebrows, Cece plucked her eyebrows to prep them and then used an angled brush to apply a thick layer of tanner to each eyebrow. Once applied, she cleaned up the excess tan with a Q-tip and went on to brush them out for even self tanner application. Cece also mentions that she wiped off some of the tanner at the end of her eyebrow near her nose about an hour in so they wouldn't appear "too dark." 
In total, she left the tan on for approximately three hours to give it time to sink in. She removed the tan from her eyebrows using micellar water on a cotton pad and then brushed out her eyebrows. The after look is surprisingly not orange, but instead looks relatively natural. However, the hack clearly doesn't work for everyone.
Make sure to tread lightly when trying the hack out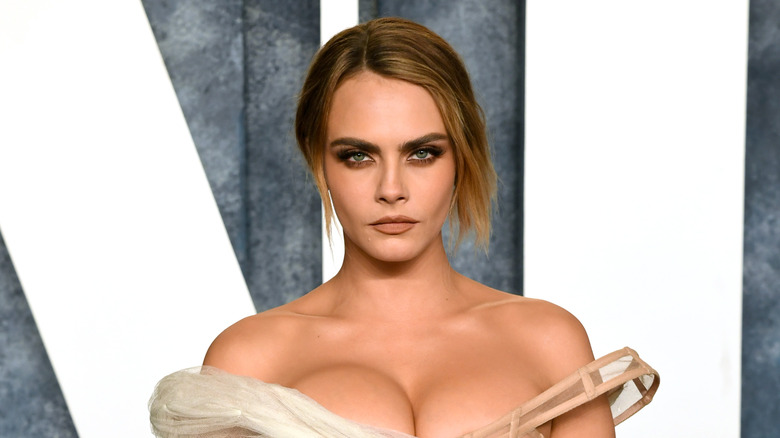 Jon Kopaloff/Getty Images
Speaking to Refinery29, Jules Von Hep, founder of tanning brand Isle of Paradise, says he definitely does not recommend the self tanner hack "for those with pale skin and fair eyebrows" as well as redheads. Even if you have darker skin and brown eyebrows, Von Hep recommends proceeding cautiously due to the "concentrated application" of the tanner on your eyebrows. Keep in mind that you only need a tiny amount for your eyebrows when compared to the amount you would use to cover different areas on your body. In general, Von Hep says the self tanner eyebrow hack will work best if you have dark skin and dark eyebrows, as the tan won't stain your skin as much.
The bottom line is that this hack is a good way to tint your eyebrows for a few days at a time. However, it will only work for a select few people due to tanner being designed to be naturally dark. Plus, if you have blonde, red, or light brown hair, the tanner could very quickly turn orange due to the higher concentration.