Scent-Scaping Is The Trend That Promotes A Healthy Work-From-Home Environment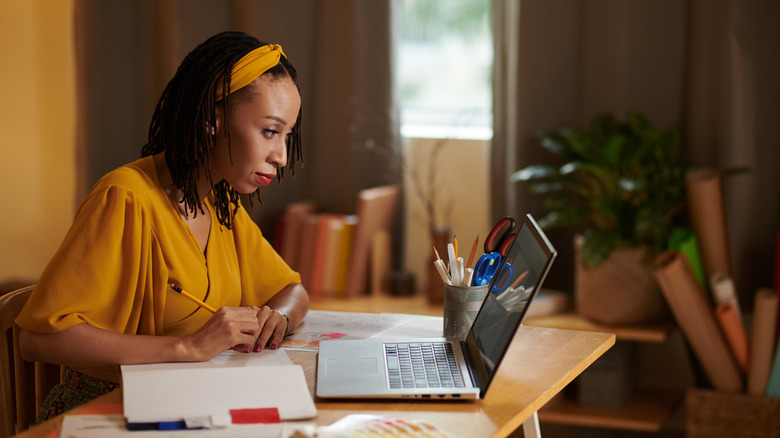 Dragonimages/Getty Images
We may receive a commission on purchases made from links.
Work-from-home is an art that most companies seem to have perfected by now. The COVID-19 pandemic first necessitated it, the long lockdowns that followed normalized it, and now some workplaces have even embraced the concept — or a hybrid version of it — over the traditional office concept. It's not difficult to see why. Companies save on overhead costs, employees spend less on commuting, and people are able to be flexible about how they work and do life during the day. 
Even so, the challenges of living and working in the same environment are real. For most, this means focusing on creating a designated office space that helps with work-from-home mental health. It also means learning to switch off when work is done and moving to spaces within your home that help you accomplish that. If you've been doing work-from-home since lockdown first started or you've got a remote job, you understand the value of having separate spaces within your home for work and play. It could look like a desk and chair in the living room that holds your laptop and notebooks or a proper office room positioned on the far opposite end of where the bedroom is.
Even with designated spaces within the house, it can start to feel like your home life and work are melding together. Enter scent-scaping or fragrance-layering, a pandemic-born trend that's kicking things up a notch. 
Scent-scaping is all about creating fragrance zones and it's great for work-life balance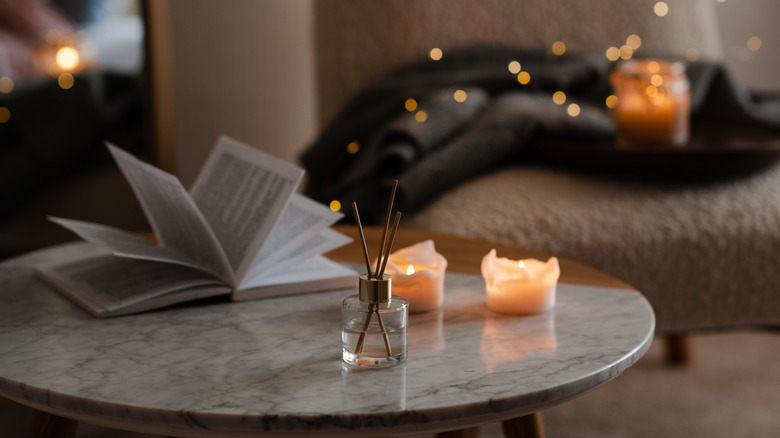 Morrowlight/Getty Images
Noses have a mind of their own. Even science says so. According to Cellular Biology Director of the Center for Brain Science at Harvard, Venkatesh Murthy, our olfactory senses are closely connected to our emotions and memories. This is probably why the scent of a particular perfume takes you back in time. 
Scent experts and interior designers think harnessing the power of scent can help craft a healthy work-from-home environment too. As founder of Floral Street Fragrances Michelle Feeney explained to Glamour, "Homes now realise so many functions, offices, family pods, and entertainment spaces, and it can be challenging to separate areas of your life. Aromas can help you switch between, work, leisure, or family time and enhance how you feel every day." 
The idea is to separate your home into different zones of your choice and to assign a fragrance to each. You want to unlock the emotions and states of mind you want to accomplish the tasks you want in those spaces — whether that's better sleep, more productivity, or an invigorating workout session. The fragrances can be old favorities or you can try switching things up. You can use candles, electric diffusers, linen sprays, essential oils, or even fresh flowers. Candles offer a magical touch with their flames while electric diffusers give a more long-lasting scent. Essential oils, on the other hand, have a therapeutic feel to them.
Which scent should you choose for a healthy work-from-home space?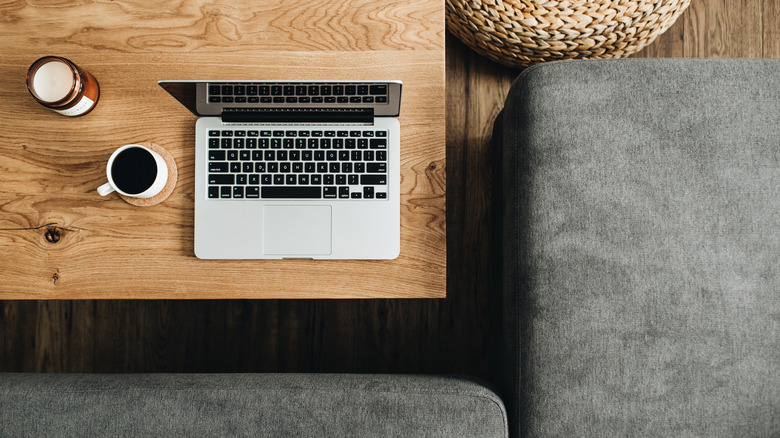 Floral Deco/Shutterstock
Scent-scaping for a work-from-home environment doesn't have to be complicated. The first step is to visualize your daily routine and to plan for it, The White Company's Chief Creative Officer, Mark Winstanley, told Homes & Gardens. What kind of energy do you want in the living room, bedroom, and working space? Do you want your fragrances to complement the interior design? Scent is very subjective, so you may want to spend some time experimenting. Winstanley recommends the popular energizing scents for a healthy work-from-home environment — ginger and citrus. Citrus notes come recommended by most scent experts for office spaces, workout rooms, and even as a general mood enhancer. The Jo Malone Orange Blossom Home Candle is perfect for your work space. So is the Majestic Pure Citrus Essential Oil Blend. 
Once you're done with work, you'd likely move to the living room or bedroom and the fragrances of vanilla, lavender, or juniper here can set the relaxing environment you crave. If you want to do some reading after work, find a quiet space in your home that can bring the earthy smell of a library to you. A candle or room spray with hints of cedarwood and vanilla is one option. 
Layering perfumes for a signature scent isn't an art reserved for nights out in the town. The scent-scaping trend for your home is perfect for creating efficient spaces within a home.