The Reality Behind Viral Amazon Dupes
fizkes/Shutterstock
There's no better feeling than knowing you snagged yourself a good deal on a good product you've been eyeing for a while. Everyone loves saving money, and the better deal, the greater the sense of accomplishment. A dupe, short for duplicate, refers to a cheaper alternative to a brand-name or luxury product.
Videos with the hashtag #amazondupefinds on TikTok have over 197 million views and continue to climb, with more and more people hopping on the trend. From Lululemon and Alo Yoga to Rare Beauty and Charlotte Tilbury dupes, if a brand-name product goes viral on social media, you can be sure there's an Amazon dupe for it. According to The Atlantic, some dupe TikTok videos aim to de-influence people from buying expensive, unnecessary products, but opting for dupes has its own set of consequences.
Although Amazon dupes can be a great way to save money, the products do come at a cost to small businesses and individual sellers.
Amazon took advantage of third-party sellers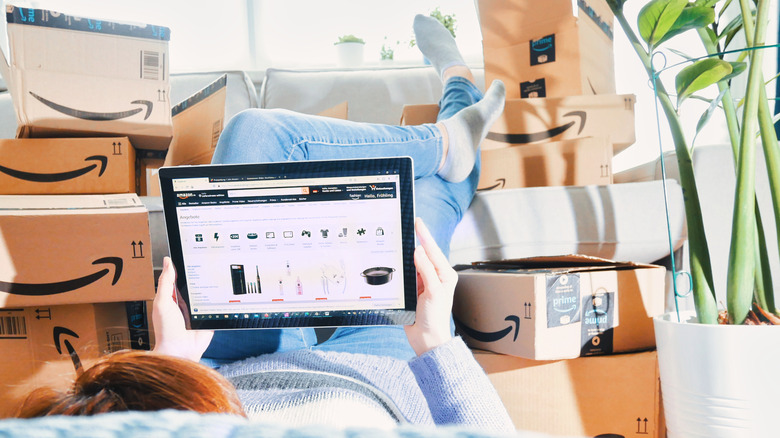 Elpisterra/Shutterstock
According to Reuters, thousands of pages of internal documents showed that Amazon's private-brands team in India would copy products that other companies were selling on the platform and sell them themselves. They would then manipulate search results to ensure their products appeared in the first few results. The private-brands team would even use the same manufacturer as their competitors to replicate their products exactly. This would negatively impact individual sellers who were selling their own unique products, as their sales would drop when people were directed to Amazon's cheaper alternatives.
In 2017, Lina Khan, the chair of the U.S. Federal Trade Commission, wrote the paper "Amazon's Antitrust Paradox," where she stated that third-party sellers take the risks of introducing new products while Amazon waits until they are successful in replicating them, thus creating an unfair marketplace. While Amazon may be taking advantage of sellers on its platform, there are a few ways you can help support smaller brands.
How you can help individual sellers and small businesses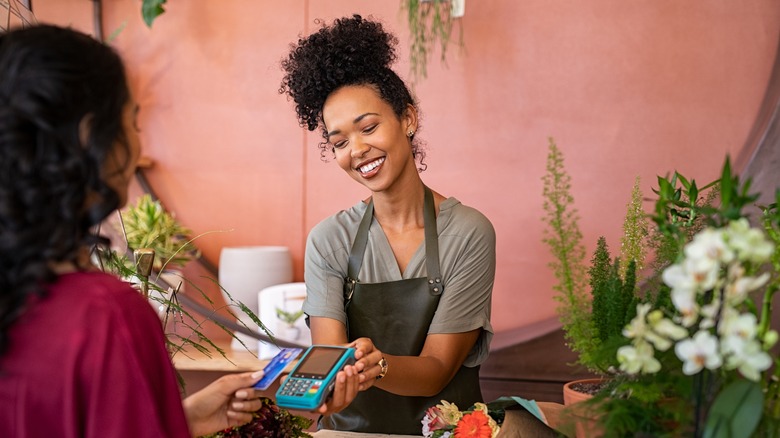 Ground Picture/Shutterstock
If you want to be more conscious about the products you buy and start supporting independent sellers, you can take some simple steps to shift your shopping habits. By practicing mindful shopping, you can help curb unnecessary spending and buy products from brands whose values align with yours. Per Meet Reflect, mindful shopping is a mindfulness practice where you remain aware and reflective while shopping to avoid impulse spending. When searching for a product, look for local businesses and sellers in your area. Supporting a small business helps them continue to thrive and is a great way to invest in your community.
When scrolling through social media apps like TikTok, be conscious about the videos you're watching. Consistently watching product roundups and dupe videos will encourage you to buy things you might not even need. By being conscious about where you buy your products, you can help support individual sellers and small businesses that need it.