Eucalyptus Sheets: Should You Make The Switch? What To Know About The Trend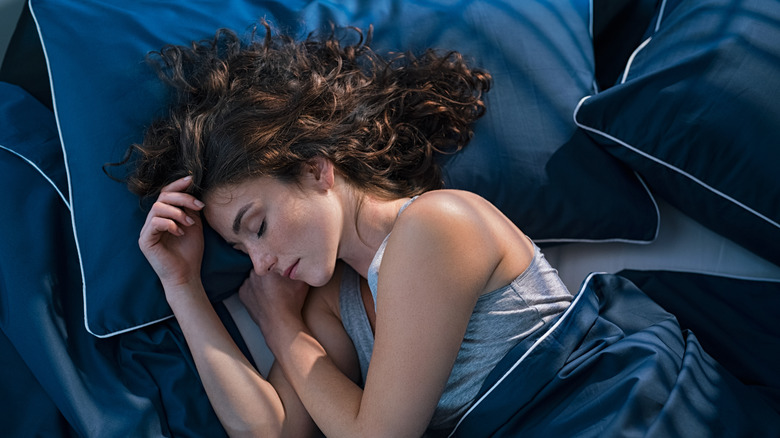 Ground Picture/Shutterstock
We may receive a commission on purchases made from links.
If you're on the hunt for cozy, soft sheets, you've probably come across the many types of bedspreads that are out on the market today. With a variety of cotton, linen, silk, and bamboo options to choose from, it can be tricky to know which set is right for you. There's no better feeling than getting cozy in your bed after a long day, but if your sheets aren't feeling as soft and smooth anymore, it may be time to replace your bedsheets.
Your bedding can have a major effect on how well you sleep during the night, and a study in 2012 even found that 73% of us sleep better on fresh and clean sheets. Eucalyptus sheets are the newest trend that everyone is raving about. And not only are they soft, comfortable, and breathable, but if you tend to sleep hot, you'll benefit from making the swap to these breathable sheets.
The benefits of eucalyptus bed sheets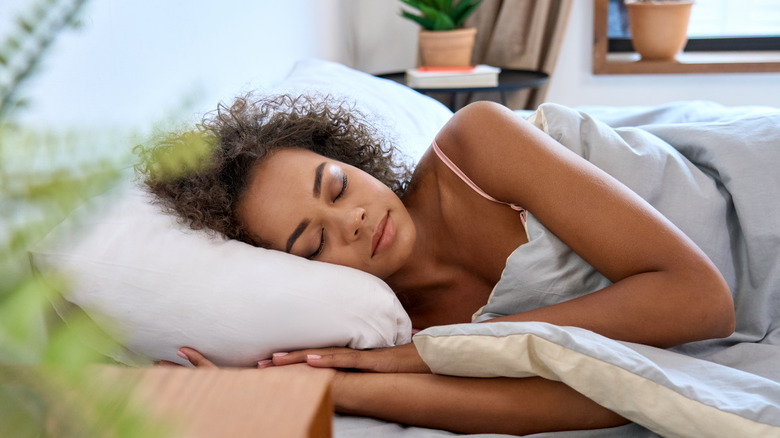 Ground Picture/Shutterstock
Danielle Kelvas, M.D., a Tennessee-based physician and chief medical advisor at Sleepline, tells Forbes, "I encourage patients to buy sheets and pillowcases that breathe well so they don't wake up from overheating." Eucalyptus sheets are designed to keep you dry and cool through the night. James Higgins, CEO of Ethical Bedding, tells The Spruce, "Eucalyptus's ability to wick moisture away makes it perfect for bedding and clothes. Less moisture on bedding means less susceptibility to a buildup of mold and mildew."
Not only are they moisture-wicking, but they can also benefit your skin. Per Cosmopolitan, eucalyptus sheets are hypoallergenic, making them a great option if you suffer from irritated or sensitive skin.
If you're passionate about sustainability practices, then these are the sheets for you. Eucalyptus doesn't require a large amount of water to grow unlike other plants, which makes it a sustainable material. Although the process to make eucalyptus sheets is very intensive, many brands have made a commitment to follow ethical and eco-conscious practices to make their sheets environmentally friendly.
The best eucalyptus sheet options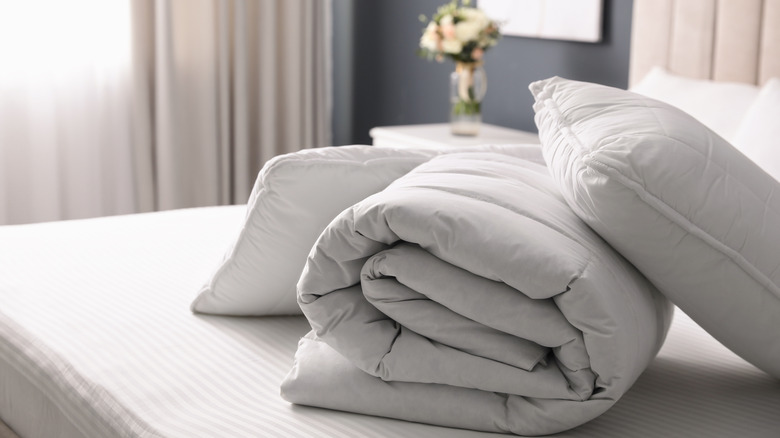 New Africa/Shutterstock
There is a wide range of eucalyptus sheets on the market that can instantly improve your quality of sleep. Many eucalyptus sheets are labeled under the name Tencel, which refers to lyocell, the fabric that is made from sustainably sourced eucalyptus. 
For the best value, we recommend the Olive + Crate Eucalyptus Tencel Fiber Sheet Set. These ultra-smooth sheets come in a variety of colors and will keep you cozy and cool all night long. If you're willing to splurge on your bedsheets, we recommend buying the Sheex Arctic Aire Max Sheet Set. These sheets are great if you struggle with sweats or run hot through the night, and are luxuriously comfortable for a good night's sleep. For a more budget-friendly option, try the Brielle Home 300 Thread Count Sheet Set. This set comes in 11 color options and is made from organic pure eucalyptus Tencel for a breathable, comfortable sleep.