Ally Sheedy On Going From The Brat Pack To Motherhood In Single Drunk Female - Exclusive Interview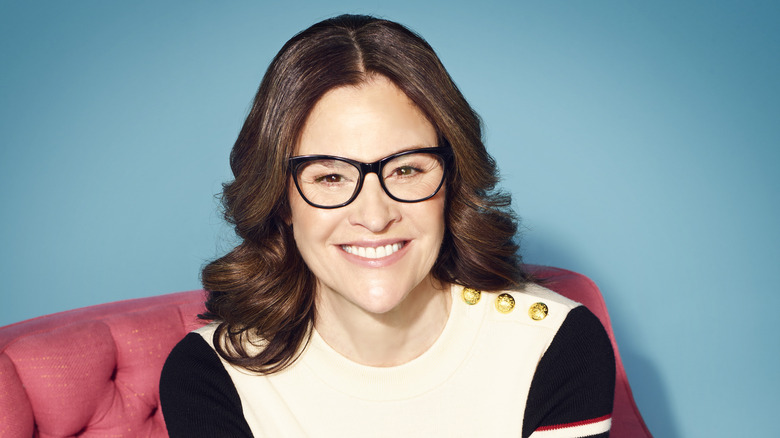 Courtesy of Freeform
Talk to anyone who came of age in the '80s, and they're almost certain to know Ally Sheedy and the movies that shot her to fame as a young actor. As part of the famed Brat Pack, which included such luminaries as Molly Ringwald, Emilio Estevez, and Demi Moore,  she became known for her roles in coming-of-age films including "St. Elmo's Fire" and "The Breakfast Club," where she portrayed conflicted young women trying to figure out who they are and where they fit in the adult world.
But Sheedy didn't want to let these roles define her. She went on the appear in several critically acclaimed independent films, including "High Art,"  and took on the title role in the musical "Hedwig and the Angry Inch." Now, she's balancing her career as an acting professor at the City University of New York with her latest role as Carol, the comically overbearing mother of Samantha, a young woman recovering from alcoholism in Freeform's "Single Drunk Female."  In an exclusive interview with The List, Sheedy shared her journey and what she loves about her complicated character.
If you or anyone you know needs help with addiction issues, help is available. Visit the Substance Abuse and Mental Health Services Administration website or contact SAMHSA's National Helpline at 1-800-662-HELP (4357).
Ally Sheedy felt an instant connection to her character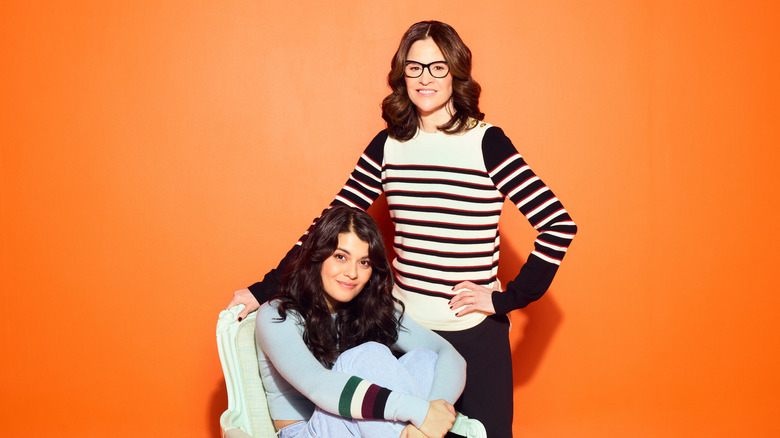 Courtesy of Freeform
First of all, can you tell me how you got involved with "Single Drunk Female"?
I had a meeting with Leslye Headland and Simone Finch, who created the show, and Jenni Konner. They had an idea that I could play Sofia Black-D'Elia's mother in the show. It felt very symbiotic and really great when we all spoke. I read that pilot script and I loved Carol, that character, right away. She felt ... There was something easy about that character for me. Then we did the pilot, and it felt wonderful. Then we got a first season, and now we have a second season.
In your early work, like "St. Elmo's Fire" and "The Breakfast Club," you played people who were a bit like Samantha — angsty young women trying to make their way in the world. Now you're playing the mom of such a character. What's that like?
Well, actually I am 60 and Carol is 60, so I'm using the life experience I have now to play her. When I was angsty and in my 20s, I was using that because that's what I knew.
She brings a lot of her own parenting experience to her role as Carol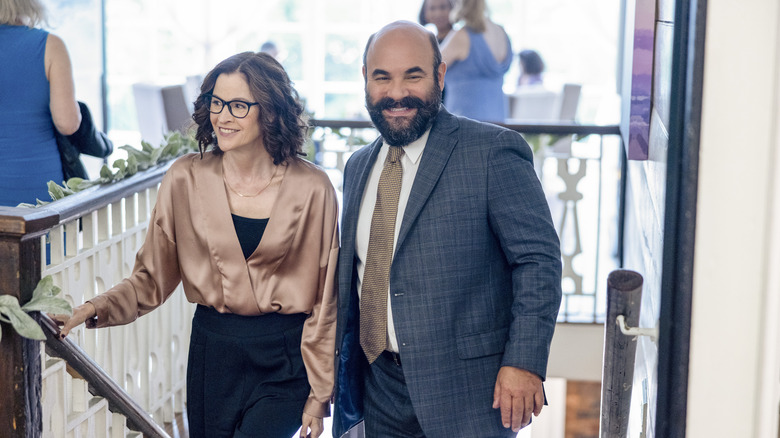 Courtesy of Freeform
You're also the mother of a young adult yourself. Has that real-life experience of motherhood informed how you portrayed Carol?
Yes, yes, yes! Every mistake that I made with my son somehow or other finds its way into something in the show.
Carol has an unusual relationship with Samantha, her daughter. Did you ever imagine the backstory of that relationship — how it came to be and how it evolved as Samantha grew from a little kid to an adult?
Yes. I spent a lot of time going through what the history of that relationship is all the way from way back, and it does come up in Season 2 — some stuff about her childhood, some other things. But it was a very deep dive into what is going on in this relationship now that we're in Season 2. The relationship is what's happening for Carol. Everything going on between the two of them is the whole story for me this season.
Understanding the complexities of Carol's personality took time and thought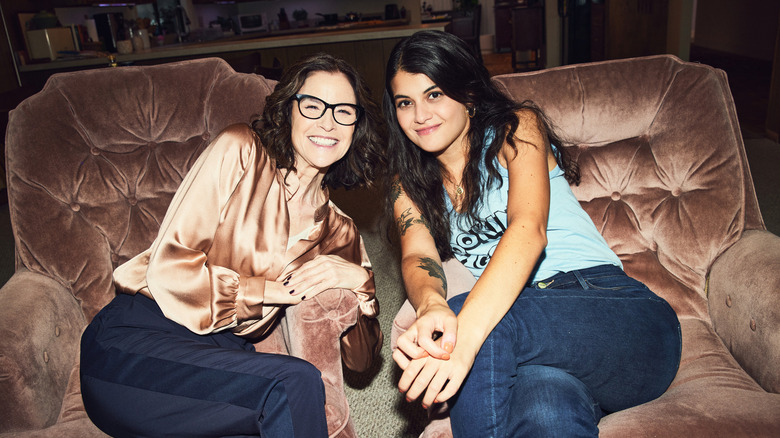 Courtesy of Freeform
Did a lot of your own personal understanding of Carol's character get worked into the script, or have you just been building off of what they gave you?
No, it was a lot of thinking and taking her apart and putting together what's going on with her emotionally. What is this journey? It's really specific for me, and to have it be very authentic because she's in a lot of pain and she causes a lot of chaos while being a control freak ... Interesting how that works. I was tracking that as we went along.
Do you think that Carol's relationship with Samantha has changed or evolved since the last season?
Yes, it evolves during this season. There's a huge difference, which is that Samantha's not getting sober — she now is sober. The focus is off of her drinking and onto functioning in daily life. I don't know who my daughter is when she's not a messed-up alcoholic, and that's in Season 2. I'm figuring out who she is, and I also don't know how to have a relationship with her without being angry at her for not being perfect.
Another change this season is the evolving relationship between Samantha and Carol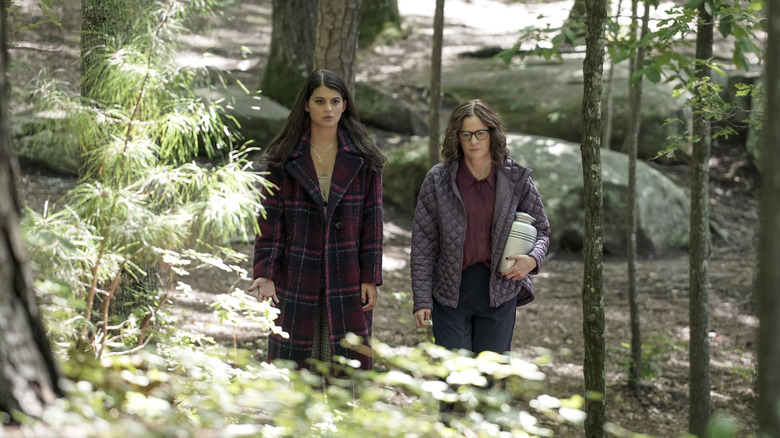 Courtesy of Freeform
Related to all that, Samantha's struggle to say sober is a driving plot feature in the show. Has being on the show changed your understanding of what it means to be an alcoholic or to be supporting someone who is?
No, because I have so many people in my life who have had issues with addiction. My child is not one of them. I was, in the show, trying to figure out and learn what this is as a mother, what is going on here with a kid who's been drinking since they were a teenager. There's no relationship there because Samantha was drunk the whole time, and now there has to be some way to figure this out. My way of dealing with her when she was drinking was to be completely reactive [to] her, trying to control her or shut her out. Now she's not and she's 29, so we got to start again.
Her students have been following Single Drunk Female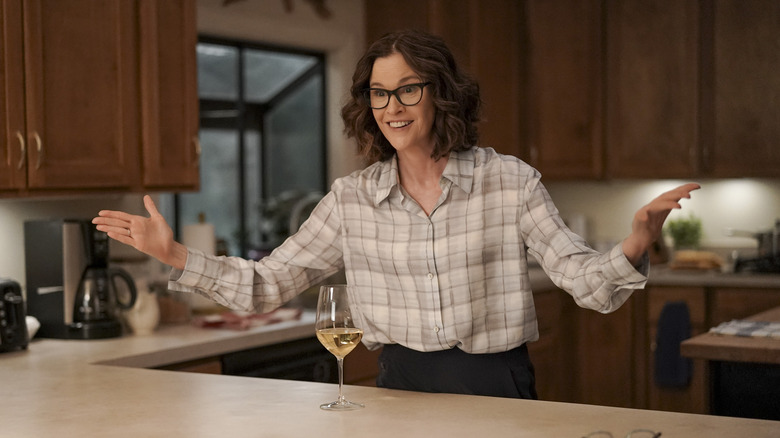 Courtesy of Freeform
You're teaching college acting now. Do your students recognize you or know any of the movies that you've starred in?
They do. The class is on-camera. It's a film acting class. Some of them Google me and find out what it was that I was in. Some of them know already. It's a mixed bag.
Do you know if any of your students have been watching "Single Drunk Female"?
Yes, they have. They like it; they're going to watch Season 2. In class, I like to talk to them about how to handle a film set and learn how to do a close-up and all of that stuff. I don't spend a lot of time in class talking about myself — it's about them.
Do you ever bring up some of the examples of being on that show, things that they could apply in the class?
Only as small examples of little things. I actually try to use what my experiences were when I was in my 20s because that is where they are right now, so that works.
Season 2 of "Single Drunk Female" debuts Wednesday, April 12 at 10 p.m. PT/ET on Freeform. The entire 10-episode season will be available on Hulu and OnDemand on Thursday, April 13.
This interview has been edited for clarity.