Glacial Rx Is The Cooling Skin Treatment That Could Fix Your Redness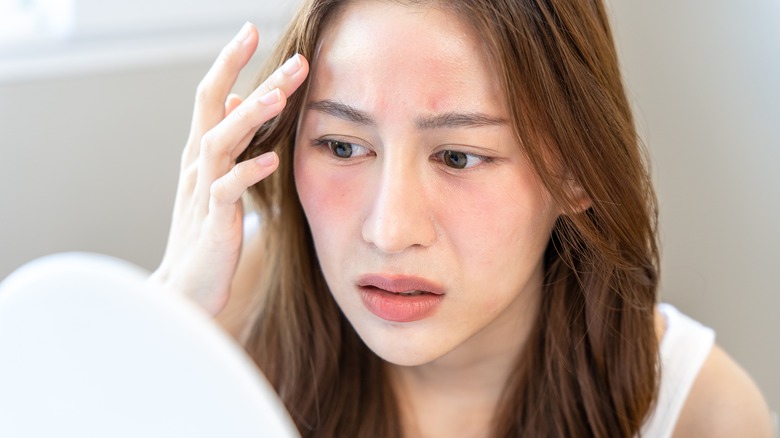 shisu_ka/Shutterstock
Redness, age spots, and sun spots are skin nuances, especially when your goal is an even complexion. While redness can be a sign that your skincare routine is doing more harm than good, it can also be from natural skin conditions, like acne or rosacea. Overusing beauty products to combat these conditions can lead to more redness. If you suffer from such circumstances, you're not alone. Hyperpigmentation is very common, and age spots are also prevalent. These darkened areas on the skin appear over time and are heightened by sun exposure. Although these conditions are not a cause for concern, they can impact self-confidence — that is where Glacial Rx comes into play.
Glacial Rx is a cooling skin treatment that can potentially fix discoloration issues. It was developed by the scientists behind CoolSculpting. This promising procedure is creating a lot of buzz and might be the answer to eliminating redness.
The coolest cryo-aesthetic treatment
Glacial Rx is a cryo-aesthetic treatment designed to minimize inflammation and hyperpigmentation while brightening the skin. It is a cooling therapy that is an upgrade to massaging ice over your face or freezing your rose quartz roller. Glacial Rx is the first and only skin treatment that uses the Cryomodulation technique. "When people develop hyperpigmentation, there is a mechanism involving tyrosinase, an enzyme that stimulates pigment cells to produce pigment, and the Cryomodulation, the cold technology, stops that event from happening," dermatologist Dr. Bruce Katz, who leads clinic reacher on Glacial Rx, explained in an interview with Byrdie. It temporarily freezes melanin-forming cells to stop discoloration from redness, age spots, and sun damage, resulting in even, bright skin.
All skin types can undergo Glacial Rx, and it may be beneficial for those seeking to improve the appearance of benign skin lesions. Although facials are popular for this therapy, Glacial Rx is safe and effective on any area of the skin. Cryomodulation adapts to each patient's skin needs, so everyone's treatment is personalized to cater to them — but what can you expect from your cooling appointment?
What can you expect during Glacial Rx?
The Glacial Rx experience is quite calming and refreshing, unlike other hyperpigmentation treatments, such as laser skin resurfacing, which can cause discomfort. On a scale of 1 to 10, the pain from this cryo-procedure is zero — no pain means no numbing creams and no need to psych yourself up before going under the cooling wand. The medical practitioner massages the Glacial Rx handpiece over your skin, spending more time on the affected areas. As Cryomodulation works on your cells, the overall low temperature minimizes swelling and redness. After the 45-minute sitting, you'll be depuffed and revitalized.
Before trying this cryotherapy, you should know common side effects include redness, crusting, or darkening around the targeted areas. However, these symptoms typically resolve on their own. It takes roughly one to two months for improvement in discoloration to show. Patients with darker benign skin lesions may require up to three sessions for noticeable results. Luckily, there are no downtime or recovery periods with the Glacial Rx. Just don't forget the sunscreen to ensure your results last longer and keep pesky sun spots at bay.