Did Kate Middleton Break Royal Rules With Her Easter Mani?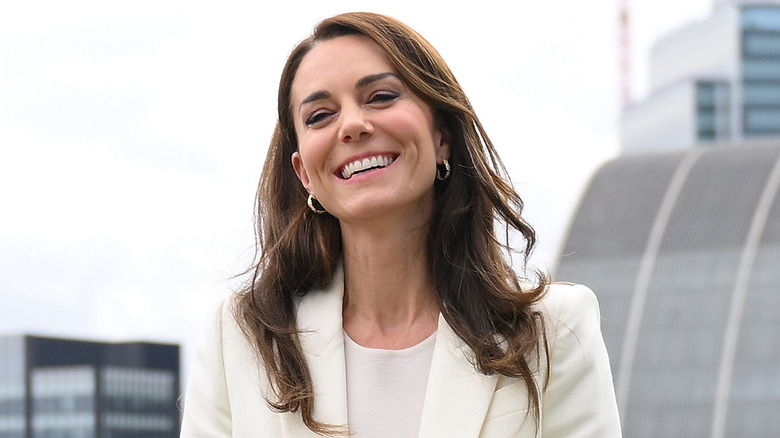 Wpa Pool/Getty Images
Like her late mother-in-law before her, Catherine, Princess of Wales, has developed a rep as a super stylish royal. Her stunning wedding gown was just the beginning of a series of smart wardrobe choices. Whether in long coatdresses, flowing evening gowns, or designer jeans for casual days at home, Kate always manages to look just right. (She even makes camo gear look good!) Her ensemble on Easter Sunday 2023 was no exception — though there was one detail that caught onlookers by surprise.
King Charles III led the way as he and his family attended the Easter Mattins service at St. George's Chapel. He, along with Camilla, Queen Consort, wore blue for the occasion, as did William, Prince of Wales, Kate Middleton, and their children. In addition to being a very royal choice, it also may have been an affectionate tribute to the late Queen Elizabeth. The real reason Queen Elizabeth often chose to wear bright colors was to stand out in the crowd, and blue was her preferred shade. St. George's is also the place where the queen was laid to rest. Certainly Kate was a standout; her long Catherine Walker coatdress was a cheery shade of cobalt, and she paired it with a matching pillbox hat. However, she made one uncharacteristic choice by sporting dark red nail polish on her nails. The royal women are known for going subtle with their manis, so was this an act of rebellion on Kate's part?
Royal women typically go neutral with their nails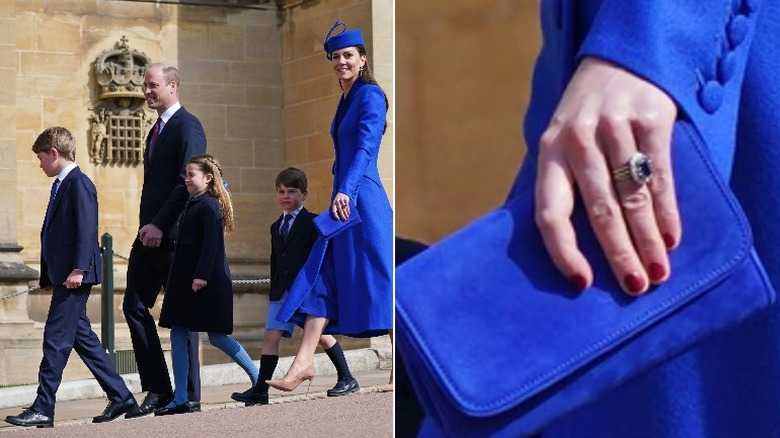 Wpa Pool & Wpa Pool/Getty
Kate Middleton's red nails were a very noticeable detail on her otherwise conventional Easter attire. The royals have traditionally been forbidden to wear bright nail polish colors, out of respect for the previous monarch. Queen Elizabeth II was said to find colored polish "vulgar,"  and if there's one thing one doesn't do, it's offend Her Majesty. Nude or clear polishes, or occasionally a soft pink, are the norm for royals such as Catherine, Princess of Wales, Princesses Eugenie, Princess Beatrice, and even Meghan Markle, Duchess of Sussex.
However, the princess' Easter choice wasn't a total breach of protocol. The Daily Mail quoted royal etiquette expert William Hanson, who explained that "hot red and bright pink, for example, are not correct, especially for official occasions and particularly during mourning." Since the mourning period for the queen is long past, and an Easter church service isn't a state event, a bit of bright nail color is permissible. Two-inch gel manicures, on the other hand, will always be a palace no-no. And when King Charles has his coronation ceremony on May 6, you can be sure Kate and the other women royals will sport properly understated manicures.