When And How To Incorporate Body Butter In Your Skincare Routine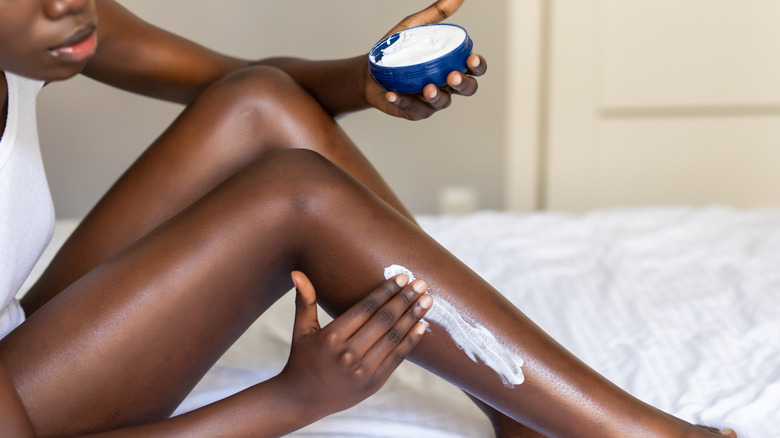 F8 studio/Shutterstock
Just like you need food to nourish yourself, your skin needs nourishment as well. Moisturizing your skin is a great way to keep your body hydrated and fresh. Not only does it add to the suppleness of your skin, but using body butter can combat aging. If you are worried about the tell-tale signs that come with growing older, this should be the first thing you check off your skincare product list. There are so many incredible benefits to applying body butter.
If you are prone to dry, ashy skin, then it could be that your skin is not receiving the care and attention it needs in the form of moisture. Rubbing body butter will shield your skin, restore its softness, and leave it feeling elastic and youthful. For those of us who aren't used to applying an extra layer of protection to our bodies, you may not know where to start. If you aren't already moisturizing your skin, then you definitely want to add this step to your routine, pronto.
Find the right body butter for your skin type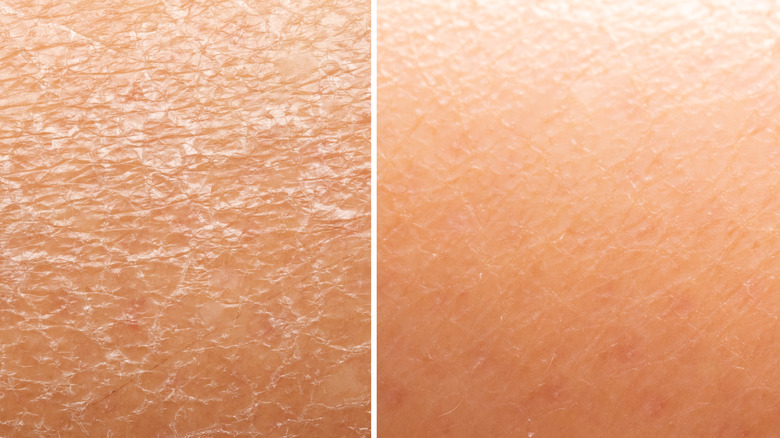 sruilk/Shutterstock
If you are new to skin moisturization and all its glory, then you probably have a ton of questions about the proper way to go about it. You will need to know which product works best with your skin type, how often you really need to moisturize your skin, and how much product you should use. The first thing you need to determine is how dry your skin is so you can forge a routine that will meet all your skincare needs. While typically everyone can benefit from using moisturizer, people with drier skin might need more specialized products than people with oilier skin.
When it comes to deciding which ingredients work best with dry skin, board-certified dermatologist Corey L. Hartman told Allure that body butters that contain vitamin E, natural butters like shea or cocoa, and oils are ideal. Heavier products like body butters will better protect and repair dry skin. Our pick for dry skin is the Josie Maran Whipped Argan Oil body butter. Not only does it come in many fragrances including an unscented formula, but it contains 100% argan oil and is cruelty-free. 
For people with oily skin, you can try the lightweight Summer Body Butter by Shades of Shea by Reese which contains SPF 30 to protect your skin from the sun and leaves no white cast.
Moisturize right after a bath and apply to dry areas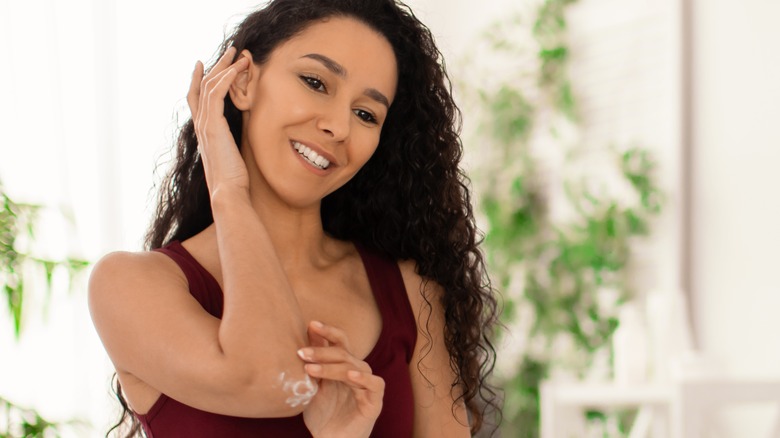 Prostock-studio/Shutterstock
Once you have your chosen body butter on your skincare shelf, you need to know when is the best time to apply it. The whole point of sealing your skin with body butter is to cage in the water in your skin. The difference between hydrating and moisturizing your skin is that hydration deals with water while moisturization retains the water.
This is why dermatologist Julie E. Russak who also spoke to Allure places the best time to apply the moisturizer as immediately after your shower when your skin is clean and moist. Bathing cleanses your skin and rids it of dead skin cells, product build-up, natural oils or sebum, dirt, and more. When you don't moisturize your skin after this process, your skin will feel itchy, dry, and in some extreme cases, cracked. She recommends patting the skin dry and then rubbing the product all over your skin, especially in dry, cracked areas. This includes your feet, knees, hands, and elbows.
Properly hydrated and moisturized skin tends to look younger for longer, so using body butter is a key part of the anti-aging process.