How To Refresh Your Curls During The Winter To Spring Transition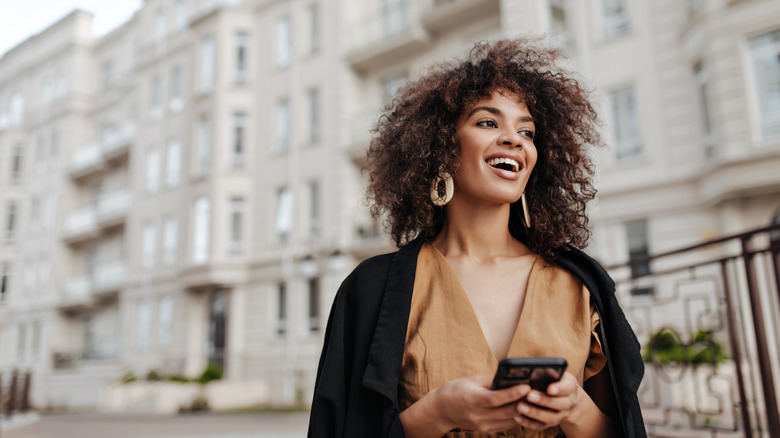 Sun Shock/Shutterstock
Just as your skin undergoes changes during different seasons, so too does your hair. These can be refreshing to your appearance or a cause for panic. Either way, we've all likely had to make adjustments to keep our hair in pristine condition. This is especially important for those with curly crowns, as they can take a bit more TLC to stay in good condition.
Several things can make your curls appear less appealing. Understanding what winter does to your coils is the first step in figuring out how to bring them back to life. The colder air towards the end of the year can dry out natural hair, and the decrease in dew points is generally to blame. In some cases, you may even feel like you're losing more hair during the winter months. If you already struggle with a lack of moisture in your locks, cold will only exacerbate the matter. 
The wind accompanying winter cold fronts creates a separate issue for your spirals, making the hair more tangled than usual too. Thankfully, there is a remedy for just about anything in beauty, and refreshing your curls between seasons is an easy fix. And, for those on a DIY budget, it's worth noting that much of this sprucing up can be done from the comfort of your own home.
Sleeping on silk can help get your hair back in shape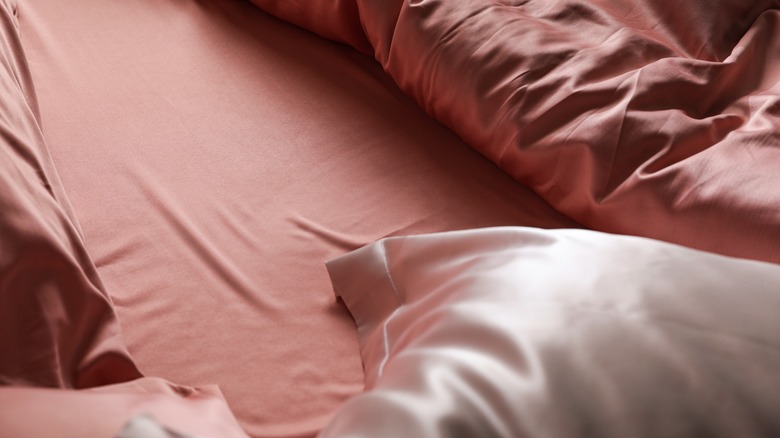 New Africa/Shutterstock
While most people probably don't think too hard about how their pillows are affecting their hair, experts claim switching to silk pillowcases can restore your curls. Brenda Amaral, the co-founder of the hairstylist training program True Hair Education, says that silk pillowcases have many great benefits for curls. In fact, according to Amaral, "Curly hair should always be on a silk pillowcase," as she told Consumer Reports.
Silk is the smartest option because it does not strip moisture from the skin and hair like cotton pillowcases tend to do, which could be ruining your curly hair. This cuts down on unwanted frizz and dryness. Fellow hair expert Richy Kandasamy agrees, noting that silk bedding leaves hair shinier and healthier overall. 
As he explained to MarthaStewart.com, "When you lie on a silk or satin pillowcase, the natural oils from your hair are maintained, rather than soaked up, leaving your hair nourished." There are several silk pillowcases on the market with the sole purpose of rejuvenating your hair. Slip Pure Silk Pillowcases are just one option. The company promises a slew of beauty benefits with its 100% silk formula after just a few nights of use.
Spring air will help but always be mindful of humidity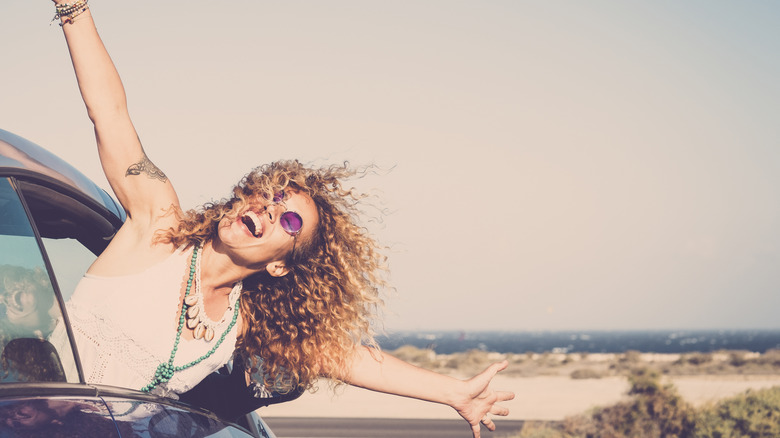 Simonapilolla/Getty Images
Transitioning from winter to spring is an excellent time for your curls to get some much-needed fresh air. After washing and conditioning as normal, instead of using high heat to dry it, simply step outside and let nature do its thing. If you must dry your hair manually, use the lowest heat setting possible. Keep in mind that your hair should never be dripping wet when you step outside. Always towel dry first before air drying.
While air drying is the healthiest option, too much humidity can be an issue. When entering those spring months, you'll want to use products that lock in the moisture even before venturing outside. Divi Shampoo and Conditioner uses a variety of gentle ingredients such as peppermint oil and biotin to keep your locks nourished so that air drying on those extra humid days won't revert hair back to the dryness of the cold season.
Switching pillowcases and allowing the elements to give your hair a natural boost are just a couple of ideas to help during this time. Since spring temperatures are warmer, cut down on the heavy creams that you typically use during winter to combat frizz. Lightweight products such as It's a 10 Miracle Leave-In Conditioner will offer your curls some extra hydration without weighing them down. They may be struggling a bit from December to March, but with a little care, your waves will be back to normal in no time.