Why Linen Should Be Your Warm Weather Staple Fabric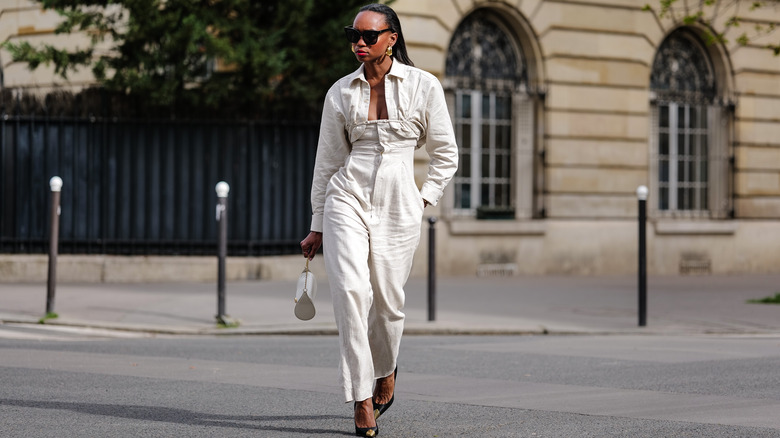 Edward Berthelot/Getty Images
When it comes to warm weather, especially in the summer months, you probably gravitate toward breezy, open silhouettes like long dresses or flowy shirts. In terms of fabrics, cotton is a staple because of its natural fibers, meaning it will keep you cooler for longer. However, did you know that linen is even more effective than cotton for keeping you cool on those days when the heat is relentless? 
By starting to plan out the summer staple pieces your wardrobe needs now, you'll be way ahead of the game once the hot weather hits. Thinking of what to pack for your next summer vacation? Throw in a linen shirt or two. Attending a destination wedding? A linen dress will let you stay on the dance floor all night without any overheating. Your closet is practically begging for at least one versatile linen piece.
We've got all the details on what makes linen the ultimate warm-weather fabric alongside a few of our fave linen pieces to take you into summer.
The fabric won't let you down even on the hottest of days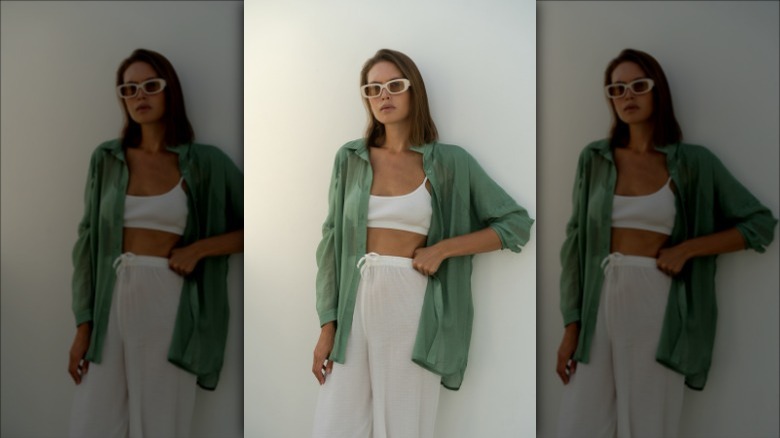 Svitlana Sokolova/Shutterstock
If you always end up feeling damp and sweaty on vacation or hot days, linen has you covered. Its highly absorbent nature means it can hold a lot more moisture than other fabrics before it starts to feel wet, so you can wave goodbye to sweat patches or unsightly damp spots on your shorts. 
It isn't just absorbent, either. Linen is also a highly sustainable fabric due to it being biodegradable when left in its natural state without any dye. Plus, unlike cotton, which can become bobbly or frayed the more time it is washed, linen gets softer with each wash. This alone makes it a great fabric to have in your wardrobe, particularly during summer when you need to wash your clothes more often because of the heat. 
As well as ticking the boxes for sustainability, linen is an ideal fabric for spring and summer because of the casual, laidback vibe it gives outfits. You can create the ultimate capsule travel wardrobe with a variety of linen pieces. 
Linen can be dressed up or down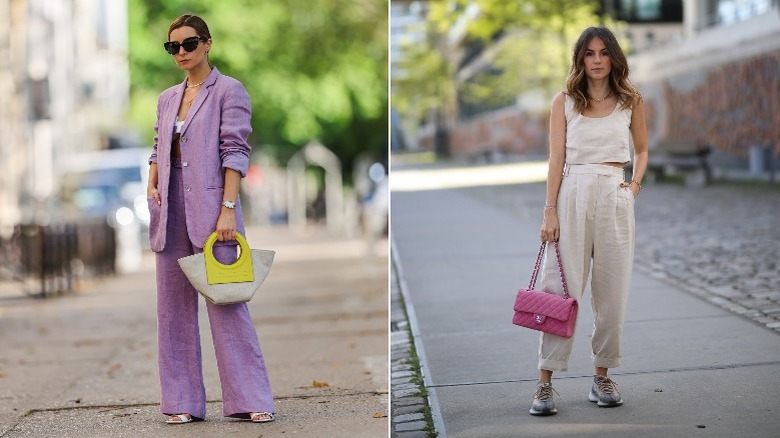 Jeremy Moeller/Getty & undefined & Edward Berthelot/Getty Images
If you're looking for versatile linen basics like a shirt or shorts that will last for many summers, Uniqlo has a wide selection of linen pieces. Some are at a lower price point as they are a linen blend, but others, like this premium linen long-sleeve shirt, are 100% linen. A linen shirt is a great staple piece to have in your wardrobe. You can throw it on over a tank top and shorts for an elevated look on errands day, or use it to cover up on vacation evenings when the air gets a little chilly. 
Though their pieces are on the pricier side, Reformation has lots of stunning linen pieces that are suitable for weddings in hot places like the Kieryn linen dress. Plus, they have heaps of cute tops for more casual events like the Rosalie linen top. ASOS also has plenty of affordable linen offerings, including these timeless relaxed linen dad pants in a versatile light beige shade.
Next time the sun is blazing outside, reach for linen to keep yourself both feeling and looking cool.