The Most Memorable Royal Pregnancy Announcements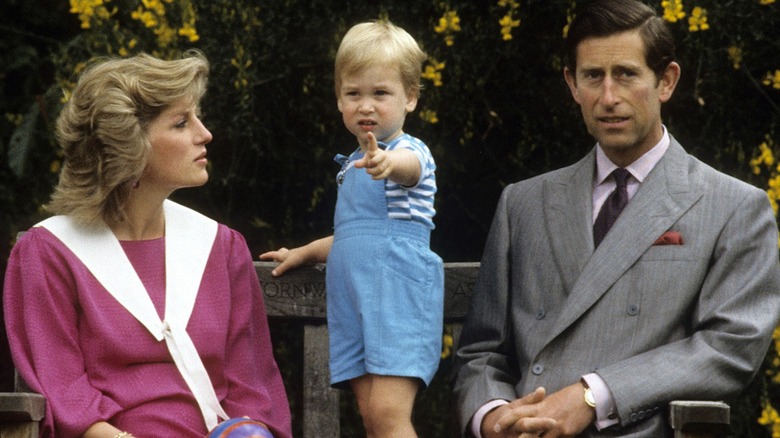 Anwar Hussein/Getty Images
It's safe to say that most of us enjoy a good pregnancy announcement, especially from our favorite celebs, and it's no different for royal pregnancies. Over the years, we've seen a range of royal pregnancy announcements, from formal to very personal. One thing is for sure, the way royal pregnancies are announced has changed drastically over time. With the changes in media and the way the public receives the latest news, we aren't surprised.
In Queen Elizabeth II's day, her pregnancy announcements were practically non-existent as the protocol was different during her early years as queen. In more recent years, we've seen some very special and personal pregnancy announcements, like those from the Duke and Duchess of Sussex and Princess Eugenie, who took to Instagram to share the news of some of their pregnancies. Regardless of how the news is delivered, a royal pregnancy announcement is always exciting to the public.
Queen Elizabeth II's first pregnancy with King Charles III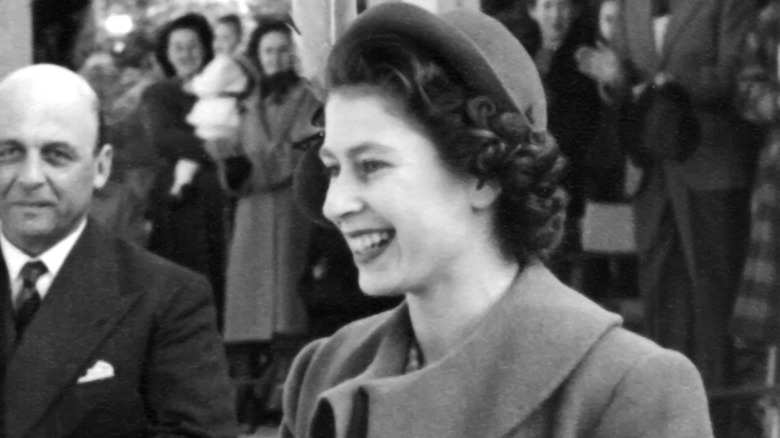 McCarthy's PhotoWorks/Shutterstock
Now, as far as royal pregnancy announcements go, they're certainly all memorable, including Queen Elizabeth II's first pregnancy announcement with King Charles III. She was the queen, so of course, in hindsight, her first pregnancy was something to talk about. However, the announcement wasn't exactly exciting. In fact, there wasn't really much of an announcement at all. The queen and Prince Philip were extremely vague regarding the pregnancy, which came about a year after their wedding.
At the time of her pregnancy, before being given her title as queen, Buckingham Palace released the following statement, according to a 1948 article in Life Magazine. "Her Royal Highness, Princess Elizabeth, Duchess of Edinburgh, will undertake no public engagements after the end of June." That's it — that's the pregnancy announcement. No pomp and circumstance or cute pregnancy photos. Her other pregnancy announcements were also similar in nature ... very hush-hush. Obviously, royal pregnancy announcements have changed drastically since then.
Queen Elizabeth II's third pregnancy with Prince Andrew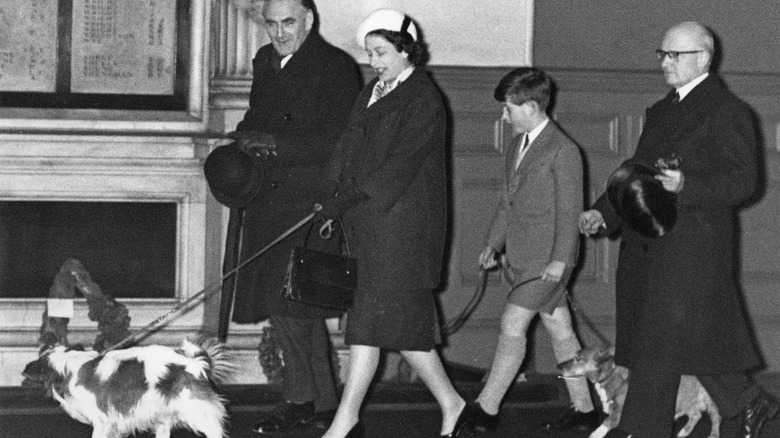 Derek Berwin/Getty Images
The announcement of Queen Elizabeth II's pregnancy with Prince Andrew, while still not overly loud and exciting, was still exciting news for the royal family and the public. This pregnancy was a surprise to many, as it had been 10 years since she gave birth to her second child, Princess Anne. People surely suspected the queen was done having children altogether, not knowing she would have two more children. The pregnancy with Andrew was also exciting because this was Elizabeth's first pregnancy as Queen of England.
The nature of the announcement is, again, not extremely notable. However, with this pregnancy, at least the public got a family photo of the royals following the announcement. Prince Philip's reaction to the announcement, though, was a little lackluster. "People want their first child very much. They want the second almost as much ... If a third comes along, they accept it as natural, even if they haven't gone out of their way for it," he said (via the International Business Times).
Princess Diana's first pregnancy with Prince William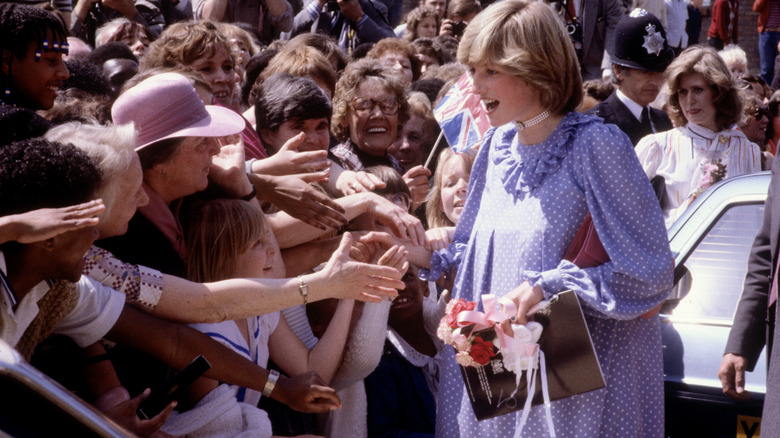 David Levenson/Getty Images
The first pregnancy of any royal couple is always an exciting one, and Princess Diana's first pregnancy announcement was no different. In November 1981, Princess Diana and King Charles III announced they were expecting their first child in June of the following year, according to an original article from The New York Times. The announcement came only a few months after the couple's wedding in July. Diana was only 20 years old at the time.
This pregnancy was also a big deal because it would impact the order of the royal succession. The New York Times article goes on to state: "Whether a boy or a girl, the child born to the royal couple will stand second in the line of succession to the throne, pushing the Queen's other children — Prince Andrew, Prince Edward, and Princess Anne — one rung down the ladder." The arrival of Prince William was exciting for the royal family, and he was the first heir born into a direct line of succession in over 100 years. William was born on June 21, 1982.
Princess Diana's second pregnancy with Prince Harry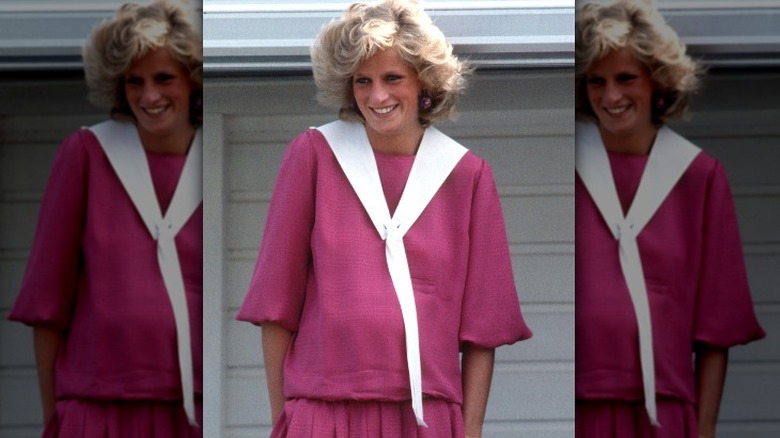 Anwar Hussein/Getty Images
Princess Diana and King Charles III's second pregnancy announcement came almost three years after the announcement of their first pregnancy with William. The couple officially made the announcement on February 13, according to UPI. The exciting news hit the papers and tabloids the next day on Valentine's Day. As we know, Meghan Markle and Prince Harry announced their second pregnancy on February 14, 2021, as a tribute to Diana. In their original report, UPI also stated the news of Diana's pregnancy was the top piece of British news that day, beating out the announcement of a new Soviet leader. That's a given — everyone loves a royal pregnancy announcement!
Diana's pregnancy with Harry also changed the order of royal succession, just as her pregnancy with William did. Upon his birth, he became third in line to the British throne, pushing Prince Andrew back yet again. This, of course, has changed since the birth of Prince William and Princess Catherine's children. Now, Harry is fifth in line to the throne. Diana gave birth to Harry on September 15, 1984.
Sarah Ferguson's pregnancies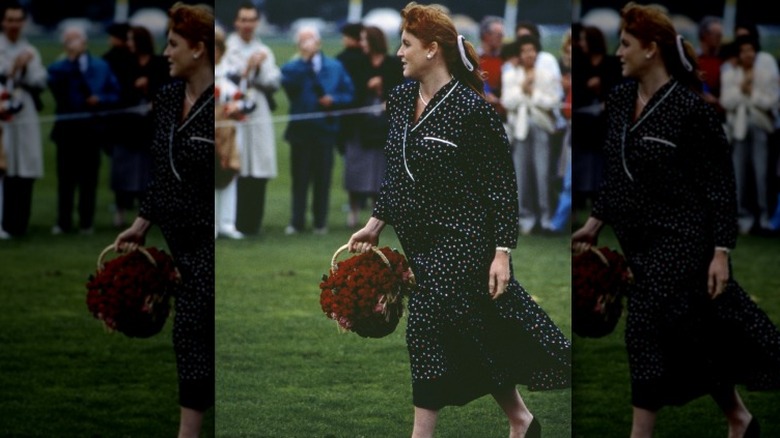 Georges De Keerle/Getty Images
Sarah, Duchess of York, has two children with her ex-husband Prince Andrew. Her first pregnancy with Princess Beatrice was in 1988, two years after their marriage. According to UPI, their child would have been fifth in the line of succession to the throne at the time. Before the announcement, there had been weeks of speculation from the public and the press as to whether or not Sarah was pregnant. Sarah and Andrew's relationship was particularly interesting to the public, considering Sarah was a regular citizen with no regal ties or titles. So, their marriage and pregnancies were all exciting news to the public.
Sarah, more commonly called "Fergie," announced her second pregnancy with Princess Eugenie in late 1989, and as always, this was an exciting announcement from the royal family. Their second child would be either fifth or sixth in the line of succession to the throne, depending on the sex of the baby. The couple soon greeted Eugenie to the world in March of 1990, making her sixth in line to the throne.
Princess Catherine's first pregnancy with Prince George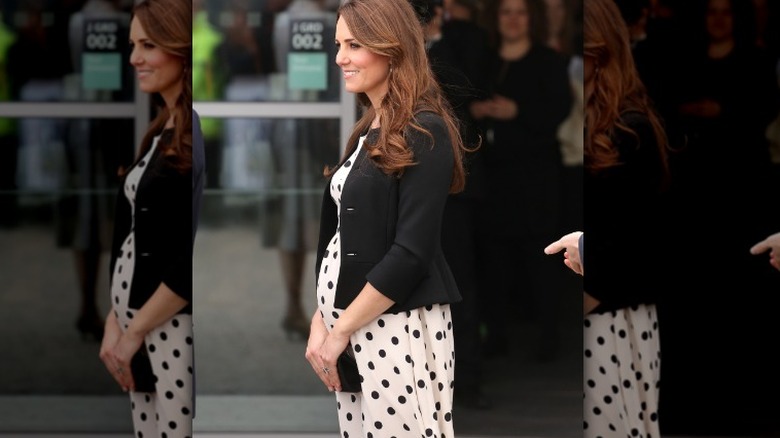 Featureflash Photo Agency/Shutterstock
As second in line to the throne, all of the pregnancy announcements from Prince William and his wife, Princess Catherine, have been exciting as all children in succession are right behind William and before Prince Harry. So, when William and Catherine announced they were having their first child, we could definitely feel the excitement. As far as the formality of the announcement went, it was definitely not as formal and vague as Queen Elizabeth II's, but not as candid as Harry and Meghan Markle's.
When Catherine became pregnant with Prince George in 2012, she was admitted to a hospital for hyperemesis gravidarum, which is extreme nausea and vomiting during pregnancy — and we're not talking about normal morning sickness. Since she was hospitalized, the couple knew they had to make the announcement much sooner than they had originally hoped. The announcement came just over a year after their wedding and Prince George was born on July 22, 2013. Since then, William and Catherine have had two more children, Princess Charlotte and Prince Louis.
Meghan Markle's first pregnancy with Prince Archie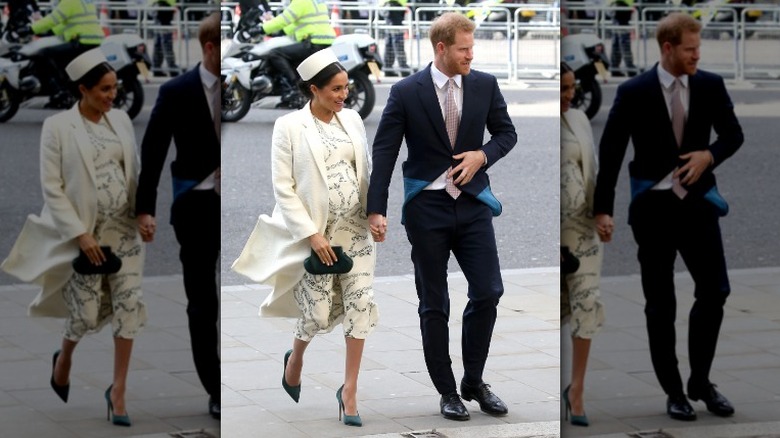 Chris Jackson/Getty Images
As with any news related to Meghan Markle and Prince Harry, especially during their royal tenures, is always front-page worthy — their first pregnancy announcement was certainly no different. Just months after Harry and Meghan's wedding, the couple announced they were expecting their first child. The official announcement was released on October 15, 2018. Considering the popularity of the couple and their future in the royal family, this was exciting news.
After the announcement, it was rumored that the couple actually announced the pregnancy to members of the royal family just days before at Princess Eugenie's wedding. Some of the public expressed their concerns over whether or not it was appropriate for the couple to announce the news during someone else's wedding. Initially, the rumor was denied. However, in his memoir "Spare," Harry revealed they did, in fact, share the news on that day. The pregnancy announcement certainly shook up a mix of feelings among members of the royal family.
Meghan Markle's post-royal second pregnancy with Princess Lilibet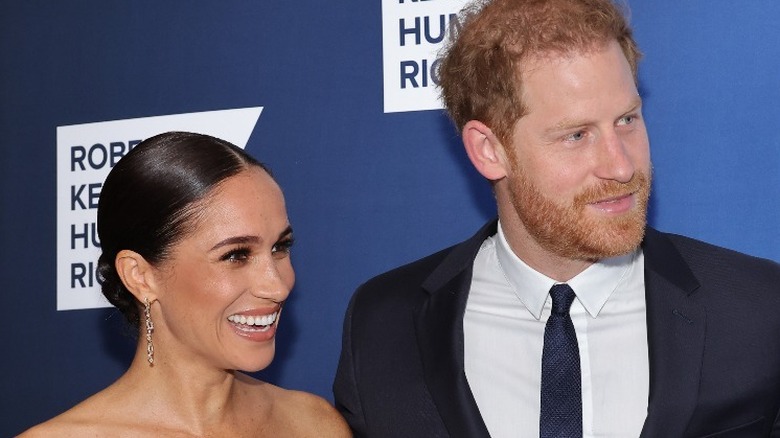 Mike Coppola/Getty Images
Of all of the royal pregnancy announcements over the years, Meghan Markle and Prince Harry's second pregnancy with Princess Lilibet is arguably one of the most exciting and memorable for so many reasons. The announcement was released to the public in February 2021, almost one year after the couple stepped down from their roles in the royal family. It was made clear that despite their departure, Meghan and Harry were happy as ever and creating their own lives together.
The announcement came on Valentine's Day that year, the same day Princess Diana announced her pregnancy with Harry 37 years before that — what a sweet tribute to his late mother. Friend and photographer Misan Harriman shared a beautiful black-and-white photo on his Instagram of the couple, announcing the pregnancy of their second child, captioned: "Meg, I was there at your wedding to witness this love story begin, and my friend, I am honoured to capture it grow. Congratulations to The Duke and Duchess of Sussex on this joyous news!" The photo is undoubtedly the most personal and special royal announcement we've seen to date.
Princess Eugenie's pregnancies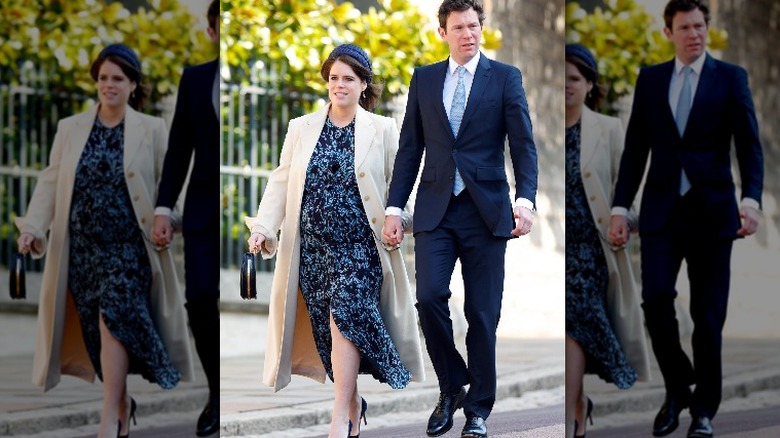 Max Mumby/indigo
Princess Eugenie, the daughter of Prince Andrew and Sarah Ferguson and granddaughter to Queen Elizabeth II, announced her first pregnancy with her husband, Jack Brooksbank, in September 2020. The couple shared the announcement on Instagram with an adorable photo of baby teddy bear slippers in the couple's hands — so cute! The announcement from the married couple came a little over two years after their wedding.
In January 2023, Eugenie announced that she was pregnant with her second child and is expecting the baby's arrival in the Summer of 2023. Just like her first announcement, Eugenie took to Instagram to share a super cute photo of her son, August Philip Hawke Brooksbank, wrapping his arms around her waist and kissing her stomach. The caption reads: "We're so excited to share that there will be a new addition to our family this summer." We think it's safe to say we love seeing more personal royal pregnancy announcements like Eugenie's, rather than a formal press release from the Palace.
Zara Tindall's pregnancies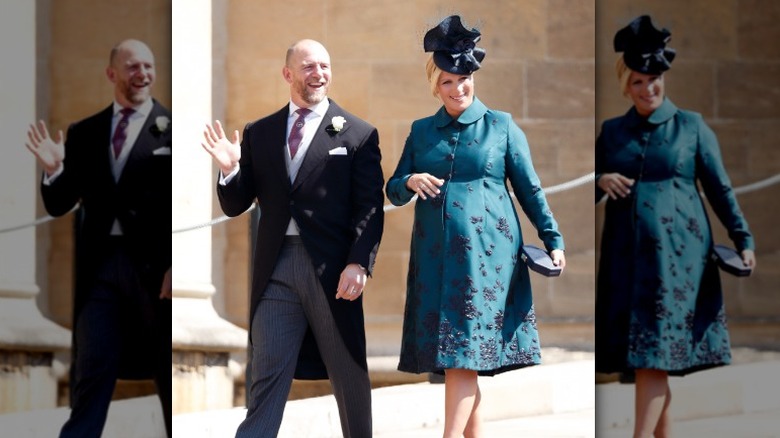 Max Mumby/indigo
Zara Tindall, the daughter of Princess Anne and Captain Mark Phillips and granddaughter of Queen Elizabeth II, announced her first pregnancy with child Mia in 2013. The announcement came to the public as a statement from Buckingham Palace (via The Guardian), stating: "Mr and Mrs Mike Tindall are very pleased to announce that Zara Tindall is expecting a baby in the New Year. The Princess Royal and Captain Mark Phillips, Mr Phillip and Mrs Linda Tindall, and members of both families are delighted with the news."
Their second pregnancy with their daughter Lena came in 2018. This was wonderful news for Zara and her husband, Mike Tindall, considering she had suffered two miscarriages after having Mia. Their third pregnancy announcement was definitely the most unique. Mike announced the pregnancy on his podcast, "The Good, The Bad, & The Rugby," and confessed he hoped for a boy (via YouTube).