Why King Charles And Camilla Delayed Their Wedding Until The Queen Mother Died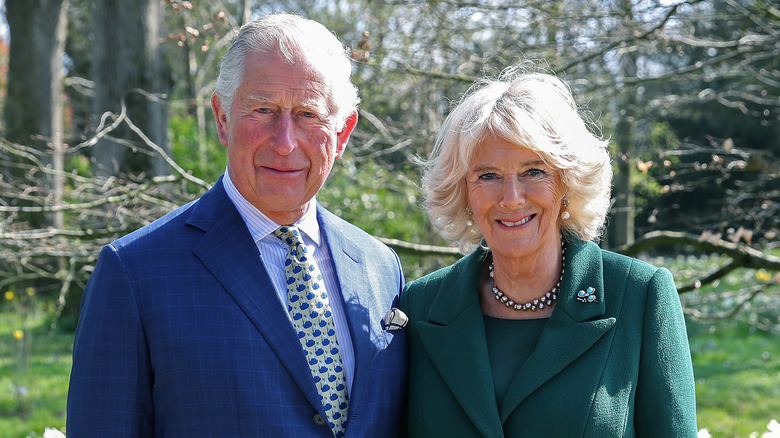 Chris Jackson/Getty Images
When it comes to drama, the royal family is no stranger to scandal. Most recently, Prince Harry and Meghan Markle's rift with the rest of the royals has dominated news headlines. However, before the younger generation of royals were on the covers of the tabloids, the elder royals were causing a stir as well. In addition to Princess Margaret's complicated love life, King Edward VIII giving up his title as King and abdicating the throne, Prince Andrew's connection to Jeffrey Epstein and rumors of Prince Philip having an affair have all been controversially reported on by the press.
In addition, King Charles III and Queen Consort Camilla have also had a very interesting relationship history. The pair met when they were in their early 20s and immediately hit it off. However, despite the feelings they had for each other, Charles was allegedly told he shouldn't marry Camilla because of her own dating history. Instead, he wed Princess Diana and the two went on to have one of the most talked-about marriages of all time.
Eventually, Charles and Camilla both found themselves single at the same time and were able to rekindle their romance publicly. Of course, they had a few hurdles to jump over when it came to their relationship. One of those hurdles was the royal family.
The Queen Mother didn't approve of Charles and Camilla's relationship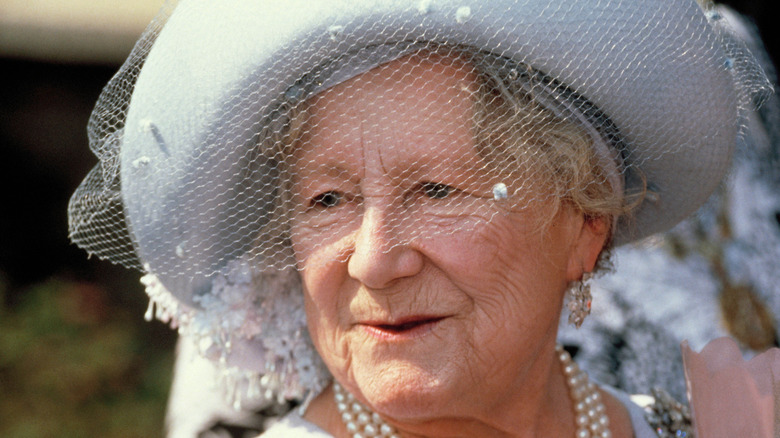 Georges De Keerle/Getty Images
The royal family, including Queen Elizabeth, was said to have a hard time warming up to Queen Consort Camilla when she and King Charles III finally went public with their romance. Camilla's role in the end of Charles' marriage to Princess Diana was a point of tension within the family. However, it was Charles' grandmother, The Queen Mother, who was said to hold the most disdain for Camilla. Royal author Robert Jobson revealed in his book "William's Princess'" that the Queen Mother had no love for Camilla. "It was a fact that Camilla's name was not allowed to be spoken in the presence of Queen Elizabeth, the Queen Mother," Jobson wrote.
Royal expert Ingrid Seward echoed the same sentiments during an interview in 2022 (via Express). "Charles never would have married Camilla had his grandmother been alive," she said. Author Christopher Anderson also dished that while the Queen Mother didn't care much for Princess Diana, she disliked Camilla more. This led Queen Elizabeth to allegedly claim she would not sanction a marriage between Charles and Camilla "so long as her mother was alive."
In 2002, the Queen Mother passed away at the age of 101. A few years later, Charles and Camilla made it official by finally tying the knot.
Charles and Camilla finally got married in 2005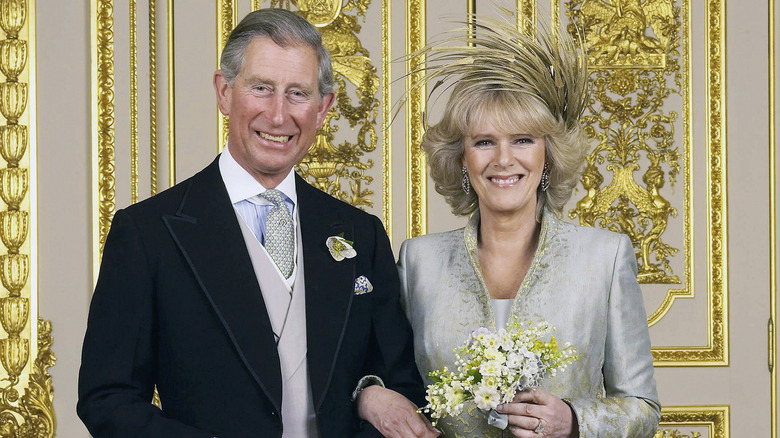 Pool/Getty Images
Today, King Charles III and Queen Consort Camilla are happily married after finally walking down the aisle together in 2005. The royal couple got married in a low-key ceremony, which was held at Windsor Guildhall. Charles' parents, Queen Elizabeth and Prince Philip didn't attend the ceremony. However, they did celebrate with the couple during their reception at St. George's Chapel following the exchanging of vows. Camilla then received the title of Duchess of Cornwall, choosing to forgo Princess Diana's former title as Princess of Wales.
In 2022, it seemed that Queen Elizabeth's love for Camilla was evident when she gushed over her daughter-in-law and revealed it was her wish for Camilla to be given the title of Queen Consort when Charles ascended the throne. Months later, Queen Elizabeth passed away, giving her oldest son the title of King Charles III and his wife Queen Consort Camilla. The following month, it was announced that Charles and Camilla would be crowned in a coronation ceremony in May 2023.
Charles and Camilla have certainly come a long way in their relationship, despite the fact that they were forced to wait to get married until the Queen Mother's death. However, the couple seems to be making the most of their time together, and are now moving into the latest chapter in their lives side-by-side.