The Viral 'Door Frame Lean': A Fairytale Love Stance You Should Try In Real Life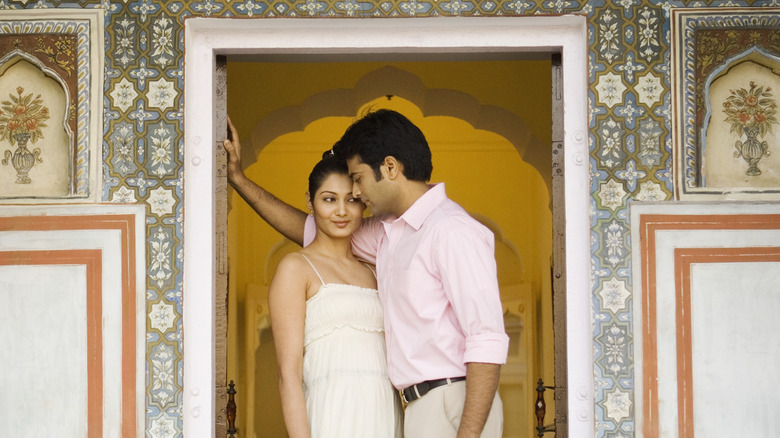 Jupiterimages/Getty Images
If you're an avid reader who's also on TikTok, then it's likely that you've encountered BookTok. As indicated by the name, this varied community is all about books, with readers utilizing the space to discuss everything about literature, authors, and the best or worst books they've read lately. With the hashtag now having billions of views, the app has become home to one of the biggest book-centered, online communities.
While BookTok houses the entire range of literary genres, from horror and fantasy books to nonfiction books specifically for women and classic literature, romance and erotica are areas with a truly thriving community. The hashtag #spicytok, which often refers to romance books that feature explicit scenes, has even made its way into IRL bookstores, with sellers frequently curating a "spicytok" table with the app's hottest picks.
This is just one example of a BookTok trend making its way into the offline world, but the community has seen many in-app fads throughout the years. Recently, creators have been encouraging their significant others to channel their favorite romance heroes in the #doorframelean trend — something you might want to try for yourself.
The door frame lean trend explained
Even if the #doorframelean trend hasn't made it onto your "For You" page, you're likely to recognize the phenomenon that the challenge is inspired by. Essentially, it involves a love interest resting enticingly against a door frame before leaning into the protagonist for a swoon-worthy kiss. Even if the kiss doesn't come to fruition, the leaning is often used to create tension.
It's a move that's been featured in movies, TV shows, and books for years now, with readers naming "The Sharing Knife" by Lois McMaster Bujold and "Archer's Voice" by Mia Sheridan as specific titles featuring some hot doorway leaning. In television, Luke Danes from "Gilmore Girls" has a doorway kiss scene, while Benedict Bridgerton is said to have the leaning down in Netflix's "Bridgerton."
For TikTok, users have been bringing this fictional maneuver to life by recreating such moments with their partners. Some have discovered it's just as sexy as they imagined, while others find it a much more giggle-inducing than they expected.
TikTokers are experiencing mixed results
As mentioned, the users participating in this trend have found mixed results, but all in good fun. TikToker @elite.reading, who's credited with starting the fad, seems to have had stellar results with her husband, captioning her original video, "I just found my new favorite thing" with a melting emoji.
Similarly, @noahandlori finds her husband's doorway leaning so effective that it sends her into a fit of giggles, a reaction we can relate to. @liliannawilde demonstrates how unexpectedly funny the trend can be, with her partner quoting lyrics from "Wait (The Whisper Song)" right when they would've kissed.
If you're a fan of this classic book boy move, then this is definitely a trend you should try out with your significant other, whether you decide to share it on TikTok or not. You'll either find a small way to add a little spice to the relationship or find yourself laughing with your partner at some point in the process.