2018 Fashion Trends Ranked From Best To Worst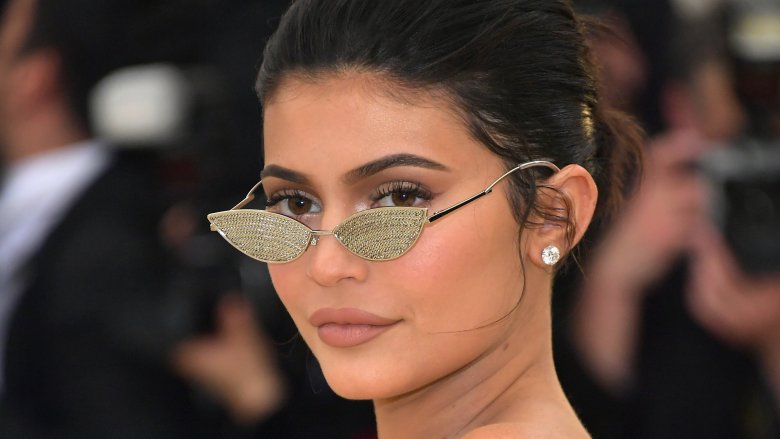 Getty Images
Each and every year, fashion evolves and new trends are formed. Often, trends of the past are even given new life. While they may resemble former styles, they're often more like a distant cousin than a twin. In 2018, reclaimed looks — especially from the '90s — are picking up steam in a big way.
If you came of age in the '90s or the aughties, you may think it a little too soon to revive, and relive, our past fashion choices. However, this '90s revival may actually be a little later than usual. Vogue explained that fashion trends tend to be recycled about every fifteen years or so. It seems fashion designers have given us a little extra time to come to terms with our feelings about the iconic decade. Nevertheless, these trends are not all bad. In fact, some of them are really fun and, dare we say, chic. Here are the absolute best to the absolute worst trends of 2018.
Sequins are here to stay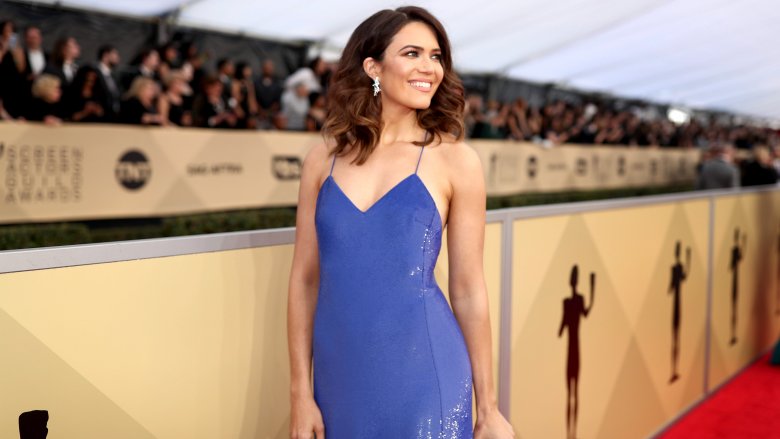 Getty Images
Sequins may be the best, and arguably biggest, trend of 2018, but that's not when the shiny discs got their start. You may think of the 1920s as the origin of the trend. As it turns out, though, the use of sequins in clothing has been dated as far back as the Egyptian King Tutankhamun's rule in the early 1300s B.C. In fact, he was buried in his beloved sequins. And, if a mummy can pull them off, that just goes to prove that sequins look good on everybody.
According to The Hollywood Reporter, major designers including Marc Jacobs, Simone Rocha, and Tom Ford debuted sequinned looks on runways in spring 2018. Millie Bobby Brown, Allison Janney, and Nicole Kidman embraced the shimmering trend when attending the SAG Awards. Mandy Moore, too, proved there's no such thing as too many sequins by sporting a full-length blue gown by Ralph Lauren at the same awards show.
Dark denim, our old friend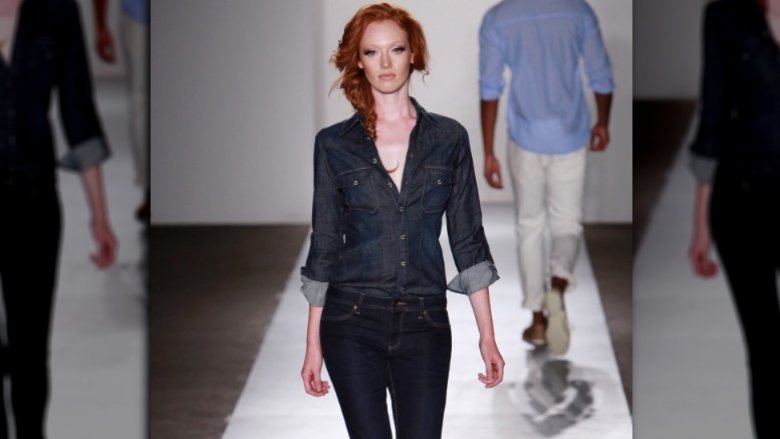 Getty Images
Oh, dark jeans, how we've missed you! Although Who What Wear highlighted that dark denim was never truly out of fashion, lighter and vintage jeans were the ones stealing the show in recent years. The best thing about indigo denim being on trend again is how easy it is to sport the look. You probably don't even need to buy a new pair — you can just dig out one of your dark washes from the depths of your closet.
Who What Wear dubbed dark denim "one of the most versatile trends" because of its ability to transition your look from the office, a night out, and even to your most casual of days. There's also really no wrong way to wear this shade of jean. From a dark denim mini skirt to cuffed raw jeans, you can pick the style you like and make it work for you — all the while incorporating some 2018 flare. 
Plaid everything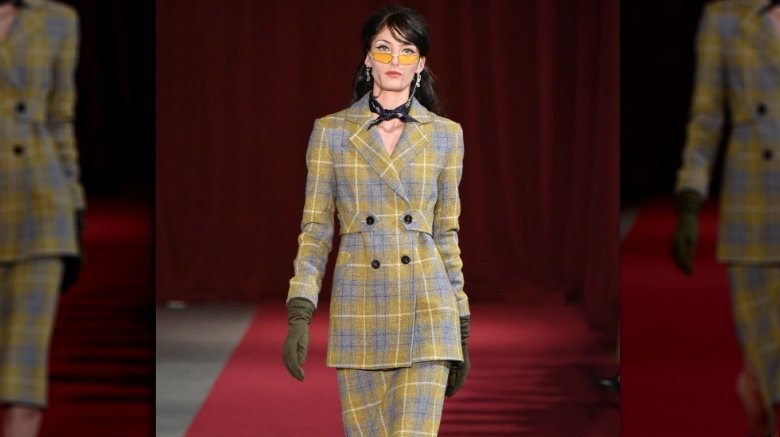 Getty Images
Plaid is one of those trends that may never die — not that we want it to, of course. In the 1980s, Princess Diana showed the world that plaid was even fit for royalty. In the '90s, plaid became more synonymous with the grunge movement, but preppy plaid was still relevant. Think: Alicia Silverstone's portrayal of Cher in Clueless. Fast forward to 2018 and plaid is back and bigger than ever. As if!
Glamour reported that "legions of plaid-infused outfits" hit the streets during Milan, London, and New York Fashion Weeks for spring 2018. Much like the sequinned apparel of today, there's really no rules as to how much plaid one can wear at any given time. Yes, that means if you want to wear a tartan-patterned suit, this might just be the year you're able to pull it off. If, instead, you're a fan of subtle pops of plaid, keep an eye out for checked heels as they've started to make their way into mainstream fashion.
Trench coats — thinking beyond Burberry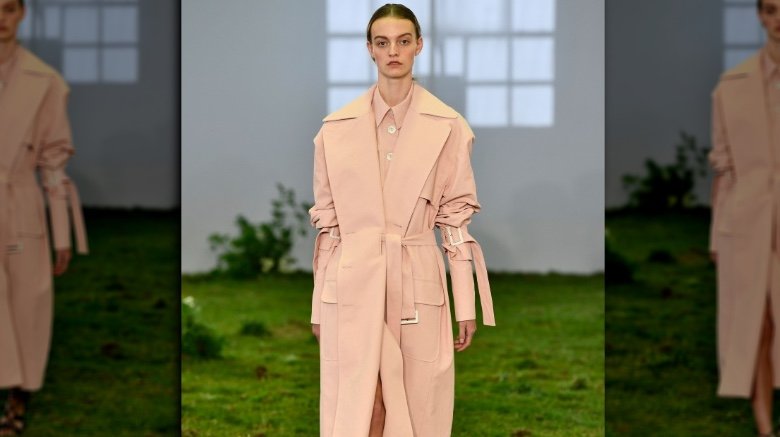 Getty Images
When you think of Burberry, two things likely pop into your head: plaid scarfs and trench coats. Lucky for Burberry fans, the stars have aligned in 2018 and both iconic looks have made their way into today's fashion. Totally kismet. You now know how to rock the checked trend, but trench coats can be a bit trickier — especially since there are so many options.
Vogue even listed plaid trench coats as one of the "it" looks. If that's not your thing, you can try a coat in cream or a modern oversized double-breasted trench. High-gloss and colored leather varieties also made their way to runways. If you're looking for something truly timeless, trench coats are a safe bet — as long as you pick something fairly simple. Racked even labeled the trench as the coat that "never goes out of style." With plenty of variations available, this is a good time to embrace the look.
Purple is reigning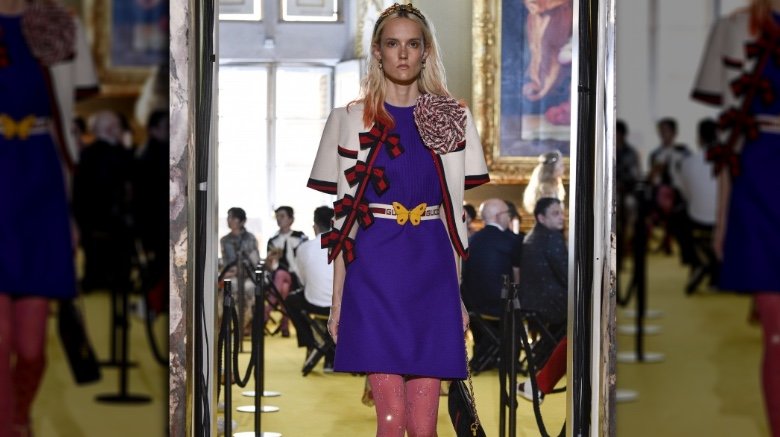 Getty Images
As 2017 was drawing to a close, The New York Times announced the color of 2018, per Pantone's findings. Pantone sent members of their team across the world in search of the up-and-coming color. After scouring clothing, houses, cars, makeup, and even food, they named ultraviolet the one.
"[It] communicates originality, ingenuity and visionary thinking," Leatrice Eiseman, executive director of the Pantone Color Institute, explained. Also, Prince wore the color, so ... there you have it.
"It's also the most complex of all colors," Eiseman added, "because it takes two shades that are seemingly diametrically opposed — blue and red — and brings them together to create something new." The reasoning is pretty fascinating, but is ultraviolet really a color you'd want to wear? Well, Gucci and Balenciaga think so. While the hue may be a bit daunting at first, it's certainly not the worst trend of 2018. Of course, that means it's also not the best.
The fanny pack comeback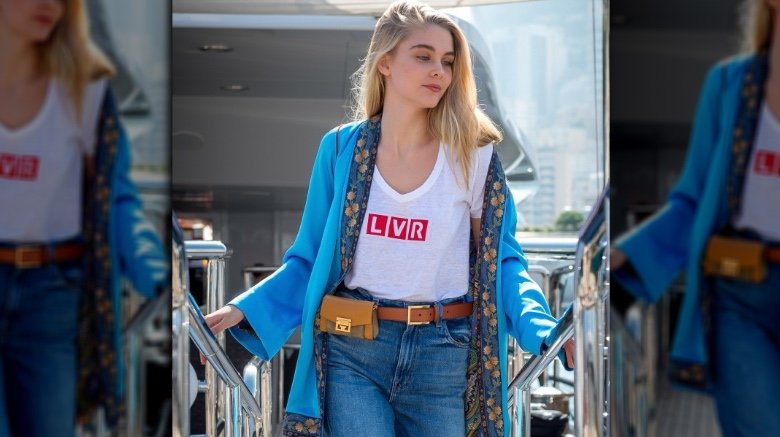 Getty Images
The term "fanny pack" may conjure up some vivid memories of your mom's super practical hands-free amusement park accessory. It may take you some time to embrace the belt bag trend with open arms, er, waist? Nevertheless, this trend is persistent. Gucci, Prada, Fenty, among other major brands, debuted their perspective looks for spring 2018. 
Really, there's is no way to deny the functional nature of a fanny pack. Truth be told, this bag actually makes a lot of sense. There is even a psychological explanation for the fanny pack revival — for real. "With... the millennial generation placing a high value in culturally enriched experiences and the natural desire for adventure, it only made sense to design something that spoke to... the lifestyles of the people around us," Ashley Cimone and Moya Annece, co-founders of a belt bag brand, told Who What Wear.
Body language expert Patti Wood further explained the possible rationale behind the trend, saying, "It allows you to move, to a certain degree, like a man does." She went on to add that not having a "dent in your shoulder" and not having something "you're keeping track of all the time" must give the wearer "enormous amounts of freedom." Long live the fanny pack!
Surfer dude chic with puka shell necklaces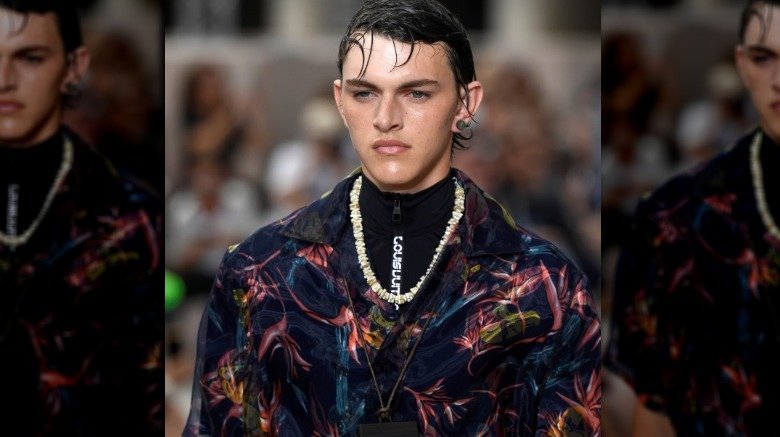 Getty Images
Remember when guys rocked puka shell necklaces back in the early 2000s? Oh, man. Those were the days. You may even remember swooning over a pseudo-surfer dude who may or may not have worked at Ron John Surf Shop, but never actually surfed, of course. 
Metro reported the revival of the gone-but-not-forgotten trend when Prada sent some puka shell-wearing male models down the runways during Milan Fashion Week. "This is clearly a truly horrific development in the world of high fashion," the magazine wrote, "What next: frosted tips at Gucci? Cargo pants with chains by D&G?" 
If you think puka shells should be left on the beach, you're definitely not alone. Regardless, though, it has solidified itself as a trend for 2018. Vogue said even Louis Vuitton got on board, debuting the small white shell necklaces with Hawaiian shirts as part of their 2018 collection and, yes, they passed it off for men's fashion. What a time to be alive!
Itty bitty sunglasses
Getty Images
While there are some modish miniature trends to get behind — hello, teeny weeny afros! — there are others that make us scratch our heads — like itty bitty sunglasses. The small frames, once popular in the '40s and then again in the '90s, may be fashion-forward, but they will quite literally let you see into the past. 
Huffington Post highlighted that some celebrities, like Kim Kardashian, Kylie Jenner, and Gigi Hadid have already been seen spotting the shrunken lenses. Hmm, is there some kind of psychological significance to wearing them in dystopian-esque 2018, since they are basically the same as the glasses worn in The Matrix? One can only guess.
Whether you decide to take the blue pill and avoid the trend or take the red and live in this itty-bitty rabbit hole, it's totally up to you. Just don't expect your tiny sun-protective eyewear to, well, protect your eyes from anything.
Oh, no. Not the tracksuits!
Getty Images
With tiny sunglasses being a very real trend to contend with in 2018, it surely can't get any worse — or weirder — can it? Cue the maniacal laughter from the fashion gods: it can. And it already has. Somehow, designers have managed to resurrect the tracksuit. GQ reported that Balenciaga came out with a slim-cut set, which retails for $1,885. Yeezy has a slightly more affordable option for $644. Gucci's bright orange tracksuit is the most expensive choice, retailing at $2,130. That's a lot of dough to spend on an outfit that you wouldn't have been caught dead wearing a few years ago — at least outside of your house.
While the gaudy, pricy, matchy-matchy tracksuits may be one of the worst trends of the 2018 year, there are a few ways to make this style work for you. As Racked explained, the trend is back "whether you like it or not," so we may as well find some options that are bearable, right? Racked advises steering clear of thrift shops when looking for one of these suits as you'll want one that's an ode to vintage, not actually vintage. Also, why not buy one you can actually wear while working out? That was, like, their original purpose or something, right? 
Life in plastic is (not) fantastic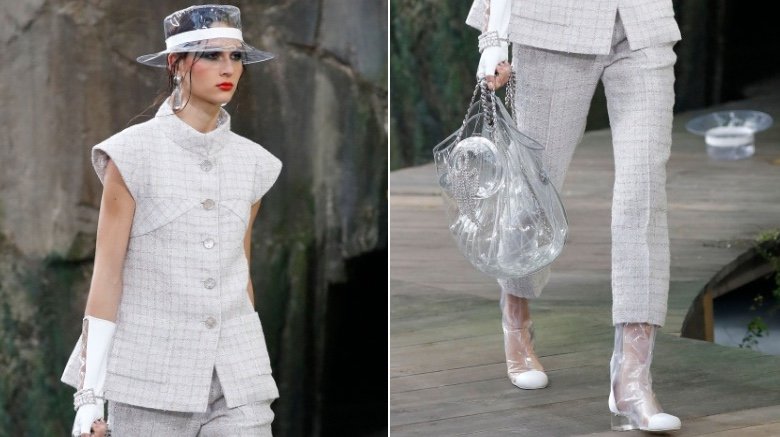 Getty Images
It's a Barbie world, or at least it's becoming one. Plastic fashion is, believe it or not, a trend of 2018. British fashion company Topshop came out with what they called "Clear Knee Mom Jeans" for spring 2017. As of this writing, they're listed as out of stock on Nordstrom's website — drat! Everyday shoppers had fun teasing the window-to-your-knee denim, with one Twitter user commenting, "Best part of this: 'Machine wash, line dry.' Because if you put it in the dryer, part of your pants would melt." He's not wrong.
Apparently not one to be deterred, Topshop invented another pair of plastic pants in 2018 called "Moto Clear Plastic Straight Leg Jeans." These "jeans" (if you can even call them that) are a hundred percent see-through, so what you wear — or don't wear — underneath will be plainly visible. In addition to Topshop, major designers like Chanel have gone on to craft plastic pieces for 2018.
All may not be lost when it comes to PVC fashion, though. Natalie Kingham, buying director at Matches Fashion, told Refinery29, "This trend is best worn one piece at a time to add edge to a simple outfit." Just, maybe don't opt for clear pants as your "one piece" of choice.