Julia Stiles Was In A Hallmark Movie? All About The Makeover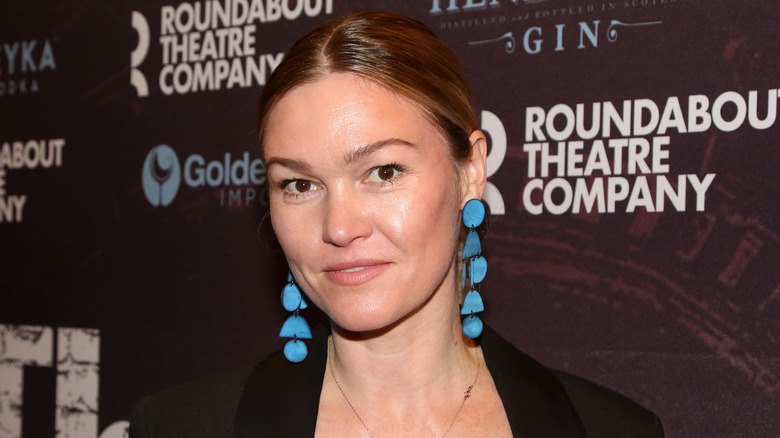 Bruce Glikas/Getty Images
Julia Stiles was one of Hollywood's biggest "it girls" of the early 2000s. The actor caught the attention of fans when she starred in the teen romantic comedy "10 Things I Hate About You" alongside Heath Ledger, Joseph Gordon-Levitt, and Gabrielle Union. Following its success, Stiles went on to star in other fan-favorite movies like "Down To You," "O," and "Save The Last Dance," before moving on to star in many other films and TV shows such as "Dexter," "The Omen," and more.
After appearing in many popular projects, Stiles admitted to The Daily Beast that she was worried there would no longer be a place for her in the entertainment industry. "I think a few years ago, my frustration was feeling like nobody knew what to do with me," she said. "You know, I had had some success in my twenties, and now I'm in a different place in my life, and I didn't really fit anywhere." 
However, Stiles eventually did find a place by starring in hit movies like "Hustlers," starring Jennifer Lopez and Constance Wu. She also joined the Hallmark family when she appeared in one of the network's fan-favorite films.
Julia Stiles played Hannah Higgins in The Makeover
In the Hallmark movie "The Makeover," Julia Stiles plays a character named Hannah Higgins, who is running for Congress. But she has one big problem — she's not a likable political figure. She and her business partner devise a plan to find a desirable candidate and turn him into the perfect person to carry out her education reform plan when elected. Hannah realizes that it will be a bigger undertaking than she initially thought when she has to teach the man, Elliot Doolittle (David Walton), how to dress, speak, and behave like a future Congressman. However, it's not just Elliot who gets a makeover. As he becomes more respectable, Hannah begins to loosen up a bit, and the two end up being a perfect match.
After shooting, Stiles admitted that she enjoyed working on a light-hearted movie. "I thought the script was charming, and I was in the space to do something light and fun," she told The Star. "It was just the mood I was in. I didn't want to do something heavy. I wanted to do a romantic comedy. I hope people laugh and are charmed by it. I'm a hopeless romantic myself, so I hope that spreads to the viewers."
Stiles also highlighted that the movie challenges gender roles. "It's a classic that's been reinvented many different ways, with the traditional premise that Higgins makes over Eliza Doolittle. Well, this movie is the reverse of that," she revealed.
What is Julia Stiles doing now?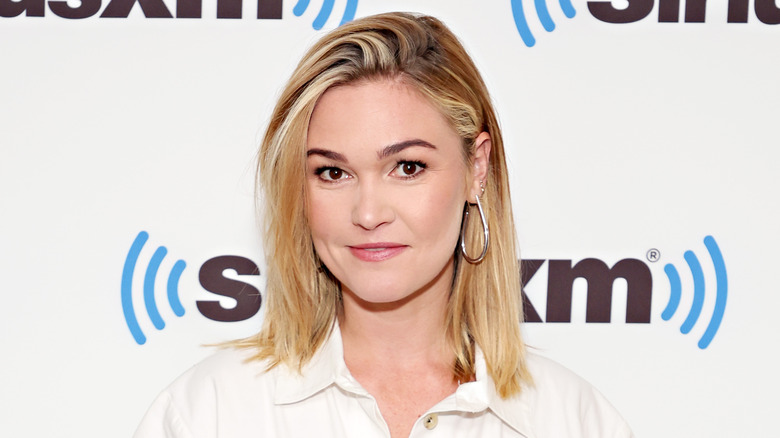 Cindy Ord/Getty Images
Although Julia Stiles has enjoyed a long career in movies and television, the actor's personal life has also changed. While continuing to add to her resume, Stiles also got married to cameraman Preston Cook in 2017 after the pair met on the set of the movie "Blackway." The duo welcomed a son named Strummer the same year and announced the birth of their second child, Arlo, in 2022. Stiles has confessed that having children actually made her better at her job and more present in her personal life.
"Becoming a mother has only enhanced my work, I think. Specifically, in terms of acting, my attention is outward more instead of focused inward. I believe that makes you a better actor," she told People. 
Most recently, the actor appeared in the 2022 Paramount+ film "Orphan: First Kill" as well as the Amazon Prime TV series "The Lake." Julia Stiles may no longer be the sarcastic young actress that fans fell in love with in "10 Things I Hate About You," but she has evolved into an experienced and well-seasoned professional that fans have enjoyed watching on television, in theaters, and even on the Hallmark Channel.