HGTV's Drew Scott Adjusts To Fatherhood - And The Messy House That Comes With It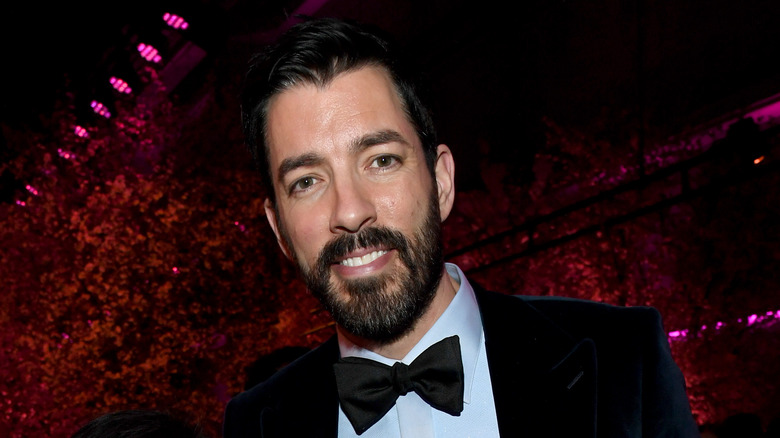 Kevin Mazur/Getty Images
Twin brothers Jonathan and Drew Scott have enjoyed long television careers since taking an interest in flipping houses when they were still teenagers. After getting their start on a small television network in Canada, the brothers have appeared on multiple home renovation and design shows, hitting their stride with "Property Brothers" on HGTV, which they've hosted for over a decade. The twins now also host "Brother vs. Brother" and "Celebrity IOU" for the network.
These years of screen time have allowed fans to grow with the brothers and witness them meet milestones in their personal lives, like marriage and parenthood. In January 2023, Jonathan opened up about his life with long-term girlfriend Zooey Deschanel and her children to Today, calling himself a "bonus dad." Now Drew is opening up about his family life, including parenthood, alongside his wife, Linda Phan. The couple is comedically navigating all of the messes and joys that come with having a toddler around.
Drew Scott and Linda Phan welcomed their first child in 2022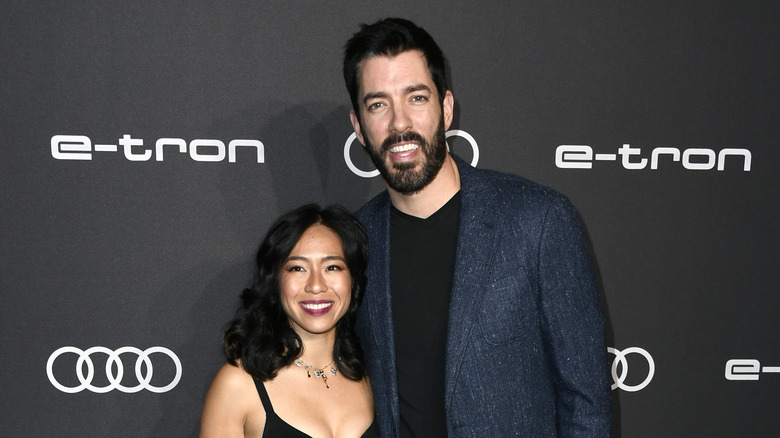 Frazer Harrison/Getty Images
Eight years after Drew Scott and Linda Phan started dating, they officially tied the knot in May 2018. Then they welcomed their first child, a son named Parker James, in 2022. He was born on the same day as their wedding anniversary, May 12. In an interview with Entertainment Tonight, Scott said that becoming a father "unlocks a side you didn't know you had." Since Parker's birth, Scott has been spending more time at home. "For the first time in history, it's easy for me to convince Drew not to travel so much," his brother Jonathan Scott quipped.
Spending time at home has also included adjusting said home to his family's needs. "The last project we tackled at the house was Parker's nursery. And so he just turned 10 months. For us, it was making sure that Linda's craft room turned into his nursery, making sure that was perfect for him," Scott explained to People in March 2023.
Drew and Jonathan Scott are both prioritizing family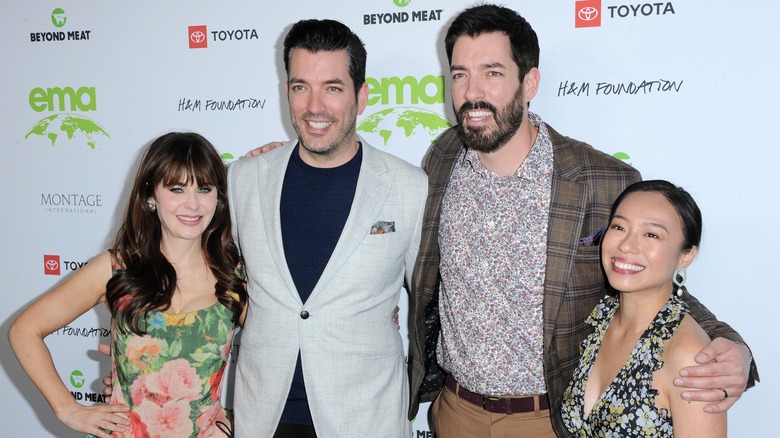 Tinseltown/Shutterstock
Drew Scott and Linda Phan gave fans a look at the nature-themed nursery on the Property Brothers' website. The room is filled with stuffed animals, including some that Scott had when he was a child. "We wanted him to feel like a storybook had come to life in his room, with all of his animal friends watching over him," Phan explained. 
Despite the changes to the house that the couple made, they quickly realized that even plans executed by a beloved home renovation guru like Scott are no match for a toddler. "[Parker] takes over the whole house. So pretty much the house is messier than ever, but it's a lovely mess," Scott joked to People.
Since Parker's birth, Scott has maintained a busy filming schedule for HGTV. However, he and his twin Jonathan are both prioritizing their home lives. "We love helping families with what we do at the shows and renovating," Scott told Entertainment Tonight, "But we want to spend more time at home with our families."