Big Supermodel Hair Is Trending: How To Get The Look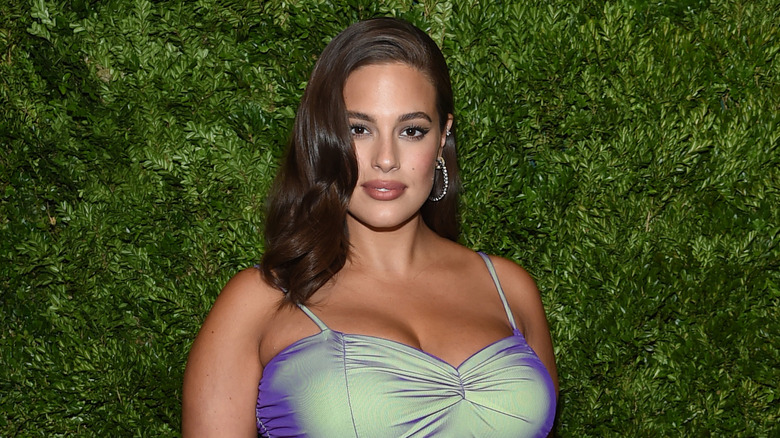 Jamie Mccarthy/Getty Images
Big hair isn't reserved for just the Jersey girls. Everyone wants to sport full, charismatic locks, from the runway to the streets.  The big supermodel hairstyle is up there with all the other timeless looks, and it is officially back and trending again. If you're on the prowl for a hairdo that makes a statement as soon as you walk into the room, then you need to know how to pull off big hair. 
You don't need to go to an expensive hair salon to make your hair bigger and better when you can get fashion-show results in your bedroom. If you are new to creating voluminous tresses, then achieving this fluffed-up 'do might seem a tad daunting. Luckily, professional hairstylists have cracked the code on how to get big, bodacious hair with minimal effort. Big supermodel hair is guaranteed to make you feel like the main character anywhere you strut, and we are dishing out the recipe.
How to get big supermodel hair
In the quest for big, elegant hair, many fall flat, and only a few actually manage to pull it off. Celebrity hair guru and TRESemmé Global Stylist Justine Marjan told Elle that the primary thing to do is ensure your hair is fully dry. "If any moisture is left in the hair, it will fall immediately," she admonished. Marjan believes in prepping hair before blow drying to give it body by using a good anti-frizz heat protectant.
Once your hair is prepped and ready, the next step is to make big, pliable curls. In order to do this, heat should be used first, and then mechanical shaping using rollers. For heat styling, you can go with either a sizable curling iron or a dryer brush. If you opt for the curling iron, then after each curl, wrap the hair around a big roller for it to set. Marjan advises that people with tighter curl textures use big flexirods.
Hairstylist and owner of The Hair Diagram Tamika Gibson also shared her own tips with Elle, suggesting using a light holding spray in the prepping stage to keep the curls intact and then a volumizing hairspray after the style is complete to hold it all together.
Proper haircare can help your thin hair grow fuller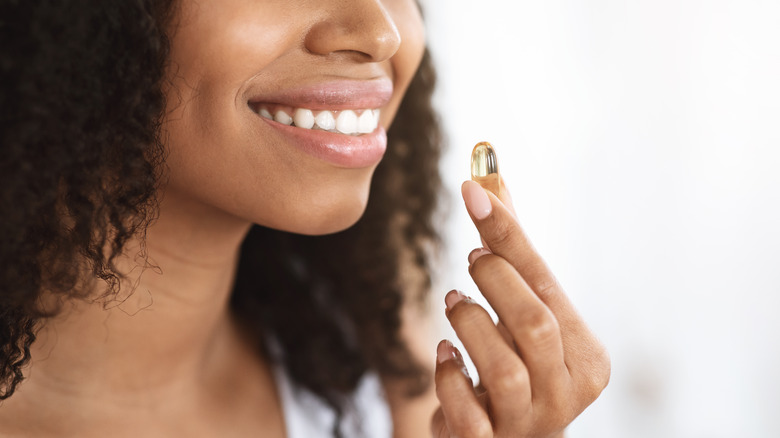 Prostock-studio/Shutterstock
Full hair is aesthetically pleasing because it frames the face and accentuates certain features depending on the style you choose. Big hair can complement your cheekbones, chin, jaw, and eyes while looking healthy and radiant. People with thin tresses might find it difficult to accomplish a full supermodel look even with some of these hairstyle hacks that make hair look fuller. If your hair is flat and damaged, sometimes no amount of hairspray or heat styling can resurrect it. That's why it is vital to keep your locks healthy, and it starts by caring for your hair, internally and externally. 
You have to know the right foods to eat for better hair so that you can switch up your diet. Your hair follicles need nutrients so what you ingest influences how healthy your hair turns out. Foods such as avocados, chia seeds, fish with Omega-3 fatty acids, and nuts are all great sources of nutrients, especially protein and fatty acids that promote hair growth. You can even try supplements such as Nutrafol that contain essential nutrients like biotin and iron that encourage hair growth. Nutrafol includes supplements that address post-partum hair loss as well.
If you're the type to wait a couple of years before a haircut appointment, then you need to hang that up, too. Trimming regularly helps promote hair growth by getting rid of split and damaged ends that thin out your hair.