Will Coconut Oil Cause Breakouts On Your Face?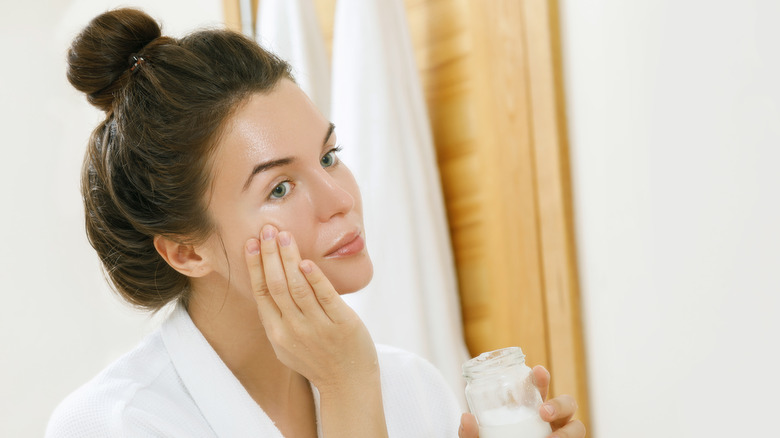 BLACKDAY/Shutterstock
Gone are the days when coconut oil was something you only thought of in a kitchen-related scenario. Today, this 4000-year-old natural ingredient rich in antibacterial lauric acid has made it to beauty products like moisturizers, lip balms, hair oils, body washes, and sunscreens. In fact, according to the president of VB Cosmetics, Vivian Valenty, "Coconut oil and coconut milk have been used for skincare by the indigenous population in countries such as the Philippines and in Southeast Asia where coconuts are the staple crop," via American Spa. 
When it comes to acne-prone skin, however, it can be hard to arrive at a definite answer as to whether coconut oil can do more harm than good. It doesn't help that the tropical-smelling oil has even been linked with managing Alzheimer's disease and better oral health. There's even talk that adding coconut oil to your coffee can give it a healthy boost. 
With TikTokers claiming that coconut oil has great moisturizing properties for extremely dry skin and studies connecting it with eczema relief, the messaging out there can feel confusing. Is coconut oil a cure-all for breakouts? Is it really safe to slather on your face? Does it have healing properties? Will you wake up with clear skin or clogged pores? When in doubt, turn to the professionals. 
Coconut oil is higher up on the comedogenic rating and can cause breakouts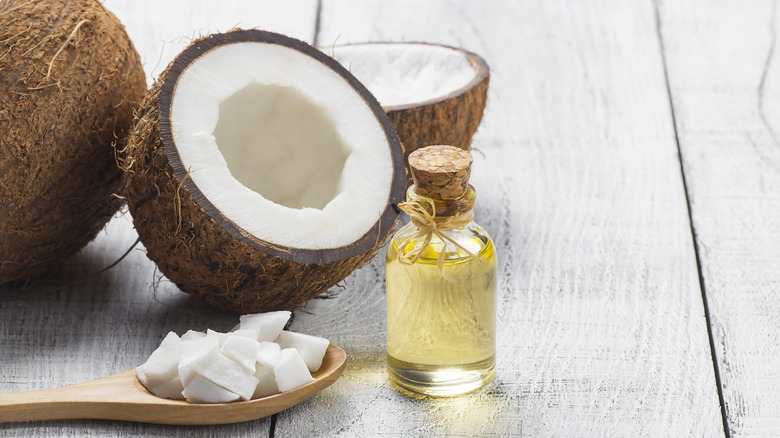 Mescioglu/Getty Images
Turns out that when it comes to acne-prone skin, what you should be paying attention to is the comedogenic rating of the ingredients you put on your face. If you've been dealing with breakouts for a while, you probably already know this. As a board-certified dermatologic surgeon, Dendy Engelman shared with Byrdie, "Coconut oil is considered a four on the zero-to-five comedogenicity scale, which is a list of pore-blocking ingredients graded from non-pore-blocking to incredibly pore-blocking as the number gets higher." 
The skin on your face is generally thinner than the rest of your body and therefore more susceptible to clogging. When an ingredient you apply is thicker in consistency than the natural sebum your skin produces (like with coconut oil), this can clog your pores, per licensed clinical aesthetician, Danielle Gronich via PureWow. If you're thinking organic coconut oil is a better alternative, that isn't true either. 
Any skincare expert will tell you that clogged pores are the number one cause of breakouts. Does this mean that all skin types should avoid coconut oil on their face? The answer might be a little more complicated than you think. Consult with your dermatologist before you add it to your skincare routine. Knowing what works and what doesn't work on your particular skin type might be the difference between clear skin and pesky pimples. There are, however, other ways to add coconut oil to your beauty routine.
Coconut oil is great as a natural moisturizer for your body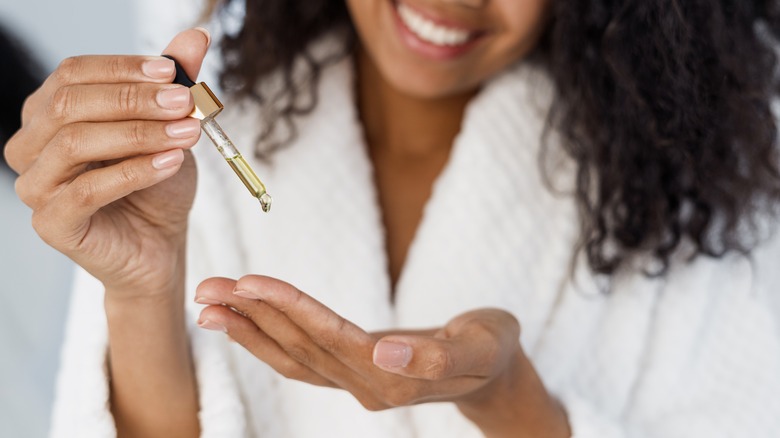 Brizmaker/Shutterstock
The skin on your body is thicker and has a lower skin turnover rate, making it generally drier. As recommended by New York City board-certified dermatologist, Joyce Park to Allure, "Instead of using it to moisturize your face, which can cause breakouts, you can use it as a moisturizer for the body because it's rich in fatty acids and has both antibacterial and anti-inflammatory properties." You can also use coconut oil as a solution for chapped lips in dry weather, for various hair-related benefits like repairing hair damage, improving a dry and itchy scalp, conditioning your locks, and even as a body scrub. 
You may be wondering if using it as a makeup remover is going to cause breakouts too. According to board-certified dermatologist Robert Finney, coconut oil does a decent job of removing makeup and dirt from your face. But true to its nature, it does leave behind an oily film on your skin that can clog your pores. "... so if you have acne-prone skin and still want to try this method, just make sure to use a gentle cleanser afterward to remove excess oil," he explained. 
The important thing to remember is to learn about how you should be using coconut oil in your beauty routine. It's also crucial that you check in with your dermatologist, especially if you're worried about breakouts.