Eileen Davidson Returns To Days Of Our Lives (But Not As Kristen)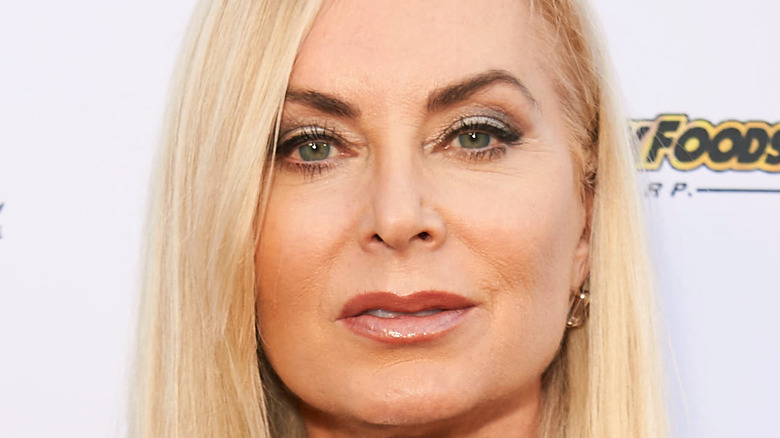 Unique Nicole/Getty Images
"Days of Our Lives" fans are very familiar with actress Eileen Davidson. Although she's often recognized for her work on "The Young and The Restless," the actor also originated the role of Kristen DiMera on "DOOL." During her time in Salem, Davidson took Kristen from a kind-hearted woman who gained the love and affection of John Black (Drake Hogestyn) to the scheming adoptive daughter of the town's biggest villain, Stefano DiMera (Joseph Mascolo). Kristen has turned into one of Salem's most notorious villains over the years, and although Stacy Haiduk now holds the role, fans haven't forgotten about Davidson's portrayal of the character.
Of course, the role of Kristen isn't the only one that Davidson has held during her time on the soap opera. In fact, the actor has impressively played a total of five different characters on the show, including Kristen's wacky lookalike Susan Banks, and Susan's three siblings, Sister Mary Moira, Penelope Kent, and Thomas Banks.
Now, Davidson is heading back to Salem, but she won't be stepping into the role of Kristen. She'll be returning as one of her other alter-egos instead, and fans are looking forward to the wild ride that is sure to accompany the performance.
Eileen Davidson will play Thomas Banks on DOOL yet again
This week, "Days of Our Lives" viewers will watch as Eileen Davidson returns to the sudser, via Soaps.com. However, she won't be stepping into Kristen DiMera's high-heeled shoes. Instead, she is playing the role of Thomas Banks. Thomas is the only brother of Susan Banks, and is actually not related to Kristen at all. Instead, he was revealed to be the troubled sibling of Kristen's lookalike Susan, who has recently returned to cause some chaos in the lives of the show's biggest characters. During the soap's spin-off series, "Beyond Salem," Thomas was seen nearing shooting and killing Hope Brady (Kristian Alfonso), and now he's back to cause more trouble.
This time, Thomas will come face to face with Chad DiMera (Billy Flynn) and Stephanie Johnson (Abigail Klein) as they set out to find answers about the whereabouts of Stephanie's parents, Steve Johnson (Stephen Nichols) and Kayla Brady (Mary Beth Evans). Thomas will undoubtedly cause issues for Chad and Stephanie, as well as offer up some entertaining scenes for viewers to enjoy.
While it seems it's not in the cards for Davidson to return to the soap on a permanent basis, fans are happy whenever she and any of her characters return for a fun-filled storyline.