Can Retinol Treat And Prevent Milia?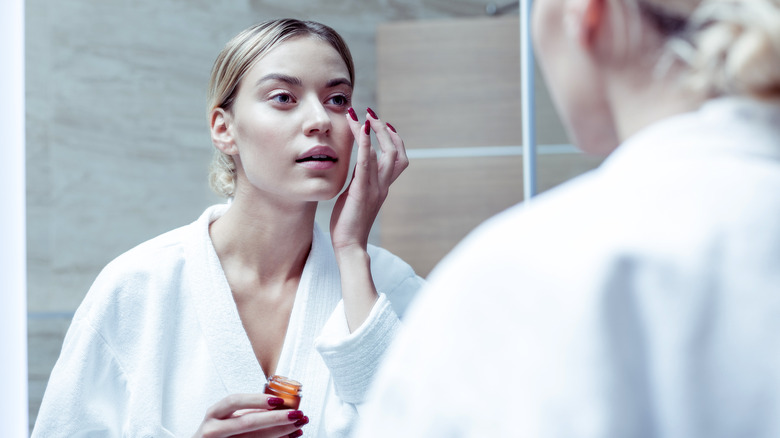 Yacobchuk/Getty Images
Tiny, white or yellow bumps that plague the nose, cheek, and under eye area, milia often grow together in bumps. Although milia looks similar to whiteheads, the former is made up of keratin that has been trapped under the surface of the skin. This gives it its hard, bumpy texture. Also known as milk spots or oil seeds, the raised spots often occur in newborns about a day or two after they're born. Caused by trapped dead skin, milia goes away in babies after a few weeks.
While milk spots can disappear on a newborn's skin within some weeks, it takes months for it to disappear on an adult's skin. Sometimes, it doesn't go away at all. Thankfully, the cysts aren't dangerous at all. However, they can be an annoyance, getting in the way of a smooth skin surface and appearing red and irritated if something rubs against them often. Although there are methods to get rid of milia, such as cryotherapy and laser ablation, retinol may solve your problems, too.
Can retinol help with milia?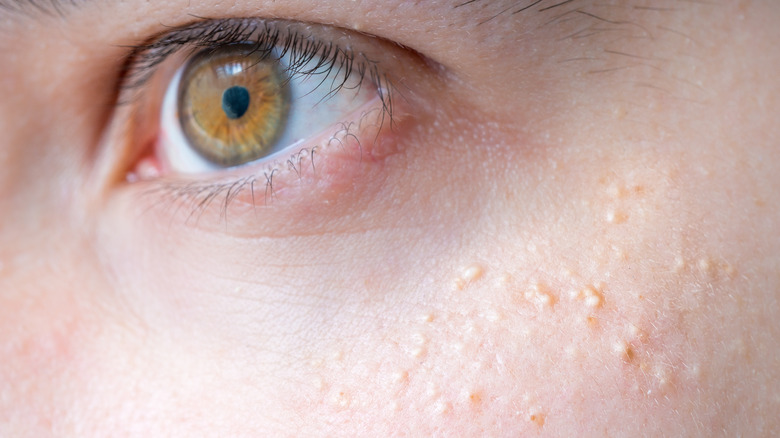 Vchal/Getty Images
Derived from Vitamin A, retinol is a powerful ingredient that has been used in the treatment of acne and aging. A form of retinoid, retinol is one of the most powerful over-the-counter products you can get, making it accessible for any skin concern that would benefit from its effect on the skin. Rather than simply exfoliating the surface of the skin, retinol penetrates the outer layer, increasing elastin and collagen in the middle layer.
Since milia is formed by dead skin that is trapped underneath the surface of the skin, a retinol will help penetrate the top layer, exfoliating away the bumps and giving smoother skin. Retinols increase the cell turnover of your skin, preventing any excess shed skin from staying trapped. When it comes to powerful exfoliation, the concentration of your retinol is essential to achieving the best results.
The Sunday Riley A+ High-Dose Retinol Serum has a 6.5% solution of retinoid, staving off congested skin. An extremely potent concentration of retinol, it's balanced by soothing honey and cactus extract.
How to treat and prevent milia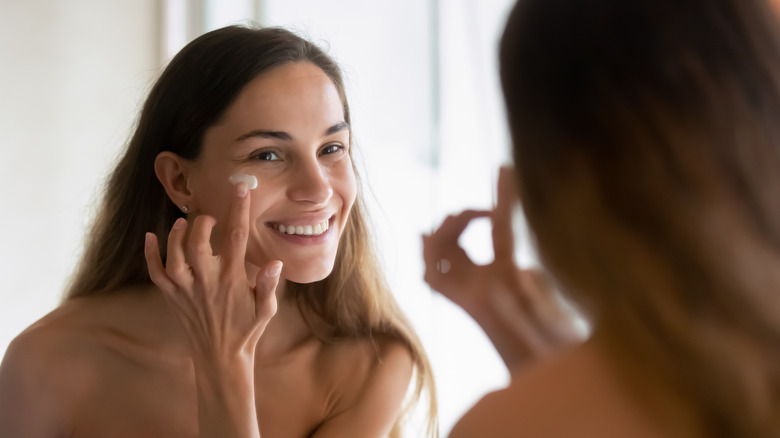 fizkes/Shutterstock
A leading cause of milia is long-term exposure to UV rays. Like many skin issues, wearing sunscreen is the first step to better skin. A  lightweight sunscreen like the Versed Guards Up Daily Mineral Sunscreen will protect the skin from UV rays without being too heavy, leading to clogged-up pore. Cleansing the face properly will also help prevent dirt from clogging the skin and forming milia.
A gentle, yet effective cleanser, the CeraVe Renewing SA Cleanser contains salicylic acid, an ingredient that exfoliates the skin without stripping it too much. It also contains ceramides and niacinamide, helping to reinforce the skin barrier. A retinol eye cream can also help improve the appearance of milia without running the risk of being too strong for the under-eye area.
Formulated with retinol, caffeine, and glycerin, the La Roche-Posay Redermic R Anti-Aging Retinol Eye Cream gently exfoliates dead skin while reducing the appearance of fine lines and dark circles. For a more affordable option, try The Inkey List Retinol Eye Cream. Vegan and cruelty-free, this lightweight eye cream supports the delicate skin under the eyes while smoothing away wrinkles and crow's feet.