How To Treat Chemical Burns On Your Face (And Avoid Future Skincare Mishaps)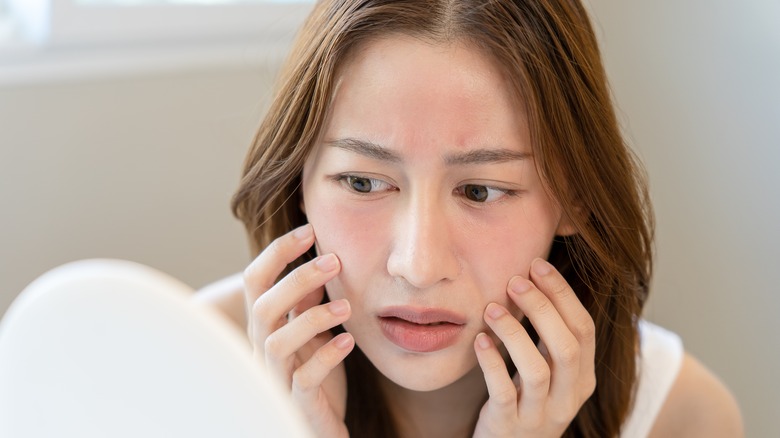 shisu_ka/Shutterstock
We may receive a commission on purchases made from links.
On our quest for smooth, radiant skin, we tend to use products packed full of powerful ingredients that can yield fast results. Although any brand that promises overnight results from skincare is a red flag, potent ingredients can help to speed up our desired result. This often comprises cocktailing serums together, applying various types of exfoliants, and the use of a retinoid. It's amazing how accessible some of these powerful products are — being able to even out your skin tone and texture or smooth away fine lines without having to step into a dermatologist's office is great.
However, the belief that too much of a good thing can be bad definitely applies to skincare. When using multiple potent products or applying them too often, the risk of getting a chemical burn, and damaging your skin barrier, is increased. Acids in skincare can cause minor chemical burns marked by discoloration, pain, numbness, burning, peeling, and blistering.
Treating chemical burns caused by skincare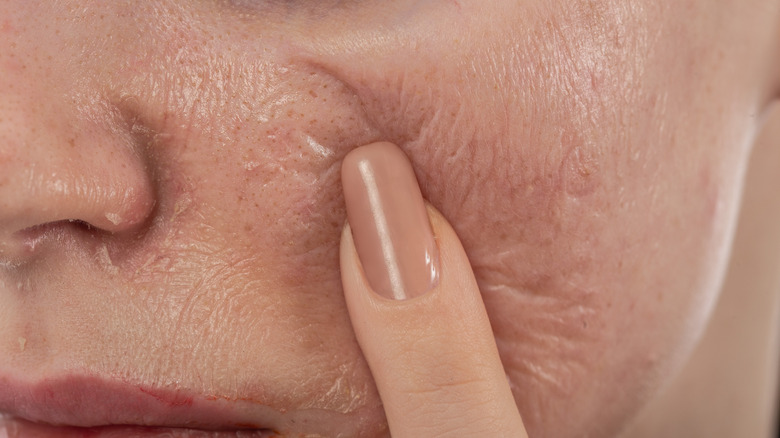 tugol/Shutterstock
If you've ever experienced a slight burning sensation when first using a chemical exfoliating product, this doesn't mean that you received a chemical burn. While you should discontinue the use of whatever caused the sensation, chemical burns are marked by the symptoms listed above. Chemical peels and products of similar strength are more likely to cause a chemical burn.
To treat a minor chemical burn, start out by rinsing the product off immediately. Once it's been removed, speak to a medical professional. The health of your skin shouldn't remain in your hands alone — call your doctor or head to the emergency room for further treatment. In the aftermath of the chemical burn, strive to keep the affected area clean. You can apply petroleum jelly to the burn to help speed up the healing process and keep it protected. If you have open blisters, you may want to apply a bandage to the area.
You should also stop using any acids or possible irritants on your skin until your face is completely healed. Similarly to what you would do to fix your damaged skin barrier, strip your skincare routine down to the bare minimum. With your skin being quite sensitive, avoid the sun when possible and always wear sunscreen to prevent UV rays from further burning your skin.
Shop the best gentle exfoliants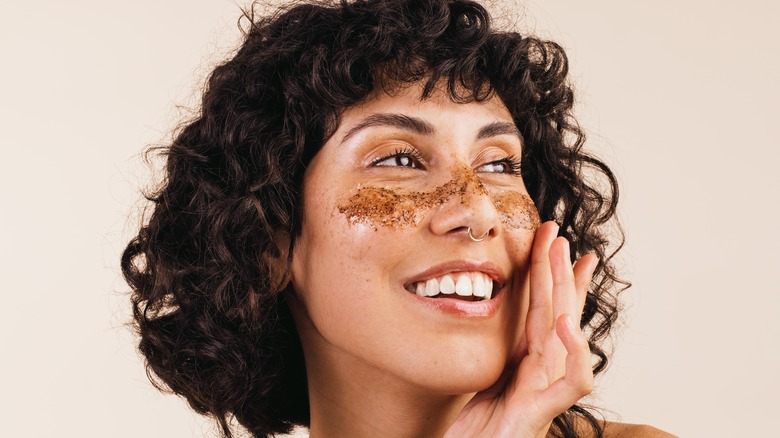 JLco Julia Amaral/Shutterstock
Exfoliation is still an important part of a skincare routine, and you shouldn't forego it completely out of fear that you might receive a chemical burn. Instead, use gentle exfoliators with little to no BHAs or AHAs in the formula. The Inkey List PHA Gentle Exfoliating Toner utilizes polyhydroxy acids to improve skin texture and hydrate the skin. PHAs are made up of larger molecules than AHAs and BHAs, so they're more benign, yet just as effective, as the other two.
The Bliss Pumpkin Powerhouse Resurfacing & Exfoliating Enzyme Mask is formulated with a blend of natural AHAs and pumpkin enzymes, which help to smooth and brighten skin without irritating it. The mask contains prebiotics, fatty acids, and vitamins that work to hydrate and protect the skin's barrier.
For skin that brightens with every use, try the Josie Maran Pineapple Enzyme Pore Clearing Cleanser. Formulated with pineapple extract and marshmallow root, it relieves the skin of texture and congestion while balancing hydration levels. With 100% pure argan oil, your face will stay moisturized and bright.