The New Dress Code Royals Need To Follow At King Charles' Coronation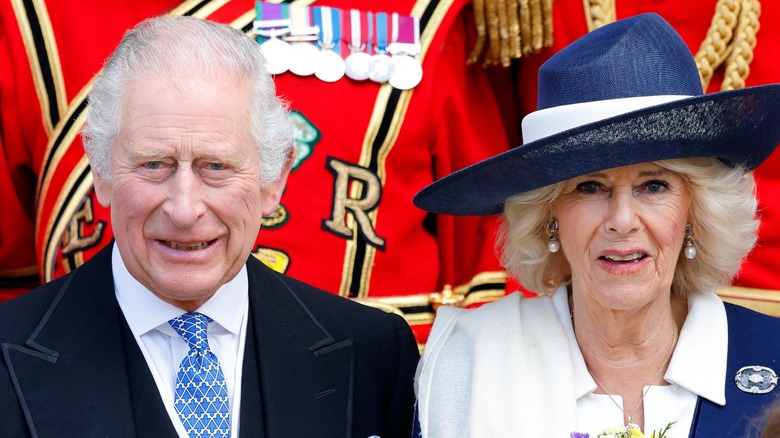 Max Mumby/indigo/Getty
Royal British coronations can be once-in-a-lifetime events that garner worldwide attention. The last monarch crowned in England was Queen Elizabeth II in 1953, and King Charles' upcoming enthronement takes place May 6, 2023. Much of the excitement surrounding these gatherings focuses on who will be wearing what, but things could be decidedly less in vogue this time.
Many of the traditions in place for the past 1,000 years will not change, though. Coronations have taken place at Westminster Abbey since 1066 and will continue to do so, with the Archbishop of Canterbury officiating. Charles will most likely be sitting on the Coronation Chair for the ceremony. The key parts include recognition by the people, acceptance of the oath, anointing with holy oil, and the investiture. Once Charles is crowned, Camilla will be crowned as queen consort. That hasn't been done since 1937 and is a much simpler ritual.
Along with a queen consort, this coronation will break with strict tradition in another way. The stuffy, formal royal dress code of the past has been changed, at least for this year. Instead of piles of thick, heavy materials and tons of fur, Charles has decided to lighten things up. He, Camilla, and the peers won't be as weighed down and might even be more comfortable. You will likely hear the word "peers" used during the ceremony, which refers to Peers of the Realm. This includes every duke, marquess, earl, viscount, and baron. Collectively, they belong to the Peerage. This also refers to the Upper House of Parliament.
A modern, understated approach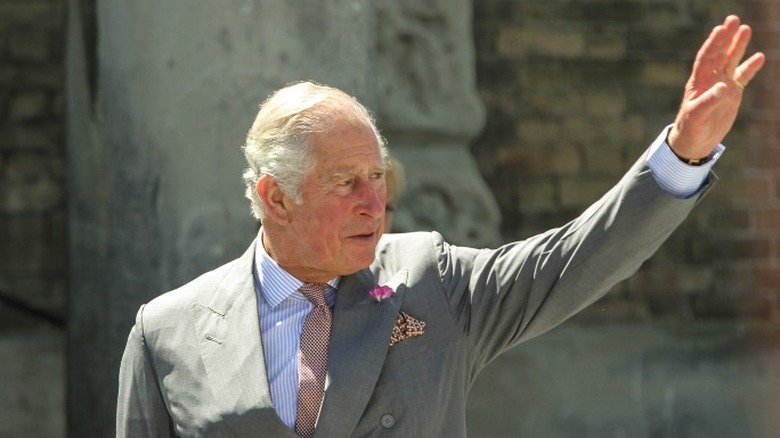 Simon Ward Photography/Shutterstock
In the late 1600s, coronation ceremonies were all about long, trailing velvet robes. The royals wore dark crimson robes trimmed in ermine, and these rows of fur designated standing. A duke's cape would have four rows, a baron two, and a duchess' extravagant robe would have four rows of ermine with a train extending out to six feet. Those were worn on top of full-dress uniforms and evening dresses. Some royals also wore court dress or black suits and ties. The coronets or crowns were also designated according to rank.
The upcoming coronation will be significantly smaller than the last one, which had 8,000 guests. There are 2,000 attendees expected this time, and all are probably quite surprised to learn that King Charles issued a less formal dress code for the Peerage and members of Parliament. Instead of the traditional heavy robes, the Peerage was told to wear business dress or their regular parliamentary ermine — no more velvet. The standard robes are made from scarlet wool with less ermine fur.
Queen Elizabeth II started wearing faux instead of real fur several years back. That decision was likely in response to unethical fur-sourcing practices. Charles' approach is designed to reflect modern sensibilities while still paying homage to tradition. Besides all that, the coronation will only last an hour, compared to 1953's three-hour ceremony. The details about royal outfits are generally kept under wraps until the events take place, but speculation about it is akin to sports betting.
What will Charles wear?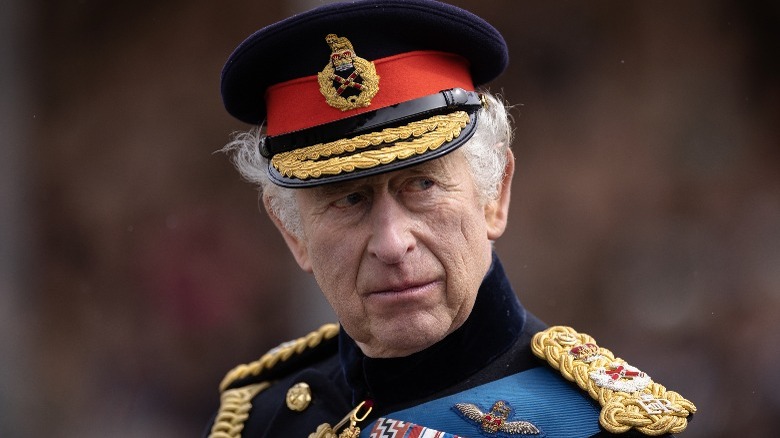 Dan Kitwood/Getty
When Diana and Charles married in 1981, the wedding gown was a main topic of discussion. However, the groom's attire seemed like an afterthought. Since then, Charles seems to embrace change. Don't expect to see him in outdated breeches, an embroidered tunic, silk stockings, and velvet. Insiders predict that he'll be wearing his military uniform.
King Charles wore his military uniform to the state funeral of Queen Elizabeth II. It was his Royal Navy No. 1 tailcoat and sword. He also had on the collar of the Order of the Garter, Order of the Thistle sash, and his Order of Merit ribbon. The jacket was covered with full-size medals, too. For his 1981 wedding, Charles wore a Royal Navy commander full dress uniform. He wouldn't be the first monarch to wear a military uniform at a coronation since Edward VII did that in 1902. Or, he might wear a black tuxedo and a white vest. Will he wear a robe? The answer is unknown, but the way things are going, probably not.
How will Camilla be decked out?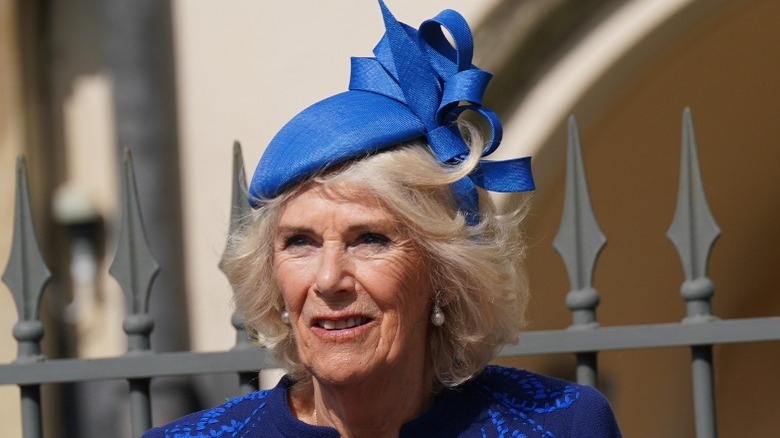 Wpa Pool/Getty
Camilla's level of formality at the coronation will surely mirror Charles' because if she went all-out, she'd look distinctly overdressed. When Queen Elizabeth II was crowned, she chose a stunning gown designed by Norman Hartness. It was made of silk satin and decorated with pearls, diamantes, and shiny gold beads. This 1950s dress followed the decade's style with short sleeves and a full, billowing skirt.
Designed by Bruce Oldfield, one of the U.K.'s most respected couturiers, Camilla's coronation dress will be less extravagant. Oldfield is 72 years old and known for his impeccable craftsmanship. He was Diana's favorite designer and also Camilla's friend. She wore one of his creations to the 2016 State Opening of Parliament. It featured diamantes and beading. Camilla can't be compared to Diana, but she has received good press for her unique ensembles. She isn't afraid of bold colors and wore a cobalt blue dress to the Commonwealth Day Service on March 13, 2023. It'd be nice to see her wearing a vibrant color on Coronation Day, but for now, that gown is being kept top-secret.
How will Prince William be dressed?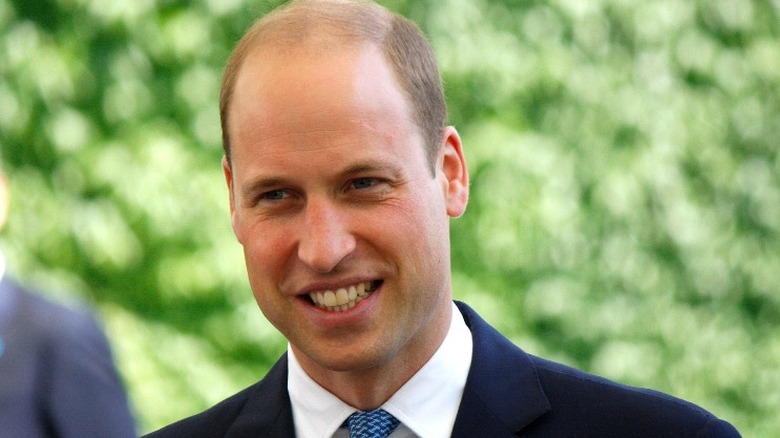 360b/Shutterstock
King Charles' eldest son, Prince William, is a style icon who has received accolades for his well-chosen knit ties, navy-check button-down shirts, and beautifully tailored navy suits. For his 2011 wedding to Kate Middleton, he had been planning to wear an Irish Guards frock coat. If you're not familiar with Irish Guards, they're an Irish regiment recruited from across the United Kingdom and Ireland that guards the royal family. 
Just two months before his wedding, William was appointed colonel of the regiment. His grandmother (the queen) had him wear the red tunic for that rank. Last June, he wore his Colonel, Irish Guards, Guard of Honour Order uniform to the opening event at Her Majesty The Queen's Platinum Jubilee celebrations. He'll likely be in his highest-ranking military uniform at the coronation, but with the less formal dress code, he could opt for an elegant suit instead.
What will Kate Middletown be wearing?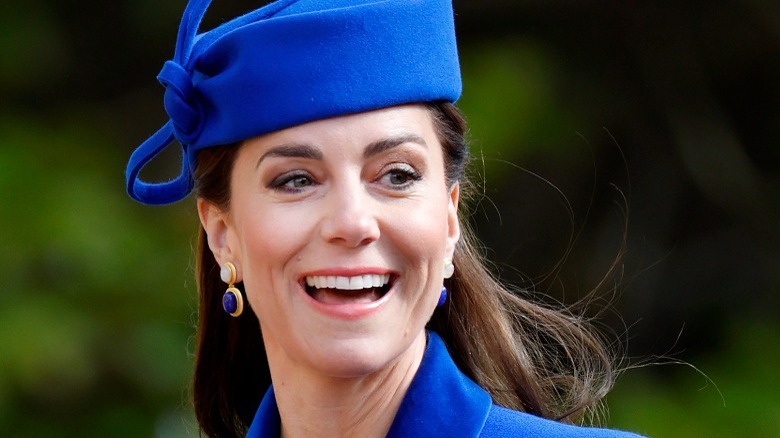 Max Mumby/indigo/Getty
A fashion maven in her own right, Kate Middleton will have to work hard not to outshine King Charles and Camilla on May 6. Some are predicting that Kate will wear a gown by one of her favorite designers, like Alexander McQueen or Jenny Packham, cut in the most flattering way possible. She wore a toned-down Erdem Moralioglu navy dress suit with white flowers for Commonwealth Day and teal instead of green on St. Patrick's Day so she may take another route for the upcoming ceremony.
It's been reported that Charles doesn't like to be upstaged and allegedly was displeased with how Diana's fashion choices took the spotlight. Kate will be wise to keep that in mind. Her outfit probably won't be that grandiose but still elegant. She is partial to coat dress ensembles, tonal looks, and printed dresses for casual events but steps it up for formal royal events. Her gown will likely be sleek with a modest neckline and single-tone detailing.
Prince Harry will be in attendance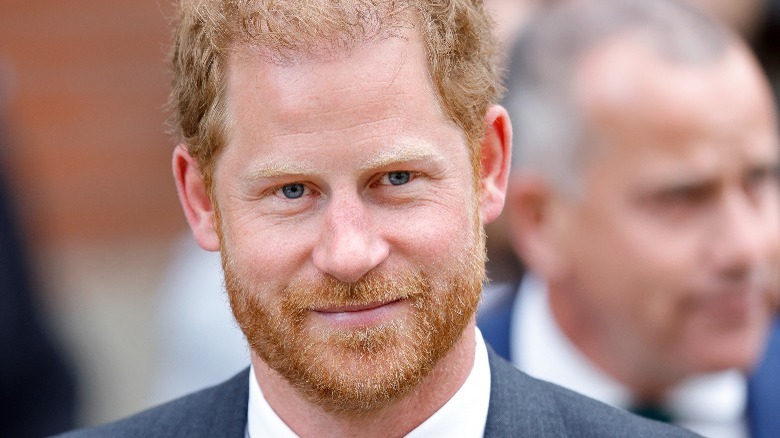 Max Mumby/indigo/Getty
Everyone has been asking, "Will he be there or won't he?" and a few weeks ago, Buckingham Palace finally confirmed that yes, Prince Harry will attend the coronation service. His wife, Meghan Markle, will not be there. The Palace states she'll be staying in California with the kids. This shouldn't come as a huge surprise to anyone who's been following the story since Harry shared some unflattering comments about many of his royal relatives. He didn't respond by the RSVP date but is planning to show up — just for the ceremony. He is Charles' son, after all, so the repercussions of not being there would be significant. Who knows? It could be a stepping stone toward a possible reconciliation.
Although it hasn't been confirmed yet, it's rumored that Harry will be a guest at the ceremony rather than a royal participant. That means that he wouldn't be in the procession or be invited to pay homage to Charles by kissing his left cheek and touching the crown. If he is a guest, Harry wouldn't be seen wearing a military uniform or hanging out on Buckingham Palace's balcony after the coronation, either, but, of course, he'll follow the gentlemen's dress code.
Who'll be wearing crowns?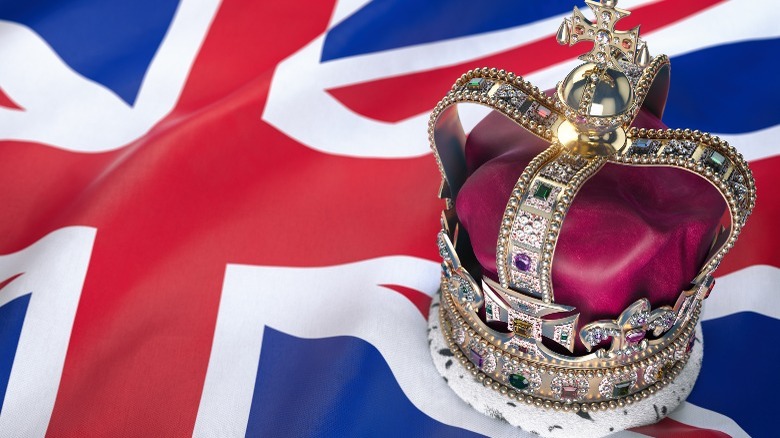 Bet_noire/Getty
King Charles will be crowned with the historic St. Edward's crown, which was used in the 1661 coronation of St. Edward. This is the familiar golden crown with the purple velvet top and white ermine band. The medieval design features four gold crosses (one's on the top), four fleurs-de-lis, large rubies, sapphires, and other stunning jewels. It weighs about five pounds. He'll be wearing another crown for the return procession, though. Called "the working crown," this lighter Imperial State Crown has 2,868 diamonds, the Stuart Sapphire, and the Black Prince Ruby.
Camilla will not be wearing the crown of Queen Elizabeth to the coronation. That was presented to Queen Elizabeth II's mother, and Camilla wore it to her funeral. There is controversy surrounding this crown. It features the 105.6 Koh-i-Noor diamond, and it's been asserted that the gem was stolen from India. The queen consort will wear Queen Mary's Crown instead, which was resized and re-studded with the Cullinan III, IV, and V diamonds. Those belonged to Queen Elizabeth II's collection, and she wore them as brooches. Other royal family members, including Kate, may or may not be wearing coronets and tiaras to the event.
Expect to see sparkling jewels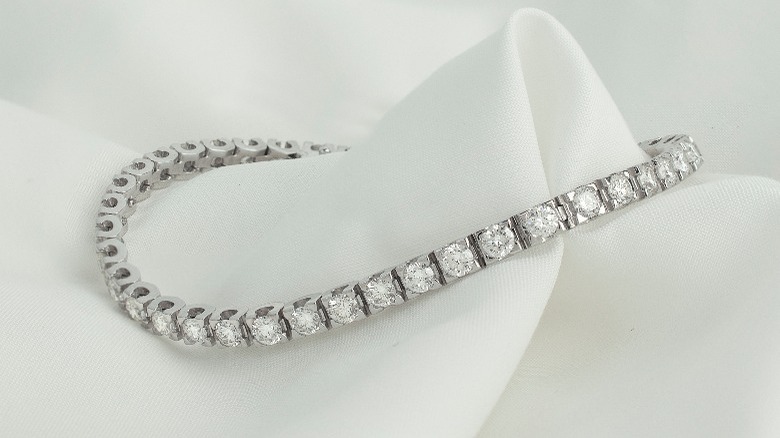 snkar2021/Shutterstock
King Charles will also have the coronation ring placed on the fourth finger of his right hand. This has been used in the ceremony since 1831 and was made by British jewelers Rundell, Bridge & Rundell. It's shaped like a cross and decorated with sapphires and rubies. The soon-to-be-monarch will also be wearing his signet ring on his left pinky. This ring was handed down from his granduncle, the Duke of Windsor. There will be plenty of jewels on the Sovereign's Scepter to be presented to Charles by the Archbishop. Featuring the massive Cullinan II diamond, it was made for Charles II in 1661. Also, look for the royal orb created that same year. That's the round piece you'll see him holding at the coronation. It has a cross and large amethyst on top and is ringed in gold with diamonds, rubies, emeralds, and other jewels.
Camilla's hand will likely be graced with the queen's consort ring that day. Made in 1831 for King William IV's wife Adelaide, it has diamonds and rubies. These are all part of the Crown Jewels of the United Kingdom, and other pieces like a second scepter and the Jeweled Sword of Offering will also be front and center. The queen consort might also don some of Queen Victoria's jewels, like the stunning Hesse Diamond Jubilee brooch. The royals possess some of the most extravagant bling on the planet, so it's a safe bet that much of this finery will be on display at the coronation.
Will guests be dressing up?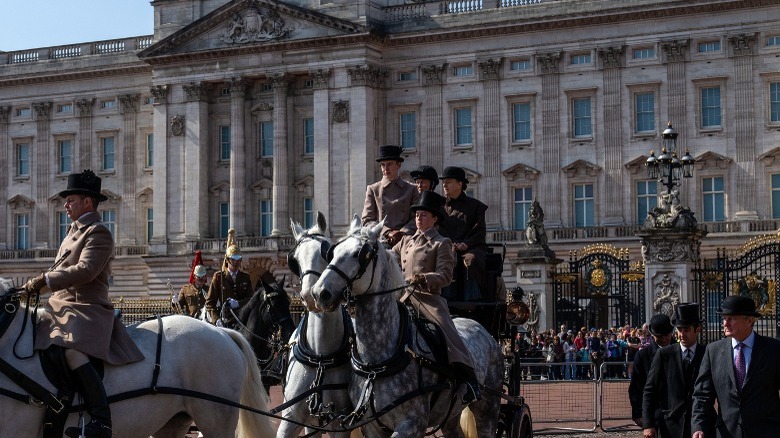 Carl Court/Getty
Since the order for dressing down has come from the top, guests will want to toe the line unless they want to be scoffed at by the media. The king's wishes have been well-publicized, so the chances of anyone going fully rogue are fairly low. Many guests will attend, but signs indicate that most of the women won't be wearing gowns. There could be a lot of beautiful day dresses instead and plenty of those cool British fascinator hats that everyone looks forward to seeing.
Attendees in the military may be wearing their uniforms, but there will be many men's morning suits as well. And since Harry is categorized as a guest (for now), he might be wearing either. If any foreign monarchs are there, they might wear their traditional ceremonial dress clothing. However, it has been reported that foreign monarchs don't usually attend these events.
Expect the unexpected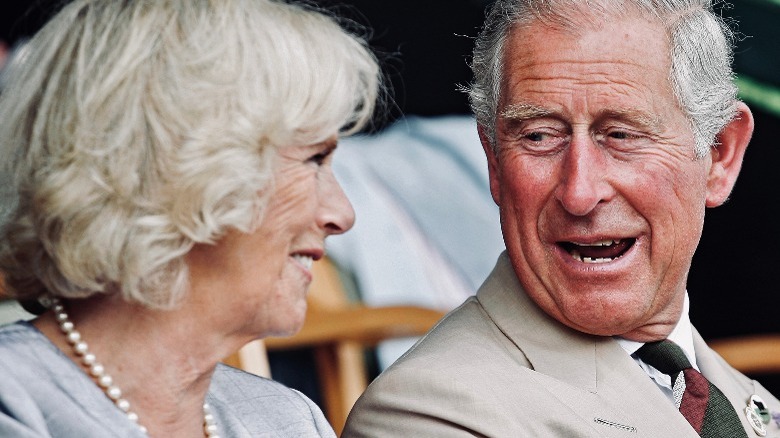 Peter Rhys Williams/Shutterstock
Royal events like coronations have historically been optimum settings for participants to show up sporting traditional outfits, over-the-top finery, and exquisite jewels. Peers will dress down as requested, and the crown jewels will be in full effect that day. After all, that's what they were designed for. Even though Charles wants things to be more modest to reflect modern sensibilities, expect plenty of surprises.
Camilla is a somewhat understated queen consort, but she might pick an unusually bright color or pattern for this special day. The jury is also still out on Kate's decision about wearing a tiara. Prince Harry is the real wildcard, and not only for what he will wear. Guessing about everyone's attire and actions can be just as much fun as watching the coronation! Things like the crowning and ring placement will never change, but there are usually a few surprises. That's what the public loves the best.