Items You Need In Your Makeup Bag When You Make A Trip To The Beach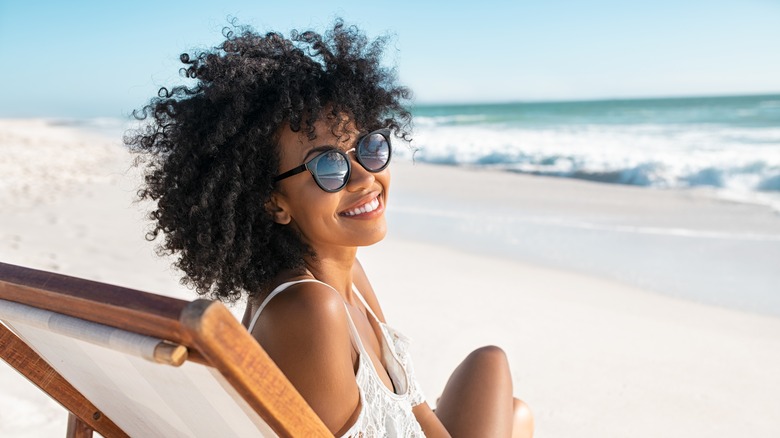 Ground Picture/Shutterstock
We may receive a commission on purchases made from links.
With the weather warming up, the warm sands and blue waves of the beach may be calling out your name. Whether you prefer to soak up the sun while lounging on a blanket or get your feet wet in the water, you may want to look your best while at the beach. Outside of packing your best bikinis and ensuring that you have your favorite summer beach reads, putting all your necessities in your makeup bag will lead to a stress-free beach day.
If there's anything that you forgo when headed to the beach, don't let it be sunscreen. Wearing sunscreen on any day is important, but it's absolutely crucial when spending all day in the sun. Use an SPF of 30 or higher and reapply every two hours or whenever you get out of the water. To protect the face, body, and scalp, use the La Roche-Posay Anthelios Ultra Light Sunscreen Lotion Spray.
If you have oily skin, opt for a powder sunscreen such as the Colorescience Sunforgettable Total Protection Brush-On Shield SPF 50. It comes in four different shades, so it will never look too light or too dark on your skin. An important part of your skin that should always be SPF-protected is the lips. The lips are very prone to getting sunburned, but the Vacation Lip Desserts Sunscreen Lip Balm can prevent that. It has an SPF of 30 and comes in five delicious flavors, from Bananas Foster to Strawberry Jello Salad.
Use sweat and waterproof makeup
If you're going to the beach, you can probably conclude that the weather is going to be hot. Although you want to have dewy mermaid skin at the beach, you don't want to end up looking absolutely drenched before you even step foot into the water. The key is to find products that are waterproof and slightly matte. For a lightweight application, try the Bare Minerals Complexion Rescue Tinted Moisturizer. With gel-like finish and an SPF of 30, it feels light on the skin while protecting the skin from UV rays.
Since you'll be outside for hours on end, you may want to spring for items that don't require any tools to apply. A dual-ended highlighter and blush, the Wander Beauty On-the-Glow Blush & Illuminator can be applied with only a few swipes of the finger. The cream product delivers a natural glow, boosted by vitamin E, making up for naturally-occuring vitamin E in the skin that is reduced by sun exposure.
For mascara that won't run down your eyes, use the Covergirl Clump Crusher Waterproof Mascara. It gives you lengthy, separated, yet natural-looking lashes, making you look like you woke up like this. To lock everything in place when going for a swim, use the Milani Make It Last Sunscreen Setting Spray. It also operates as a primer, so you can use it before makeup, as well.
Always pack these essentials
As beautiful and scenic tropical locations are, they can also be quite dirty. While it'd be nice to have your own private slice of heaven, there are other patrons stepping all over the sand you're laying in and swimming around in the waters you submerge your entire body in. There may be long lines for the bathroom, so carrying around your own sanitary items can help you avoid the wait. Pack some hand wipes or use hand sanitizers to stay clean.
The Touchland Hydrating Hand Sanitizer kills 99.99% of germs and also contains aloe vera and essential oils to keep hands soft and moisturized. Aloe vera is great for tropical environments, cooling down overheated skin when things get a bit too intense. The Mario Badescu Facial Spray is a favorite for a reason — made with aloe vera, rose and gardenia extract, and thyme, it rejuvenates and refreshes the skin.
Another staple item, the Sol de Janeiro Rio Deo Aluminum-Free Deodorant eliminates odor and soothes the skin, imparting its classic scent of pistachio, jasmine, and salted caramel. The deodorant keeps your underarms dry all day while leaving you with an even skin tone free of ingrown hairs.