Can You Turn Your Black Hair Red Without Bleach? This Viral Tutorial Says You Can
It's no secret: bleach can totally damage your hair. While more natural lightening methods can provide a great alternative, they tend to favor blondes. If someone with dark hair wants a pop of color, they'll have to go through an extensive bleaching process that can leave their hair brittle and bone dry. While there are definitely good hair dye options for dark-haired women out there, most semi-permanent dyes won't work on ladies with black hair unless a bleaching agent is involved. But what if that didn't have to be the case?
TikTok has been exploding over @casjerome's viral "natural redhead" transformation. In her video, Jerome explains how her hair went from black to red with no bleach and zero damage done to her hair. "This only works if you have black hair," Jerome claims in the TikTok, "because . . . it's extracting the natural red tones from your black hair."
While she says that not every hairstylist knows this secret, we definitely want in on it.
How does it work?
Color director Jaxcee told Refinery29 that "dark hair has lots of natural red tones, so when you strip it there's a lot of warmth underneath," and recommends that you try this trick on virgin hair only. However, that perfect red shade you're looking for won't be so easily obtained. Though dark hair does contain reddish tones, toner is usually needed to maintain the desired shade, since it can turn out brassy when left to its own devices.
Jerome explains this in her TikTok, during a clip where her colorist is seen applying product to her hair: "This whole process . . . is toning my hair, to get the natural red out of the black." Afterward, she was also given highlights and a gloss, to achieve her current hair color.
So, while the absence of bleach definitely minimizes the damage, don't be fooled: there is still hair product involved in the process. Regular trips to the salon, while avoiding common newly-colored red hair mistakes, will keep your new color intact.
What if your hair's already been dyed?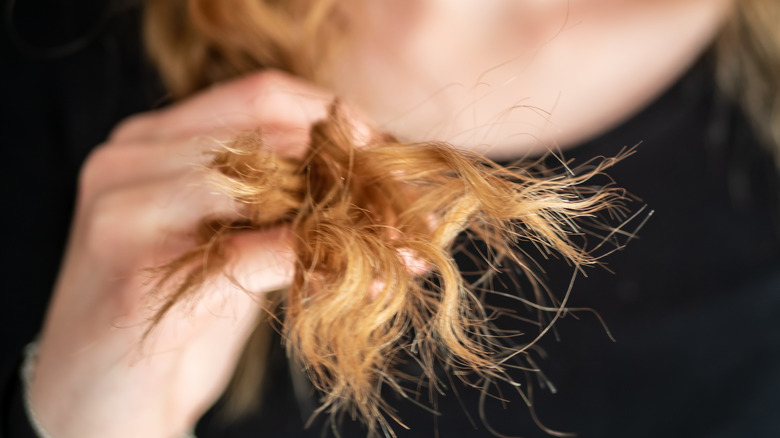 Sonja Rachbauer/Getty Images
There's definitely merit to Jerome's viral tutorial. If you have non-virgin hair, though, this process will be a bit different for you, especially if there's already some dye in your hair. You might not get that sleek "Cas Jerome" look.
But don't lose hope just yet! By adding more highlights and gloss, in a similar fashion to the virgin hair process Jaxcee explained to Refinery29, you can still become a redhead. However, the process will involve more extensive work and can damage your hair further. There's also the possibility that the existing color will have to be removed before any more coloring action can be taken. While you can still go for it, you won't have the added benefit of minimal hair damage. This hair hack is a bit of a one-time deal and works best for those who've never experimented with their hair color before.