The Meaning Behind The May Emerald Birthstone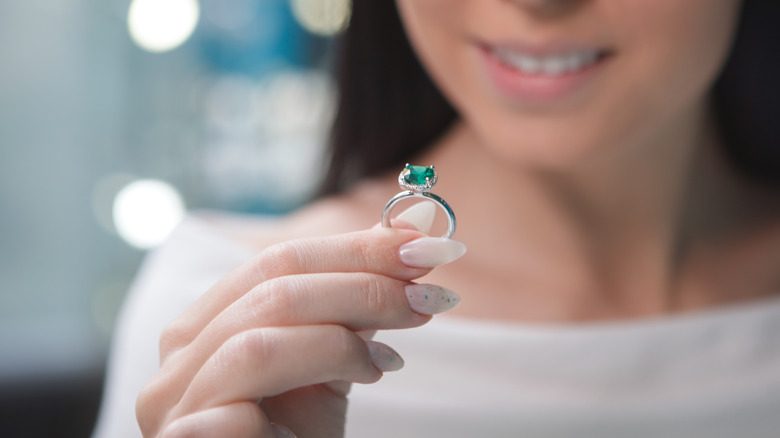 Ihor Bulyhin/Getty Images
Birthstones are a great way to accessorize and show off your style while also representing your specific birth month. However, the history of the 12 stones is more interesting than you may think. The origin of birthstones dates back to biblical times when a Hebrew priest named Aaron created a breastplate with 12 gemstones, which now are linked to the modern-day birthstones that have come to know (via LoveToKnow). Hindu history also gives some insight into the origins of birthstones, as they told stories of links between gems, months, and days of the week. They believed that wearing the gems could bring protection, peace, and abundance to their people.
The more modern use of birthstones became popular in Europe in the 1500s. In 1912, the Jewelers of America Association created a formal list of birthstones, including garnet for January, diamond for April, ruby for July, and opal for October, among others. This is the modern birthstone chart that we have all become familiar with.
These days, many people wear the birthstone that correlates to their birth month in the form of rings, earrings, necklaces, and bracelets. Those born in May are fortunate enough to call emerald their birthstone, and the gem is said to hold a big significance.
Emeralds are thought to increase creativity and bring prosperity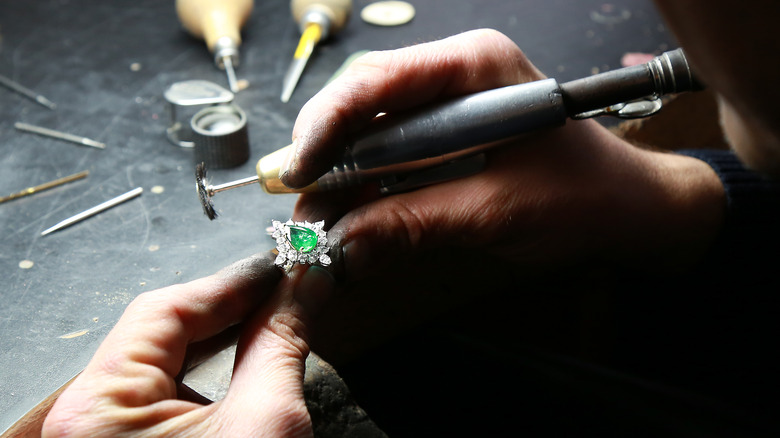 feedbackstudio/Shutterstock
Emeralds are said to have many spiritual traits that can bring benefits to those born in May who decide to wear the stone or carry it with them.
"This is a gemstone which can manifest huge gifts of magnetic good fortune, abundance, and health," author and founder of Goldirocks, Yulia Van Doren, tells Mind Body Green. Emeralds can also help increase energy and creativity, added Doren. When it comes to the zodiac sign for May, Tauruses are known for being a bit stubborn, and wearing emeralds is said to help them find balance. Meanwhile, May Geminis are said to be very complementary to the stone due to their creative personality traits.
In addition to looking great, emeralds were once thought to ward off evil spirits and bring forth the truth (via Truly Experiences). As It's also been said to bring health and wealth. As for the color of the stone, experts believe it improves memory and enhances eyesight. Emeralds have become a symbol of eternal love and are associated with romance, friendship, and unity, which is why many may gift emeralds after having racked up a number of years of being married, as per Gemstones.com.
Emeralds are thought to improve mental and emotional health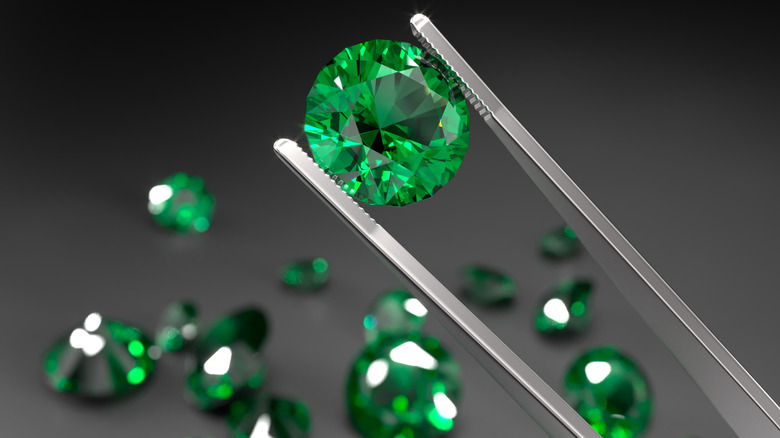 Julia Kuznetsova/Getty Images
Emerald seems to be the perfect birthstone for May, as the green color goes perfectly with the spring season and symbolizes rebirth and renewal to many. The stone is thought to be great for physical health and strength, along with having a reputation for helping to heal organs, such as the heart and kidneys, as well as the circulatory system, and neurological issues, according to Gemone Diamonds. People have also used emeralds to improve their mental and emotional health, helping some see the light in difficult situations, as per Tiny Rituals. The Ancient Egyptians were even under the impression the stone aided in fertility.
Emeralds have a huge place in history as well. In fact, Egyptian queen Cleopatra was said to be so infatuated with the gemstone that she even claimed ownership of all the emerald mines during her reign (via Pure Wow). Famous emerald jewelry, such as Elizabeth Taylor's necklace and brooch set, the Diadem of the Duchess of Angouleme's tiara, and the crown of Ande's, has also made history.
Emeralds continue to be one of the most popular gems for those who boast the birthstone and others who simply fell in love with the stunning look of the stone. It's easy to see why many show off their emeralds in jewelry form and how they've become a love for celebrities and historical figures alike through the centuries.