Eye Drops For Acne? How Visine Can Help Hide Breakouts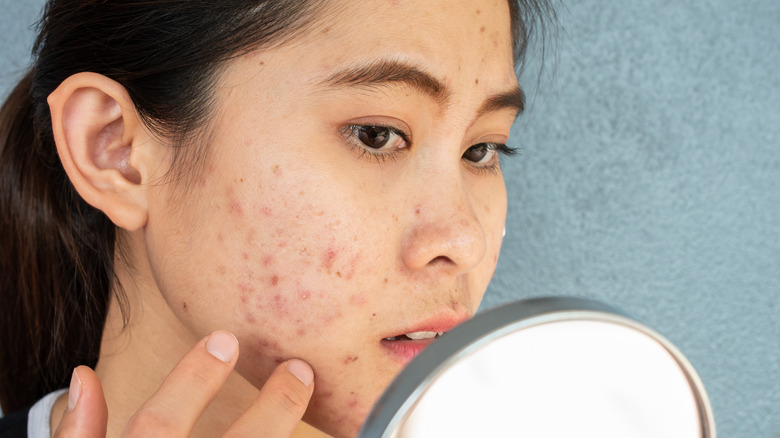 Boyloso/Shutterstock
Acne is skin's true villain. You can religiously apply a skincare regime, only eat clean foods, and change your pillowcase every night, but a pimple will still find its way front and center on your face. Whether it is a whitehead, blackhead, or pimple, acne terrorizes puberty-stricken teens and mature adults alike.
It has bred an online community of shared frustrations and DIY acne remedies with hopes of solving this skin nightmare. Some hacks are definitely better than others. Dermatologists warn against the viral aspirin face mask but support homemade aloe vera facials. Toothpaste might be too harsh for the skin, but a honey and turmeric mix can be the right combination.
Another hack seeking approval from the masses involves eye drops. Yes, Visine might be added to the acne-fighting arsenal. Some of our favorite celebs swear by it. For years, Visine has helped people take care of dry, itchy, and red eyes. But what about dry, itchy, and red blemishes?
The pimple remedy everyone is trying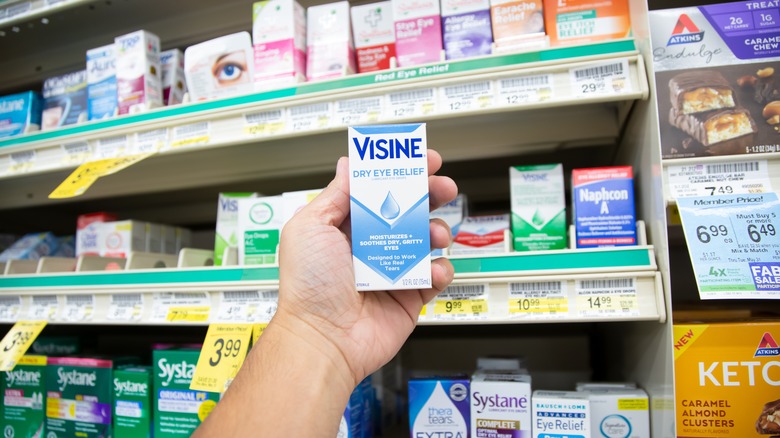 The Image Party/Shutterstock
Visine is made with 0.05% tetrahydrozoline. It is a decongestant and vasoconstrictor that reduces swelling in blood vessels, resulting in redness relief. And the product slogan — "It gets the red out" — applies to more than just bloodshot eyes. Tetrahydrozoline fights against acne. It is a DIY remedy that actually works. Any eye drop with the vasoconstrictor will do the trick.
It turns out treating pimples isn't the only unconventional way to use eye drops. Dark circles? Try Visine. "Broken or dilated blood vessels under your eyes often cause or contribute to dark circles, especially if your skin is very fair," New York City dermatologist David Bank explained. He told Allure, "Visine constricts blood vessels, so it'll make that less obvious." No red eyes after crying, dark circles appear lighter, and your zit is less red? It sounds too good to be true, but Visine is a skin hero. And here's how you can use it to make pesky pimples disappear.
How to use Visine to hide pimples
Drew Barrymore swears by the ice and Visine home remedy for clearing acne. After popping a pimple, she uses ice to tackle the swelling and eye drops to reduce redness. In an IG post, Barrymore says, "Put the Visine on the redness, and I swear to God, it really lightens it up." You know Barrymore is all about the drugstore hacks. Her healthy and beauty brand Flower is a CVS staple, so we don't take her advice lightly. But she is not the only expert who uses this trick.
Makeup artist Matin Maulawizada reaches for the Visine when he feels any pus-filled bumps starting to form. First, he goes in with witch hazel and then a cotton pad soaked with Visine. Leave it on for a few minutes, and voilà. While Visine is a quick fix for zits that pop up overnight, it is not a permanent solution. So don't swap out the retinol for eye drops. They provide cosmetic fixes and don't serve to cure acne or prevent future breakouts. It is kind of like a liquid pimple patch.