Does Retinol Exfoliate Your Skin?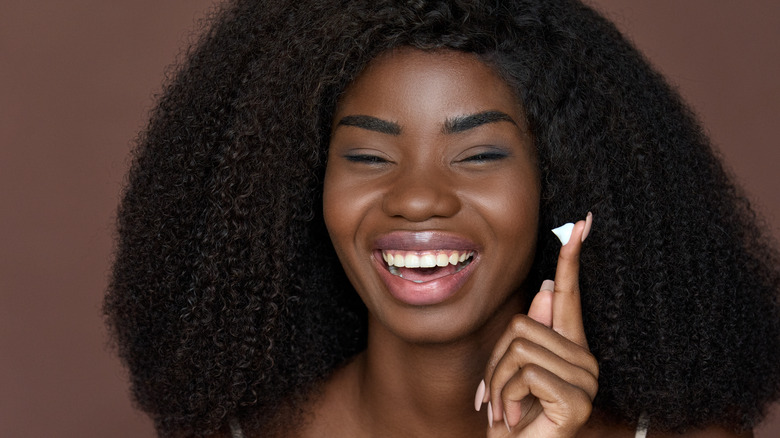 Insta_photos/Getty Images
Almost everyone and their mother who has a basic understanding of skincare seems to use some form of retinoid. Whether they secured a tretinoin prescription through their dermatologist or have a favorite drugstore retinol they use, the ingredient has made its way into a large number of routines. Retinoids come from vitamin A, an antioxidant-rich vitamin found in dairy and leafy greens that helps with anything from eye health to pancreatic disease.
In the realm of skincare, it has the ability to transform the tone and texture of the skin. There are different types of retinoids, such as retinol and retinal. They all differ in strength, with retinol, tretinoin, and retinyl esters being popular forms of the vitamin. Retinol is used for all types of skin concerns — it can reverse signs of aging, fade hyperpigmentation, reduce the appearance of pores, and clear away acne. Retinol's strength gives the outer layer an overall smoother, plumper look, almost as if it's been freshly exfoliated. However, retinol technically doesn't exfoliate the skin.
What does retinol actually do?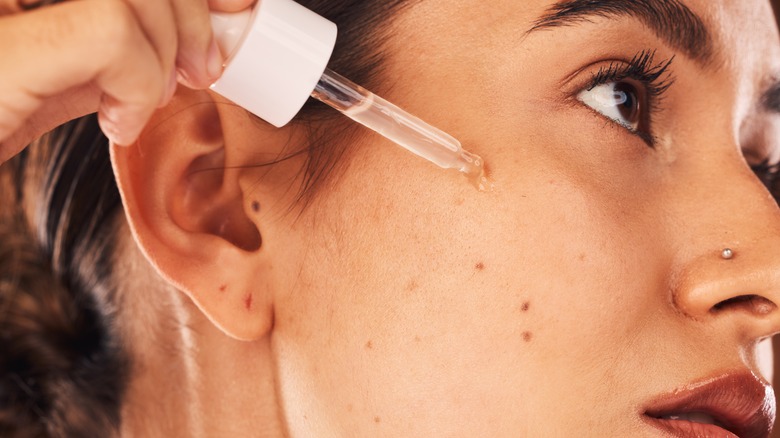 PeopleImages.com - Yuri A/Shutterstock
Retinol works by penetrating to the middle layer of the skin, boosting the production of skin cells and collagen. By doing this, it presents the look of fresher, newer skin without actually exfoliating. According to the American Academy of Dermatology Association, "exfoliation is the process of removing dead skin cells from the outer layer of your skin." While retinol does increase the skin cell turnover process, it actually doesn't reduce dead skin cells found on the surface of the skin.
Although retinol takes a few weeks to work, if you notice that you still have some texture after abandoning your exfoliant for a more powerful retinoid, then you need to incorporate it back into your routine. Both chemical exfoliants and retinols are powerful, so it's possible to use them in the same routine, but you should proceed with caution. Using them only a few minutes apart has the potential to irritate your skin, ultimately causing damage to your skin barrier. Instead, you can try 3-day skin cycling.
Shop the best products for skin cycling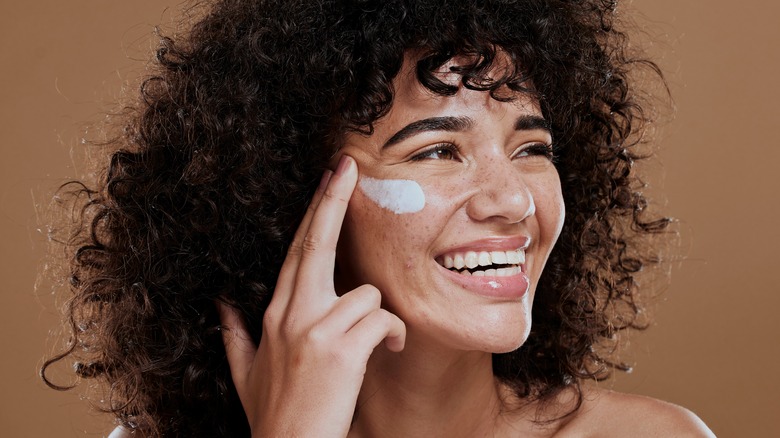 PeopleImages.com - Yuri A/Shutterstock
On night one, use a chemical exfoliant; this will slough off the dead cells on the surface of your skin, readying your face for the next night. The Cosrx AHA/BHA Clarifying Treatment Toner is gentle enough to not irritate your skin when you use retinol the next night. It contains glycolic acid, willow bark water, and apple fruit water, a combination of AHAs and BHAs that will melt away dead skin without causing any tenderness.
The next day, use a retinol on clean, dry skin. For a beginner-friendly retinol, try the Bliss Youth Got This Serum Retinol. It's formulated for all skin types, including sensitive skin. With squalane, amino acids, and peptides, it works to restore the skin barrier as it works deep within the surface, reducing fine lines and discoloration.
Day three is all about giving your skin a break. Use a gentle, hydrating serum with niacinamide, hyaluronic acid, or propolis that will work to strengthen your skin barrier. The Krave Great Barrier Relief Serum is a buttery serum formulated with ceramides, niacinamide, and tamanu oil. It balances the skin, soothing irritation caused by actives used earlier in the week.