Kate Middleton's Birthday Post For Queen Elizabeth Features (Most Of) Monarch's Great-Grandchildren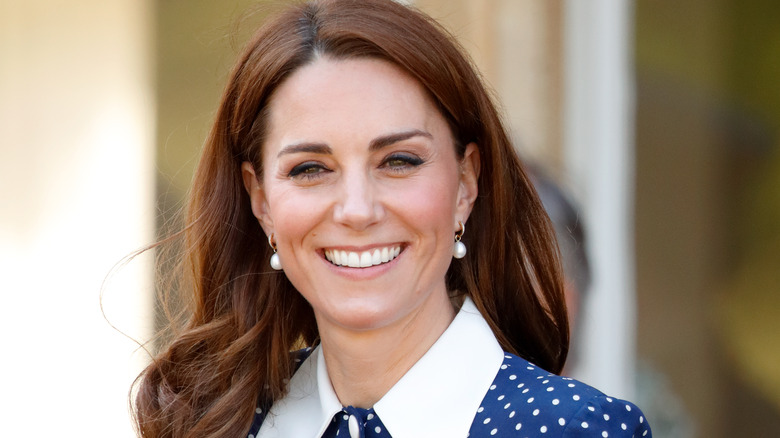 Max Mumby/Indigo/Getty Images
Catherine, Princess of Wales, has a passion for photography, and she frequently uses her skills to capture some of the most intimate royal family photos. Kate's grandfather, Peter Middleton, shared his love for picture-taking with his granddaughter, and he helped her begin building her skills in childhood. Now Kate has made a tradition of publicly sharing her photos of her three children to celebrate their birthdays, and important events like the first day of school or Christmas. This strategy allows Kate to control the narrative, beating the paparazzi by providing her own pictures. 
Since she's part of the family, Kate's able to capture the royals when they're at ease, giving fans a behind-the-scenes experience. Referencing a 2021 photo of Prince William and Kate's three children, royal photographer Arthur Edwards expressed his admiration. "I would have killed to have taken that picture," he shared with People. "You know that only a mother or a father could get that picture, and it's an absolute winner."
Queen consort Camilla also praised Kate for taking her picture for Country Life magazine. "We had a lot of fun. It was very relaxed," Camilla reflected on ITV. "She's an extremely good photographer." Kate's also photographed her father-in-law, King Charles, sweetly embracing Prince Louis, highlighting the special bond between the pair. And now, to mark a poignant occasion, Kate shared one of her photos featuring Queen Elizabeth with some of the youngest members of her family.
Kate posted a family photo to honor the late Queen Elizabeth's birthday
On April 21, 2023, when Queen Elizabeth would have been 97, William and Catherine, the Prince and Princess of Wales, shared a previously unseen family photo on their social media accounts. Taken by Kate, the photo shows Queen Elizabeth with eight of her 12 great-grandchildren. Mia and Lucas Tindall are seated to the monarch's left, with their sister Lena perched on the back of the sofa. Their cousin, Savannah Phillips, is sitting on Elizabeth's other side. William and Kate's three children, Prince George, Princess Charlotte and Prince Louis, are standing in the middle row. Isla Phillips, Savannah's sister, is between Charlotte and Louis. In addition, Lady Louise and James, Earl of Wessex, the queen's youngest grandchildren, are in the back row of the family picture. 
The photo was taken in summer 2022, during Elizabeth's annual holiday in Scotland, where she often hosted extended family. While King Charles reportedly invited Prince Harry and Meghan Markle to the Balmoral estate last summer, the couple declined, which is why Prince Archie and Princess Lilibet aren't in the picture. (Harry and Meghan also turned down a 2019 invite.) Princess Eugenie and Princess Beatrice's children are also missing from the photo, although one of the background pictures may be of Sienna, Beatrice's daughter. Beatrice and her family did visit Balmoral at a different time that summer, which her husband, Edoardo Mapelli Mozzi, referenced in an Instagram tribute when the queen died.
Queen Elizabeth loved being with her grandkids and great-grandkids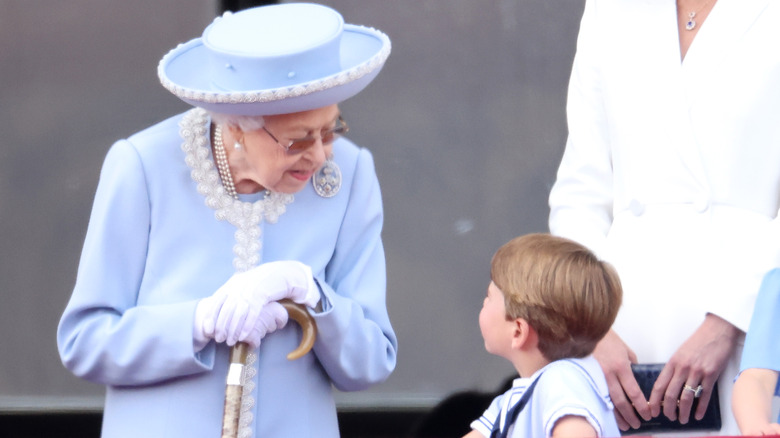 Chris Jackson/Getty Images
Queen Elizabeth was affectionately called "Granny" by her grandchildren, although she also answered to "Gary" when Prince William was little. To the queen's great-grandchildren, she was "Gan Gan," proudly adopting a moniker that was used by King Charles, Prince William, and Prince Harry for their own great-grandmothers: Queen Mary and the Queen Mother, respectively. 
In the documentary "Elizabeth: The Unseen Queen," the late monarch shared her feelings about the younger generations of her family. "One of the joys of living a long life is watching one's children, then grandchildren," she said, per Express. "Faith, family and friendship have not only been a constant for me, but a source of personal comfort and reassurance." Back in 1978, a year after she first became a grandmother, the queen proudly shared a short film of her with grandson Peter Phillips for the Christmas broadcast. Elizabeth relished holidays with her family. "The queen is in her element when she's got her great-grandchildren sitting on her lap and having that family time," royal expert Kerene Barefield told Us Weekly.
During the Platinum Jubilee celebrations, the queen's bond with her great-grandchildren was evident during two balcony appearances. As planes flew overhead, the monarch smiled and made conversation with Prince Louis, helping him calm down after the loud noise caused him to cover his ears. At the conclusion of the festivities, Elizabeth and Prince George smiled at each other during the final balcony appearance of her reign.