How Often Should You Be Using Rice Water For Hair Growth?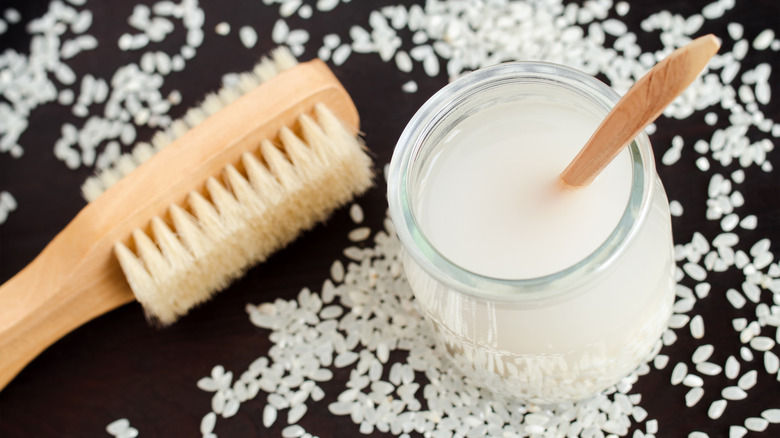 Kazmulka/Getty Images
BeautyTok is full of just about every DIY trick and tip you can think of. Want to get smoother skin? Are you yearning for thicker eyebrows? Don't know how to use contour? Whatever your qualm or query, some TikTok user out there has a solution. If you're losing hair, there's one at-home hack that hundreds of beauty influencers agree on — rice water can really make your hair grow.
The hashtag #ricewater has over 690.2M views. Just about every post on the page promises that if you wash your hair with rice water, it will lead to long, luscious, and shiny locks. Dr. Yoram Harth, a board-certified dermatologist, confirmed this claim to Real Simple, saying, "Over time, consistent use can strengthen cuticles, soften strands, and even minimize the appearance of split ends." However, it's important to note that "consistent use" does not mean "frequent use." For some people, the more will not be the merrier when using rice water for hair growth.
Using rice water too often may damage your hair and scalp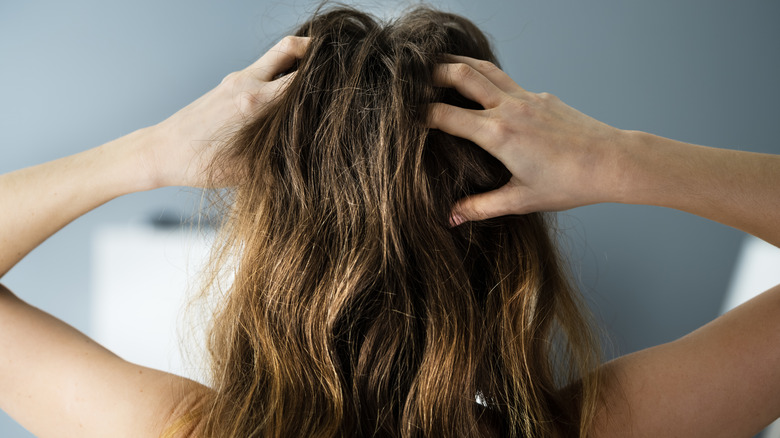 Andreypopov/ Getty Images
When you see positive, quick results with something, it can be easy to go overboard with it. TikTok user @monicacristina warned her followers what happened when she did this with rice water. According to @monicacristina, doing it more than once a month caused hair breakage. In an interview with Cosmopolitan, trichologist Bridgette Hill explained, "If you have low-porosity hair, then rice water will create a protein buildup on the hair that can cause extreme dryness and damage fast."
And, if you want to use rice water for hair growth, overuse could prevent any progress. Dr. Harth told Real Simple, "Excessive use of DIY rice water can result in protein and starch buildup on the scalp—this buildup will eventually damage the scalp and slow down hair regrowth." 
While you might be excited about learning this natural beauty tip, you don't want to get too excited. Hair care specialists have some recommendations for how to use rice water without running into these problems.
How to use rice water without overdoing it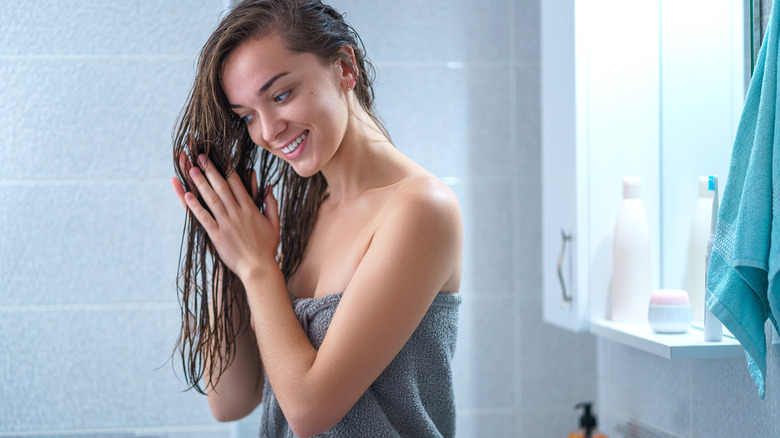 goffkein.pro/ Shutterstock
If #ricewater videos have been showing up all over your FYP and you're ready to try it, take some advice from the experts to ensure you don't damage your hair. Gaby Longsworth, certified hair practitioner, told Women's Health that some people might not even benefit from rice water at all. Longsworth commented, "If your hair is healthy and doesn't have a lot of damage ... you don't really need a rice water rinse." But if your hair could use some TLC, rainwater is not out of the picture.
Kari Williams, a board-certified trichologist and member of DevaCurl's Expert Curl Council, told Byrdie, "Because rice water can also be very drying for the hair, particularly tighter textured/curly hair (the tighter the curl, the drier the hair); I would minimize the use to 1 – 2x per week, and deep condition hair as needed." You, too, can experience all of the incredible hair-growing effects of rainwater that everyone is buzzing about. But, it seems that this will only be true if it is used in moderation.