Give Your Hair An Extra Boost With Caffeinated Shampoo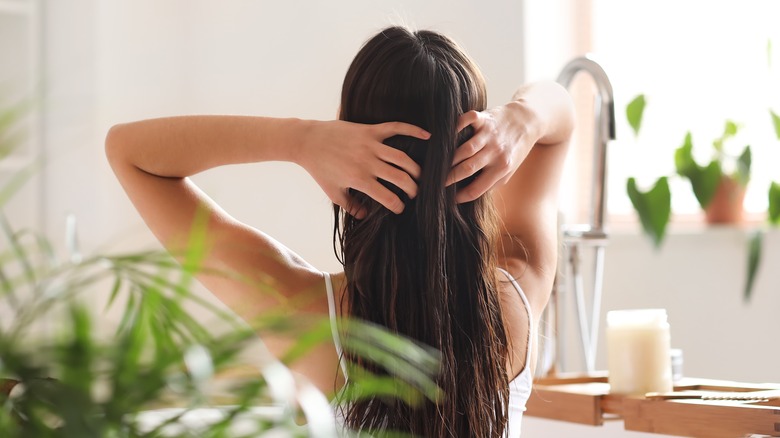 Pixel-Shot/Shutterstock
When you're feeling groggy and are in need of a pick-me-up, you probably reach for a trusty cup of coffee in the morning. Whether you're a coffee enthusiast and drink it every day, or occasionally have a cup every now and then, coffee is a staple drink many people can't imagine living without. 
Drinking coffee has many benefits, as it boosts energy levels, supports your brain health, is linked to a lower risk of depression, and can even support your heart health. You may be surprised to find out that coffee can not only boost your energy, but its ingredients can give your hair an extra boost, too.
If you struggle with thinning hair, breakage, or are looking for a haircare staple that can help you get thick, luscious locks — caffeine, just like the kind in your coffee, could be the surprising ingredient you've been missing in your haircare routine. Caffeine shampoo is popularly used as a product to prevent hair loss and help hair grow stronger and quicker.
The benefits of caffeine shampoo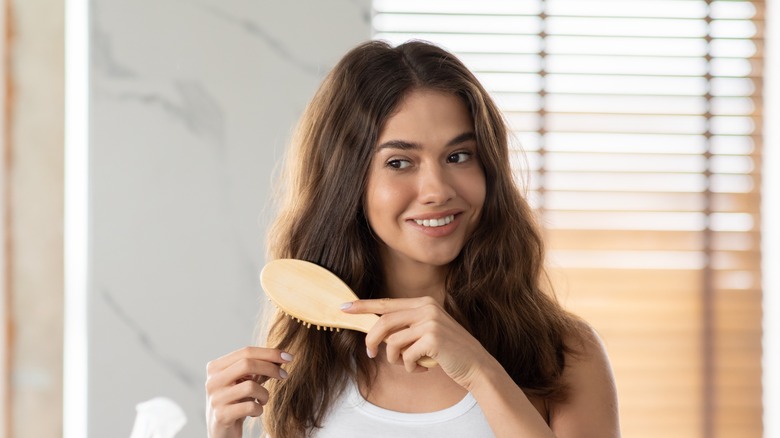 Prostock-studio/Shutterstock
Caffeine is an organic ingredient that acts as a stimulant to speed up the brain and the central nervous system. It's used in shampoo to stimulate the scalp and encourage hair growth by providing hair follicles with the energy they need to grow. By penetrating the scalp and reaching the hair bulb, caffeine shampoo gives the hair extra shine and conditions the hair. 
It also targets DHT, an androgen that causes thinning hair and hair loss. Celebrity stylist and Hollywood healthcare specialist Philip B. tells Byrdie, "As it permeates the scalp, it helps to boost circulation, which increases the health of both the scalp and follicle. Caffeine is like a workout for our scalp and strands."
A study in 2007 showed that by encouraging hair cells to produce more Adenosine Triphosphate, caffeine could promote hair growth and reduce hair loss. Caffeine shampoo is best for those struggling with thinning hair or breakage. 
How to use caffeine shampoo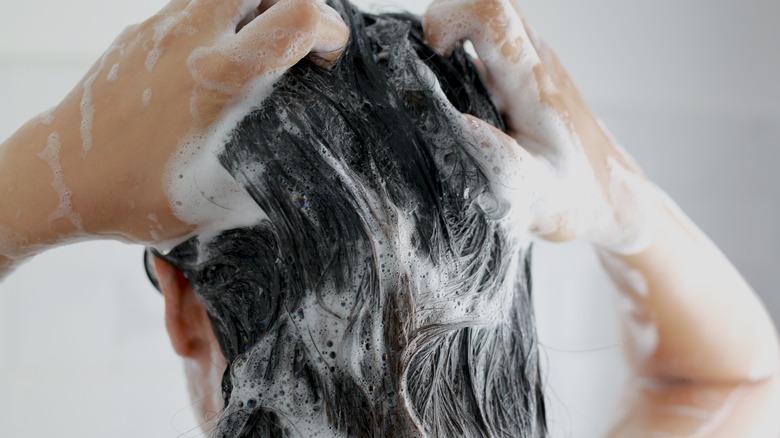 fongbeerredhot/Shutterstock
Caffeine shampoo is safe to use daily, and you won't have to worry about too much caffeine like you do when drinking it. Fortunately, you don't need to use it every day to reap the benefits, and using the shampoo too often can cause irritation. When applying the shampoo to your scalp, massage it in to stimulate the hair follicles and to prep the scalp for the shampoo. According to Philip B., massaging the shampoo into your scalp allows the caffeinated shampoo to "stimulate" those hair follicles and promote healthy hair growth.
Shampoo with caffeine is absorbed quickly into the scalp, and you only need to wash your hair with caffeine shampoo for two minutes. You can either choose to DIY your own caffeine shampoo using ingredients from home, or more likely, you can opt to purchase shampoo with the energizing ingredient to gain some healthy hair back.