Awkward Prince Edward Moments That Were Seen By Millions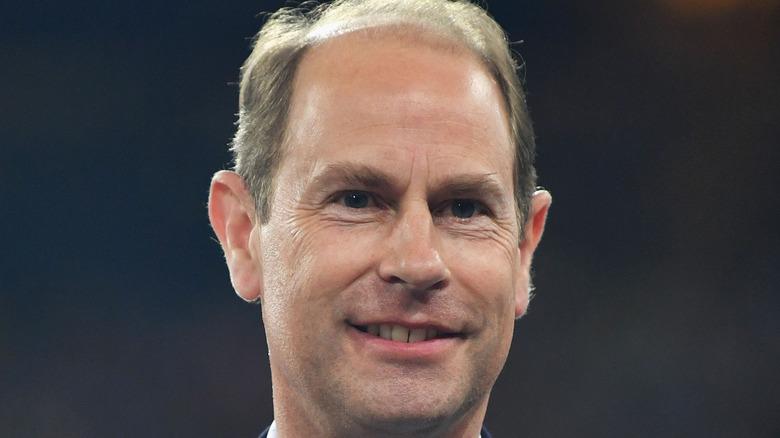 Dan Mullan/Getty Images
The British royal family may be known for its prominent position in the media, but Queen Elizabeth II's youngest son, Prince Edward, has nonetheless tried to keep a low profile. Over the years, Edward has fought to keep his life out of the press. In 1993, the prince famously wrote an open letter begging reporters to quit covering his romantic life. He even went so far as to accuse of media of "destroying that part of my life," via the Express. When he did walk down the aisle with Sophie Rhys-Jones in 1999, Edward made waves by organizing the smallest royal wedding of his generation. 
Nonetheless, in spite of all his efforts to keep his name out of the headlines, Edward hasn't managed to live a life completely devoid of scandals. From his disastrous appearance on a competition show to his snarky engagement announcement, Edward has experienced plenty of embarrassing moments, viewed by millions of people.
The reality TV scandal
One of Prince Edward's most embarrassing moments was the 1987 BBC competition show "It's A Royal Knockout." The single-program television program invited royals and celebrities alike to dress in medieval-inspired attire and perform ridiculous feats, per YouTube. Although the well-intentioned Edward organized the event for charity — and raised £1.5 million – he was also considered to have degraded the crown before 18 million viewers. 
Critics were appalled at the lack of propriety displayed by Edward, Sarah Ferguson, and Prince Andrew, who were filmed shouting and even arguing with other contestants.
Prince Edward's royal walkout
Minutes after Prince Edward's embarrassing performance in "It's a Royal Knockout," he proceeded to further damage his reputation. The prince walked into a room full of journalists who had been forbidden to watch the competition show film. Unaware of the situation, Edward asked the press if they'd enjoyed the show. When greeted with an uncomfortable silence, the prince lost his temper, exclaiming, "Thanks for sounding so bloody enthusiastic. What have you been doing in here all day?" 
He then stormed out of the room in what the press would later call his "royal walkout."
Prince Edward lost his temper talking about Sophie Rhys-Jones
The royal walkout wasn't the only time that Prince Edward lost his cool around the press. In the 1990s, when Edward was still dating Sophie Rhys-Jones, an interviewer asked him if he was planning to pop the question, via YouTube. An irritated Edward responded saltily: "Well, that's new! Most [reporters] think I already have." 
He then went on to warn that he wouldn't propose until the media left him alone: "If everyone stops asking me questions, who knows what might happen?" 
Unfortunately, critics said the prince's reaction made him sound "pompous."
He got snarky with journalists during his engagement announcement
Even after Prince Edward became engaged to Sophie Rhys-Jones, he continued to display embarrassing behavior toward the media. During the press conference where Edward and Sophie announced their engagement, the prince berated the papers for covering the relationship, per YouTube. "The trouble is everybody always speculating always made it very difficult [to propose]. Every time there was another round of speculation, I had to go very quiet again," Edward bemoaned. He then went on to request as intimate a wedding as possible, given that "there's no such thing as a private wedding."