The Most Controversial Royal Comments That Caused A Stir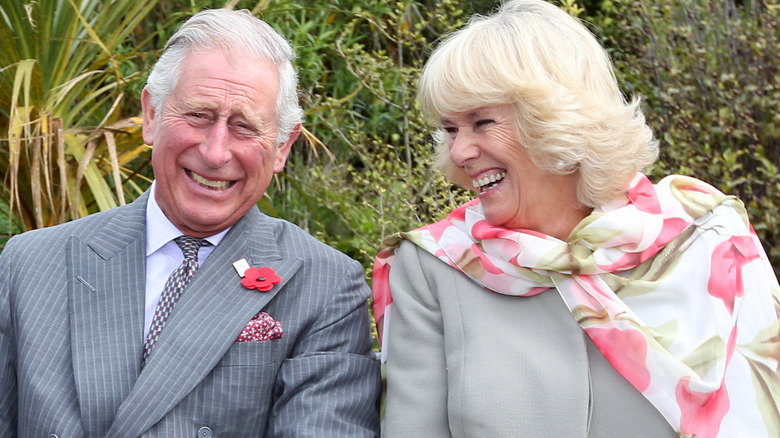 Rob Jefferies/Getty Images
The British royal family is known for having one foot in the present and another in the past. Many royals — including Prince William — are even known for being raised as if they were living hundreds of years ago. In the documentary, "William & Kate: Too Good To Be True?" (via YouTube), royal expert Tom Quinn explained just how antiquated the Prince of Wales' childhood really was: "William's childhood would have been very much as an 18th-century aristocrat's childhood would have been: governesses, nannies, the absolute best of everything. But, also, added to that, he would have been cosseted." Of course, this historic yet doting sort of upbringing wasn't limited to William; King Charles III was said to be raised under similar circumstances, with one of his nannies even losing her job because she refused to cave to his demands for dessert.
Unfortunately, however, with this sort of old-timey privilege comes a definitive lack of modernity when it comes to issues of class, race, and post-colonialism. Older royals, in particular, have been known to make comments reflecting their belief in their blue-blooded superiority. Princess Margaret, for example, was once caught hinting that Elizabeth Taylor — then one of the most successful women in the world — looked "vulgar" in her diamonds, as she didn't have an aristocratic background. Prince Philip's constant gaffes, meanwhile, were arguably even more off-putting. From uncouth words about royal servants to inappropriate paternity jokes, these are some of the royals' most controversial comments ever. 
The queen mother wrote a controversial letter about her servants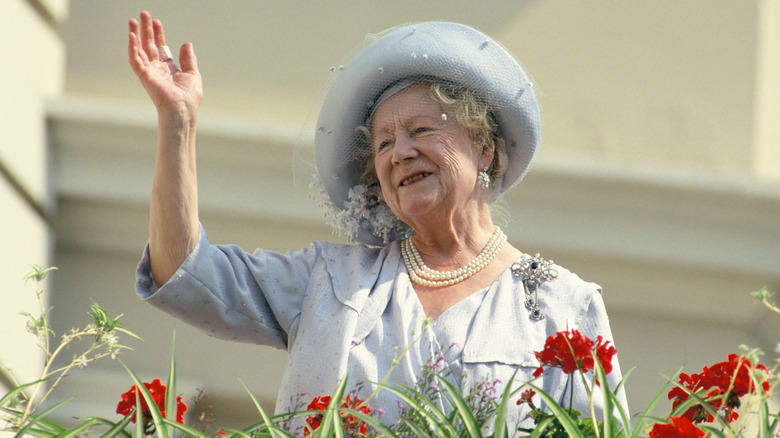 Georges De Keerle/Getty Images
World War II was a notoriously challenging time for the United Kingdom, as London was ruthlessly bombed by the Nazi Luftwaffe planes. The royal family did not escape the terror of these attacks — Buckingham Palace was bombed on September 13, 1940. Following these harrowing events, Queen Elizabeth, The Queen Mother wrote to her mother-in-law, Queen Mary, to recount exactly what had transpired. In her letter, the queen mother wrote, "It all happened so quickly that we had only time to look foolishly at each other when the scream hurtled past us and exploded with a tremendous crash in the quadrangle." Apparently, though, she felt terrified, writing that her "knees were trembling." Despite her fear, the queen mother declared she wouldn't flee London, choosing instead to remain in the city.
Mixed in with these heroics, however, were some controversial royal comments about the palace servants, several of whom were injured in the attack. Recalling their ability to maintain decorum, the queen mother wrote, rather condescendingly, "I was so pleased with the behavior of our servants. They were really magnificent." Unfortunately, when this letter was published in 2009, The Guardian critiqued the elder Elizabeth's words, labeling her "The queen of unkindness." The outlet reported that King George VI's private secretary once relayed a poem to describe her worldview: "The rich man in his castle/The poor man at his gate/God made them high or lowly/And order'd their estate."
The queen mother also expressed outward racism and anti-semitism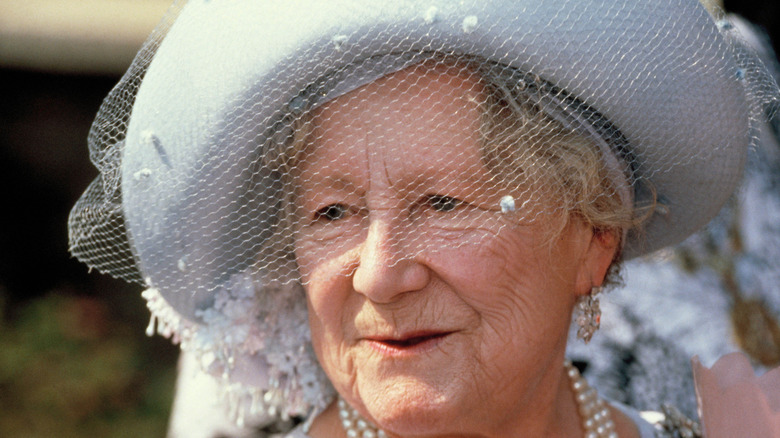 Georges De Keerle/Getty Images
Sadly, the palace bombing was not the only time that Queen Elizabeth, The Queen Mother displayed problematic behavior. Over the years, the elder Elizabeth was said to have expressed deeply racist and anti-semitic ideas. The Guardian reports that she once told Woodrow Wyatt that she had "some reservations about Jews." Sir Roy Strong, who served as the director of the National Portrait Gallery and Victoria and Albert Museum, once relayed some of the elder Elizabeth's controversial royal comments to the Times. Apparently, during a luncheon with the art director, she used a pejorative term for Black people. Strong said, "[T]he Queen Mother leant over me and said, 'Beware the blackamoors.'" He kept this information private for many years, as it was "too awful."
Unfortunately, these comments largely reflected the elder Elizabeth's political views, especially when it came to the issue of independence in the region once known as Rhodesia. During the British colonial era, there was a cruel caste system in place that essentially forced Black locals to work dangerous mining jobs, to the benefit of white settlers. The queen mother supported this brutal and undemocratic system. As reported by The Guardian, one of Elizabeth's ladies-in-waiting alleged that she once said of African colonialism: "Poor darlings; the Africans just don't know how to govern themselves — it's just not their form. What a pity we're not still looking after them." This commentary was racist then and remains so now.
Princess Margaret made offensive comments to Grace Kelly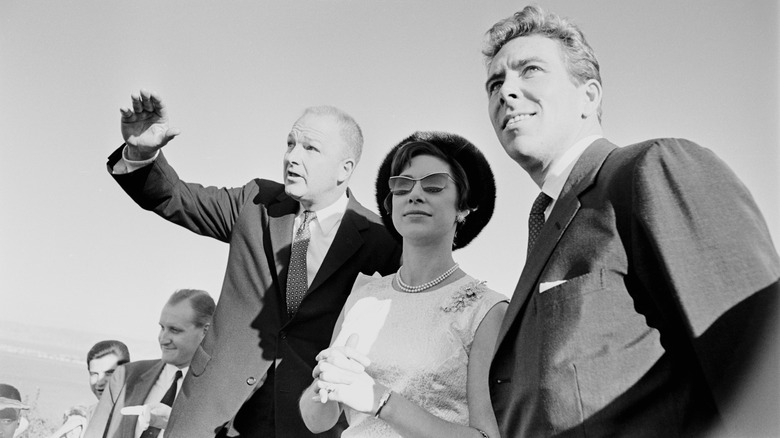 Harry Benson/Getty Images
The queen mother wasn't the only British royal to ever make an inappropriate comment. Princess Margaret was known to make a gaffe or two in her day — especially when it came to opining on the socioeconomic class of Hollywood's biggest movie stars. When Margaret met the American actress Grace Kelly, Princess of Monaco, she apparently offended her new acquaintance within minutes. As reported by the Telegraph, Margaret told Kelly that she "didn't look like a movie star." As a commoner who married into royalty, Kelly apparently understood the snub. Referencing her lack of blue-bloodedness, the actress allegedly replied, "Well, I wasn't born a movie star."
On that same evening, Margaret made another controversial royal comment — or, at least, her staffers did on her behalf. According to the book "Princess Margaret: A Biography " by royal expert Theo Aronson, the princess sent one of her employees over to Judy Garland, requesting that she sing for everyone at the party. The classic dynamics apparent in Margaret's demand apparently left Garland flabbergasted. Aronson wrote, "The singer was appalled, both by this trivializing of her talent and by the Princess's lordly tone. 'Go and tell that nasty, rude little princess that we've known each other for long enough and gabbed in enough ladies' rooms that she should skip the ho-hum royal routine and just pop over here and ask me herself," said Garland."
Twiggy was also burned by Princess Margaret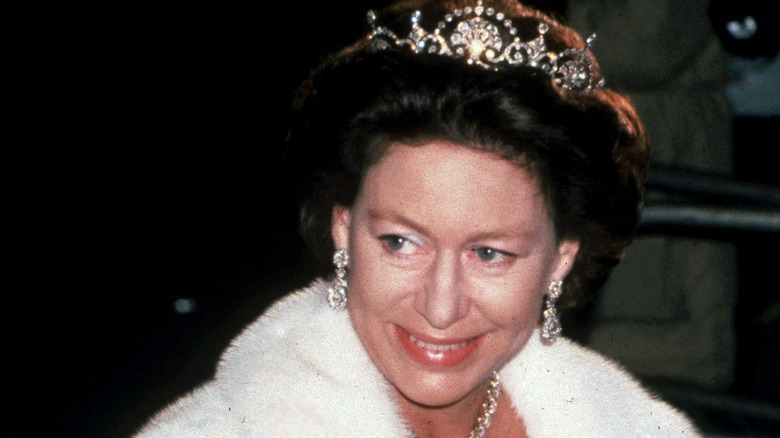 Kypros/Getty Images
Princess Margaret's faux pas toward Grace Kelly, Princess of Monaco, was far from being a one-off. The royal was also said to have offended the famous British supermodel, Lesley Lawson, who had been dubbed "Twiggy" due to her slim figure and ability to look androgynous while modeling. The two women met for the first time about six decades ago, just months after Twiggy had been named "The Face of 1966" by the Daily Express. In a 2020 interview with the same outlet, Twiggy recalled that she had been seated next to Margaret at a dinner for Vogue. However, due to royal protocol, the model could not address the princess before being addressed first.
Awkwardly, this resulted in Margaret effectively ignoring Twiggy for almost the entire dinner. After two hours of stewing in this uncomfortable situation, Twiggy said that Margaret finally addressed her: "What's your name?" Apparently, the supermodel replied, "My name's Lesley Hornby, ma'am, but everyone calls me Twiggy." It was then that Margaret made one of her famously controversial royal comments. Twiggy recalled, "She just looked at me and said [in] that [posh] accent again, 'Oh, how unfortunate'. Then she didn't talk to me again. I was mortified."
Prince Philip demonstrated a lack of respect toward Indian engineering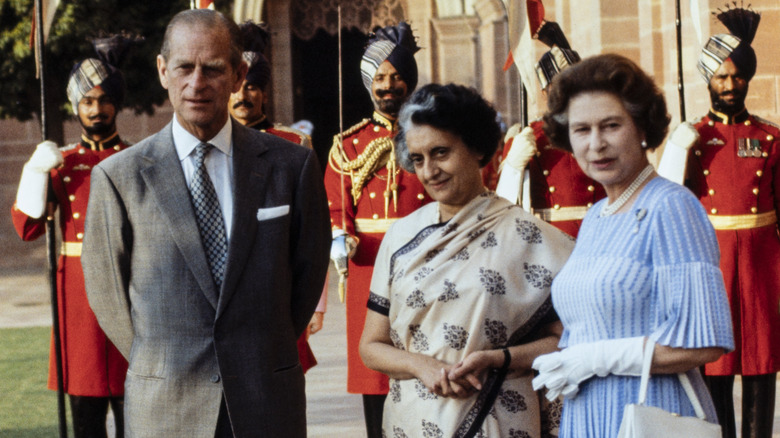 David Levenson/Getty Images
Of all the British royals, Prince Philip was probably the most likely to make gaffes. Over the course of his life, the prince made so many offensive statements that media outlets, including the BBC, the Independent, and the Evening Standard, published entire lists dedicated to detailing his verbal missteps. One of the prince's many controversial royal comments occurred in 1999 when he was visiting an electronics factory in Scotland. During the visit, The Guardian reports, Philip noticed a fusebox that had quite a few wires coming out of it. He then opined that the box looked "as if it was put in by an Indian."
Philip's bigoted statement catalyzed a quick blowback. Per The Guardian, Buckingham Palace was sure to apologize on Philip's behalf with a statement that unsuccessfully attempted to cast the comment as a joke: "The Duke of Edinburgh regrets any offense which may have been caused. With hindsight, he accepts that what were intended as light-hearted comments were inappropriate." The people who the duke offended, however, weren't exactly laughing. A 2000 report by the CBC quoted National Assembly Against Racism chair, Kamar Marsid, who condemned the remarks: "He has made a comment which is offensive and racist and he has done so because I believe he must be deeply racist as an individual."
Prince Philip made innappropriate comments about deaf teens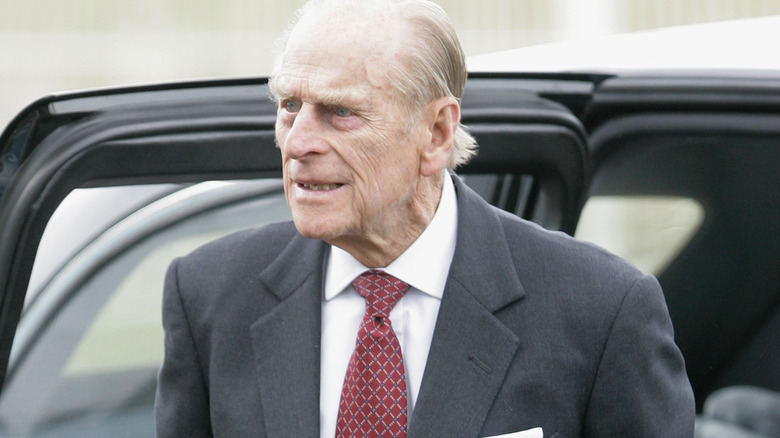 Max Mumby/indigo/Getty Images
Prince Philip's comment about Indian engineering was far from being the only time he offended those around him. According to a 1999 report in The Guardian, Philip made an offensive royal comment during a Caribbean music concert in Wales. At the event, the prince was reportedly approached by Eva Fielding-Jackson, a member of the British Deaf Association who was accompanying a group of deaf teenagers to the event. Speaking to the outlet, Fielding-Jackson recalled, "When the duke came along, I stopped him and said 'My group would like to meet you we are the British Deaf Association from Cardiff.'" 
At this point, Fielding-Jackson recounted, Philip gave his offensive reply. "He said 'Deaf? If you are near there' – meaning near the music – 'no wonder you are deaf' and he walked away. He was not joking." This response was not well-received by the deaf teenagers, who were hurt by Philip's uncouth remarks. Seventeen-year-old Neil Roch told The Guardian, "He should have shaken our hands and shown us some respect." Meanwhile, Fielding-Jackson expressed her distaste for Philip's ignorance about the disability, exclaiming, "As if it's our fault we are deaf because we were near the music!"
Sophie, Duchess of Edinburgh made controversial political statements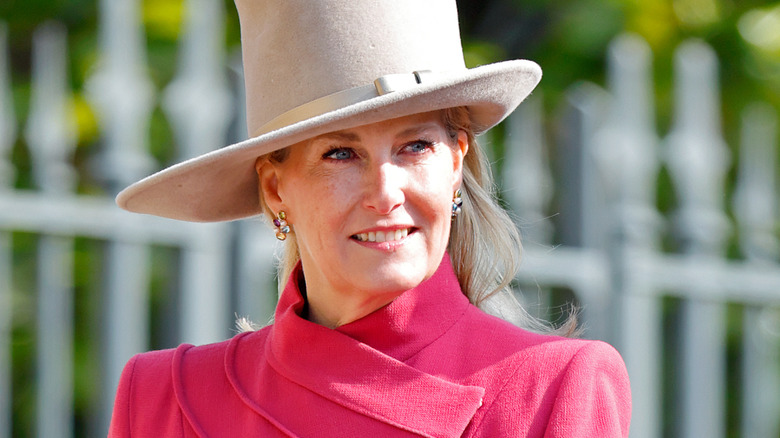 Max Mumby/indigo/Getty Images
These days, Sophie, Duchess of Edinburgh, is known as a serious full-time royal. However, in 2001, she was at the center of a scandal that threatened to tarnish her entire reputation. At the time, Sophie was working full-time as the co-founder of the public relations firm R-JH. Unfortunately, however, a journalist disguised as a deep-pocketed potential new client infiltrated her office and recorded some of the most controversial royal comments Sophie has ever made.
As reported by a 2001 article in The Guardian, the tape recordings captured Sophie's voice as she uttered unflattering words about the then-British prime minister, Tony Blair. Apparently, the duchess said he was "too presidential" and then went on to criticize his wife, Cherie Blair, as "horrid, absolutely horrid, horrid, horrid." More than just rude, these comments generated controversy due to Sophie's position as a member of the British royal family. Since royals are famously banned from making any kind of political statement, Sophie's opinions about the prime minister and his family were considered totally out of line. 
The duchess also spoke disrespectfully about the queen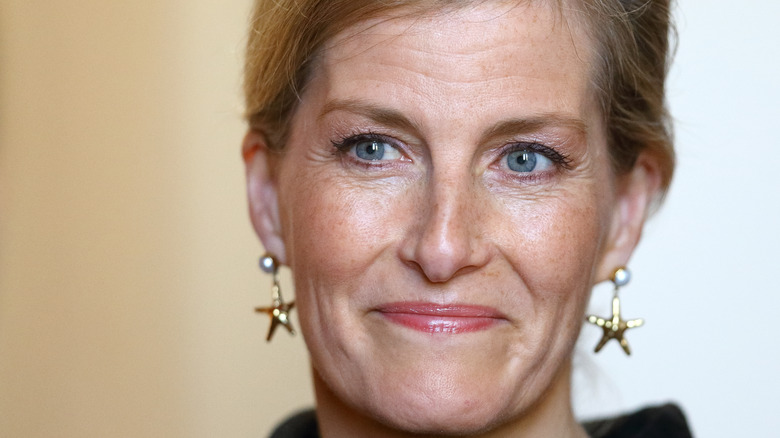 Max Mumby/indigo/Getty Images
Although royals are not meant to support political campaigns, they must support the monarch. Unfortunately, Sophie, Duchess of Edinburgh, failed to do so in 2001 when a journalist appeared at her public relations firm, R-JH, posing as a potential client. As reported by The Guardian, what Sophie believed to be a client meeting was actually a tabloid sting, with the journalist recording many of the then-countess' controversial royal remarks. 
Of the many comments caught on tape, one of the most astonishing was the way that Sophie referred to her mother-in-law, Queen Elizabeth II. Per The Guardian, Sophie called Elizabeth "the old dear." She also apparently claimed that King Charles III and Camilla, Queen Consort, would wed as soon as Queen Elizabeth, The Queen Mother, passed — referring to the elder Elizabeth as "the old lady." 
Ultimately, these comments were so badly received that Sophie had to abandon her PR firm out of public concern that her professional life represented a conflict of interest with her position as a royal. She permanently left the workforce and has dedicated herself to the work of the crown ever since. 
Sarah Ferguson said Princess Diana gave her warts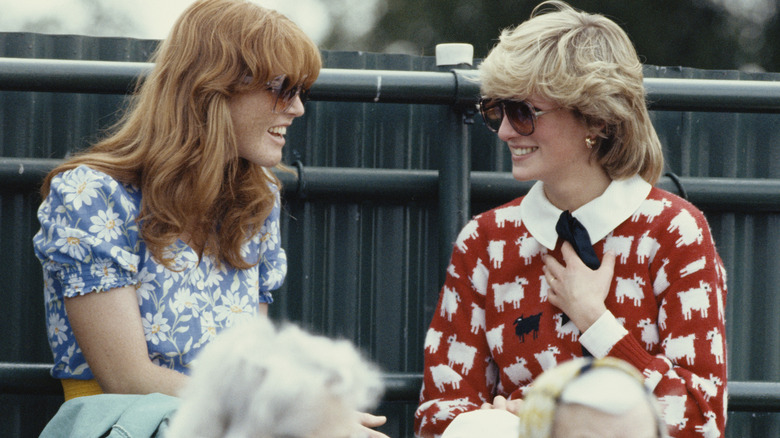 Georges De Keerle/Getty Images
Although some of the most controversial royal comments were those that were genuinely hurtful, others were simply petty. Sarah Ferguson, Duchess of York, created some family drama when she claimed that her sister-in-law, Princess Diana, left her with an unwanted gift. In her 1996 book "My Story," Fergie wrote, "Diana helped me by giving me all her shoes (and less happily, her plantar warts)." 
While Fergie, it seems, thought this anecdote was comical, not everybody was laughing along with her. Diana was said to be particularly upset with her sister-in-law for exposing this personal detail to the world. As royal expert Katie Nicholl revealed in the documentary "Diana & Fergie: Royal Wives At War" (via YouTube), "This was related in, in quite a joking manner in the autobiography, but Diana did not see the funny side of it." Unfortunately, Fergie's choice to include this anecdote in her book contributed to the conclusion of her years-long friendship with Diana.
Princess Anne called somebody on the Olympic Committee stupid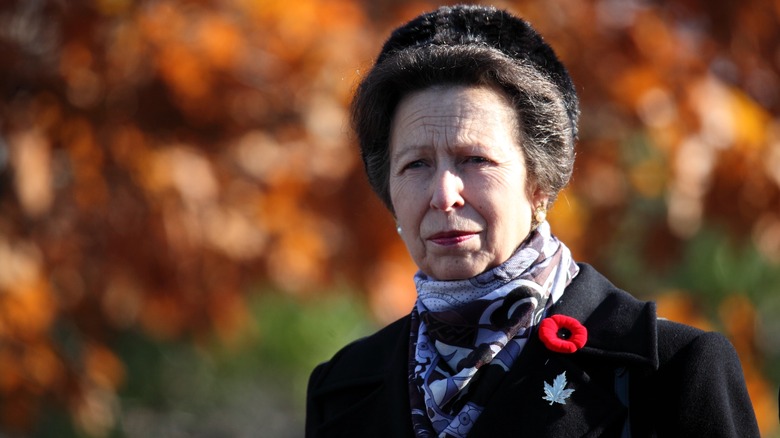 Art Babych/Shutterstock
In 2012, Princess Anne played a major role in bringing the Olympic Games to London. An athlete herself, the princess had competed in the 1976 Olympics, where she rode in the three-day equestrian event. Thus, it was hardly astonishing that, nearly forty years later, she dedicated herself to organizing the games on her own home turf. What did catch some people off-guard, however, was that, at a committee meeting, the princess made one of her father's gaffes. 
According to the ITV documentary "Anne: The Princess Royal at 70," Anne accidentally made a controversial royal comment in front of a whole room of Olympic committee members. Speaking to the documentary makers, the Olympian Sebastian Coe recalled, "I do remember, after a rather long-winded interjection by one of the committee members, she had actually forgotten to turn her microphone off. She managed to mutter the immortal words: 'I think this person is probably the most stupid person in world sport.'" Although this remark was highly inappropriate, Anne did her best to recover from it. Coe remembered, "This echoed around the room and she never flinched. It was as though it never happened, and we just moved on. It's probably one of my favorite moments."
King Charles allegedly spoke ill of Diana prior to her funeral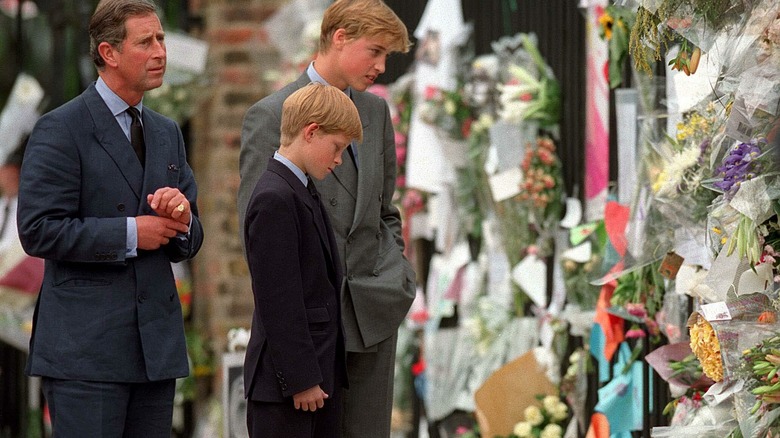 Anwar Hussein/Getty Images
In 1997, Diana, Princess of Wales, died in a tragic car crash. Her brother, Charles, 9th Earl Spencer, and her ex-husband, King Charles III, were left to organize her funeral together. Unfortunately, this pairing was far from ideal. According to the book "Battle of Brothers: The Inside Story of a Family in Tumult" by Robert Lacey, the two men bickered endlessly about the arrangements for Diana's burial. One of the biggest disagreements pertained to whether or not Prince William and Prince Harry should have to walk in the procession. While King Charles insisted that his sons follow royal protocol, Charles Spencer thought that too traumatic for two young boys.  
In the midst of these arguments, King Charles apparently made a cruel remark. As Lacey wrote, one such discussion "had ended with the earl slamming down the phone on his brother-in-law after Charles had made a particularly offensive comment about Diana." While the biography declined to elaborate on that comment, it's clear that it did nothing to draw the two men closer. Charles Spencer continues to be outspoken about the way the palace handled Diana's funeral.
King Charles joked that he wasn't Harry's father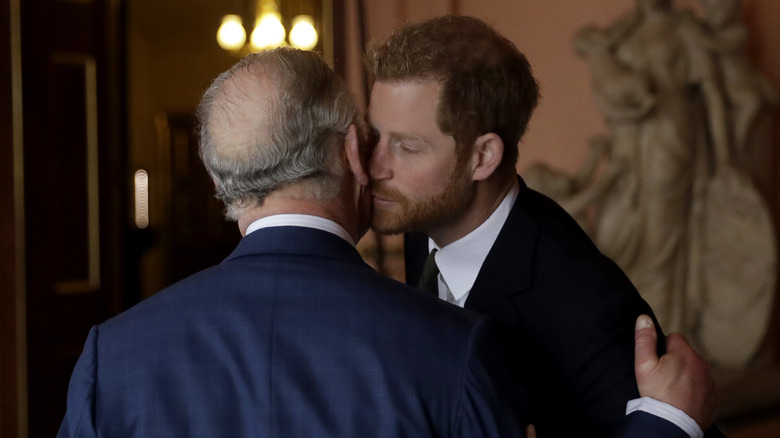 Wpa Pool/Getty Images
Although King Charles III holds a powerful position, he is not above making the occasional inappropriate comment. According to Prince Harry's memoir "Spare," the king used to joke that he wasn't even Harry's father. The Duke of Sussex wrote, "Pa liked telling stories, and this was one of the best in his repertoire. He'd always end with a burst of philosophizing ... Who knows if I'm really the Prince of Wales? Who knows if I'm even your real father?"
Awkwardly, this comment really hit home for Harry, who was aware of the rumors that he was really Princess Diana's love child. Harry wrote, "He'd laugh and laugh, though it was a remarkably unfunny joke, given the rumor circulating just then that my actual father was one of Mummy's former lovers: Major James Hewitt." Charles' comments were ultimately hurtful to Harry who claimed that his father's motive for telling that story was "sadism."
Prince Harry offended the Pakistani community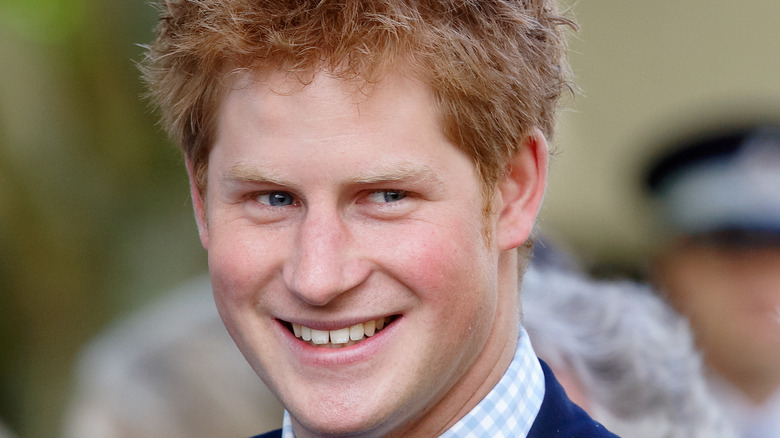 Max Mumby/indigo/Getty Images
These days, Prince Harry is not afraid to speak out against racism. For example, in a bombshell 2020 interview with Oprah Winfrey, the prince condemned an unnamed family member for speculating about "how dark" Meghan Markle's children would one day be. Nonetheless, Harry hasn't always used his voice to combat racism. In 2009, the prince came under fire for using offensive and inappropriate terminology to refer to one of the men in his platoon. As per The Guardian, Harry called his colleague "our little Paki friend."
At the time, this controversial royal comment drew waves of criticism. St. James' Palace reportedly issued an apology on Harry's behalf, stating: "Prince Harry fully understands how offensive this term can be, and is extremely sorry for any offense his words might cause." A separate report by The Guardian quoted the director of the Ramadan Foundation, Mohammed Shafiq, who responded to the prince's remarks: "The use of this sort of racism has no justification and I am saddened by those that are advocating using this term is not racist."