Times Kate Middleton Adorably Matched Her Kids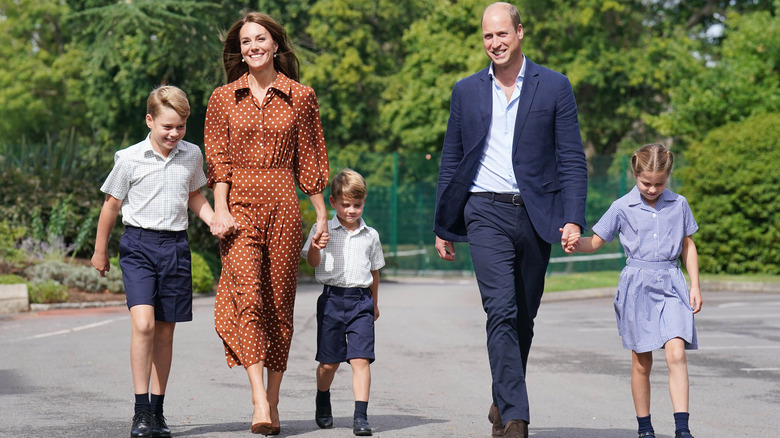 Pool/Getty Images
It wouldn't be uncommon to assume that the life of a royal is one of endless glitz and glamour. What could possibly be the drawback of a life full of tiaras, gowns, and waving to your adoring fans from sun-drenched balconies? However, one aspect of royal life that your average commoner doesn't always consider is the unavoidable presence of the paparazzi. Whether you're simply walking your children to school or cutting a ribbon at a high-profile charity event, the flash of a camera bulb is never too far away for a royal, especially if you're a royal as adored as Catherine, Princess of Wales. 
The future Queen of England is rarely if ever seen out without an immaculate blowout and a friendly smile on her face, showing that she has clearly mastered royal life. As her children with Prince William have begun making more and more public appearances, it's clear that these privileged youngsters are following in their mother's footsteps. Princes George and Louis and Princess Charlotte of Wales are almost always dressed in the best children's fashion can offer, waving sweetly to the camera. 
One clever way the family makes sure they look their best for the paparazzi is by dressing in coordinated outfits. Snappy dresser Catherine often dresses herself and her children in complementary shades of blue, pink, or red. In celebration of this savvy PR sense, let's take a look back at some of the Princess of Wales' best matching moments with her children.
Ceremonial colors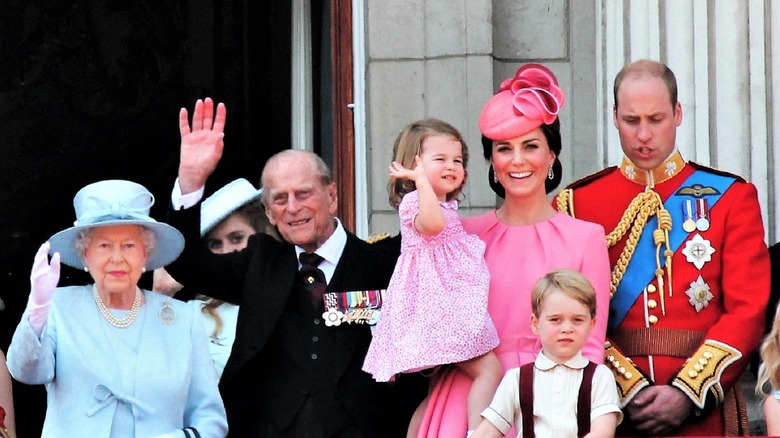 Lorna Roberts/Shutterstock
For the 2017 Trooping the Colour ceremony, Princess Catherine pleased royal fans by appearing on the balcony of Buckingham Palace adorably matching with her daughter, Princess Charlotte, in bright pink attire. Charlotte waved to the crowd in her pink and white patterned smock dress, while Catherine paired her full-skirted dress with a flamingo-pink fascinator.
While the rest of the country took in the sight of their future queen and her mini-me dressed in their summer's best, Catherine and Charlotte stood proudly next to Queen Elizabeth II observing the show below — including Royal Air Force planes flying overhead. 
School spirit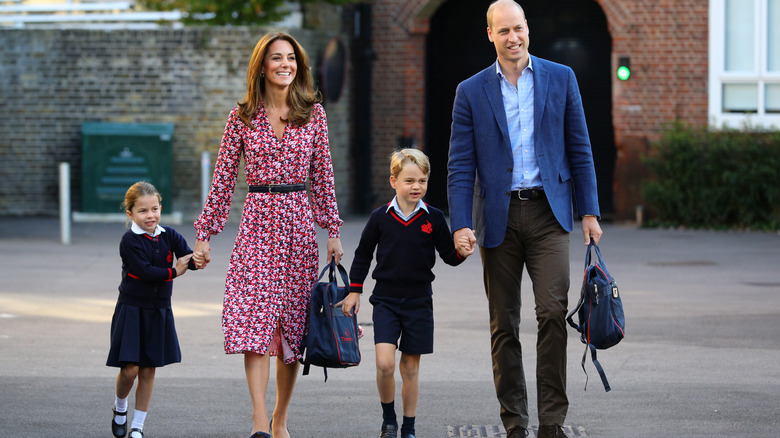 Wpa Pool/Getty Images
When the eldest two children, Prince George and Princess Charlotte, started their first day at Thomas' Battersea school in 2019, Princess Catherine showed her school spirit by dressing head to toe in the school's traditional colors of red and navy. Catherine's floral long-sleeve dress was paired with a black belt around the waist, matching her children's uniforms even down to their shiny black shoes. The Princess of Wales walked hand-in-hand with her daughter Charlotte while Prince William held son George's hand. The doting parents were also spotted carrying each child's school bag in hand, completing their very scholastic look. 
Wedding party pink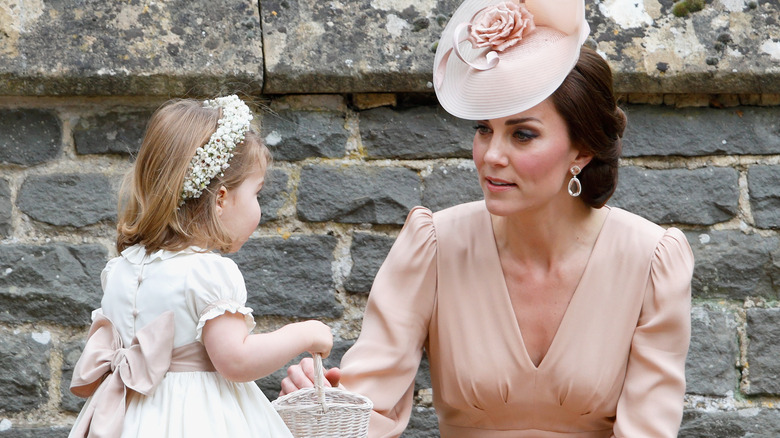 Max Mumby/indigo/Getty Images
Princess Catherine and Charlotte donned matching pink dresses once again in 2017 when they both attended the wedding of Catherine's younger sister, Pippa Middleton. As a member of the wedding party, Princess Charlotte wore an all-white dress with a crepe pink colored sash around her middle, matching with her fellow bridesmaids. Catherine's gown picked up on this same color scheme, with the Princess of Wales wearing an all-crepe-colored gown with slight ruching around the shoulders. Sticking with tradition, the sister of the bride also wore a pink fascinator adorned with a floral cluster that resembled a rose. 
Ready for spring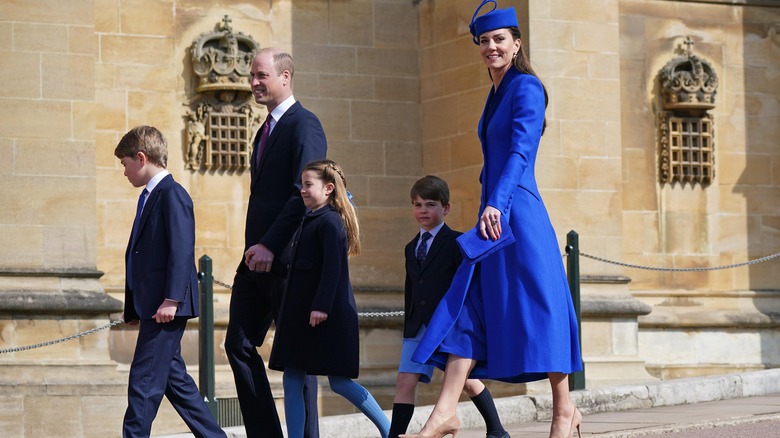 Wpa Pool/Getty Images
From the time she first stepped into the royal spotlight, Princess Catherine has always had impeccable fashion taste. However, over 10 years after her extravagant royal wedding, the future queen is still able to surprise royal fans with her bold style choices. For her family's 2023 Easter outing, the princess was photographed walking to a Sunday church service dressed in a bright Egyptian blue coat dress. Her youngest two children looked just as ready for the spring season, with Princess Charlotte and Prince Louis also dressed in robin's egg blue tights and shorts for the occasion. 
Like mother, like son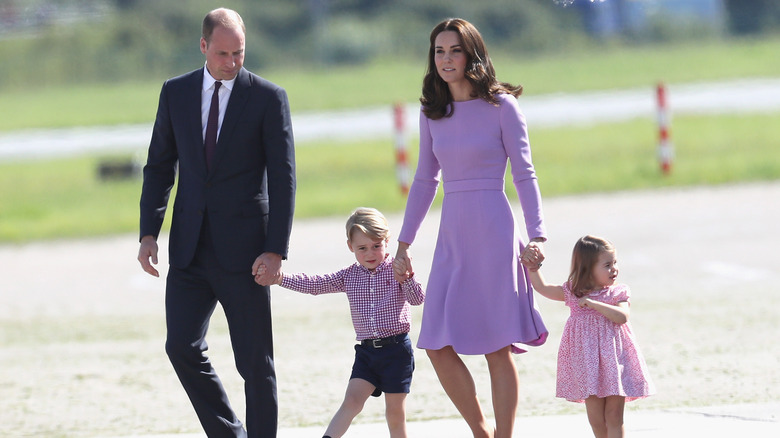 Chris Jackson/Getty Images
Breaking with her usual protocol, Princess Catherine stepped out matching with her son George rather than daughter Charlotte during a visit to Hamburg, Germany, in 2017. The princess' firstborn looked dashing in a purple-and-white checkered shirt and navy shorts, while Catherine smiled and waved for photographers in her lavender long-sleeve dress. Her princess-cut gown featured a bit of texture as well with a sash belt around her middle. Princess Charlotte may not have been matching her mother and son in purple, but she participated in her own way by sporting a summery pink dress. 
Baby's first fascinator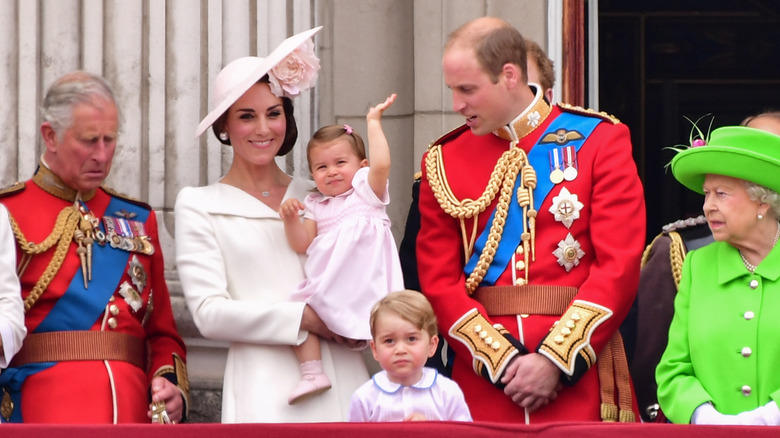 James Devaney/Getty Images
In lieu of a traditional fascinator for her first Trooping the Colour ceremony in 2016, Princess Catherine instead dressed the infant Princess Charlotte in a sweet white dress and a blush-colored bow to hold back her baby blond tresses. The youngest princess could even be seen sporting primrose pink baby booties. Catherine stuck with tradition, however, opting for a very grown-up version of her little girl's look. The mom of three wore a collared, white coat dress paired with a tilted fascinator. The blush-colored headpiece was also decorated with an oversized floral embellishment.
An emerald Christmas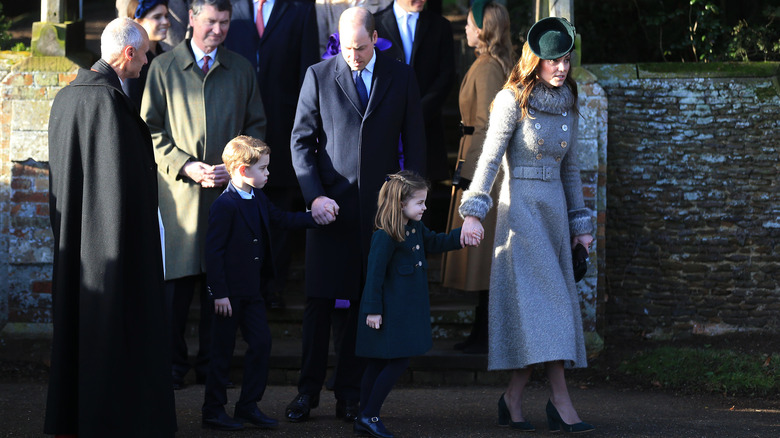 Stephen Pond/Getty Images
While the mother-daughter duo normally turn out in hues of pink, purple, or blue for the summer, they switched it up for the 2019 Christmas season. While Princess Catherine and Prince William normally participate in an outdoor walk to the Church of St. Mary Magdalene in Sandringham as a duo, 2019 marked the first year their eldest two children joined them. For this special occasion, Catherine wore a fur-lined, gray coat dress accessorized with an emerald hat, heels, and clutch. Charlotte wowed fans by walking to the church in her own emerald-colored dress that matched Catherine's accent colors.
Birthday blues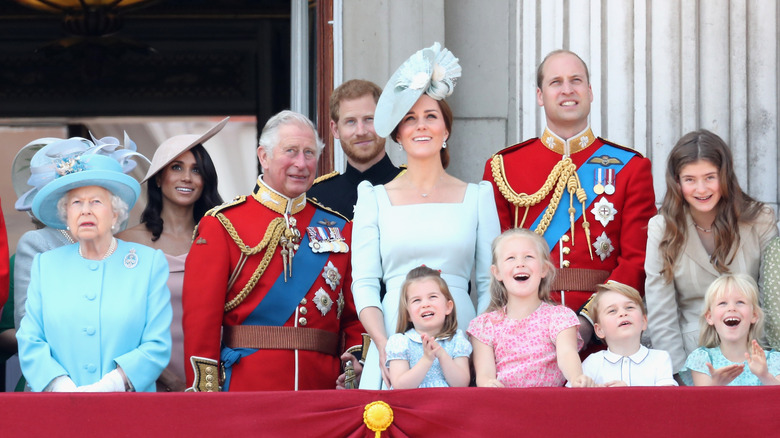 Chris Jackson/Getty Images
The two Princesses of Wales matched with their matriarch, Queen Elizabeth II, at the 2018 Trooping the Colour in June. Although all three were wearing blue frocks, the mother-daughter duo took care not to upstage the queen on what is considered her official birthday celebration. While Queen Elizabeth was dressed in a stunning azure blue coat dress, Princess Catherine and Charlotte opted for dresses in a light cotton candy blue color. Catherine, again, wore a matching, tilted fascinator while Charlotte struck out on her own this time with an adorable crimson bow in her hair.
Wedding girls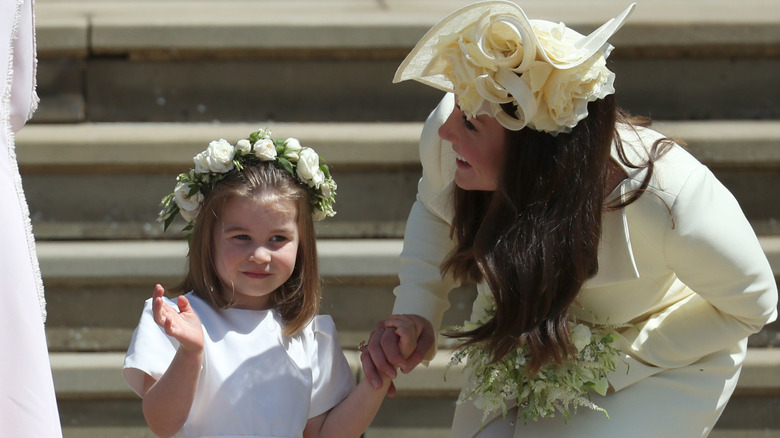 Wpa Pool/Getty Images
All the world was watching Meghan Markle wed Prince Harry on May 19, 2018. If you were one of the millions of viewers to tune in, you probably spotted Princess Catherine in her cream-colored coat dress with a young Charlotte at her side. As one of Meghan's bridesmaids, Charlotte was wearing a short-sleeved white dress paired with a flower crown composed of lily of the valley. While her mother's dress was more pastel yellow in color, the royal pair did match in the floral department, with Catherine also carrying a bouquet of lilies of the valley. 
Berlin blues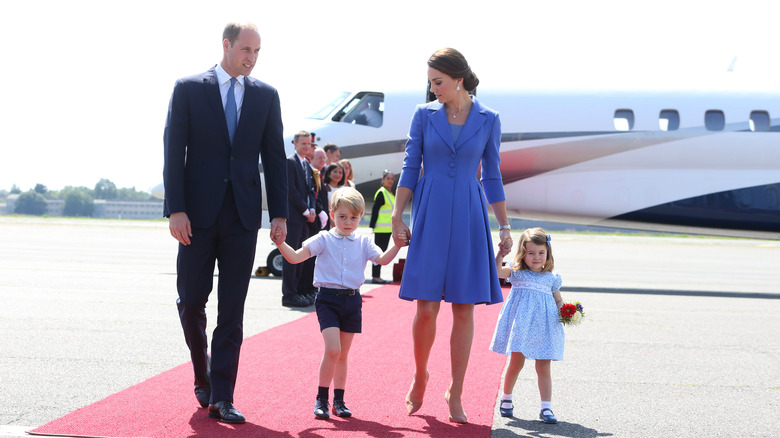 Pool/Getty Images
Globe-trotting is one of the more exciting parts of Princess Catherine's job description. As the wife to the future king of England, Catherine has traveled to more continents than your average mother of three. During her travels, the royal mom often takes the opportunity to color coordinate with her kids whenever they touch down in a new city. Their trip to Berlin in 2017 was one such example, when the royal clan stepped off the airplane in striking royal blues. Catherine was dressed in a princess-cut periwinkle dress while Prince George and Princess Charlotte both wore baby blue patterned 'fits.
Mulled wine-inspiration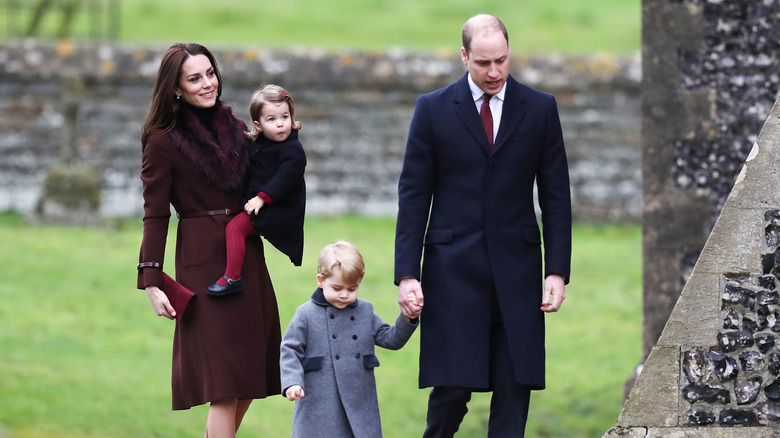 Wpa Pool/Getty Images
For Princess Charlotte's third Christmas in 2016, the little royal twinned with her mom once again as the two turned out in matching mulled wine-inspired looks. As the royal family walked to a Christmas Day church service in the village of Bucklebury, the paparazzi snapped heartwarming photos of the toddler being carried in her mother's arms. Princess Catherine was dressed in a belted rust-colored dress with a fur collar and a dark red clutch. Charlotte wore a black coat dress to shield her from the December chill but sported her own pop of color with matching dark red tights.
Playdate looks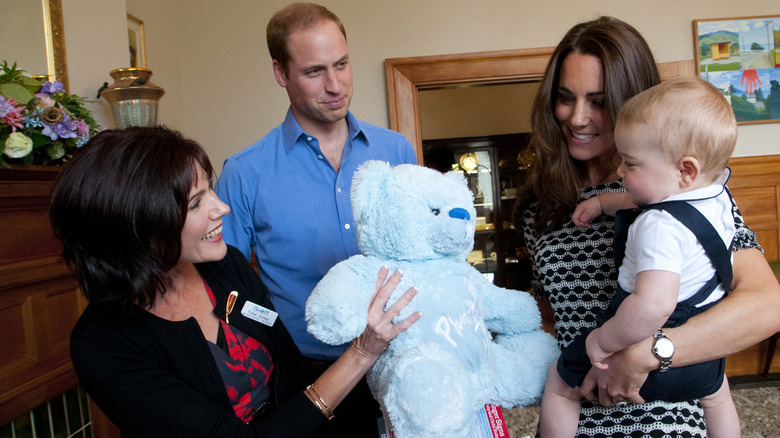 Handout/Getty Images
Not long after Princess Catherine gave birth to her and Prince William's first child, Prince George, the family took flight for a royal tour of Australia and New Zealand. While the 8-month-old's engagements were kept to a minimum, likely due to a busy schedule of nap and feeding times, George did make an appearance at a playdate with other infants and new mothers at the Government House in Wellington. The blond baby looked adorable in a short-sleeved white shirt and miniature black dungarees, while Catherine subtly matched her firstborn in a geometric black and white dress of her own. 
Cheering on dad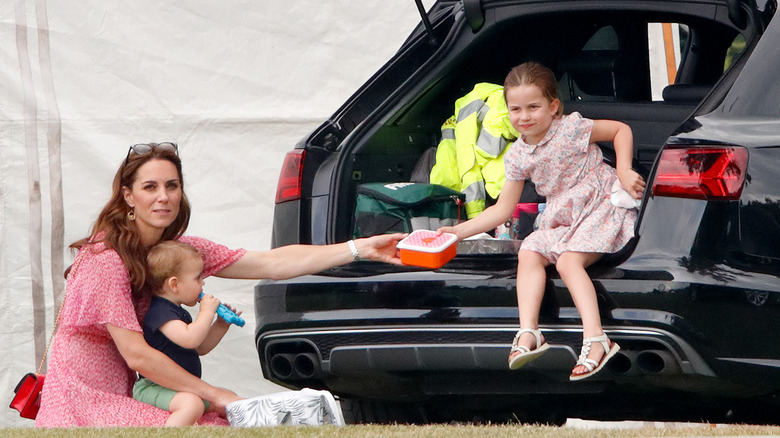 Max Mumby/indigo/Getty Images
Princess Catherine and the kids went casual for a summer's day outing in July 2019. The mom and her brood of three were spotted cheering on Prince William and Prince Harry at the King Power Royal Charity Polo Day, where the oldest two Wales children sat comfortably, taking in the sunshine from the trunk of the family car. Although Catherine stayed stationary on the grass with her youngest child, Prince Louis, in her lap, she continued to match Charlotte in dress. The two sported floral dresses in red and pink hues — perfect for a summer's afternoon.
A happy accident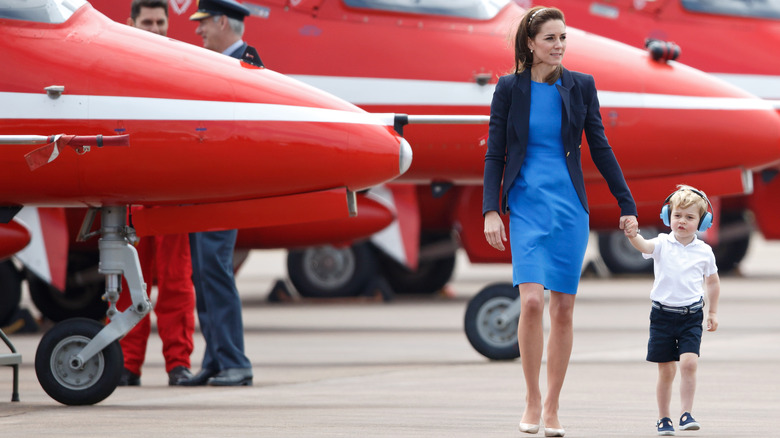 Max Mumby/indigo/Getty Images
With teams of stylists surrounding the Princess of Wales, it's safe to assume that most of Princess Catherine's matching moments with her kids are planned ahead of time. However, one sweet twinning moment that occurred in 2016 seemed to have been a happy accident. For the firstborn's exciting royal engagement, Catherine and Prince George attended a grand military air show in Gloucestershire known as the Royal International Air Tattoo. While strolling down the tarmac, the mother and son duo looked adorable, as Catherine's royal blue sheath dress was almost the same color as George's light blue safety headphones.
Easter pastels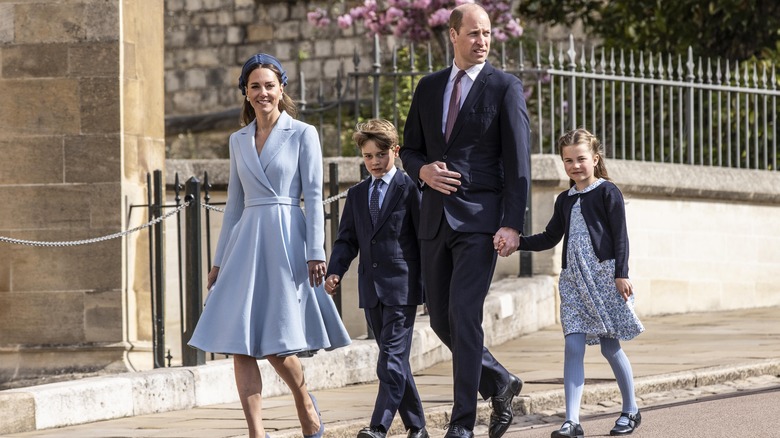 Wpa Pool/Getty Images
Like many mothers around the world, Princess Catherine sees Easter as the perfect opportunity to dress her children in precious pastels. In 2022, the Princess of Wales matched with her two eldest children, Prince George and Princess Charlotte, at an Easter church service near Windsor Castle, with mom, son, and daughter all dressed in gray-blue formal wear. Catherine paired her princess cut dress with a darker blue headband, while Charlotte dressed in a light blue patterned dress and midnight blue cardigan. George carried on the color story with a light blue buttoned shirt underneath his smart navy suit.
Shades of scarlet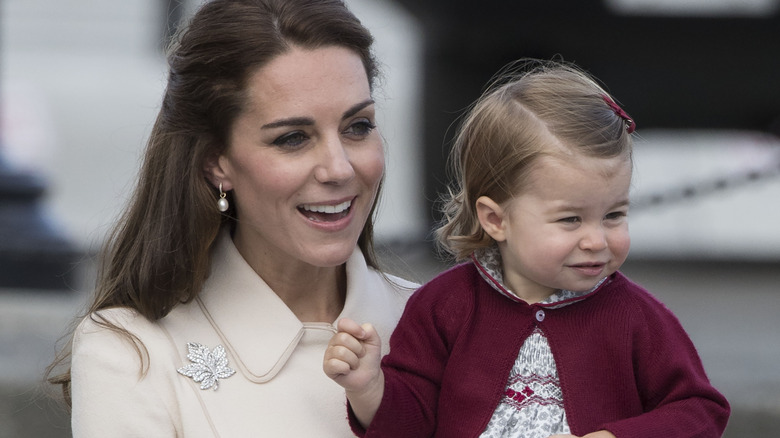 Pool/Getty Images
After eight days of exploring Canada with their two little ones in 2016, the Prince and Princess of Wales waved goodbye to their North American subjects from the Victoria Harbour Airport. As Princess Catherine boarded the plane with Princess Charlotte on her hip, the duo cleverly gave a shoutout to the Canadian flag with their red-hued looks. Covering both ends of the pink spectrum, Catherine was dressed in a ballet slipper-pink dress while Princess Charlotte kept warm with a scarlet red cardigan over her patterned dress. The little princess' look was completed with a matching scarlet hair clip.
Smart and sporty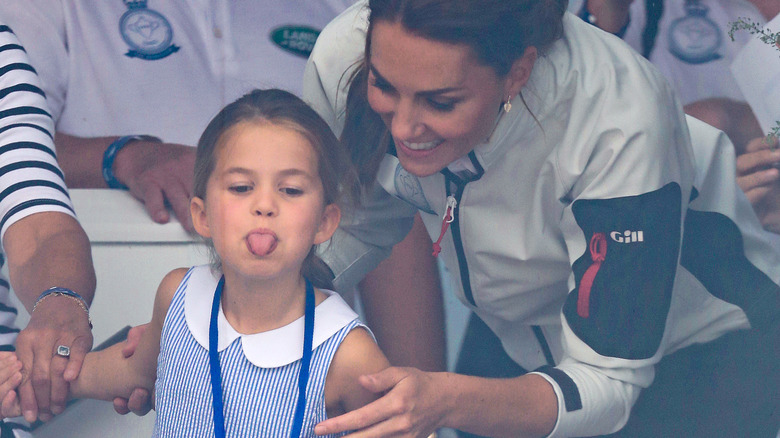 Chris Jackson/Getty Images
In a refreshing turn from their usual formal wear, Princess Catherine and Charlotte switched it up for the 2019 King's Cup Regatta, a sailing boat competition that takes place every summer and is sponsored by the royal family. As Catherine was participating in a friendly boat race with her husband, Prince William, the Princess of Wales turned up in a sailing-ready athletic coat and cool summer shorts. Charlotte was on brand with her mother's nautical theme, donning a blue and white striped seersucker dress. While the two weren't matching in color, both mother and daughter looked seaside chic.
Dark hues for Prince Philip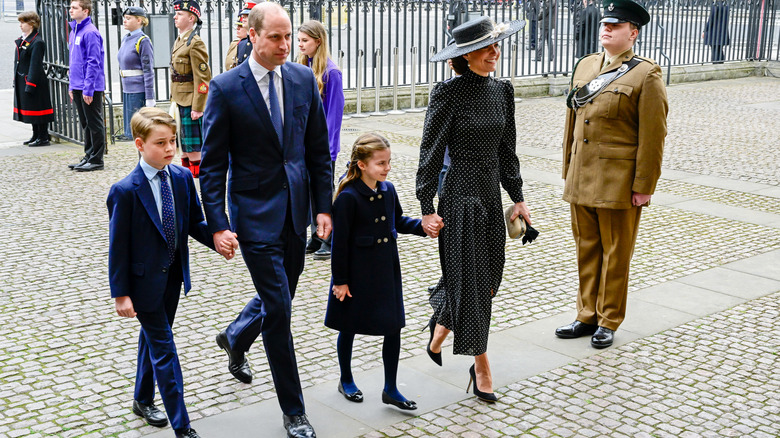 Patrick Van Katwijk/Getty Images
Following the death of Prince Philip, Duke of Edinburgh in April 2021, the royal family stuck with tradition by appearing in black garb for a period of mourning. These protocol-mandated matching looks were on full display in March 2022, when the Wales family arrived at the Service of Thanksgiving for His Royal Highness Prince Philip at Westminster Abbey. Princess Catherine looked refined in a long-sleeve column dress in black, adorned with a polka dot design, while Princess Charlotte wore a similarly dark coat dress and the children's version of her mother's black pumps.
A maple leaf look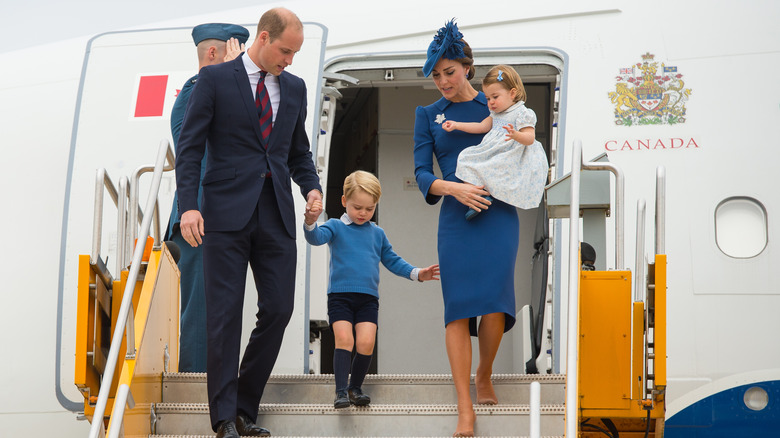 Pool/Getty Images
When the royal family landed in Canada in 2016, Princess Catherine and her two eldest children greeted the crowd in beautifully coordinated Prussian blue looks. Prince William was the outlier in his usual choice of a navy blue suit, while Prince George was allowed to dress a bit more playful in his lapis blue sweater. Princess Charlotte, still just a baby, wore a pale blue smock dress and sweet blue hairbow. In addition to her own collared dress, Catherine also wore the queen's diamond maple leaf brooch in recognition of the Canadian flag.
Light and airy for summer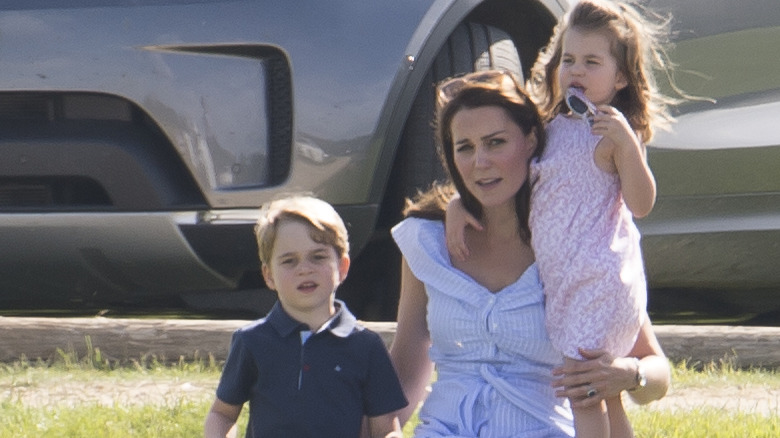 Antony Jones/Getty Images
Princess Catherine and her kids looked well-coordinated again in 2018 as they cheered on dad, Prince William, at the Maserati Royal Charity Polo Trophy. Far from the foggy skies England is known for, the trio was blessed with warm weather for this outing. To stay cool during the tournament, Catherine wore a lightweight, wide-collared blue striped dress while George looked very princely in his own blue collared shirt. Charlotte opted for a floral pink summer dress, but still wore matching accessories with her mom, as the two both sported pink-hued sunglasses atop their heads.
A crimson-colored foursome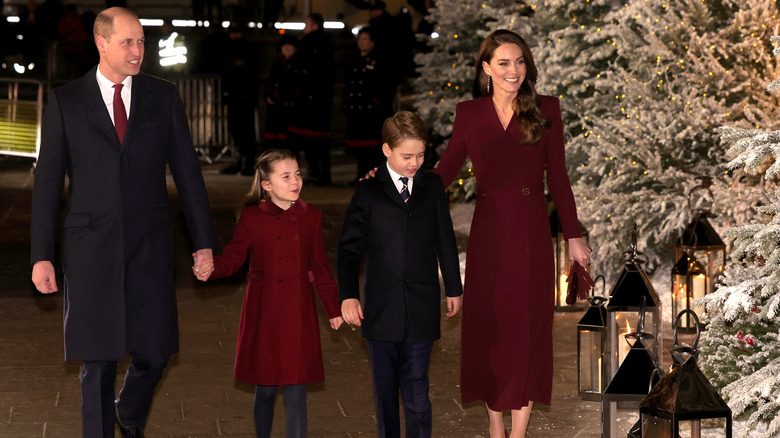 Chris Jackson/Getty Images
While Christmas has usually been the time for Princess Catherine to twin with her daughter, Princess Charlotte, the 2022 holiday season saw the entire Wales family showing out in matching crimson-hued clothes. The foursome (sans toddler Prince Louis) arrived at a "Together at Christmas" carol service at Westminster Abbey hand-in-hand. Catherine wowed in a high-shouldered wrap dress with low-hanging earrings and a matching clutch, while Charlotte's collared coat dress was a slightly brighter version of her mother's gown. Prince William followed suit with a crimson tie, while Prince George opted for a subtle crimson and navy striped tie.
Prince Louis' christening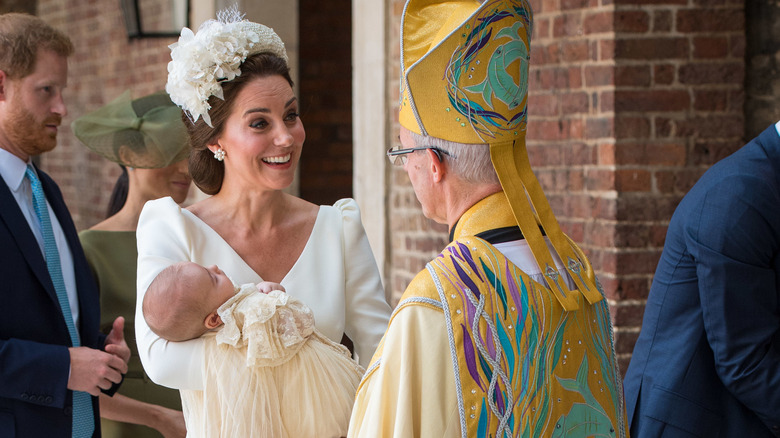 Wpa Pool/Getty Images
One sweet tradition Princess Catherine has continued to follow is matching with her children at their christening ceremonies. The latest child to be christened was Catherine's youngest son, Prince Louis, who was born in 2018. Appearing at the Chapel Royal at St. James' Palace, the new mother of three was glowing in her cream-colored V-neck gown. Catherine's new bundle of joy slept soundly in her arms while dressed in the traditional royal christening gown, a replica of the original royal christening gown which was made in 1841, and whose cream-colored lace sweetly mimicked mom's intricately jeweled headband.
Nautical style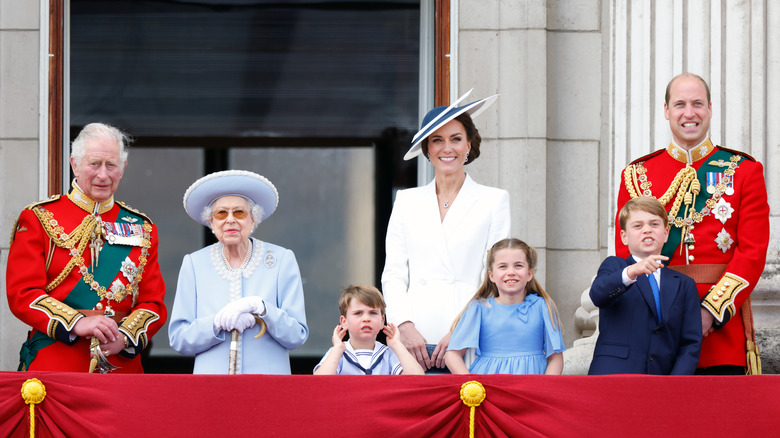 Max Mumby/indigo/Getty Images
In 2022, Princess Catherine surprised fans once again by twinning with her youngest son, Prince Louis, during the Trooping the Colour ceremony. While her usual twin, Princess Charlotte, was dressed in an iceberg blue dress fit with a shoulder bow, it was Prince Louis who perfectly matched mom's nautical vibes. Catherine wore a striking all-white dress suit paired with a navy and white fascinator, while Louis' precious sailor suit echoed her seaside-inspired look. The family affair was made even sweeter by the fact that Louis' suit was also worn by Prince William at the 1985 Trooping the Colour.
Blue for baby George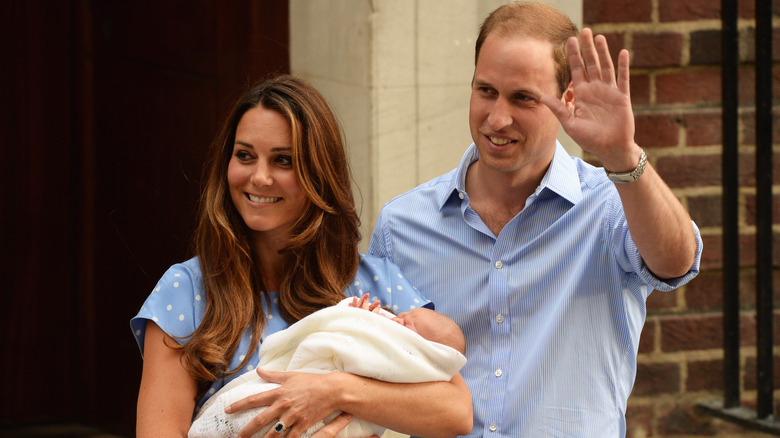 Dave J Hogan/Getty Images
Princess Catherine's first public appearance as a mother occurred on July 23, 2013, when she presented Prince George to the public. For the momentous occasion, she wore a blue and white polka-dot dress, while William matched in his own blue striped button-down. The two were the portrait of new parent joy, from their bright smiles to the slight hint of a remaining baby bump from under Catherine's loose-fitting summer dress. While George's swaddling blanket was white, it's clear that the couple chose the traditional boyish color of blue to match their newest addition.
Remembering the monarch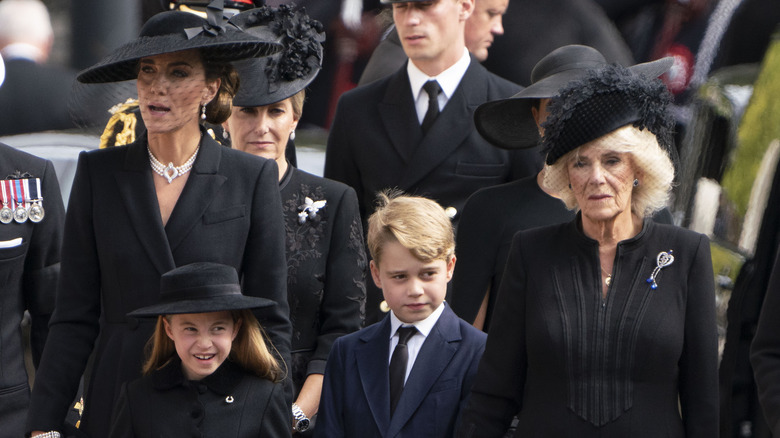 David Levenson/Getty Images
Princess Charlotte mimicked her mother's grace and composure as she attended the funeral of her great-grandmother, Queen Elizabeth II. Dressing for the occasion was surely a tricky situation for Princess Catherine and her children, as the family was mourning a beloved family member while also expected to put on a brave face for the British public. The royals presented a tight-knit unit as they arrived at the 2022 state funeral in their matching mourning garb, especially when spectators noticed that Charlotte's wide-brimmed black hat was a miniature replica of Catherine's own veiled headpiece.
Wool's the word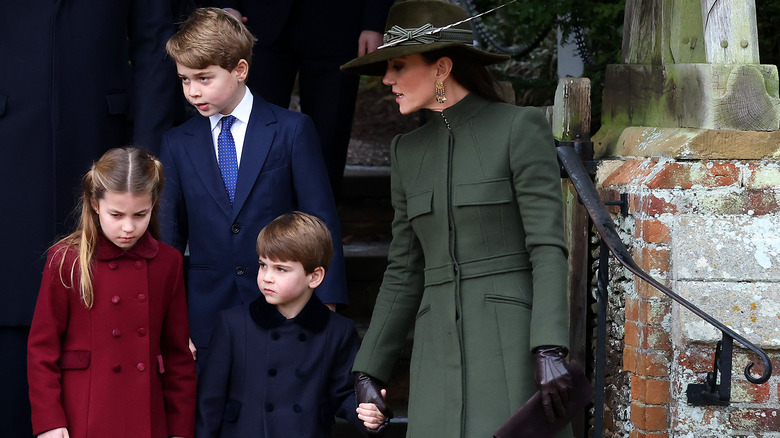 Stephen Pond/Getty Images
Princess Catherine often chooses to match her children based on the color of their clothes. However, the Princess of Wales took a different approach for the 2022 Christmas season. When appearing at a Christmas Day service in Sandringham, Catherine decided to dress herself and her two youngest children in cozy wool coats all in different jewel tones. While Charlotte wore a garnet coat dress, Catherine opted for a deep jade coat dress, and Louis rounded out the bunch with his own blue coat. Catherine also sported sleek leather gloves and a feathered fascinator for the occasion. 
Getting patriotic for the Euro Soccer Championship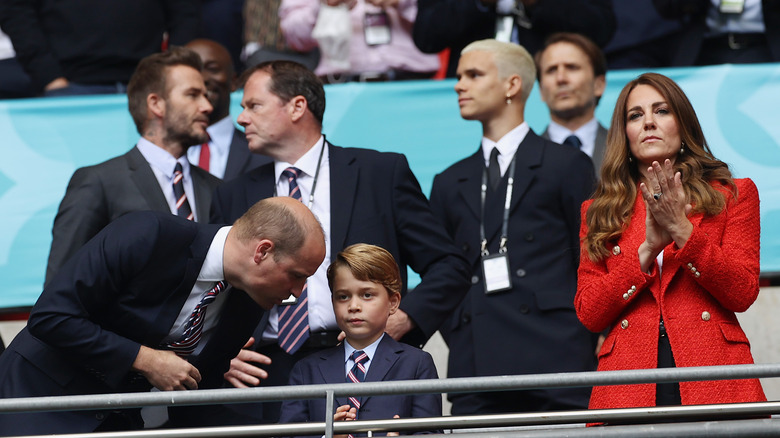 Eddie Keogh - The Fa/Getty Images
While one can imagine that your average young boy isn't too thrilled about attending charity fundraisers and ribbon cuttings, Princess Catherine and Prince William most likely scored a few Brownie points with Prince George by bringing him along to the England vs. Germany match of the Euro 2020 Soccer Championship. Catherine matched her son perfectly in a textured red blazer, while George looked all grown up in a navy suit and a red and blue striped tie just like dad's. Together, the family all wore patriotic colors in support of England's Three Lions team.
Primary colors in Poland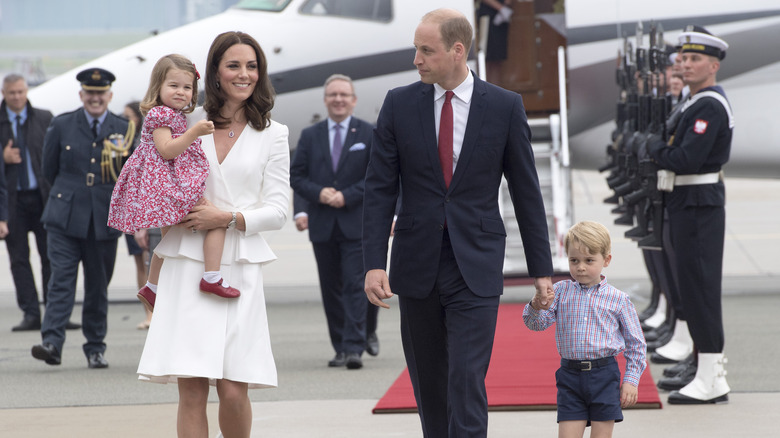 Pool/Getty Images
While Princess Catherine clearly loves a cool blue moment, it seems like white might be her second favorite color to rock at royal engagements. When the princess landed in Warsaw, Poland, with her family in 2017, she looked stunning in an all-white peplum dress. Her brood rounded out the primary color story with Charlotte dressed in a red, white, and blue patterned smock dress and George wearing a blue and red checkered shirt. Prince William also wore a ruby red tie atop his white button-down shirt — the same color as his daughter's toddler-sized shoes. 
A power suit moment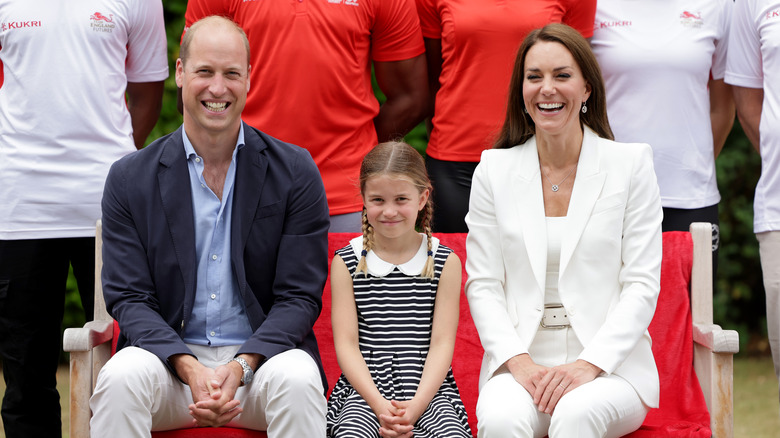 Chris Jackson/Getty Images
Princess Charlotte stepped into the spotlight in the summer of 2022 when she attended day five of the Commonwealth Games in Birmingham with her parents. While the Wales children usually travel together, this engagement was a special moment for Charlotte to pose solo for the cameras without either of her brothers at her side. Princess Catherine cut a stunning figure in her all-white power suit and silver belt buckle, fit with matching earrings and pendant necklace. Charlotte looked sweet, if a little shy, as she matched her mom's monochromatic look with a black-and-white striped dress.
Saying thank you to the NHS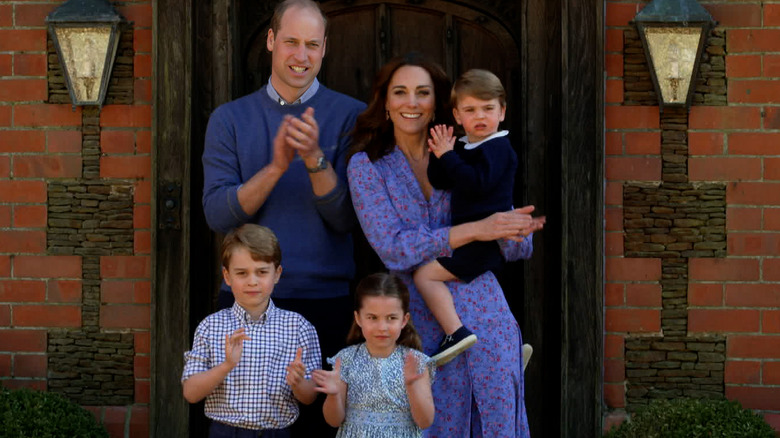 Comic Relief/Getty Images
Amid the COVID-19 pandemic, Princess Catherine, Prince William, and their kids appeared on Instagram wearing all blue as they clapped in honor of Britain's brave civil servants. While the family has repeatedly appeared in coordinating shades of blue, the choice was especially significant this time, as blue is the official color of the National Health Service. Catherine wore a periwinkle floral dress similar in style to Charlotte's baby blue smock dress, while Louis sat on his mother's hip in a navy sweater. William and George also twinned in matching shades of stone blue.