Emily Ratajkowski's Complete Dating History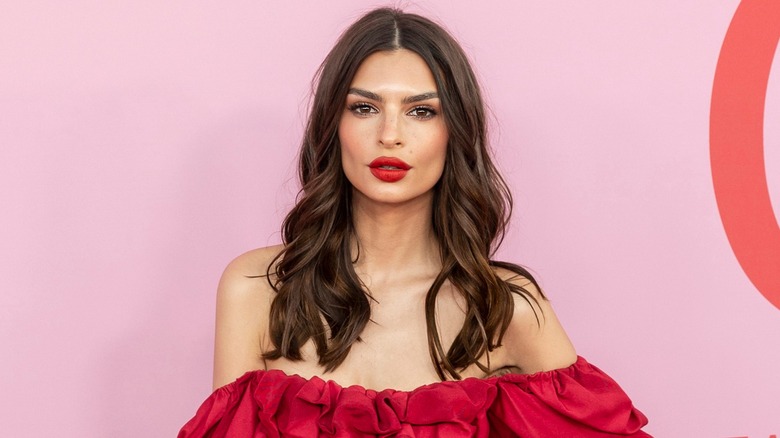 Ovidiu Hrubaru/Shutterstock
Model and actress Emily Ratajkowski — also known by her screen name Emrata — has been a huge topic of discussion lately regarding her recent roster of back-to-back romantic flings since her divorce from Sebastian Bear-McClard in September 2022. Since then, Emily has wasted no time playing the field as a newly single woman, dating several A-list names. "I can tell you that I have never been single before," Emily shared in an interview with Harper's Bazaar post-divorce. "Every day is different. The only good thing I know is that I'm feeling all those things, which is nice because it makes me believe that I'll be OK."
Some have even likened Emily's dating life to that of Pete Davidson's, with his famous roster of celebrity flings — and, who ironically, was someone Emily has also dated. However, some have speculated whether Emily's flings have been fully authentic or merely PR stunts based on how short-term most have been.
In one recent event, after a video emerged of her making out with Harry Styles, many have especially questioned the authenticity of her flings. In a Reddit thread on Emily and Harry Styles' recent video, some commenters were skeptical of the new fling, speculating if it was a PR stunt. 
Say what you will, but Emily Ratajkowski is having a rebound moment and is enjoying every minute of it — but who can blame her after discovering her ex-husband cheated on her? We are definitely here for it. To find out more about Emily Ratajkowski's past relationships, let's take a deep dive into her dating history and dissect the highlights of each relationship.
Jeff Magid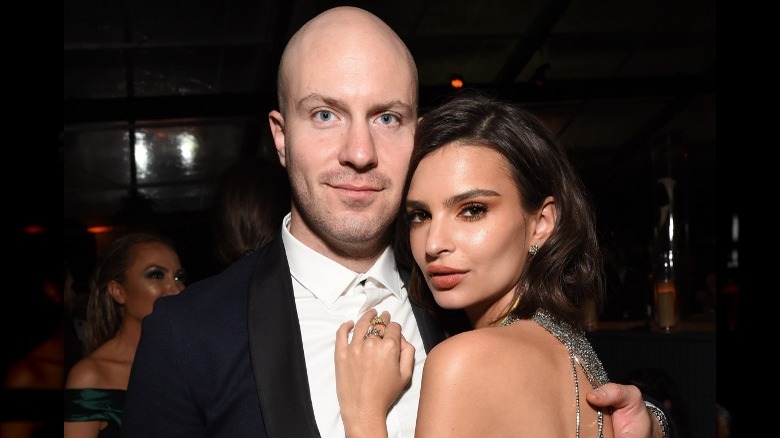 Michael Kovac/Getty Images
It is alleged that Emily started dating LA music producer Jeff Magid after he consoled her during the midst of her nudes leaking, which she described as a traumatic event.
Emily and the musician Jeff Magid started dating in 2014 but called it quits in 2018; and the model sure didn't stay single for long. In fact, Emily Ratajkowski even got engaged and married to movie producer Sebastian Bear-McClard just three months after her split from Jeff Magid.
The news of Emily's surprise wedding came as quite a shock to everyone, but especially her ex-boyfriend Jeff. A source close to Jeff revealed to Hollywood Life that "Jeff never saw this coming. He knew Emily was dating Sebastian, but he never in a million years expected her to marry him like this. Jeff and Emily only broke up a couple of months ago so no one saw this coming." The source further revealed how Jeff was completely devastated by the nuptials. "He feels like Emily is doing this to spite him because he never put a ring on it," the source revealed. "The whole situation has left him very, very shocked."
Sebastian Bear-McClard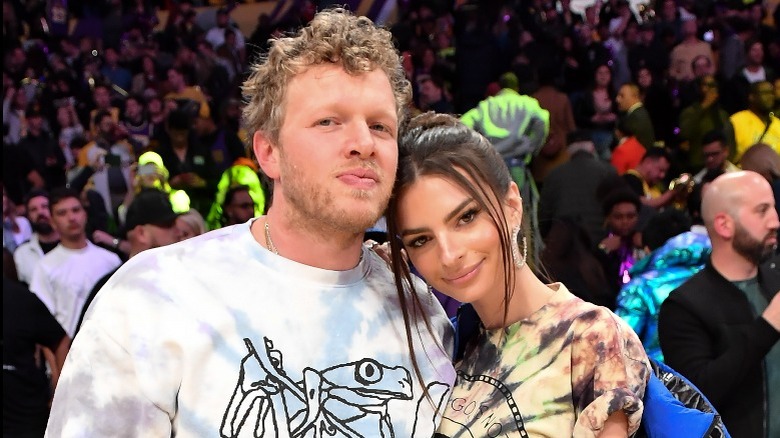 Allen Berezovsky/Getty Images
Emily met movie producer Sebastian Bear-McClard in 2018 while she was still dating Jeff Magid. In an interview on Busy Tonight, Emily stated that she knew there was definitely chemistry between her and Sebastian and had a gut feeling he was who she would be with. "Women always know," the model stated. "I was always like, 'Okay, I probably shouldn't hang out with that guy alone' ... and then next thing you know I'm at the courthouse getting married." And in just three months post-split from Jeff Magid, Sebastian Bear-McClard and Emily got hitched in an intimate courthouse wedding.
The couple mostly kept their relationship private, sharing a few pics together on Instagram. In March 2021, the couple welcomed their first baby together named Sylvester Apollo Bear, but the public didn't get a full reveal of the baby until Oct. 1 via Emily's Instagram story.
In September 2022, Emily filed for a divorce due to her husband's many infidelities during their marriage. Shortly after rumors swirled of the divorce, Emily was seen not wearing her wedding ring. In an exclusive interview with Page Six, a source close to Emily confirmed the allegations. "Yeah, he cheated," the source claimed. "He's a serial cheater. It's gross. He's a dog." 
Brad Pitt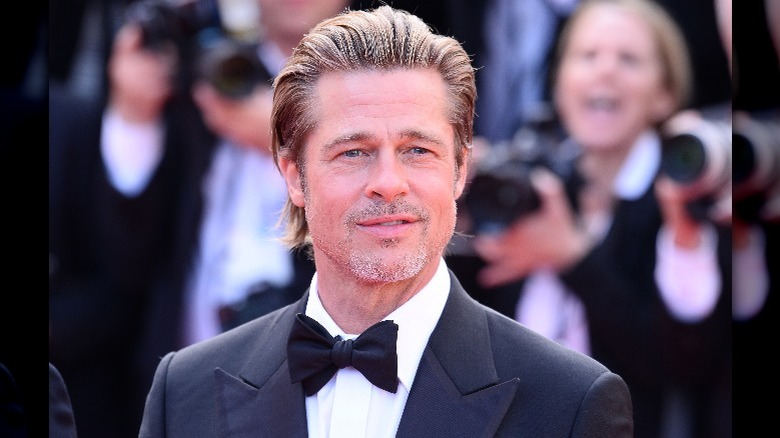 Isaaack/Shutterstock
Although Brad Pitt and Emily Ratajowski were not in an official relationship, they did seem to have a brief casual fling in 2022 shortly after her divorce from Sebastian Bear-McClard. The two were even spotted on romantic dates in public –- one of which included dinner at the Pearl Oyster Bar in New York City which an eyewitness said: "looked like a date," per E! News. "Emily is putting herself out there and enjoys the company," an insider shared with E! News. "She's trying to keep busy and not focus on the divorce. Her and Brad met through mutual friends in the industry. It was causal and friendly."
According to an exclusive source interviewed by ET, "Brad and Emily have spent time together, but it's very casual. They're friends," the source stated. "Emily recently filed for divorce and Brad is still going through his situation with Angelina [Jolie] so neither are looking for anything serious right now."
Pete Davidson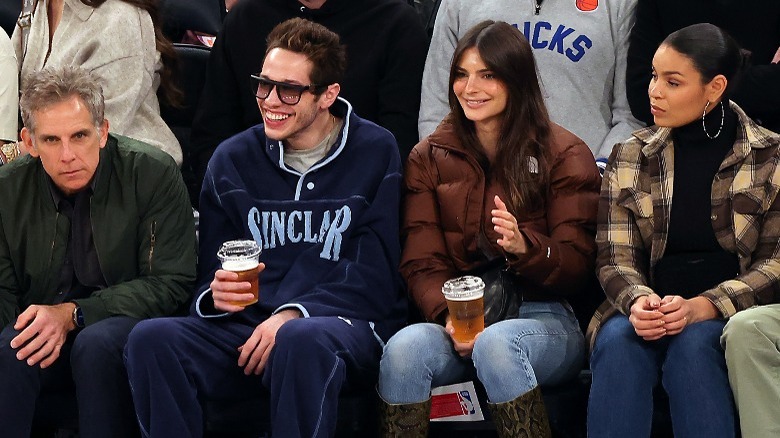 Jamie Squire/Getty Images
Pete Davidson and Emily Ratajowski were first rumored to be dating in early November 2022 after DeauxMoi released an anonymous tip on their Instagram story from someone who spotted the two on a date in Brooklyn. The source shared that "his hands were allll over her and they're clearly, clearly hooking up."
However, their romance started developing months prior. "Pete and Emily have been talking for a couple months now," a source told Us Weekly. The source also noted that they are "in the very early stages, but both really like each other. Pete makes Emily laugh and he loves how intelligent she is."
On November 27, the couple was spotted sitting courtside together at a Knicks game – which would be their last public appearance together as a couple.
Unfortunately, Emily and Pete Davidson officially called it quits after just two months of dating. However, it was also assumed the two split when Emily was photographed making out with Jack Greer in December. A source told Entertainment Tonight that Pete and Emily "have been doing their own things and were never serious." The source continued, "Emily finds Pete hysterical and he thinks she's smoking hot, but they've both been living their lives and not putting any pressure on anything."
Jack Greer
In Dec. 2022, Emily was spotted kissing fashion designer and filmmaker Jack Greer outside her New York City apartment after rumors that she and Pete Davidson split. Just a few weeks prior, a source close to Emily shared with Hollywood Life that she wanted to pursue a casual, open relationship when split rumors with Pete emerged. "Emily is exploring single life, but it has no reflection on her connection with Pete," a source told the outlet. "She thinks he's great, she just isn't available for a commitment right now. They're still talking, it's just not exclusive."
Although it is unclear exactly how Emily and Jack Greer met, Emily shared on her "High Low" podcast that she has been using dating apps, which may have been a clue since this episode aired the same week she was spotted kissing Jack Greer. In the podcast, Emily stated, "I was like, 'F–k it. I was feeling defiant because so many people told me not to get it."
Interestingly enough, neither party ever spoke publicly about their relationship and the NYC kiss the two shared together was the only public appearance caught by paparazzi.
Eric Andre
Amy E. Price/Getty Images
Comedian Eric Andre and Emily Ratajkowski were first spotted together in January 2023, after spending three hours together at a Japanese restaurant in NYC. Later that month, the two spent a romantic vacation together in the Cayman Islands sharing cocktails, kisses, and plenty of laughs.
By Valentine's Day, the pair broke the internet when Eric Andre posted a very suggestive photo of the two on his Instagram to officially "hard-launch" their relationship. The photo in question depicted a nude Eric Andre seductively posed on the couch with a pink heart emoji covering his crotch and a reflection of a strategically posed nude Emrata taking the photo in the mirror behind him.
When asked about the photo, Eric Andre told Rolling Stone, "Emily popped up and took that picture. I was really in the moment: I was drinking wine, she started dying laughing, and she was like, 'I have to take a picture of this.' She took the picture, we both started cracking up, and she was like, 'This is iconic' — she kept saying 'iconic.' We both agreed this was a beautiful image that we had to share with the world."
However, just days after the "iconic" photo was posted, Emily hinted on Tiktok that her "situationship," as she called it, had ended. In the Tiktok video, Emily is seen laying in bed with an overlay caption reading: "What do you do when a situationship ends?" which then transitions into, "Start another one?"
Orazio Rispo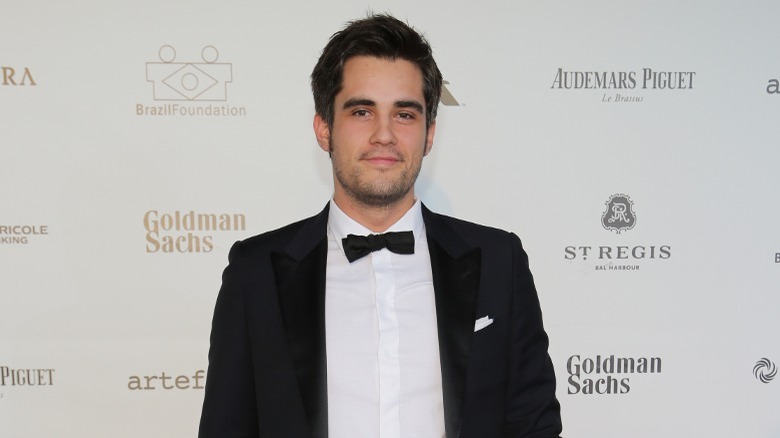 Alexander Tamargo/Getty Images
Comedian and DJ Orazio Rispo has been in a somewhat ongoing on and off fling with Emily Ratajkowski. Notably, Orazio Rispo has been the only regular in Emily's dating rotation while she has been playing the field.
The two were first seen together in October 2022 on an intimate dinner date in New York City after rumors of Emily's fling with Brad Pitt emerged. The date was filled with drinks, smiles, and, of course, a make-out session caught by the paparazzi. Following the date, Emily rode off with Orazio Rispo on the back of his motorcycle.
After some time, the pair reconnected in February 2023 and were seen leaving from what would appear to be a date at a wine bar in Manhattan just after news broke that Emily Ratajkowski and Eric Andre had split. However, just a month later, Emily Ratajkowski was seen packing on the PDA with Harry Styles.
Harry Styles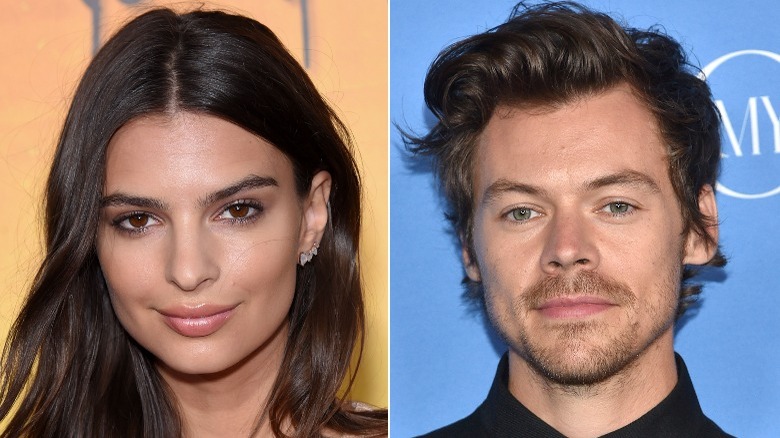 DFree & DFree/Shutterstock
In March 2023, and in Emily Ratajowski fashion, Emily Ratajowski and Harry Styles were caught on video packing on the PDA during a steamy make-out session in Tokyo.
Earlier in March, a source close to Harry revealed to Mirror that he was seeing someone and was completely over his ex-girlfriend of two years, Olivia Wilde. "Harry is seeing someone," the source revealed. "He's going to great lengths to keep her identity quiet after the circus surrounding his relationship with Olivia."
But here's where things get messy. Supposedly, Emily Ratajkoski and Olivia Wilde were pretty good friends, often seen hanging out and even photographed together at events, one of which happened to take place just weeks prior to this bombshell news. So, when Olivia Wilde got word of Emily Ratajkoski's latest fling, she was devastated. "This is a betrayal," a source told Page Six adding that Emily is "begging her for forgiveness."
According to Page Six, Olivia Wilde wants to take the high road. "She is focused on her kids and her work," a source told Page Six. "She wants nothing to do with this mess."
However, just a few weeks after the video emerged, Emily Ratajkoski alluded that nothing serious seemed to be on the horizon romantically in an interview with the LA Times. "I'm definitely still not thinking about guys," she said. "Although, yeah. You know, sometimes things just happen."