How HGTV's Christina Hall Unwinds From Her Busy Real Estate Life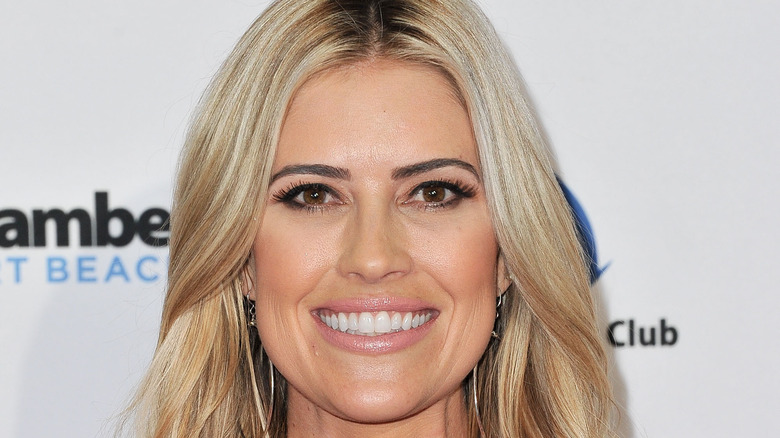 Allen Berezovsky/Getty Images
If you tune into HGTV, you'll likely find Christina Hall making an appearance. The real estate mogul is best known for starring in "Flip or Flop" with her then-husband Tarek El Moussa. The series premiered in 2013 and ended in 2022. In the years since the show's debut, Christina has been building what can only be described as an empire. In 2020, Christina co-wrote "The Wellness Remodel: A Guide to Rebooting How You Eat, Move, and Feed Your Soul." That same year, she designed a furniture collection for Spectra Home Furniture. Christina, however, has not strayed too far from her HGTV roots.
From 2019 to 2022, she had her own series on the network called "Christina on the Coast," which focused on her design business in Southern California. In 2023, "Christina in the Country" premiered. Like "Christina on the Coast," "Christina in the Country" gives viewers insight into her personal and professional life. However, the series takes place in Tennessee instead of California.
On top of all this, she's the mother of three young children: Hudson, Brayden, and Taylor. She is also currently married to real estate agent Josh Hall. Needless to say, Christina Hall is more than busy. Luckily, she and her husband unwind together.
She and her husband Josh Hall spend solo time together
Christina and Josh Hall married in April 2022, less than a year after Christina's divorce from her second husband, Ant Anstead, was finalized. Christina first confirmed her relationship with Josh in July 2021 in a post on Instagram. Christina received public backlash for starting a new relationship so soon after separating from Anstead. However, this hasn't stopped the HGTV star from sharing loved-up photos with Josh and their travel adventures on social media. In February 2022, she took a break from her hectic career to go on a trip to Big Sur, California, with Josh, who was only her fiancé at the time.
On Instagram, she said the trip was a "Perfect reset. Hiking in fresh air, alone time and tranquil bliss." A few months later, the pair headed back to Big Sur to celebrate Christina's 39th birthday. Then in April 2023, Christina revealed on Instagram that sometimes, all the couple has time for is date night. In the photo, Christina and Josh are holding hands. Although her outfit is casual, fans noted that they loved her heels, making this one of Christina's best looks yet. 
In her caption, she wrote, "A date to a beautiful restaurant and some R&R after putting in over 500 driving miles in 3 days to and from work. In this crazy real estate economy you gotta do what you gotta do." In 2021, Christina moved to Tennessee, marking another big change in her life.
Christina Hall's Tennessee adventure
Christina Hall, a California native formerly based in Newport Beach, told People that she fell in love with Tennessee because it "reminded me of my favorite childhood memories." The publication notes that Christina intended to use her Tennessee home for vacation. But in 2022, HGTV revealed that Christina would be partly living in Tennessee to star in "Christina in the Country." In a preview for the show posted by People, Christina is seen talking to her husband about their new life in the state.
She says, "I feel like in the South, I feel more relaxed," adding, "The air is so clean. How peaceful is this?" In early February 2023, the couple went on Instagram Live and opened up about living and working in Tennessee. Christina and Josh revealed that what had become a place to unwind was now the complete opposite. Christina explained (via Heavy), "It used to be ... we went to Tennessee to get away and hide and turn off the phones, and everything was so quiet."
She added, "And then when it became work, it was like, 'Okay, now we get to Tennessee, and it's like, hustle for the five days we're there and really pack those days with work,' and then [we] come home to ... more work!" Nevertheless, it appears that Christina, Josh, and the kids are enjoying their time in the country. Christina frequently posts photos of their farm on social media.