What Kate Middleton's Friends Have Said About Her
Chris Jackson/Getty Images
Being a member of the royal family is a tricky proposition. By taking part, in exchange for access to vast wealth and history that affords comfort and luxury, royals essentially give up any expectation of privacy. Their every move — their fashion sense, expressions, tone of voice — gets picked over by the press. And royals can't refute every unflattering story; responding too directly to the media is seen as unbecoming. For proof, look at the reaction to Prince Harry and Meghan Markle going public with the damaging effect of the media on their mental health.
One way that the royals respond without responding is by letting anonymous sources speak for them. The strategy is an open secret, alluded to by Prince Harry in an ITV interview (via Reuters) in 2023. "There comes a point where, going back to the relationship between certain members of the family and the tabloid press, those certain members have decided to get in the bed with the devil ... to rehabilitate their image," he said.
One beneficiary of anonymous sources: Prince Harry's sister-in-law, Princess Catherine, a frequent target of ire in his memoir. While the future queen herself has remained relatively guarded ever since she married Prince William in 2011, numerous friends have spoken freely with the press about what she's really like behind closed doors. Read on for a peek at what Princess Catherine's friends have said about her.
She was bullied as a child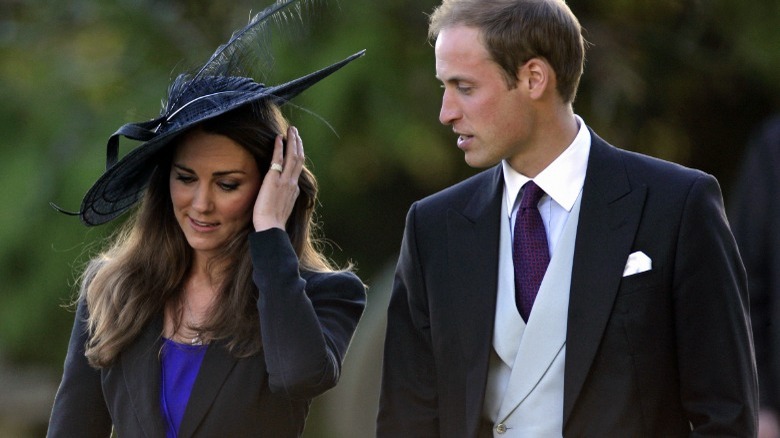 Max Mumby/indigo/Getty Images
Nowadays, Princess Catherine is one of the most well-liked people in all of the United Kingdom. According to Newsweek, a poll found that the Princess of Wales is tied with her husband, Prince William, as the most popular living royal. However, it wasn't always that way.
In 2011, a former friend of the future queen told biographer Sean Smith that Princess Catherine was bullied at prep school. According to excerpts from the book "Kate" quoted in the Boston Herald, former roommate Jessica Hay revealed that Princess Catherine was extremely unhappy when she attended Downe House. "The girls there were horrible. She was picked on because she was perfect, well turned out and a lovely person," Hay said. "She was not the type of person to stick up for herself. They saw something that they could pick on and gangs of girls can be very nasty."
Princess Catherine was ultimately pulled from the school over the treatment she received from her classmates. She later attended Marlborough College instead, which is where she dormed with Hay. Her former roommate went a step further while talking with The Daily Mail, describing a specific bullying incident that the princess had relayed to her. "When she used to go to lunch she would sit down with people and they all used to get up and sit on another table," she recalled the future royal telling her. We can't imagine Princess Catherine is hurting for lunch companions these days.
Prince William's advances made her shy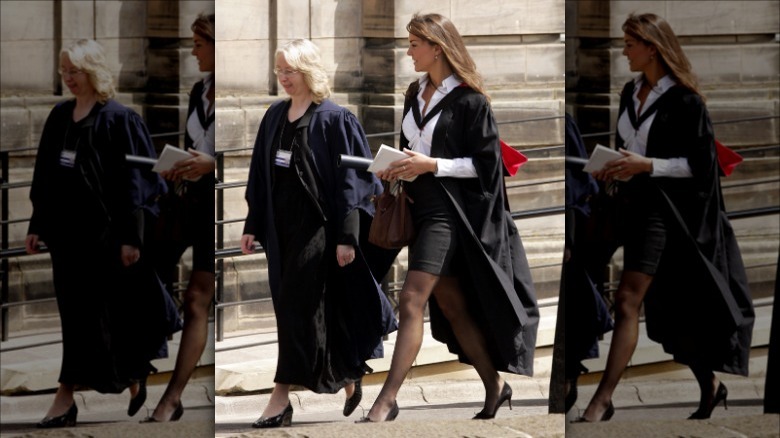 Max Mumby/indigo/Getty Images
Though she's now world-famous as a public figure of poise, fashion, and style, Princess Catherine was once a relatively average university student who fell in love with a prince. After the royal family announced that Prince William and Princess Catherine were to be married, several of the future royal's former friends spoke to Vanity Fair about the person they knew while they were all students at St. Andrews together.
In particular, the picture they painted of the future princess was one of a reserved girl who couldn't believe the prince was paying attention to her. "She was actually quite insecure about her looks and never considered herself pretty," a former friend said. "She was very sweet and very shy." Furthermore, they said, the Princess of Wales never bragged about her high-profile boyfriend. "She never got above her station, and even though she had secured the most sought-after boy at St. Andrews, she never gloated," the friend recalled.
A friend of Princess Catherine's also relayed the story of the first night Prince William made a move on Princess Catherine. The report dovetails with the idea that the future royal was shy about a prince coming on to her. "He actually told her she was a knockout that night, which caused her to blush," the friend recalled. The rest, as they say, was history.
She was 'devastated' when they broke up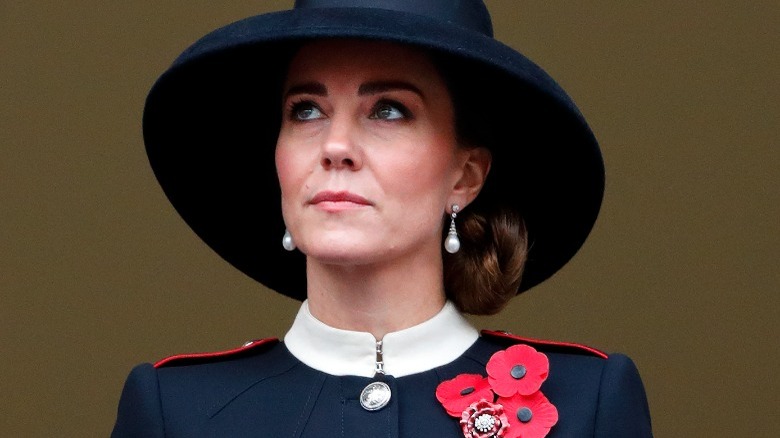 Max Mumby/indigo/Getty Images
Prince William and Princess Catherine first met when they were students at St. Andrews together, and they dated for many years. They did, however, take a couple of breaks. According to Vanity Fair, they briefly split in 2004 as they neared graduation. In 2007, they took a much longer break after Princess Catherine told her royal beau they needed to either get engaged or break up, and they chose the latter.
Emma Sayle, a friend of Princess Catherine, later spoke to Inside Edition about what that time was like in the future queen's life. "She was devastated," Sayle recalled. However, she said that the princess managed to keep it together. "A lot of people fall to pieces," Sayle ruminated, noting that the breakup was not to last. "She held her head high went out and was in constant contact with William. It wasn't a clean total break." A few months later, they reconciled.
She's a great rower
Max Mumby/indigo/Getty Images
While Prince William and Princess Catherine were on a break in 2007, she joined a rowing team called The Sisterhood. She trained with the group for months, planning to join the team on a boat race across the English Channel. Photographs of the beautiful Catherine in her rowing gear caused a tabloid frenzy, but her friend and teammate Emma Sayle insisted to Vanity Fair that it wasn't just a photo op; Catherine, she said, was a great rower.
"Kate had always put William first, and she said that this was her chance to do something for herself," Sayle recalled, comparing Princess Catherine's dedication to her rowing to "therapy." "We trained on the river in Chiswick, and Kate started off paddling with the others, but I decided to put her on the helm because she was an excellent boatman and really well coordinated," Sayle added.
The future Prince and Princess of Wales wound up reconciling, and the palace made her drop out of the race. "The whole thing was becoming a media circus," Sayle recalled. Ultimately, the team lost the race without Princess Catherine at the helm.
She had a low-key hen-do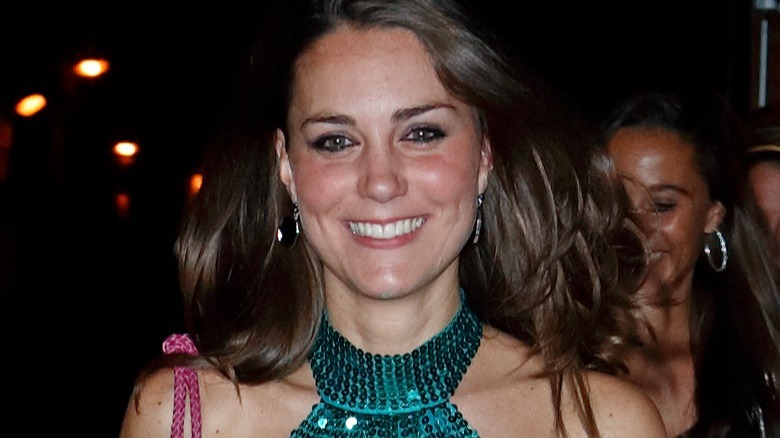 Max Mumby/indigo/Getty Images
Late in 2010, a few years after Prince William and Princess Catherine got back together, the palace made an important announcement. "The Prince of Wales is delighted to announce the engagement of Prince William to Miss Catherine Middleton," an official statement read. "Prince William and Miss Middleton became engaged in October during a private holiday in Kenya. Prince William has informed The Queen and other close members of his family. Prince William has also sought the permission of Miss Middleton's father."
Over the following few months, leading to their April 2011 nuptials, the hysteria surrounding the royal wedding reached a fever pitch. Perhaps because she knew the tabloids would have been all over any public appearance, friends later told the Daily Telegraph (via The Daily Mail) that Princess Catherine's bachelorette party was a relatively small affair. "She has already had her hen night, but it was certainly low-key. [...] It was done privately," the source said. It was done so privately that the guest list was rather exclusive. "Not all of Kate's friends were there and she will be catching up with other friends over the coming weeks," the friend added.
In a preview of the fact that Princess Catherine was about to become one of the world's leading trendsetters, her low-key hen-do caused The Daily Telegraph to wonder if this represented a way forward for bachelorette parties around the country. "Has Kate Middleton killed the hen party?" asked the headline of an op-ed.
She's an introvert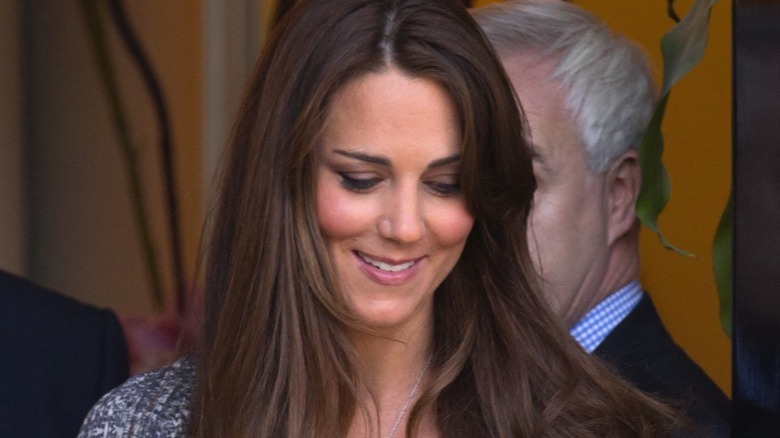 Max Mumby/indigo/Getty Images
Since her marriage to Prince William, the heir to the throne, Princess Catherine has become one of the most recognizable women in the world. Over the past decade of royal life, Princess Catherine has become the mother of three royal children, the spokeswoman for several charitable causes, and the patron of numerous organizations around the United Kingdom. She is photographed nearly everywhere she goes, and her royal duties take her on trips around the globe.
However, that wasn't always Princess Catherine's plan. In celebration of her 40th birthday, in recognition of almost two decades of public life, one of Kate Middleton's friends went to The Daily Mail to discuss how the princess's life has changed now that she's world-famous. "There is no way Catherine would be doing anything in public life if she hadn't fallen in love with William. She is very open about that," the unnamed friend told the outlet. 
They added that their friend doesn't fit in with a social scene made up almost entirely of extroverts. "She doesn't want to go parties and would prefer to live the quiet life at home with her family," the source said. "But she did fall in love with a prince and they have developed into a really good team."
Friends went public about the birth of Prince George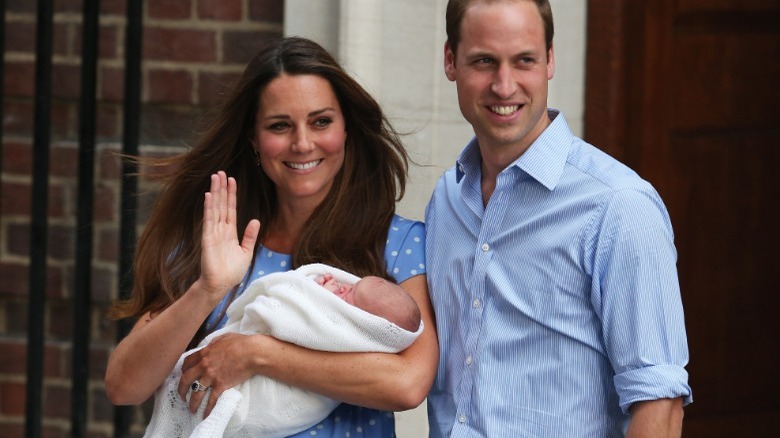 Oli Scarff/Getty Images
In late 2012, St. James's Palace released a statement to the BBC with some important news. "Their Royal Highnesses the Duke and Duchess of Cambridge are very pleased to announce that the Duchess of Cambridge is expecting a baby," the palace wrote. "The Queen, the Duke of Edinburgh, the Prince of Wales, the Duchess of Cornwall and Prince Harry and members of both families are delighted with the news." 
A few months later, the Succession to the Crown Act 2013 overturned a centuries-old law stating that only male heirs would be next in line for the throne. Instead, Prince William and Princess Catherine's firstborn child would be next in line to take over the monarchy, regardless of gender.
Princess Catherine gave birth to Prince George later in 2013. Her friends went to the press after the announcement of the royal baby's arrival, telling Vanity Fair (via The Daily Mail) that the future queen had an easy time giving birth to a future king. "She spoke to some of her best girlfriends after the birth and described the birth as perfect," the source said. "She said it was straightforward and there were no complications. She wanted a natural birth and she was so happy she was able to have one."
She's a hands-on mom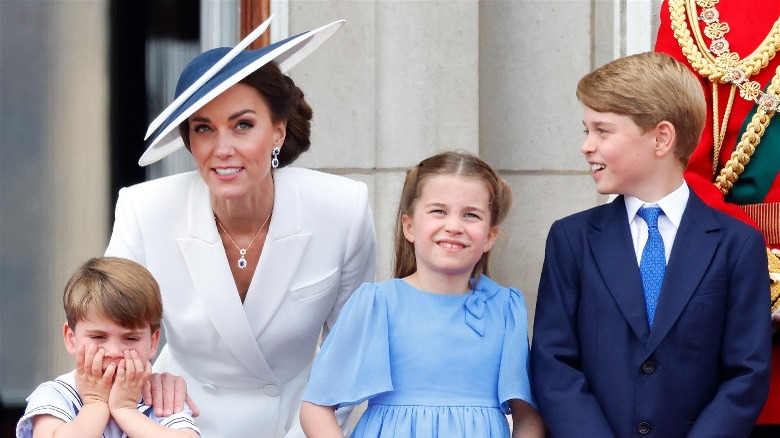 Max Mumby/indigo/Getty Images
As members of the royal family, Prince William and Princess Catherine have a massive apparatus at their beck and call, able to help them accomplish any task they set their mind to. That being said, according to her friends, Princess Catherine refuses to sit back and let someone else raise Prince George, Princess Charlotte, and Prince Louis, her three children. 
A friend told People that the Princess of Wales is highly present in her royal children's lives, even though they have a nanny to help care for them. The friend said that Princess Catherine "runs things at home with the kids and the schedules," adding, "She is hugely involved in every single part of their day." 
In a separate interview, a friend of the future queen told the same outlet that Princess Catherine isn't afraid to discipline her kids when they misbehave. "It's a normal, busy family home with kids running around and knocking things over," the friend revealed. While they described the princess as "chill," the source explained that she doesn't put up with antics from her children. "When you see her behind closed doors with the children, she's a very confident mom, and she's no pushover," the friend said. "The children get told off if they act up."
She'll be a great queen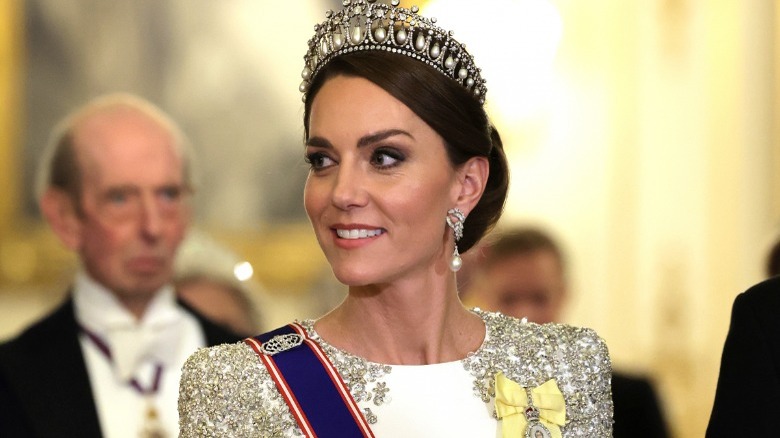 Chris Jackson/Getty Images
Now that King Charles III has acceded to the throne, his wife Camilla is called Camilla, Queen Consort. When Prince William becomes king, Princess Catherine will technically be titled Catherine, Queen Consort. However, many royal observers expect she will be styled Queen Catherine anyway.
Regardless of her exact title, it's clear that Princess Catherine will be an essential figure in the monarchy for decades. The crown is going through a transition period, considering the death of Queen Elizabeth II and the controversy surrounding Prince Harry's decision to step down. As a result, friends of the Princess of Wales want to reassure the public that Princess Catherine will someday make a great queen. A family friend told People, "She is ready to step into those shoes with ease and is perfect for the job." Another source close to the family added that Princess Catherine would take the job seriously. "She is a focused and professional woman," they said.
That being said, as Queen Consort, Princess Catherine's eventual role will be ceremonial. She won't be Queen Regnant, as Queen Elizabeth II was; she will instead be given the title Queen Consort because she will be the wife of the ruling monarch. Still, that doesn't mean she won't be important. Princess Diana's former chief of staff, Patrick Jephson, told Page Six, "Catherine is just what these troubled royal times need — it's no exaggeration that the Windsors' future lies in her hands."
She's upset with Prince Harry's book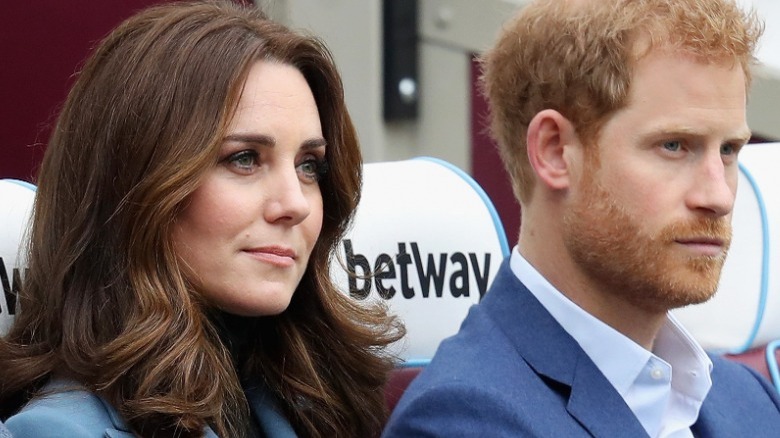 Chris Jackson/Getty Images
Princess Catherine's relationship with her brother-in-law Prince Harry has changed dramatically. According to Newsweek, the two were very close when she first started dating Prince William; Prince Harry reportedly called her "the sister he never had." She would even cook him meals when he stopped by to visit. Unfortunately, their relationship seems to have splintered ever since Prince Harry stepped back from the royal family.
Prince William's younger brother released a memoir called "Spare" in 2023, and he didn't hold back about his sister-in-law. While he was complimentary, writing that he loved making her laugh, he noted that their relationship shifted over the years. In particular, he felt that Princess Catherine's opinion of Meghan Markle soured as the British press began to hound her. "I think it had Kate on edge while putting her and everyone else on notice that she was now going to be compared to, and forced to compete with, Meg," Prince Harry wrote (via Us Weekly).
According to Princess Catherine's friends, she is upset over what he revealed. A family friend told People that the Prince and Princess of Wales rely on each other to get through the public scandal. "So much has been said that at this stage, I think they just want to move on," the friend relayed. "The whole situation is very sad, but it's business as usual, and she's getting on with the job because that's what she does."
She takes after her mom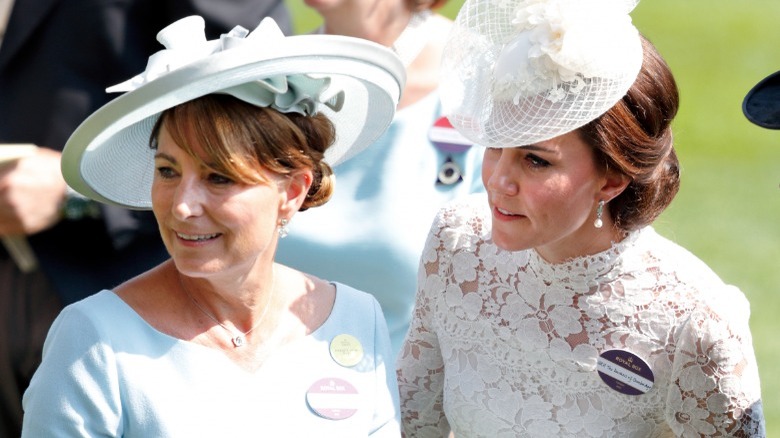 Max Mumby/indigo/Getty Images
Prince William's family is full of famous, titled personalities, from his father, King Charles III, to his grandmother, Queen Elizabeth II. That meant that Prince William and Princess Catherine's children visited some pretty elaborate estates when they hung out with relatives from that side of the family. The children don't have a grandmother on Prince William's side, as Princess Diana died when the future king was still a child.
On Princess Catherine's side of the family, however, the children still have two living grandparents: Carole and Mike Middleton. According to a family friend, the youngsters love visiting the relatively modest Middleton home, which boasts a "menagerie" on the land, including ducks and chickens. The friend explained to People, "It looks absolutely beautiful. The children love to come and play."
Moreover, the friend pointed out the familial resemblance between Princess Catherine and her mother, Carole. "I don't think anything fazes [Kate] — she just takes everything in her stride. A lot of this comes from her mum," the friend told the outlet. "Carole's lovely, and she just doesn't let anything faze her." That's a valuable trait, especially considering how Princess Catherine's life will change when her husband becomes the king.
A friend claimed there is no feud with Rose Hanbury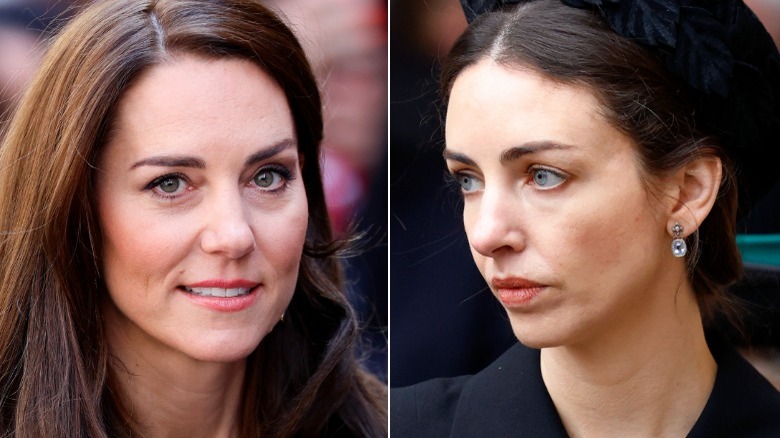 Max Mumby/indigo & Max Mumby/indigo/Getty Images
For years, Princess Catherine was close friends with Rose Hanbury, the Marchioness of Cholmondeley. In 2019, however, rumors swirled that the two were no longer on good terms. "It is well known that Kate and Rose have had a terrible falling out," a source told The Sun. "They used to be close but that is not the case any more." 
Naturally, the gossip machine went into overdrive, and the prevailing narrative became an insinuation that Hanbury had been having an affair with none other than Princess Catherine's husband, Prince William. Sources told The Sun that the Princess of Wales asked that her former bestie be "phased out" of royal communications.
That's not the case, however, for the coronation of King Charles III. Ahead of the event, the palace announced that Lord Oliver Cholmondeley — Hanbury's son — would be participating as a royal page. It seems that royal sources attempted to quash any drama before it started, with a friend of Princess Catherine telling The Daily Beast that reports of a falling-out had significantly been overblown. "There has never been any enmity between Kate and Rose," the friend said. "The rumors were all a load of rubbish."
She thinks Prince Louis looks like her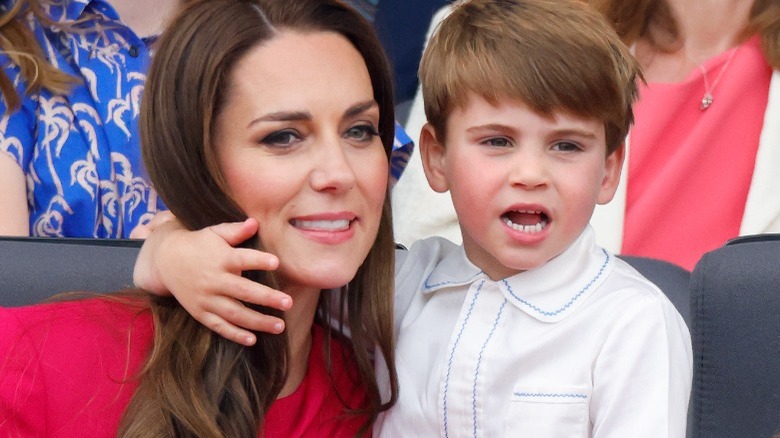 Max Mumby/indigo/Getty Images
Princess Catherine and Prince William have three royal offspring. Prince George and Princess Charlotte, the two older children, are often said to resemble their father. In 2020, Prince William even pointed out the resemblance, noting that a childhood photo of himself bore a striking resemblance to his daughter. "Is that me? Because that looks just like Charlotte," he said, per People. "That is incredible."
Their youngest child, Prince Louis, more closely resembles his mother. A family friend told People that royal watchers aren't the only ones who think Prince Louis takes after Princess Catherine; apparently, Princess Catherine feels the same way. "Everyone always comments on how Louis is the spitting image of Kate. She loves it and thinks it's very sweet," the friend said. "She often jokes that he's the only one of her kids who actually looks like her!"
To celebrate the young prince's fifth birthday in 2023, the palace released new portraits of Prince Louis, including one where his laughing mother pushes him in a wheelchair. "A very happy birthday to Prince Louis," the royals' official Twitter account wrote alongside the photos. Noting the same resemblance to Princess Catherine's father that People had pointed out years earlier, one commenter said, "He looks like his grandfather."
She's a hugger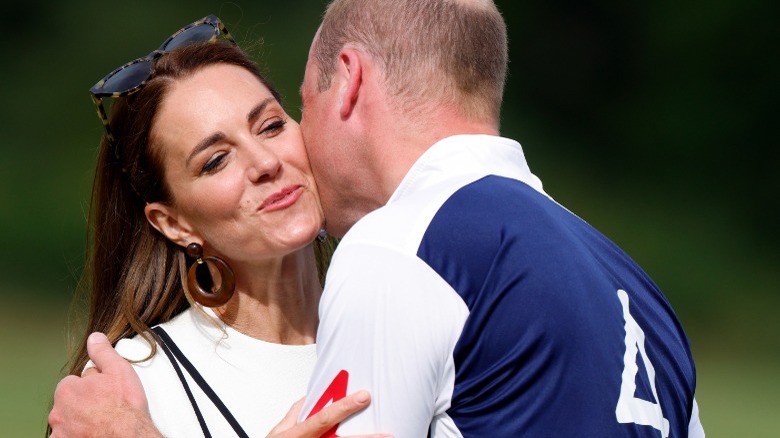 Max Mumby/indigo/Getty Images
When Meghan Markle first joined the royal family, insiders hoped that Prince Harry, Prince William, and their wives would get along great. Us Weekly even called the group "the fab four." Prince Harry said in his memoir "Spare" that he wanted the same. He wrote (via The Daily Beast) that his initial conversation with Prince William and Princess Catherine about Meghan was hopeful. "I... said I couldn't wait for them to meet her, that I looked forward to the four of us spending lots of time together, and I confessed, for the umpteenth time, that this had long been my dream — to join them with an equal partner," he said. "To become a foursome."
Unfortunately, the rest is history — and not the positive kind. Prince Harry and Meghan Markle ultimately exited the royal family, pulling back from any powerful foursome. In their Netflix docuseries "Harry & Meghan," Meghan Markle revealed (via People) that she was surprised to find Princess Catherine wasn't a fan of hugging. "I was a hugger, always been a hugger. I didn't realize that that is really jarring for a lot of Brits," the "Suits" star reflected.
After the series was released, a friend of Princess Catherine's went to the media to dispute the idea that the future queen isn't physically affectionate. "Kate's a big hugger. She is warm and friendly and greets everyone with a big hug and kiss," the friend insisted. "It comes naturally to her to be like that."