Cysteamine Is The Melasma-Fighting Antioxidant Your Skincare Routine Needs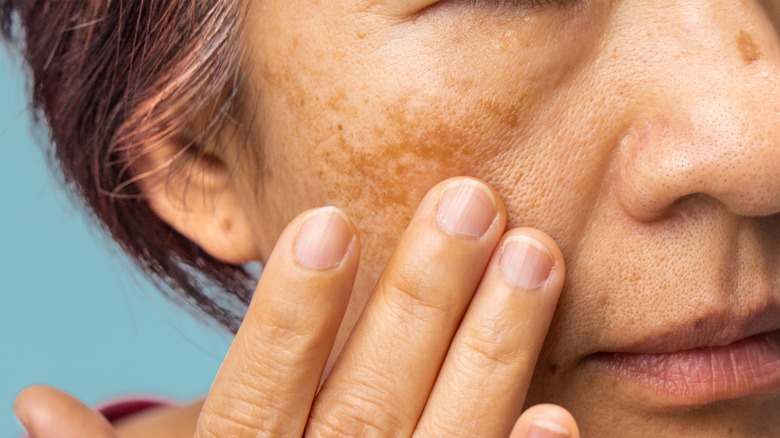 Toa55/Shutterstock
Melasma is a skin condition that produces marks on the skin ranging from dark patches, spots, or speckling of freckles, typically appearing on the face. People, especially women, tend to develop it in their 20s and 30s. Melasma is often caused by exposure to sunlight, extended time in hot temperatures, and hormone changes, though some people are genetically predisposed. For those who have melasma and want to address it, cysteamine may be for you.
Plenty of other products aim to correct the spots melasma causes, but many of them tend to irritate skin or bleach the skin surrounding the targeted area. These common but potentially frustrating options are helpful to some but leave many searching for an alternative that's more natural and less likely to produce side effects. Cysteamine is a promising, effective option that serves as a great alternative to other products that tend to be harsher on the skin.
What is cysteamine?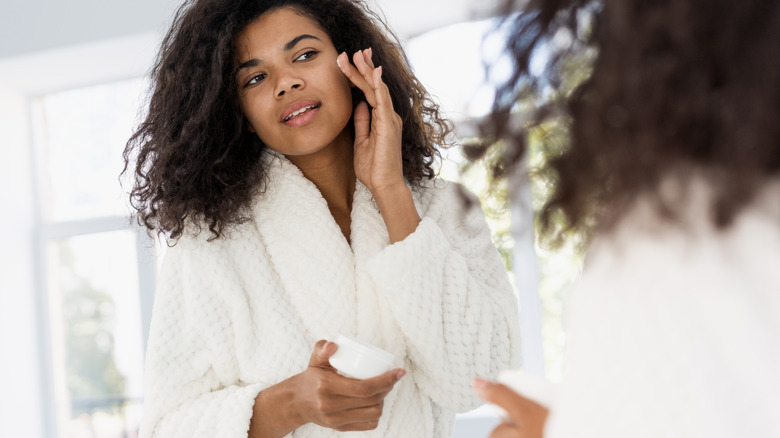 Brizmaker/Getty Images
Cysteamine is an antioxidant that the body naturally produces. "[It's] a skin-lightening agent that can be found in the body's skin cells," double-board-certified plastic surgeon Jaimie DeRosa, MD, told Byrdie. "This powerful antioxidant reduces the melanin production in the skin to visibly improve stubborn brown patches. Importantly, since it is not a bleach, the skin does not lose the amount of melanin (and therefore pigment) in the skin — instead, it just removes the excess pigment that causes hyperpigmentation."
Cysteamine is a common alternative to triple combination therapy, which includes the use of hydroquinone, fluocinolone, and tretinoin. While effective, many avoid hydroquinone because of studies linking it to possible carcinogenic effects in mice. It is banned as an over-the-counter product in the US and is only available by prescription. However, cysteamine is available over the counter, with products typically ranging between $48 for a basic cream and $285 for a more intensive treatment called Cyspera.
It's also important to note that those with darker skin tend to react better to cysteamine than hydroquinone. "Cyspera is my first choice for patients dealing with hyperpigmentation, especially patients of color, as hyperpigmentation can be difficult to treat successfully in darker skin," Corey L. Hartman, MD, FAAD, board-certified dermatologist and founder of Skin Wellness Dermatology in Alabama, told Vogue.
Using cysteamine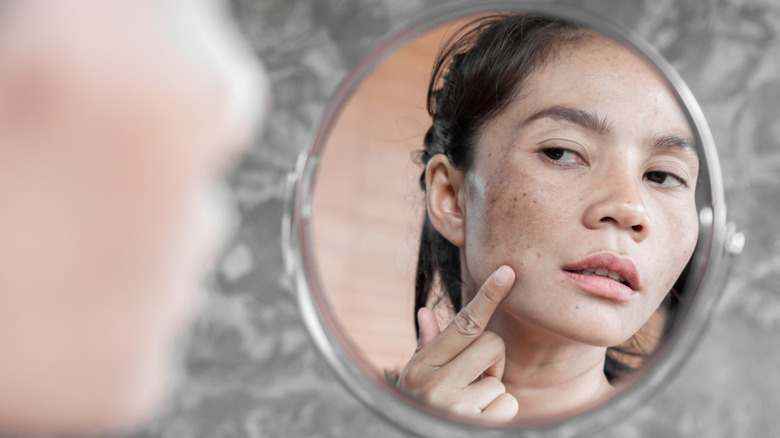 Doucefleur/Shutterstock
You can find cysteamine creams that you can easily apply to affected areas. The amount you use and length of time can vary from product to product, so it's essential to follow the instructions that come with the product and anything your dermatologist recommends.
You should start seeing the effects after about 6 weeks of use and an even more significant result after 8 to 12 weeks. However, while effective, cysteamine and other hyperpigmentation-correcting products do not make melasma disappear forever. It can reoccur, and for some, these products will only reduce the spots rather than erase them completely. Figuring out what works best for your skin should be your priority, and working with a dermatologist can help you navigate the experience and feel good in your skin.
Cysteamine is a relatively gentle product, but those with sensitive skin should be cautious. Those who are pregnant or breastfeeding should avoid use, as well as those with vitiligo.