The Longest Marriages In Royal Family History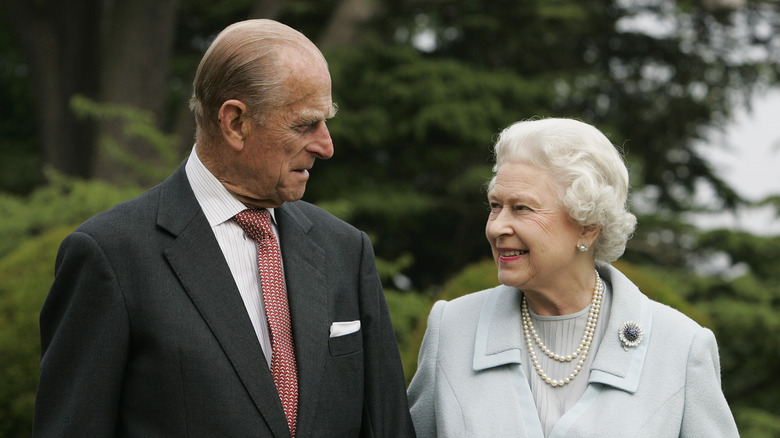 Tim Graham/Getty Images
When it comes to marriage, members of the royal family are known to stay in it for the long haul. Given that anyone associated with the crown is expected to follow the strict marriage guidelines set by the Church of England, divorce is heavily frowned upon among royals. With only one exception — ahem, we're looking at you, King Henry VIII – sovereigns throughout Britain's history have taken "'til death do us part" quite literally.
While royal marriages have historically had their fair share of ups and downs, kings and queens of the past have almost always stayed committed to one another, no matter what the cost. Even in cases of rampant infidelity, tragedy, and disagreement, most royals have managed to stay together for truly impressive bouts of time. From as early as the 12th century all the way up to the 2020s, here are the most long-standing royal unions of all time.
Queen Elizabeth II and Prince Philip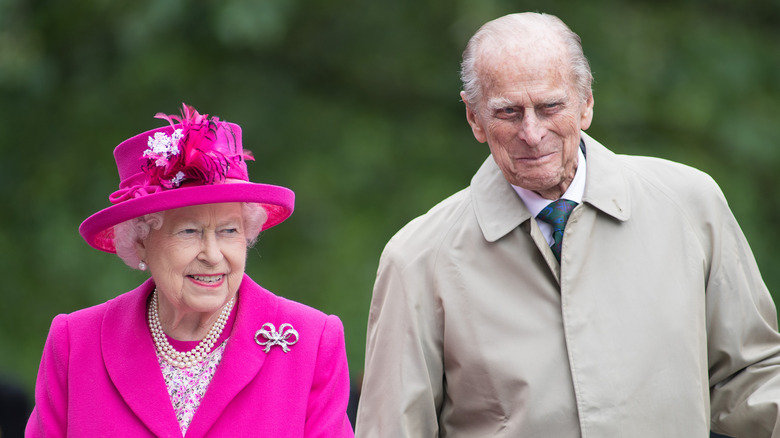 Jeff Spicer/Getty Images
Queen Elizabeth II and Prince Philip's marriage was the longest-lasting royal marriage in history. They were married for almost 74 years before Phillip's death on April 9, 2021. They were also the first royal couple to celebrate their platinum wedding anniversary once they hit the 70-year mark in 2017.
A little-known fact about Elizabeth and Philip is that they were distantly related, both by blood and by marriage. Both were fifth-generation descendants of Queen Victoria, making them third cousins. Despite being relatives, the pair didn't meet until 1934 when Elizabeth attended the wedding of Prince George, Duke of Kent, who was her uncle. George married Philip's cousin, Princess Marina of Greece. While marrying a relative (no matter how distant) may seem odd to many, it's been common practice for centuries for royals to marry their relatives — even first cousins.
Elizabeth and Philip were married on November 20, 1947. Although they do hold the record for the longest marriage within the royal family, their relationship had its challenges. After Elizabeth ascended the throne in 1952, the dynamic between the two changed drastically. Philip went from being a highly-ranked naval officer to the queen's consort, which caused a great deal of tension between the two. But over time, they found ways to honor their commitments to each other, and at least publicly seemed to be happy with one another.
King George III and Queen Charlotte of Mecklenburg-Strelitz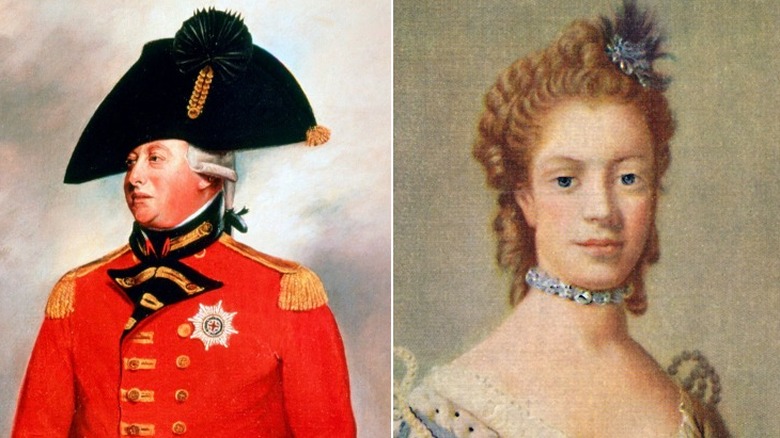 Stocksnapper/Getty Images
King George III took his place on the throne in 1760 as an unmarried man. In 1761, George married Princess Charlotte of Mecklenburg-Strelitz in 1761 as the result of an arranged marriage. Charlotte became known for being intelligent, charitable, and beautiful, and she quickly won the admiration of the British people. George was also pleased with his new wife, and the couple developed a strong and affectionate relationship over the years.
George and Charlotte were very happy for the first two decades of their marriage, until George's first bout of mental illness took place in 1788. The king became increasingly violent as he became more unwell, which ultimately led to him being taken into isolated care by the royal doctors. It is said that Charlotte was so distressed by the king's illness that it caused her hair to turn completely white within the first year of his condition.
Despite the challenges they faced, George and Charlotte's marriage lasted for 57 years until Charlotte's death in 1818. They had 15 children together, and were both deeply devoted to one another. And if all of this sounds familiar, perhaps it's because the character of Queen Charlotte in the "Bridgerton" series was inspired by the real-life Charlotte of Mecklenburg-Strelitz.
If you or someone you know needs help with mental health, please contact the Crisis Text Line by texting HOME to 741741, call the National Alliance on Mental Illness helpline at 1-800-950-NAMI (6264), or visit the National Institute of Mental Health website.
King Edward VII and Queen Alexandra of Denmark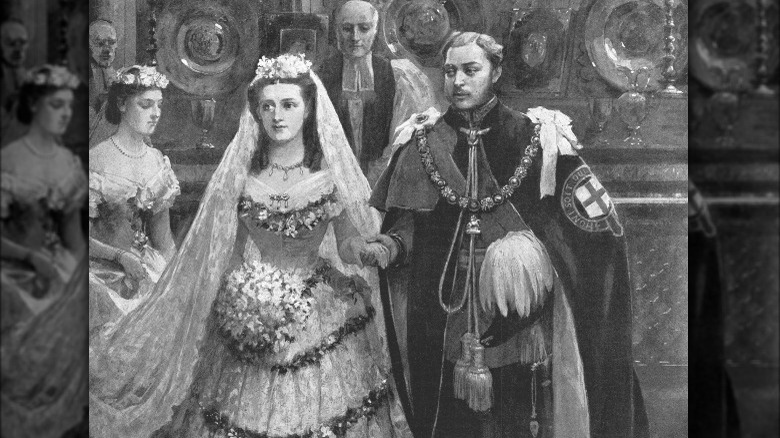 Edward VII married Alexandra of Denmark in 1863. Although they had one of the longest-lasting royal marriages of all time, it was riddled with tragedy and scandal. Until Edward's death in 1910, the couple was married for 47 years.
Throughout their marriage, Albert refused to give up his promiscuous lifestyle. He was associated with a great number of women outside of his marriage, with some accounts claiming that he may have had up to 55 mistresses. In fact, Albert was so widely known for his infidelity that his nickname among many people became "Dirty Bertie."
Alexandra was loved by the British people, and was widely known for being a fashion icon at the time. She had six children with Edward, but one of her sons only survived for a day after birth. And in 1892, her eldest son Prince Albert died of influenza and subsequent pneumonia. In addition to all of the grief she endured, Alexandra also suffered from multiple health conditions that worsened with each of her pregnancies. In the end, both Alexandra and her husband died of heart attacks: Edward in 1910, and Alexandra in 1925.
King George V and Queen Mary of Teck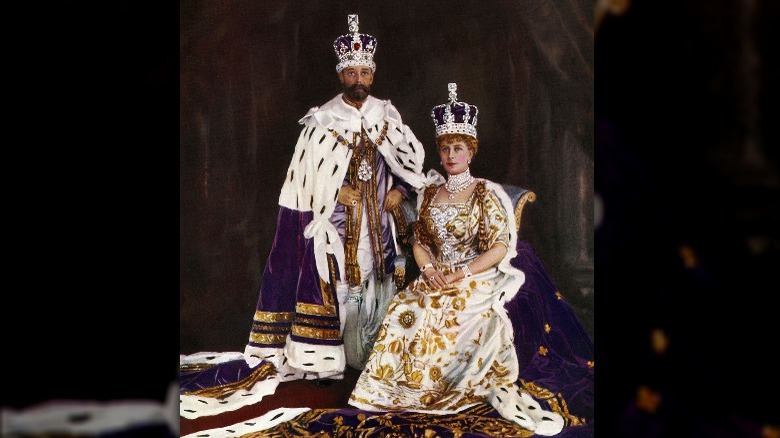 Culture Club/Getty
Before her marriage to King George V, Mary of Teck was engaged to George's late brother, Prince Albert. In 1892, just a few weeks before Mary and Albert had planned to marry, he died from pneumonia that was induced by a case of influenza. The following year, Mary went on to marry Albert's younger brother, George. It was said that George never took a mistress, and their harmonious marriage lasted for 42 years.
George and Mary had six children together — five sons and one daughter. After George died in 1936, Mary was known from then on as the Queen Mother. That year, her son Edward took the throne, effectively becoming known as King Edward VIII for only one year before he infamously abdicated the throne to marry twice-divorced American socialite Wallis Simpson. Her second eldest son, Albert, took his place as the sovereign, taking the name King George VI after his coronation.
Mary survived her husband by 17 years before her death in 1953. She was an extremely popular queen among the British people, and was known for her poise and intelligence.
King Edward III and Queen Philippa of Hainault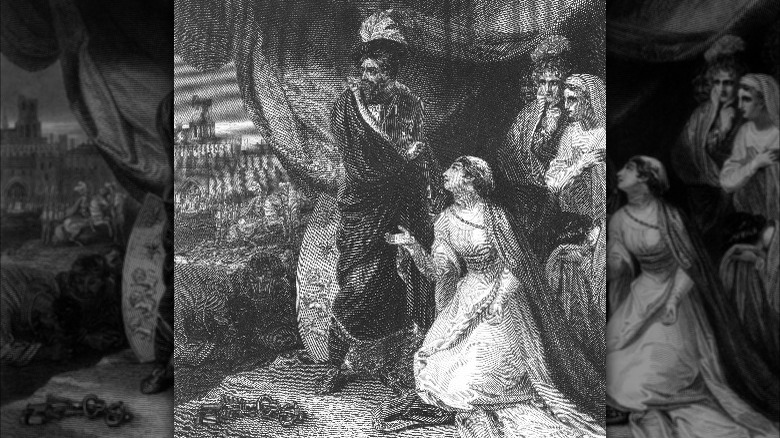 Culture Club/Getty
Nine months after becoming king, King Edward III married his second cousin Philippa of Hainault in October 1327. At the time, Edward was only 15 years old, while Philippa was only 13 years old. It may be difficult to imagine anyone that young being at the head of an entire empire, but records show that Edward and Philippa were viewed as competent, admirable leaders by the people of England.
Throughout the years of their reign, Philippa joined Edward on many of his royal travels, and quickly won over the people with her generous nature and kind temperament. And although Edward was considered to be a successful military leader, he was also widely known for treating his subjects well. It is assumed that Edward and Phillippa had a fairly affectionate and supportive relationship with one another, although Edward did take a mistress by the name of Alice Perrers during his later years.
Edward and Philippa were married for 41 years until Philippa's death in 1369. They had a total of twelve children together: five daughters and seven sons. After Philippa died, the remainder of Edward's rule was heavily influenced by his mistress until his own death in 1377.
King Henry II and Queen Eleanor of Aquitaine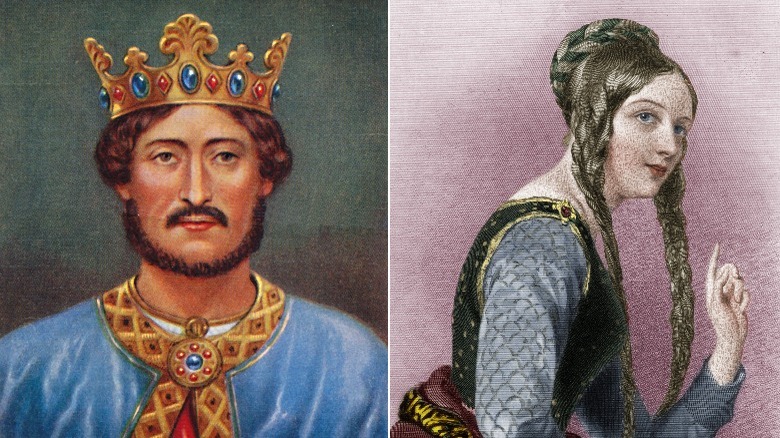 Print Collector/Getty
The marriage between Henry II and Eleanor of Aquitaine was very unique in comparison to many other royal marital unions, and was full of dramatics. One of the most unusual aspects of their relationship was that Eleanor was previously married before her marriage to Henry. In fact, after marrying King Louis VI of France in 1137, Eleanor ruled as the Queen of France for 15 years before she wed Henry in 1152.
Eleanor had two daughters from her previous marriage with Louis, and went on to have three daughters and five sons with Henry. There was a great deal of jealousy and arguments among the four sons who survived infancy, and the relationships between all members of the family were heavily strained. In 1173, Henry's sons revolted against him with the support of their mother, Eleanor. The sons failed to overthrow their father, and Henry ordered Eleanor to be captured and imprisoned until his death in 1189, marking the end of their 37-year marriage.
After Henry died, Eleanor was freed and their son, Richard, became king. Eleanor was heavily involved in his reign and was very politically active. She paved the way for many of England's victories until her death in 1204, at the impressive age of 82.
Henry III and Queen Eleanor of Provence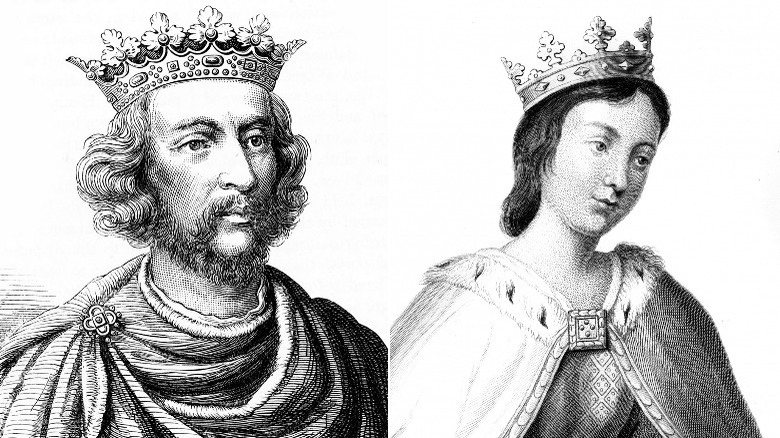 Print Collector & Culture Club/Getty
King Henry III and Eleanor of Provence were married in the year 1236. At the time, Henry was 28 years old, while Eleanor was only 12. They had five children together, the oldest being Edward I, the future king of England. Their youngest child was a daughter named Katherine, who was born deaf and mute and died at the age of 3. It is said that both Henry and Eleanor were terribly grief-stricken after the death of Katherine.
As rulers, Henry and Eleanor were extremely unpopular among their subjects. Henry was considered to be generous but incompetent as a leader by the members of his court. Disdain for Eleanor grew when she appointed members of her family to positions of power, therefore undermining other barons and fanning the flames of hatred toward her and her husband.
Eleanor and Henry were married for 36 years until Henry's death in 1272. Their son, Edward I, took the throne, and Eleanor remained in England to help raise her grandchildren. She outlived Henry by nearly two decades until she died in 1291.
King Edward I and Queen Eleanor of Castile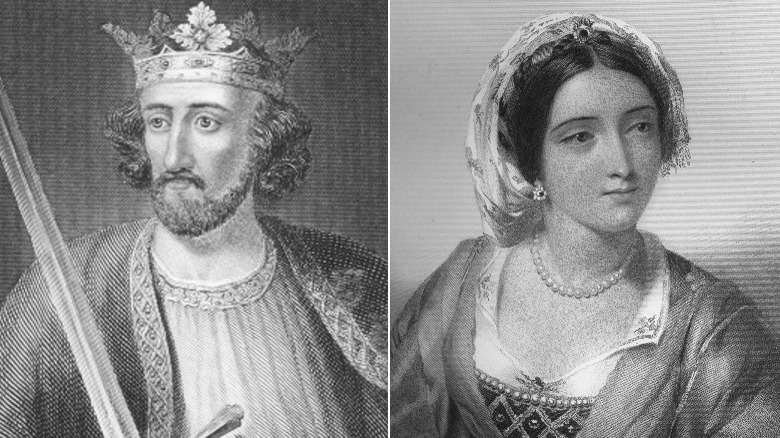 Print Collector & Georgiosart/Getty
Young Prince Edward, son of King Henry III and Eleanor of Provence, entered into an arranged marriage with Eleanor of Castile in 1254. Edward was only 15, while Eleanor was only 9 at the time. The couple had a total of sixteen children together, the first being a stillborn girl that Eleanor gave birth to when she was only 10 years old.
Records show that despite their relationship being the result of an arrangement, Edward and Eleanor had a happy and fulfilling marriage. Eleanor was unusually involved in her husband's military dealings, and even accompanied him on war journeys many times. It is also said that neither was particularly involved in the lives of their children, with Edward's mother, Eleanor of Provence, doing much of the child-rearing.
Edward and Eleanor were married for 36 years until Eleanor's death in 1290. It is said that Edward was heartbroken over his wife's death, and he chose not to remarry until almost a decade later. In 1299, Edward wed Margaret of France, who he remained married to until his death in 1307.
King George II and Queen Caroline of Brandenburg-Ansbach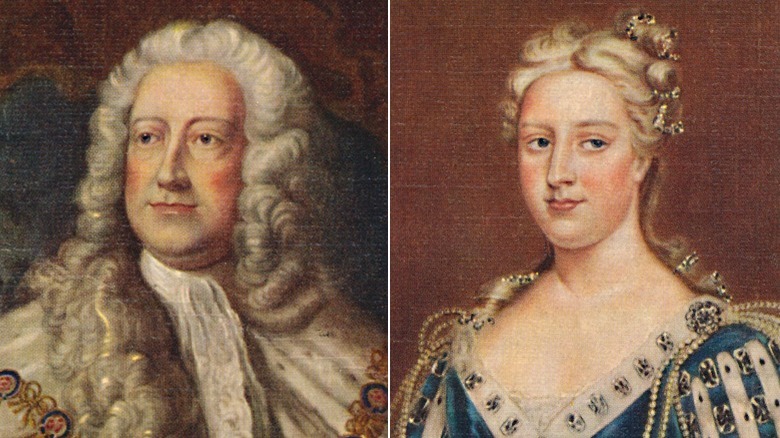 Print Collector & Print Collector/Getty
Caroline of Brandenburg-Ansbach was known for being particularly dominating over her husband, King George II. The pair were married in 1705, over two decades before George II would ascend the throne in 1727. The couple had a total of eight children together, including one who died during infancy.
George II had an extremely strained relationship with his father, George I. During George I's reign from 1714-1727, George II and Caroline hosted a dissident group of political officials who detested the king at their home in London. One of the group's leaders was Sir Robert Walpole, who actually went on to be the first British prime minister alongside King George I. George II resented Walpole for this and attempted to dismiss him once he became king, but Caroline forbade him from ousting the prime minister. This occurrence was one of many documented times that Caroline asserted dominance over her husband.
Their marriage lasted for 32 years until Caroline's death in 1737. George II never remarried, but it was commonly known that he was involved with mistresses during his marriage to Caroline. The most well-known of his mistresses was Henrietta Howard, who was one of Caroline's women of the bedchamber. After Caroline had died, George II continued to rule on his own for over two decades until his own death in 1760.
King William I and Queen Matilda of Flanders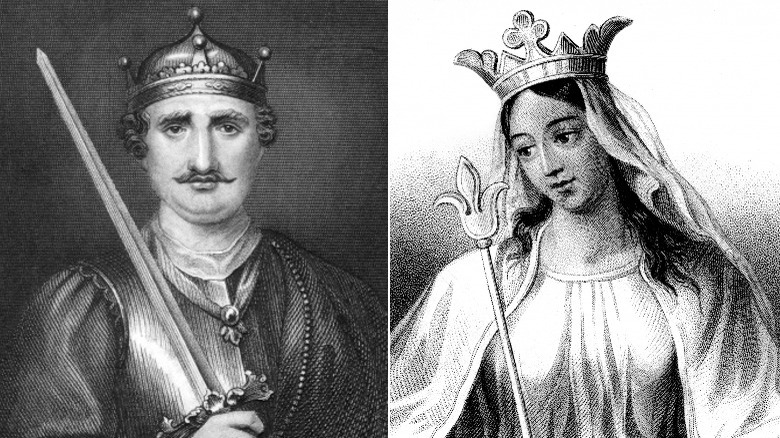 Print Collector & Georgiosart/Getty
William the Conqueror (formerly known as "William the Bastard") married Matilda of Flanders around the year 1051. As an illegitimate child of Duke Robert I of Normandy and Herleve, the daughter of a French tanner, the fact that William was even recognized as an heir to the throne was very unusual. Matilda also made royal history by becoming the first wife of a king to be crowned queen of England.
It is unclear whether William and Matilda had either ten or eleven children together, as some accounts vary. It is certain that they had four sons, but it is unclear how many daughters they had. The existence of two of their potential daughters, Adeliza and Matilda, has always been in question.
While it is said that the couple's marriage was mostly a happy one, they still had their fair share of conflict. However, they persevered and managed to stay married for 32 years until Matilda's death in 1083. William continued his reign for four more years until his own demise in 1087.
King James I and Queen Anne of Denmark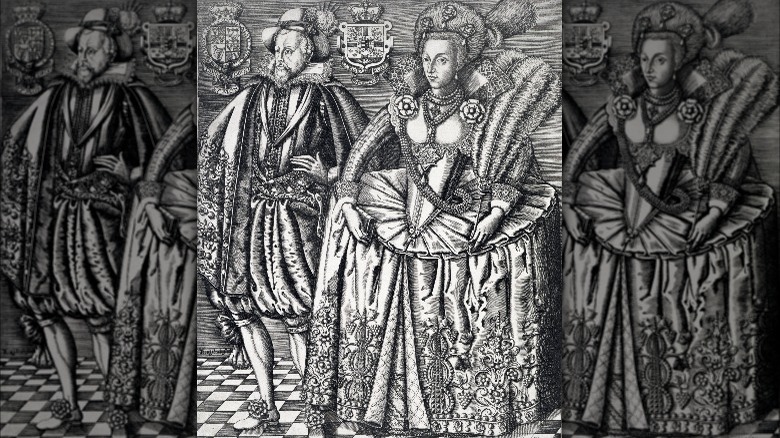 Heritage Images/Getty
King James I married Anne of Denmark in 1589, kicking off a fairly harmonious yet financially troubling relationship that lasted 30 years. The couple had a total of five children together, but two tragically died during infancy. Their eldest son, Prince Henry, also died in 1612 at the age of 18. 
It is said that his sudden and unfortunate death caused a rift between James and Anne, and their romantic involvement was mostly halted from then on. After that time, it was even rumored that James had "favorites" among his court, otherwise known as male companions that may have been lovers of the king. Two of the most notable court members James may have been romantically involved with were Robert Carr, Earl of Somerset, and George Villiers, Duke of Buckingham.
Another cause of tension in James and Anne's relationship was the queen's proclivity for extravagant items and experiences. Anne was known to overspend on luxurious things, and caused a great deal of financial hardship for the couple. But despite their differences, James and Anne remained committed to their marriage to one another until Anne's death in 1619.