What Stephen Huszar Did Before Becoming A Hallmark Star
Hallmark's venture into television began in the 1990s. Over the past two decades, the network has grown significantly, becoming must-watch television for fans of feel-good programming. While many of the most popular Hallmark movies are Christmas-themed, the network cranks out programming year round. This rise to the top of the cable game has made stars out of the actors who regularly appear in Hallmark movies. There are dozens of them now, but this is not to say that a Hallmark star is made overnight.
Some of the network's actors had slow starts to their careers, just like the network's channels themselves. This was the case for Canadian actor Stephen Huszar, who is a familiar face to fans of Hallmark films and shows today. Before becoming a leading man for the network, he had quite a few smaller roles, some of them in well-known shows. Here's what he did before he became one of Hallmark's most recognizable stars.
Stephen Huszar has appeared in a bunch of shows on The CW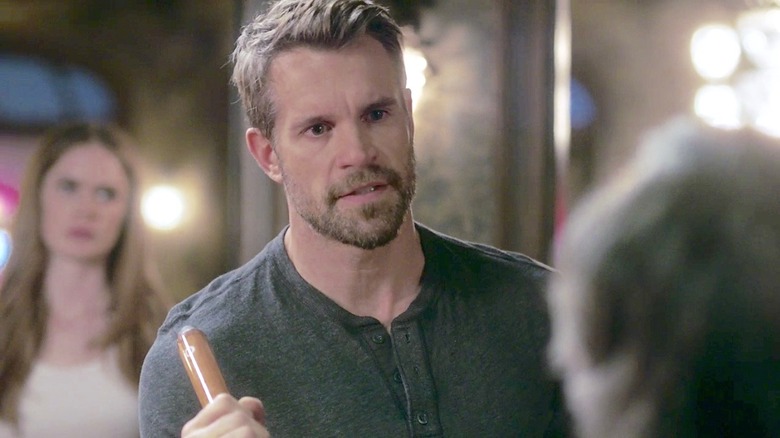 The CW
A native of Saskatoon, Saskatchewan, Stephen Huszar made his debut in 2004's "The Cradle Will Fall." He plays a paramedic in this made-for-TV murder mystery movie, which follows a prosecutor as she attempts to unravel the death of a pregnant woman. He went on to feature in several more TV movies in the years that followed, including "Lesser Evil" (a drama starring Clint Eastwood's daughter Alison Eastwood), "Dark Storm" (a sci-fi thriller starring Stephen Baldwin), and "How I Married My High School Crush" (a romantic comedy starring "Battlestar Galactica" alum Katee Sackhoff).
In 2008, Huszar appeared in an episode of The CW's "Smallville," playing a stockbroker in the Season 8 episode "Instinct." It was the start of his working relationship with the network: The Canadian later popped up in "The Flash" as the jewel thief Jared Morillo (aka Plunder) and in two episodes of "Supernatural" — he was an unnamed demon in the Season 10 episode "Soul Survivor," but fans will remember him best as Pax (son of the Roman goddess Fortuna) from Season 15's "The Gamblers." He also guest starred in a Season 3 episode of The CW's "iZombie."
Small Hallmark parts turned into leading roles for Stephen Huszar
Stephen Huszar's first Hallmark role was in 2011's "Time After Time." He plays Dr. Jeff Farley in the film, which is about a journalist who returns to his hometown to confront his past. This minor role led to bigger things within the network: Huszar was later cast in "A Bone to Pick: An Aurora Teagarden Mystery" on the Hallmark Movies & Mysteries Channel, the first installment in a series based on the crime novels by Charlaine Harris, and he scored another supporting role in 2017's "Magical Christmas Ornaments." The following year, the Canadian was handed his first leading role in a Hallmark movie, starring opposite Tori Anderson in "Return to Christmas Creek."
Since then, Huszar has starred in "Ruby Herring Mysteries: Silent Witness," "My One & Only," "Ruby Herring Mysteries: Her Last Breath," "A Homecoming for the Holidays," "Ruby Herring Mysteries: Prediction Murder," "Time for Us to Come Home for Christmas," "Undercover Holiday," and 2023's "Love in Glacier National: A National Park Romance," his most recent Hallmark outing. "It was fantastic and I had the most fun making this movie since I was outside skiing and being in nature," he told Digital Journal. "This is what I love to do and what I am passionate about. I grew up skiing and I grew up in the outdoors so it was a natural performance."
Fans of Huszar are used to seeing him in snowy settings — he's also starred in the non-Hallmark TV movies "Mistletoe Magic," "Christmas in the Rockies," and "Christmas in Rockwell" in recent years. At this point, Huszar and the holiday season go hand-in-hand.