The Adorable Way Hallmark Star Chandler Massey Met His Fiancé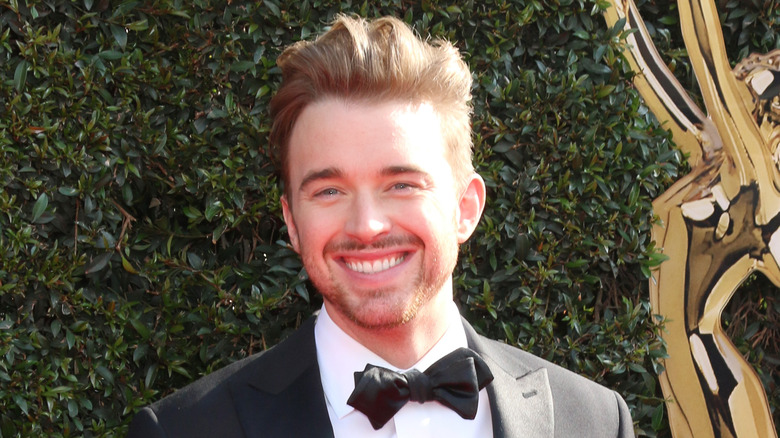 Kathy Hutchins/Shutterstock
Hallmark and "Days of Our Lives" star Chandler Massey has done a good job of keeping his real-life romance private, but fans of course know that Massey is engaged to Stephanie Bennett, and the two have a very sweet story about how they met. Bennett shared an adorable Instagram post in April 2022, featuring her and Massey in videos and photos throughout their relationship. Bennett revealed in the caption that the couple's first meeting happened in the parking lot of a grocery store.
"Our first annual reminder that sometimes meeting someone in a Publix parking lot can end up being the best thing that has ever happened to you," she captioned the post. When one fan revealed that they were going to start shopping at Publix instead of Trader Joe's, Bennett jokingly revealed that it may be a switch worth making. "It'll either be your future husband or a serial killer but I'd say it's worth rolling the dice," she responded.
For his part, Massey has also gushed over Bennett via social media. In August 2021, he shared a sweet tribute to his love on his own social media post, writing, "To the girl who befriends stray cats, bats 1.000, administers facials, and bakes: I love you." Meanwhile, just when you think that the couple can't get any cuter, they have an equally sweet engagement story.
Chandler Massey's engagement story is so sweet
Chandler Massey revealed in March 2023 that he and Stephanie Bennett were enjoying their engagement. The actor told Digital Journal that the pair bought a condo and moved in together. He also opened up about his proposal. "I was very excited about it. Obviously, I was nervous, but happy that she said yes," he told the outlet. That same month, photographer Kim Hayes shared a series of photos of Massey and Bennett looking happily in love, and both were wearing rings on their left hand.
While some thought that the pair may have already tied the knot, Hayes later revealed that Bennett presented Massey with an engagement ring of his own before the photoshoot. "Oh, and she proposed tonight! If you see a ring on his finger, that's why! He proposed to her previously and she wanted to surprise him!" Hayes told fans via her Instagram story, per Heavy.
The pair are now gearing up for married life, and Massey also works as a Data Visualization Specialist for a healthcare company in his home state of Georgia when he's not busy filming projects. "I think it's nice that I have a stable day job. It's hard to predict what I'll be doing six months from now," he previously told Soap Opera Network. It seems that Massey and Bennett have the future figured out, and fans love watching their romance play out on social media.
From TV romance to the real thing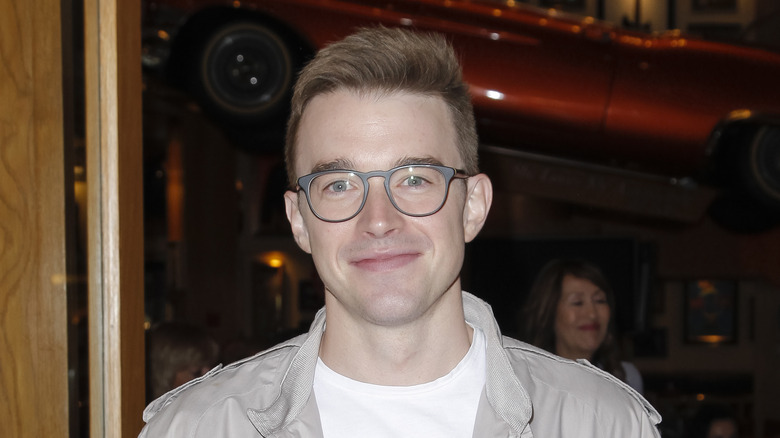 Tibrina Hobson/Getty Images
Chandler Massey certainly knows a thing or two about romance. The actor has starred in several projects such as "Next Stop, Christmas," "Heart of the Matter," "I Remember You," "The Standoff" and more. However, he's best known for his role as Will Horton on the long-running soap opera "Days of Our Lives." As Will, Massey has played out some very dramatic scenes in Salem, including his epic romance with Sonny Kiriakis. Will and Sonny made history as the show's first-ever same-sex couple and even skyrocketed to super-couple status thanks to their intense love for one another.
Over the years, Will and Sonny have created a beautiful love story that started when Sonny helped Will come out to his friends and family. After the two entered into a relationship together, Sonny became a second father to Will's daughter, Arianna. In 2014, the couple finally walked down the aisle, marking daytime television's first same-sex male wedding. Although they've had their ups and downs, the pair have always found a way to make their marriage stronger.
While Massey may be used to playing a husband on television, he's finally getting ready to become one in reality as he and Stephanie Bennett plan their wedding, and their own adorable love story will no doubt keep growing.