Things You Won't Catch Kate Middleton Wearing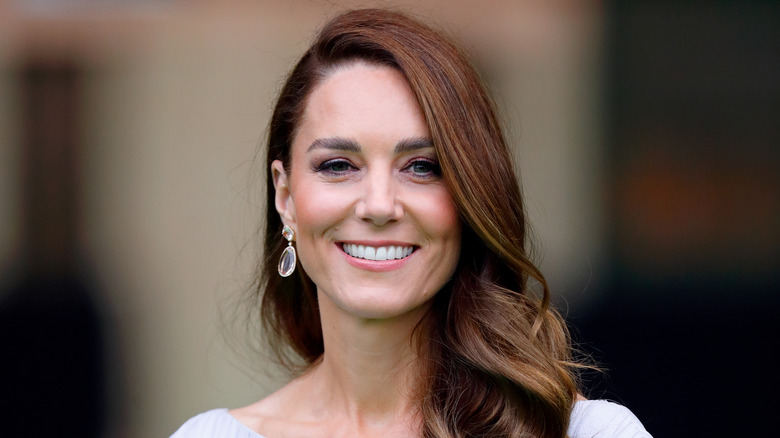 Max Mumby/indigo/Getty Images
Catherine, Princess of Wales, has undergone a total style transformation as a royal. There was pre-royal Catherine, known back then as Kate Middleton, and there's Catherine, the Princess of Wales, as we see her now, and the styles are so contrasting that she may as well have been a different person before. Catherine was a fan of low-rise jeans, tank tops, and UGG boots back in her day, but now we'd never see her in such casual clothing. Who knows what she wears behind closed doors, but in her very public-facing role as a senior royal, she's completely transformed. We're seeing coat dresses, heels, long hemlines, and sophisticated looks. Even pantsuits have crept into the mix. 
Catherine's wardrobe as a royal has changed too. Following her marriage to Prince William, she opted for shorter skirts and dresses. However, as she's climbed the ranks in the royal family, her style changed to become more mature. That's not to say she hasn't made a few missteps along the way. When she and Prince William visited the Solomon Islands, it was expected that she'd wear a garment representing the location. Instead, she accidentally wore a dress from the Cook Islands. But the message that has remained from this mistake is that Catherine's wardrobe comes with deeply symbolic power. It has the power to bring unity, to offend, and to send a message. Part of the message is that she's no longer the woman she once was, and you won't catch her in some of those former looks.
Denim skirts don't happen for Kate anymore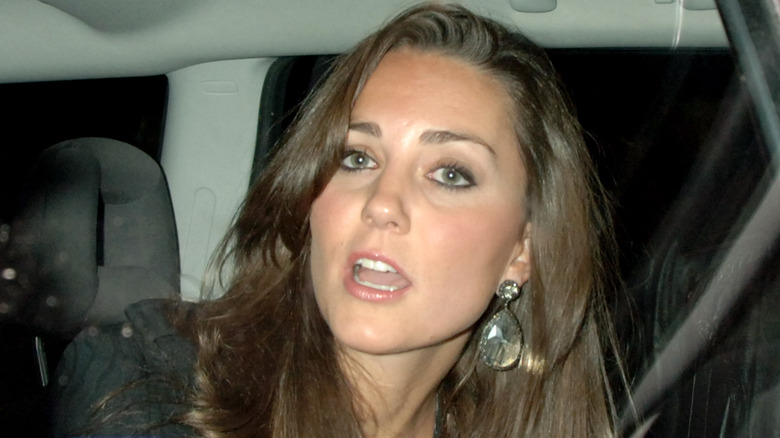 Dave M. Benett/Getty Images
Back in the early days of Catherine, Princess of Wales' life in the spotlight, she occasionally sported a denim mini skirt. In 2007, she was photographed walking in London wearing said skirt, along with black tights, boots, and a black jacket. Her look was casual and youthful, and while she looked great, it certainly didn't fit the normal wardrobe we see her in today. The look has become part of the great time capsules of pre-royal Catherine. 
2007 was a critical time for Catherine. In April 2007, Prince William broke up with her over the phone while she was working at Jigsaw, a women's wear and accessories company, royal historian Robert Lacey told the Daily Mail. The split only lasted a little over ten weeks, but during their breakup, Catherine was photographed out partying with her sister, Pippa Middleton, in a brave show of defiance. During this party phase, her wardrobe, much like the denim mini skirt, revealed a free spirit. Royal journalist Angela Levin told GB News (via Express) about Catherine's sartorial choices at this time. "And instead of telling her story, instead of you know hiding away, she got some very very nice mini skirts and tops and she went out dancing," Levin said. "And I thought that woman yet young woman has got a lot of courage [and] a lot of determination." So the denim mini skirt is a nice moment in Catherine's chronology of a brave young woman ready to do what she needed to for love.
Kate rarely wears orange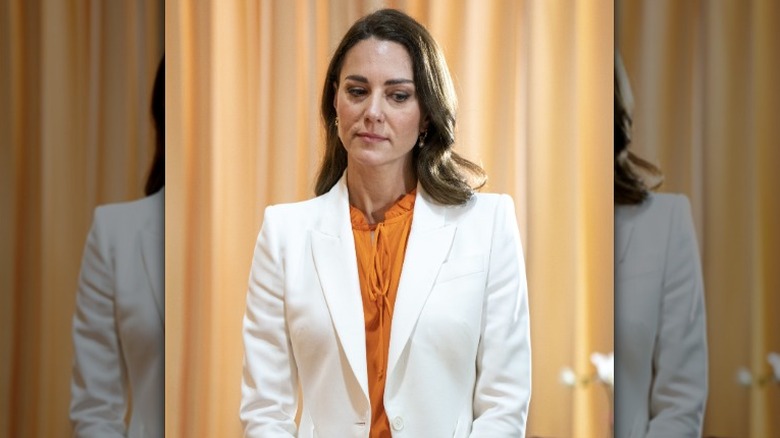 Pool/Getty Images
Rather than a specific piece of clothing, we've noticed that Catherine, Princess of Wales, rarely wears the color orange. It's not that she doesn't love bright colors; we've seen Catherine in bold, juicy colored looks. She loves cobalt blue, emerald green, hot red, and even pinks. She just rarely wears orange. One reason, as noted by Express, is that orange supposedly doesn't photograph as well as other vivid colors. The outlet noted that Meghan, Duchess of Sussex, also shied away from orange when she was a working royal.
One of the few times we've seen Catherine wear orange was on her visit to Jamaica with Prince William in 2022. While attending a meeting with the Jamaican Prime Minister, Catherine wore a white Alexander McQueen pantsuit and underneath, wore an orange top by Ridley London. She accessorized with an orange handbag. It was rare to see orange in her wardrobe, but even on its few appearances, she chooses orange as a secondary look. In this case, white was obviously the dominating color of her outfit.
Just because Catherine doesn't opt for orange doesn't mean royal women haven't worn it. The late Queen Elizabeth II wore several bright orange outfits with matching hats. The late Princess Diana was also a fan of orange, from skirt suits to orange biker shorts. Clearly, Catherine's preference to keep orange out of her wardrobe is just a personal choice rather than royal protocol.
Sandals aren't a big part of Kate's shoe collection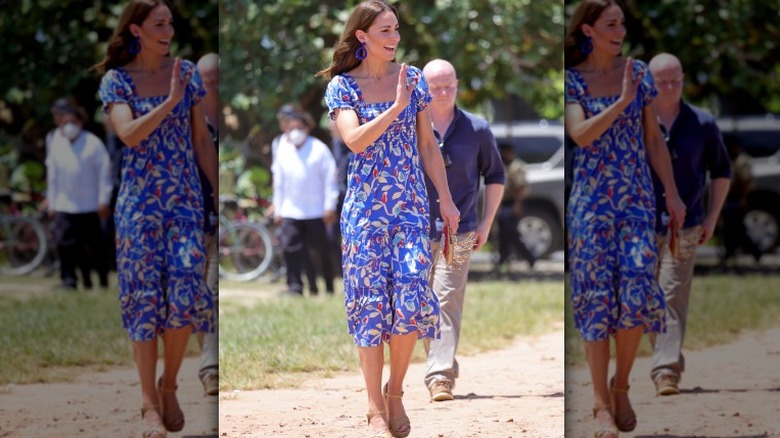 Chris Jackson/Getty Images
Catherine, Princess of Wales, doesn't wear sandals often. Throughout her time as a royal, we've seen her in open-toed shoes only a handful of times. One reason for the scarcity of sandals in Catherine's wardrobe is that they go against royal protocol. Fashion expert Karine Laudort told the Daily Mail why this particular type of shoe just doesn't make the rotation for Catherine. "It is well known that the Royal Family observe strict fashion rules which no-one can bend especially when it comes to footwear," Laudort explained. "Only closed-toe shoes are permitted and open-toe shoes considered as unformal wear and inappropriate for wedding occasions." 
For this reason, we often see Catherine lean on staples, like her suede nude heels by Gianvito Rossi. She certainly channels the late Queen Elizabeth II in this way. The late monarch wore sensible heels made by Anello & Davide for over 50 years. Her shoes were almost always black and completely covered her feet, with a one- to two-inch heel. While Catherine prefers a higher heel, she also seems to have found a style that works for her that's easy and formal enough to be appropriate for royal events. 
We saw Catherine veer away from her no-sandal rule while she was in Belize with Prince William in 2022. While on their royal Caribbean tour, she wore wedges and open-toed shoes often, but since the climate was tropical, this made sense.
She never wears shoulder bags anymore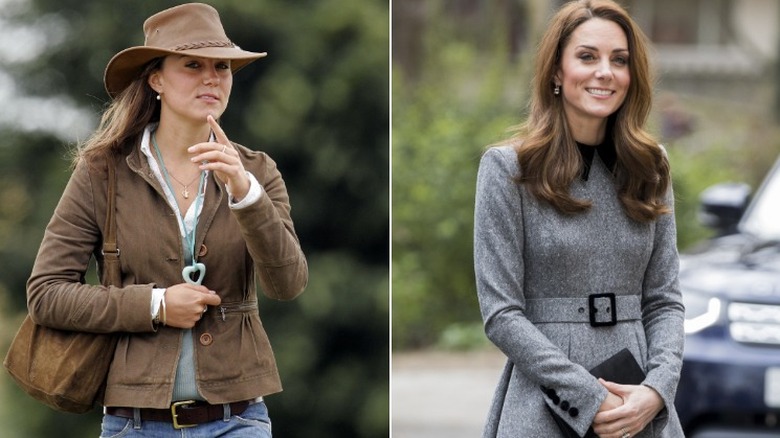 Tristan Fewings & Max Mumby/indigo/Getty
Catherine, Princess of Wales, used to be a huge fan of shoulder bags. This, of course, was during her pre-royal days. Now, as a senior member of the royal family, Catherine almost only carries clutches and there are special reasons for this. A clutch can be something to hold onto during intense public moments when all eyes are on her. They are also used as a decoy when Catherine might not want to shake hands with people. In 2017, manners expert William Hanson explained to the Daily Mail that Catherine can sometimes use a clutch as a shield, and he hopes this will lessen over time. 
"The Duchess of Cambridge may well prefer not to shake hands with certain people – but there are other ways to achieve this, as used by The Queen and other members of the royal family, than opting for a clutch over a bag with a strap," Hanson said. He explained that holding her clutch right in front of her with both hands can make Catherine appear standoffish in moments. "With more experience, The Duchess of Cambridge will soon realise that she needn't be too nice, extend and shake hands with everyone," Hanson added.
But Catherine isn't the only royal woman who used clutches for varying purposes. The late Princess Diana reportedly wielded them as a "cleavage clutch" (per MyLondon). She held them close to her chest when bending down to avoid any prying cameras. So they certainly serve many purposes that shoulder bags don't.
We never see Kate in white jeans now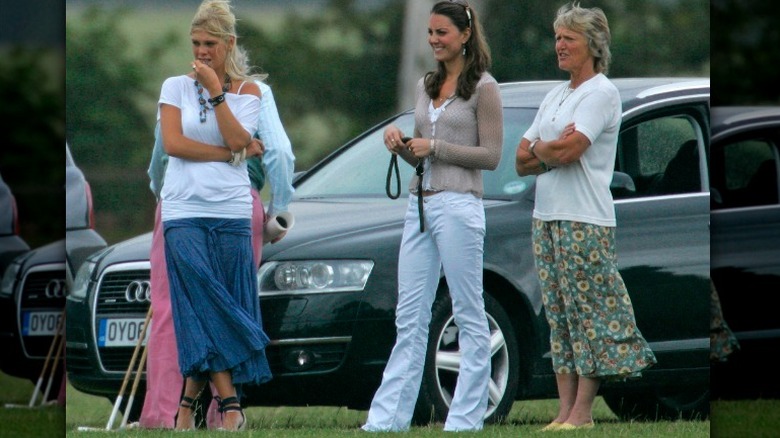 Max Mumby/indigo
Back in the old days, Catherine, Princess of Wales, occasionally wore white jeans. In 2006, she sported them at a polo match while cheering on Prince William and Prince Harry, along with Harry's then-girlfriend, Chelsy Davy. The best part of the look was that Catherine's white jeans were both low-rise and flared, but hey, it was the 2000s. There were different rules back then. Her midriff showed in some angles, so it was definitely a pre-princess look. Still, she looked adorable and youthful, though decidedly more slouchy than we're used to seeing in her wardrobe. 
Now, Catherine still wears jeans every once in a while, but they aren't white or as loose-fitting as those earlier pants were. She opts for skinny jeans, no matter what all the Gen Z TikTok users say. For Catherine, skinny jeans are as hip as they ever were and she's bringing them with her on her ascent to the throne. In May 2021, when she got the Covid-19 vaccine, Catherine wore a white T-shirt and a pair of jeans by & Other Stories. For Christmas 2022, the Wales family released their annual Christmas card and Catherine wore dark denim skinny jeans while walking with her family. So while she's retired the white jeans, Catherine still loves a pair of jeans when she's off duty from royal events.
Short skirts were for a younger Kate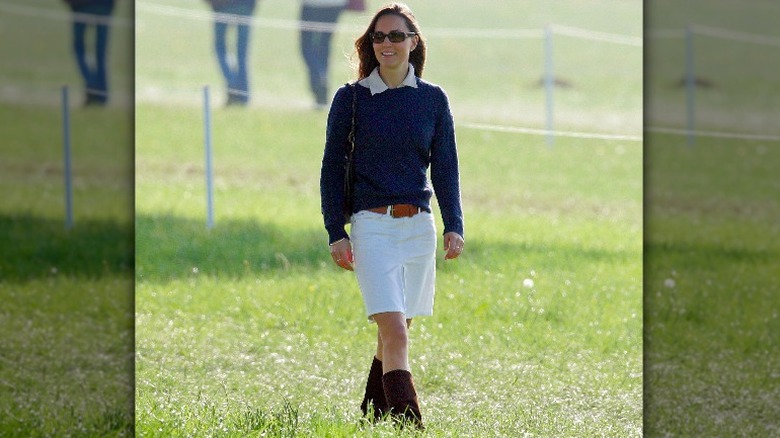 Max Mumby/indigo
The hemline of Catherine, Princess of Wales, has undergone an evolution of its own. Before she was a royal, she was spotted in some short skirts. In 2007, Catherine wore a white denim skirt that fell several inches above her knee when she attended the Badminton Horse Trials. Of course, in any normal context, a woman wearing a skirt above her knee would not (hopefully) make headlines, but when it comes to the royals, this type of thing seems to matter. Catherine paired the look with a navy sweater and brown suede boots, and looked youthful and athletic. 
Even as a new royal, following her wedding to Prince William, Catherine occasionally wore shorter dresses and skirts, though not white denim ones. However, as Catherine climbed the royal ranks, the late Queen Elizabeth II urged her to wear longer hemlines. Katie Nicholl wrote in the Daily Mail in 2014 that Catherine was getting a royal makeover, one that was more fitting as the future queen and the mother to the heir. The trend continued, and in fact, we can track Catherine's royal ascent by the length of her hems. By 2021, she had almost completely done away with shorter skirts and was wearing dresses and skirts that fell around her ankle. She may still wear the odd shorter coat dress, but these still fall at the knee. It's all signaling towards her role as future queen.
No more UGGs for Kate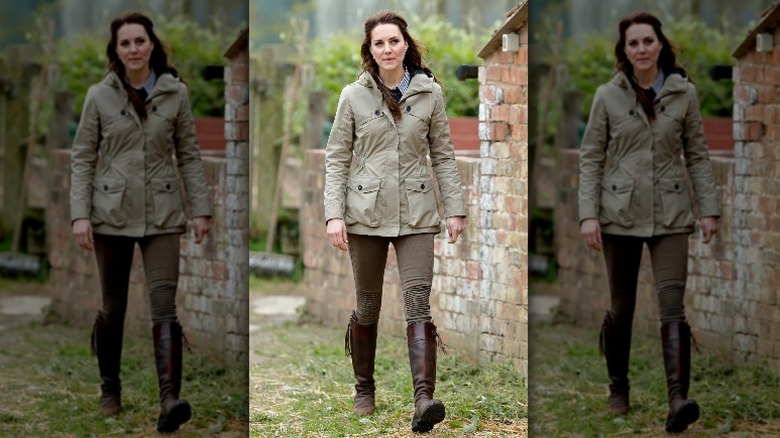 Max Mumby/indigo
Like many of us in the 2000s, Catherine, Princess of Wales, wore UGGs. Yes. Even a future queen wore the odd pair of UGGs, as unfathomable as that may seem now. In 2007, she was seen walking in London wearing a pair of oatmeal-colored UGGs, pairing them with skinny jeans and a black jacket. These definitely got retired once she became a royal. 
Catherine still wears boots from time to time. In classic English style, Catherine has a pair of rubber rain boots by Le Chameau Vierzonord in light green. She's worn them to outdoor events, like polo matches, during wet weather. Rain boots are not at all uncommon footwear for the royals. Even the late Queen Elizabeth II wore rubber rain boots at outdoor events, particularly anything involving horses. Those places are far too mucky for fancier footwear. For other functions that require sturdy footwear, Catherine has been seen many times wearing a pair of the Penelope Chilvers Long Tassel Boot. In fact, she's been wearing that boot for well over ten years now, so it clearly became the more sophisticated replacement for her trusty UGGs when she became a royal. We've got to wonder if she ever misses wearing them.
Low-neckline tops aren't fit for a future queen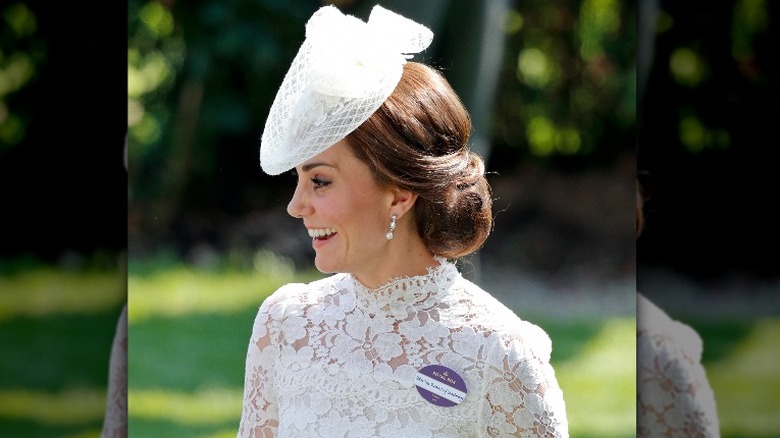 Max Mumby/indigo
The length of one's neckline doesn't seem to spark global interest unless you're a royal woman. While we hardly ever see Catherine, Princess of Wales, in anything low-cut now, back in her pre-royal days, she was known to rock a few low necklines. Back in 2007, Catherine went out clubbing with her sister, Pippa Middleton, and the two ventured out to Mahiki, a popular nightclub in London. For the occasion, Catherine wore a low-cut satin dress that was grey and gold. Catherine's partying era gained some traction on TikTok, with content creators noticing how carefree she seemed. User @marieantoinetteapologist shared a compilation of photos with the text: "Pictures of Kate Middleton partying in London in the early 2000s are my new favorite thing, she looks like she's having so much fun." Clearly, the club looks were part of that fun. 
From the get-go as a royal, Catherine stopped wearing low-cut tops and has gone in the opposite direction. Many of her looks feature a high neckline with her chest and collarbone frequently completely covered. For instance, at the 2017 Royal Ascot, Catherine wore a white Alexander McQueen lace dress with a neckline that sat a few inches on her neck. While she certainly looks more sophisticated, gone are the days of the clubbing dresses and frankly, we're a little sad about it. 
Low-rise jeans are so done for Kate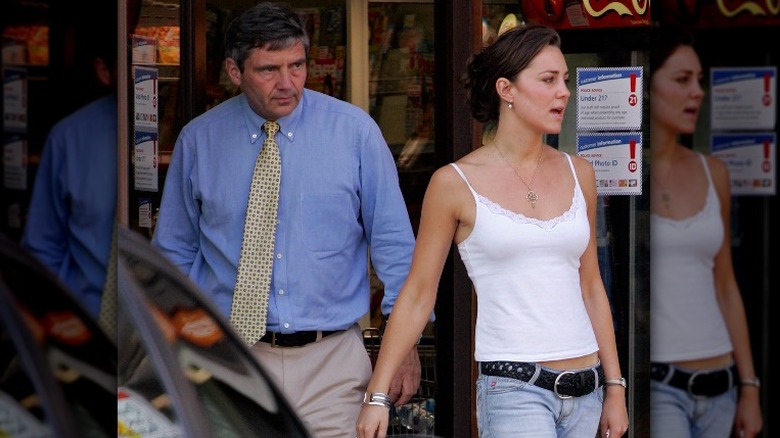 Max Mumby/indigo
There are few things that we can say for certain in life, but one of them is that we'll never see Catherine, Princess of Wales, in low-rise jeans ever again. Back in her pre-royal days, when she was just any other youngster, she followed the fashion of the early 2000s and wore some low riders. The most notable occasion happened when she was only 23 and still a student at the University of St. Andrews. Catherine was photographed in the town while walking with her father, Michael Middleton. She wore her hair clipped up and paired a white camisole with some very low-rise flared jeans, cinched with a black belt, with her lower stomach slightly exposed. Honestly, she looked like any other college student. 
Now that she's a senior working royal, we never see Catherine in low-rise pants. If we do see her in pants, they're almost always high-waisted. In 2019, she stopped by London's Natural History Museum and wore a pair of army green, high-waisted trousers by Jigsaw along with a plum-colored top and a burgundy Chanel bag. As part of her more casual royal look, Catherine sometimes opts for wide-leg, cropped pants. In May 2019, she wore a pair of oatmeal-colored wide-legs pants with a pair of Superga Cotu sneakers and a white button-up blouse. She was every bit the easygoing, casual princess, with no low-rise pants in sight.
Halter tops are a thing of the past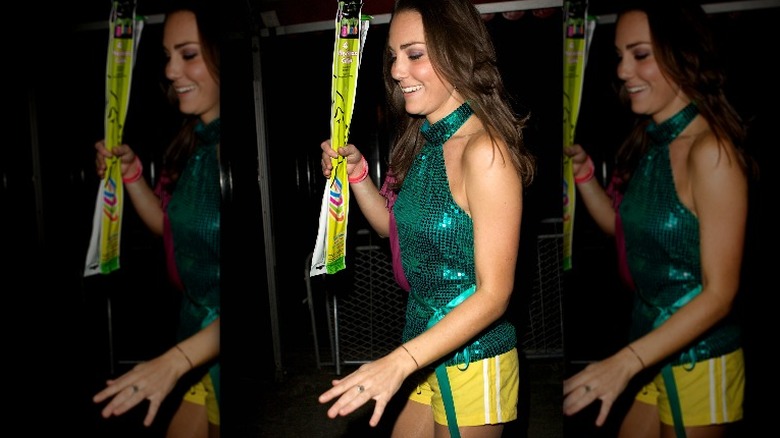 Avalon/Getty Images
Tragically, it seems that Catherine, Princess of Wales, had bid farewell to the halter top. While this particular style might not be on everyone's radar, Catherine seemed to favor it before she became a royal. Back in 2006, she wore a red polka dot halter top dress to cheer Prince William on in a polo match. Like one of her other bygone looks, the dress also boasted a low neckline, so that's two strikes against her current wardrobe. She paired the look with small sunglasses and looked every bit the hot girl of the 2000s. In 2008, Catherine wore an emerald green sequined halter top. She wore the look to an event, the Day-Glo Midnight Roller Disco, that she helped organize as part of a charity. She paired the halter top with yellow shorts and knee-high pink socks. We can't imagine we'll be seeing those items anytime soon either! 
While we have yet to see Catherine in a halter dress as a royal, we do see her in strapless and sleeveless items every now and again, but these are almost exclusively gowns. In 2016, we saw her wear a red sleeveless midi-dress by Preen when she was in Canada. In 2019, she wore an off-the-shoulder white midi-dress. In March 2022, she wore an emerald green gown by Jenny Packham that also sat off of her shoulders while she was in Jamaica with Prince William. So we do see some playfulness with necklines, but no halter tops for Catherine.