How To Add A Little Sparkle To Your Style With Hair Jewels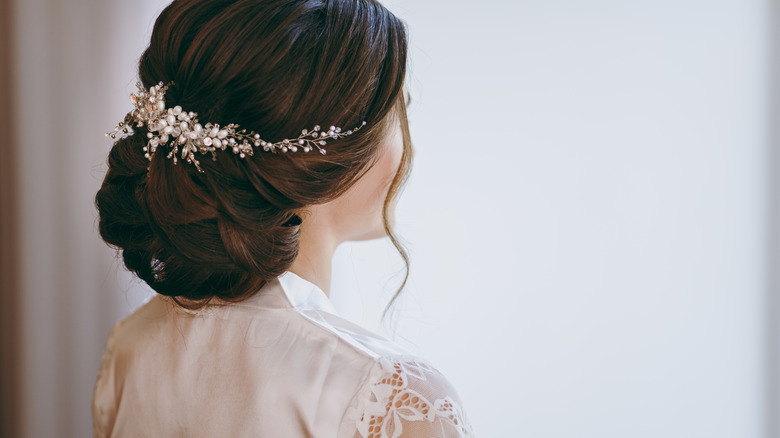 Vidi Studio/Getty Images
We may receive a commission on purchases made from links.
TikTok, Instagram, and an army of Swifties are reviving the bling-ification of hair, a trend from the early 2000s. Rhinestones and little gem shapes are popping up on hairstyles everywhere for a night out listening to music, going out dancing, or just for fun.
But did you know that gems have decorated hair at least as far back as the 1st century A.D.? London's Victoria and Albert Museum has a Roman hairpin in its collection from between the 1st and 4th century that's made from gold and dripping with emeralds. In another collection, a 15th-century portrait of a lady features her stunning red hair in an elaborate braided updo that's been threaded with pearls and rubies. You can also get inspired by medieval hairstyles for a different look.
We're guessing that the model sitting for her portrait had several leisurely hours and a lot of help to get her hair looking that spectacular. You could do the same if you're prepping for a major life event, but now it's simple to enliven your style with hair jewels.
Ways to add hair gems
A tried and true way to add sparkle to your hair is to follow L'Oreal's guidelines for bedazzling. You might want to time your bedazzle-fest about three or four days after your last hair wash so you can wash a day or so after your gem application. 
Make sure you start with completely dry hair and then finish your styling. Whether you're leaving your hair loose and wavy, wearing it slicked back in a high ponytail, or braiding it, commit to a style and make it happen. Clear-colored false eyelash glue, a pair of tweezers, and rhinestones with flat backs are all you need.
Strategize about where you'll be placing your stones — are you going for a neat grid look or will you splash a few stars around? Using the glue applicator (or a small, clean eye makeup brush), place two or three dots where you want them and wait a few seconds until they become tacky. Grab a gem with your tweezers and press it onto the glue. Once you're done, finish with hair spray to keep it all together. If you're really bold, you can add a French tip and rhinestone nail combo too.
More ideas plus how to remove bling
An alternate way to add bling is to use one of the kits you can find on Amazon. (They're for kids but we're all using them!) that snaps the bling onto a strand of hair. The adhesive backing is mild enough to be able to comb the gems out later.
Beyond the sparkle of a faceted gem, different-sized pearls (well, false pearls) can look incredible, especially if your hair is a strong contrasting color, like a deep brunette, auburn, or ginger. Why do brides get to have all the fun? Use the same method to glue them on.
If you've used false eyelash glue, you'll need to gently pull off the stones with your fingers or tweezers without yanking to avoid breaking your hair. Once they're out, consider saturating a cotton ball with an oil-based makeup remover, and run it over your hair to remove any leftover glue. Give it a thorough wash to remove all that oil, and you're good to go.