Erin Cahill Previews New Hallmark Flick Hearts In The Game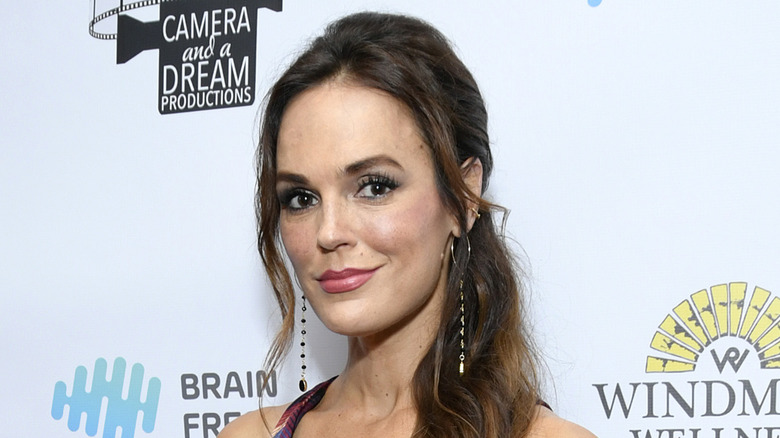 Michael Tullberg/Getty Images
Hallmark star Erin Cahill is back again with another feel-good movie. The prolific actor, who produced and starred in "Every Time a Bell Rings" and "Christmas on the Range," is the leading lady of the Hallmark project "Hearts in the Game." She posted the trailer to her Instagram account, singing the praises of the cast and crew and writing, "I laughed and cried when I read the script and I'm so excited to hear what you guys think." 
From the previews alone, the chemistry between Cahill and her co-star, Marco Grazzini, is obvious. As much as we want to ship them, Grazzini and Alvina August are a real-life Hallmark pair, sharing big baby news right before the "Hearts in the Game" premiere. Grazzini also shared a sneak peek of the movie on Instagram, noting in the caption, "Join us for some laughs, heart, and wonderful performances." Suffice it to say, we're pumped.
Hearts in the Game is a heartwarming sporty romance
"Hearts in the Game" is a movie where baseball meets romance. Erin Cahill stars as Hazel, a publicist who is enlisted by major league pitcher Diego, played by Marco Grazzini, for help getting his mojo back. The catch is that these two are former high school sweethearts. Business becomes personal with them, and anticipation is high on how the game ends.
Although Cahill is no stranger to working behind the scenes, she did not have a hand in writing or producing this particular film. However, the Hallmark star enjoyed bringing Hazel to life nonetheless. In an interview with Media Village, the actor said, "There's something kind of beautiful about [just] coming and telling a story like this one. It's almost like a vacation."
But it was still a job for Cahill as she revealed: "Hazel's so different from me, and I couldn't wait to explore that." The prolific actor added, "I have to say being able to play a power suit-wearing, always-put-together publicist who works from her heart was both a gift and a cool challenge." We can't wait to see Cahill in action — especially in what she says was her favorite scene.
Erin Cahill's favorite part about Hearts in the Game
Being cold but having to refrain from shivering because the cameras are rolling sounds dreadful. But for Erin Cahill, it's what made her favorite scene one she'll never forget. As the Hallmark star told Just Jared, "It was like we were in the arctic tundra. It was unbelievable." She continued, "The memory of me and Marco doing the scene, then running to get warm was just something I'll remember." 
Perhaps, true Hallmark fans will be able to spot the chilling scene, or maybe Cahill's acting is too good to give anything away. Apart from creating memorable moments, she also enjoyed the themes the movie tackled, noting, "The fact that this movie dealt with mental health is just so incredible to me, so important." Marco Grazzini's character deals with panic attacks, which is a hugely relatable issue. 
Cahill admitted that just living life gave her the understanding she needed to portray such a serious topic. "I've had some friends who've dealt with some pretty intense mental health stuff," she revealed, noting, "The preparation was just experiencing that in my life." Sports, mental health, and love — "Hearts in the Game" has it all. And with Cahill as the leading lady, it might just turn out to be one of the most popular Hallmark movies.