Doja Cat's Costume Look Revives Camp At Uninspiring 2023 Met Gala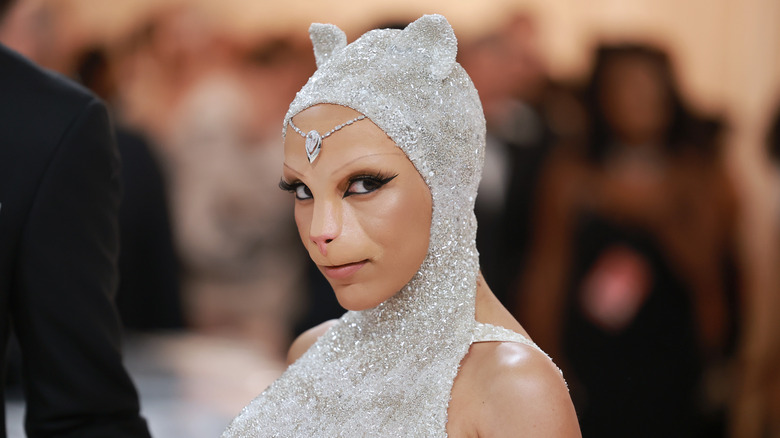 Theo Wargo/Getty Images
In recent years, the Met Gala has become an event where attending celebrities and icons wear tried and true fashion without attempting to set new trends. Gone are the days of gigantic, poufy dresses, risqué cutouts, and showstopping headwear that set a guest apart from the crowd. But Doja Cat is here to bring a revival. Leave it to the queen of camp to bring a little touch of fun to her first-ever Met Gala.
The "Streets" singer arrived on the red carpet dressed from head to toe in luxurious silver tones that dazzled and shone with every movement she made. But it wasn't only her beautiful Oscar de La Renta gown that had the cameras flashing away and the hosts of the night scrambling for an interview. To pay homage to the late Karl Lagerfeld, Doja Cat decided to go in a particularly creative direction: she dressed up as the fashion mogul's beloved cat, Choupette. Yes, she went above and beyond the assignment, and her fans are loving it.
She was a breath of fresh air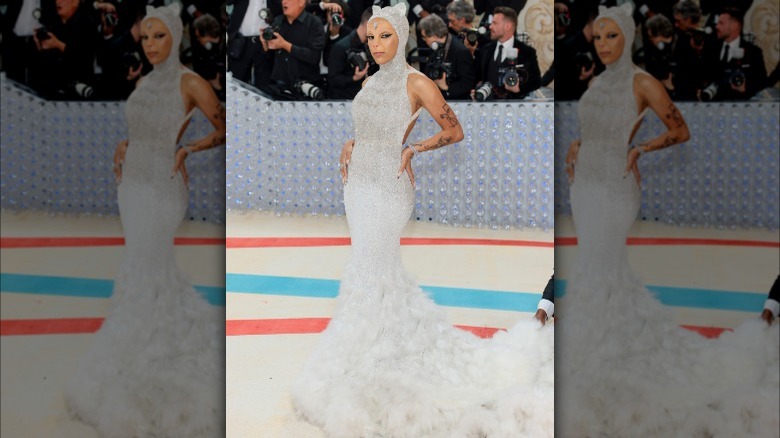 Dimitrios Kambouris/Getty Images
While everyone looked lovely at the 2023 Met Gala, it's safe to say Doja Cat staked her claim as the most iconic outfit of the night and maybe even one of the most outrageous outfits in Met Gala history. With her fluffy, tail-like train and glittering cat ear hood, the singer was definitely all that and a saucer of milk, a breath of fresh air in a room full of classic Hollywood-inspired suits and dresses. Her tribute to Choupette is honestly quite heartwarming, as Karl Lagerfeld was known for being very fond of his cat.
Still, we can't imagine this look was easy to pull off. In a video shared on Twitter, Doja Cat can be seen exiting her vehicle with the help of numerous assistants, each there to ensure the songstress stayed upright in her campy couture. Not only did the "Vegas" singer dedicate herself to dressing the part, but she also wore prosthetics to create a shockingly realistic feline mouth and nose. The idea was all Doja's, her makeup artists told Vogue and the quirky celeb was excited to show off the purr-fect finished look at the ball.
Doja Cat, who also broke the internet with her "30,000 crystals" ensemble, is always full of surprises. We're happy to see her bring her unique sense of humor and style to the 2023 Met Gala.