Hair Serums And Oils Aren't Just For The Day - Here's Why They Are Nighttime Staples
Ground Picture/Shutterstock
We may receive a commission on purchases made from links.
It's natural to have comprehensive haircare routines that last throughout the day. After all, that's when you're the most visible and active. We know how important wash days, hair masking, deep conditioning, and moisturizing all are to cleanse your locks and prevent breakage. But did you know that taking care of your hair during the night is just as crucial? 
Nighttime beauty routines are often overlooked, but if you usually spend six to eight hours asleep in bed, those hours should count toward making your hair as healthy as possible. Waking up with bed hair is a common experience, but that doesn't mean your locks should suffer eternally due to negligence during the night. Some of your bedtime habits can even cause damage. 
As a result, you stand to benefit a lot from using hair oils and serums as part of your regular nighttime routine. If you aren't sure how to do this, don't panic, because we've got your back.
Wearing hair serum overnight gives it more time to work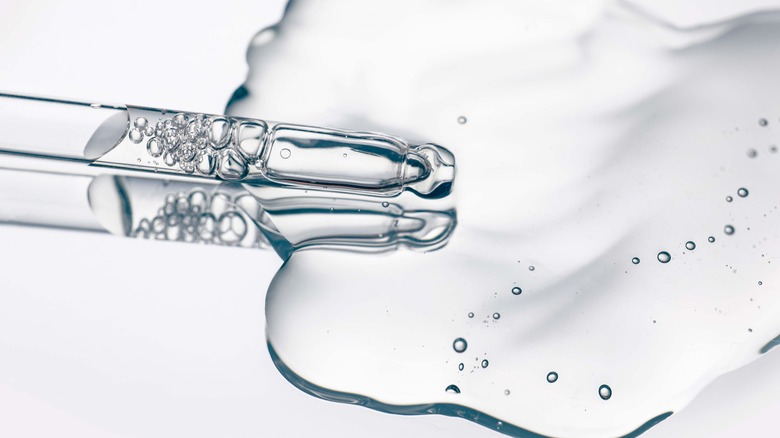 fotaro100/Shutterstock
Hair serum is useful during the day for various reasons. Serums are silicone-based and can help with heat protection, straightening, frizz control, shine, and the overall sleekness of your hair. Hair serum is also a great detangler because it coats each individual strand. Obviously, first and foremost, using hair serums while you sleep will protect your locks from the inevitable acrobatics you perform during the night. 
All the twists and turns might seem harmless, but the constant friction against your hair can cause weakness and breakage, especially if you have cotton bedding. Shu Uemura Art of Hair stylist Erika Dawn Shear informed Hair.com that serums follow the body's natural process of reparation and restoration during slumber. She recommends using an overnight hair serum that targets dryness and restores moisture to your locks.
If you're looking for a great repair serum that I'll moisturize your hair and reduce the tangles by morning, then you should consider the L'Oréal Paris Everpure Simply Clean Midnight Color Care Serum. Simply apply as much as needed before you get into bed and leave to do its thing overnight. There's no need to rinse it out the following day, either. 
What you need to know about oiling your hair before bed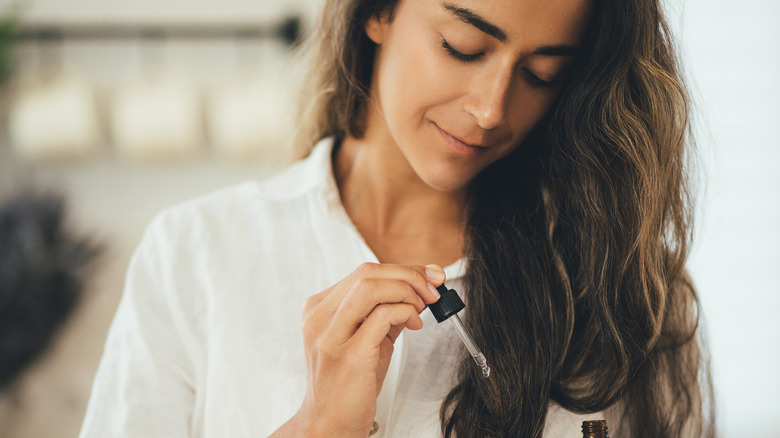 polinaloves/Shutterstock
Overnight hair oil treatments will improve your hair in your sleep, giving it the extra sustenance that it needs. Widely used, less viscous hair oils such as coconut, jojoba, and almond oil are perfect for your nighttime routine. They contain essential nutrients such as fatty acids and vitamins which nourish the follicles as well as moisturize your strands. Conversely, leaving heavy oils like castor in your hair through the night can make your locks tangled and matted in the morning.
It's also in your best interests to choose an overnight oiling routine that suits your hair type. Finer hair tends to be naturally oily because the oils travel down the shaft easier. Kinkier hair tends to be drier. One sign that your hair needs extra oil is if it feels dry and brittle. To oil your hair, divide it into sections first, then apply to each one, gently brush through to spread the oil evenly throughout the strands, and then braid or twist each section up. 
Always use warm oil and massage it in to encourage blood circulation. Afterward, tie a satin scarf around your head or use a satin bonnet to prevent friction. Wash the oil out the next morning with shampoo and conditioner. OLAPLEX No.7 Bonding Oil is a great shout if you're looking for a professionally-formulated product rather than a kitchen favorite.