Rose McIver: From Child Actor To Network TV Star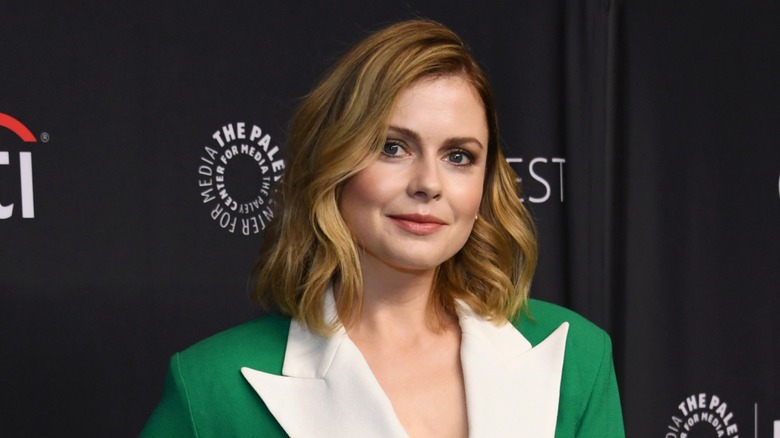 Jon Kopaloff/Getty Images
Right now, Rose McIver is on top of the world. Her CBS sitcom "Ghosts" is one of the biggest comedies on network television, according to a February 2023 press release shared by The Futon Critic. Nielsen Ratings included in the press release reveal that nearly ten million people tune in each week to watch McIver act. "It's surreal," she told Stephen Colbert in an appearance on "The Late Show." "I'm so grateful to have a job, and then to have such a good job is amazing!"
It may seem like McIver has burst onto the scene a fully-formed star, but at this point in her career, she has been acting for multiple decades. Her impressive resume has taken her from the beaches of New Zealand to the heights of Hollywood, from small parts in local Kiwi television productions to some of the biggest movies of the streaming era. In other words, she's an incredibly versatile star. "The reason I feel like I act is because you get to live a million different lives in one," she told Collider. "I don't have to go about my life, just being easy-going New Zealander Rose. ... I'm able to step into these other parts of myself. I feel like, as long as I keep doing that in my career, and I keep tapping into different parts of the human condition, that's all I ask for." Read on to learn how Rose McIver went from child actor to network television star.
Her childhood was full of animals
Rose McIver was born in 1988 in New Zealand. The daughter of a photographer and a ceramicist, she grew up surrounded by creativity. Perhaps unsurprisingly, there was not much pushback when she decided to give acting a whirl at an early age. "I can't think of a more supportive, tolerant, immensely loving and patient group of people to call whanau," she told Narrative Muse. "I think it may have been more challenging and unfamiliar for them if I had left school and said 'I want to be a lawyer' than it has been to pursue a career in the arts."
While she was a kid, she was surrounded by animals. "Mum and Dad live on a cliff by the beach and they've got chickens, which is just the most ludicrous existence," she shared with Saoirse Ronan for Interview magazine. In an appearance on "The Late Show with Stephen Colbert," McIver recalled that her parents were always rescuing animals, and she even kept a magpie as a pet for a while. "They're really smart!" she insisted.
As she said in The Bare Magazine, she had an "idyllic" childhood. "I grew up in a small community by the beach," she said. "But once you hit 18, you don't necessarily want an idyllic small community anymore. You want to see cities, and I was very ready to go and explore."
She was a child actor
Initially, it was Rose McIver's brother who got the family into acting when he was scouted for a commercial. "It was just because he could speak clearly and was well behaved, basically," she said in Interview magazine. Soon, McIver joined in. "I never got into this because I was talented," she insisted. Rather, the television show "Hercules" was filming and needed child actors, and McIver found that her American accent was passable, even at age 5. "I definitely wasn't a good actor," she insisted.
Still, she had a number of roles as a child, including in Jane Campion's "The Piano." When she starred in "Topless Women Talk About Their Lives" at age 8, the director asked her for input on her character's name. "He made me feel like part of the creative process, which made me invested and attentive," she told Stuff. "I felt empowered." She was in an episode of "Xena: Warrior Princess," playing a girl whose body is taken over by Xena's soul. "I remember Lucy [Lawless] generously recorded all of these cassettes that I still have of her doing the war cry or her talking about choices that she's made as the character, and just was really generous," McIver reminisced to Collider.
Though McIver worked consistently throughout her childhood, she didn't mind. "I wasn't feeling a vast amount of pressure from parents or agents or friends," she told Backstage. "I was very much still allowed to have my school life."
She had a number of odd jobs
Rose McIver worked consistently throughout her childhood and teen years. She starred in Disney Channel Original Movies like "Eddie's Million Dollar Cook-Off" and "Johnny Kapahala: Back on Board," appeared on shows like "Maddigan's Quest," and even had a leading role as the Yellow Ranger on "Power Rangers R.P.M." Still, however, McIver wasn't sure she wanted to pursue acting for the rest of her life. She considered being a rapper, and she even studied psychology in school.
While still trying to figure out what she wanted to do with her life, McIver had a number of odd jobs. On a 2022 episode of "The Kelly Clarkson Show," McIver recalled one particular gig that few people can lay claim to. "I think I was the first official banana deliveryperson in Wellington. I used to ride around on a scooter, and I had a stack of banana boxes on the back of my scooter." Noting that Wellington is "a very windy city," McIver recalled switching up her mode of transportation. "I moved to a hearse, and I was delivering bananas out of a hearse for a little while."
Ultimately, neither rapping, nor psychology, nor banana-delivering were her calling. Instead, as she told Stuff, her acting career "just kept happening." Soon, Hollywood would come calling.
Rose McIver's life after The Lovely Bones
In 2009, Rose McIver got her biggest break yet when she played Lindsay Salmon in Peter Jackson's film "The Lovely Bones." The movie is about a young girl, played by Saoirse Ronan, who is murdered; McIver played the victim's older sister. She remained close friends with Ronan in the years that followed, even though McIver is several years older than her co-star. When the movie was released, The New York Times followed the girls on a trip to the Griffith Observatory. McIver told the reporter, "We look quite similar, and eventually we're going to remake 'The Parent Trap' and swap lives." Years later, Ronan interviewed McIver for Interview magazine, revealing that they talk once a week and that Ronan planned to come to Los Angeles to stay with her friend.
After she filmed the part, McIver found herself stuck in a weird limbo where the film hadn't come out yet and she was still a normal person. She later told Collider, "It just all felt so strange and kind of whimsical and I didn't really buy that it was gonna go anywhere. I don't know! I didn't want to count my chickens before they hatched." She even went back to working retail while she waited for the film to be released. Thankfully, everything was about to change. She added, "Then the film came out and then I sort of started getting a few more opportunities." She moved to LA, and the rest is history.
She found work on television
While a starring role in a movie is what initially brought her to Hollywood, Rose McIver soon found that she was able to find more consistent work on television. By 2014, she was starring on both "Once Upon a Time" and "Masters of Sex." On the former — a show that brought together numerous Disney characters from across franchises — she played Tinker Bell. She told Daily Actor that she enjoyed the character's big emotional swings, noting that in the source material, the tiny fairy only has space for one emotion. "I sort of like the idea of playing with big mood switches within a scene because she's only able to embody a certain thing at once," she said. Aside from offering an interesting acting challenge, her time on "Once Upon a Time" had an additional benefit for McIver: it plugged her into a dedicated fandom. "The fanbase for that show is unreal. It is so supportive," she gushed to Collider.
"Masters of Sex," on the other hand, offered McIver the opportunity to play with far more risqué material than her other main show. Speaking about the period show's focus on sex, she told Collider, "It's interesting to put it in a '50s context, where everybody has these societal expectations that are really obvious... Looking around today, while people are more politically correct about it, there's still the pressure and there are still the same questions."
iZombie was her breakout role
After several years of participating in pilot season, Rose McIver got her biggest break yet. For five seasons and 71 episodes of hit CW show "iZombie," the Kiwi star played the fittingly-named Liv Moore, a medical resident who is bitten by a zombie. She discovers that she can consume the brains of her recently-dead patients, thereby absorbing their personalities and memories; this allows her to solve the circumstances around mysterious deaths.
The show's setup meant that McIver played variations on her character each week, a unique acting challenge. "I think part of the challenge is maintaining Liv each week, and her integrity. So I try to find different ways to incorporate the characteristics of each person whose brain is eaten by Liv, but still have the audience invested in Liv as a character," she told Under the Radar.
As a member of the undead, Liv Moore is significantly more pale (and more blonde) than the actor who plays her. McIver told Showbiz Junkies that she's gotten some interesting feedback to the character's unique look. "I'm alarmed," she joked. "At the start I was like, 'This is cool. I get to play like a gritty character. It's not glamorous.' So many people have come back to me on Twitter like, 'You look way better as a zombie.' Like, wow, that's a real life-questioner."
She still feels connected to New Zealand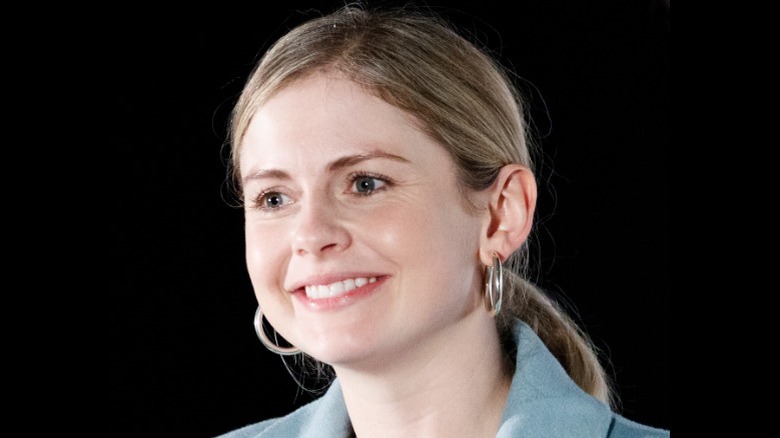 Andrew Chin/Getty Images
In 2011, Rose McIver moved halfway around the world, from New Zealand to Los Angeles. At first, she made a conscious decision not to only hang out with other Kiwi transplants. However, she had an emotional experience at an industry networking event for other New Zealand natives. While speaking with Saoirse Ronan for Interview magazine, McIver recalled being surprised to see that the event included a traditional New Zealand ceremony. "I do think of myself very strongly as a New Zealander," she said. "... they had a thing called a pōwhiri, which is a native New Zealand Maori welcoming ceremony—the haka is performed. ... When I saw pōwhiri, over here, it was so significant and emotional and made me very proud of where I come from."
McIver visits her ancestral home regularly and still keeps on top of current events. During the COVID-19 pandemic, New Zealand closed its borders, meaning McIver was unable to return home. She told Stuff, "It was scary thinking I wouldn't be allowed into my own country, and there were moments that were overwhelming, but luckily FaceTime exists."
On Instagram, McIver paid homage to New Zealand's original inhabitants. Sharing a quote from an artist named Jessica Grace Smith, McIver captioned a snap of the Māori flag, "Sovereignty was never ceded. I profit from the atrocities of my ancestors daily. I am trying to live in a way that upholds Te Tiriti O Waitangi, we can do better."
She was a vegetarian for a long time
On "iZombie," Rose McIver's character Liv happily chows down on the brains of her recently-deceased morgue customers. Liv blends brains into smoothies, eats them with chopsticks, and occasionally, just takes a chomp. In real life, McIver wasn't a fan of the taste of the fake brains. "They're like coconut agar," she explained in an interview with Showbiz Junkies. "It's pretty disgusting. It isn't real brains but it's not something I would ever choose to eat." Occasionally, however, the prop department crafted a brain-based delicacy for the actor. "During my last episode, the crew made a concoction of bread crumbs and mushrooms—with bits of fake brain in the mix, of course," she revealed to Under the Radar. "It was actually pretty delicious. After we finished the shoot I kept eating it, which everyone found to be pretty hilarious."
Unlike her carnivorous character, McIver herself is more judicious about her diet. "I was a vegetarian for a long time and I have the palate of a child," she told Showbiz Junkies. Switching from a vegetarian diet back to meat-eating proved to be challenging for the Kiwi star. She joked to Dujour that she got some bad advice from a friend. "They gave me oysters for my first venture back into the carnivore's world," she recalled. "That was too much. I went back to being a vegetarian for another month."
She loved being in the A Christmas Prince series
In addition to "iZombie" and "Ghosts," one of Rose McIver's most widely-seen roles is Amber, the leading lady in Netflix's "A Christmas Prince" trilogy. In the first film, her character is a journalist who goes undercover in the fictional country of Aldovia. She winds up falling in love with the prince, and the sequels cover a wedding and a baby, respectively. McIver is aware of what silly escapism the series is, but she told Vulture that's why she signed on. Describing her initial impressions of the script, she recalled, "It was pretty silly, pretty soapy, and pretty melodramatic. Heartwarming in the end. All of the things you'd expect from a Christmas film. If I thought the first one was ludicrous, I was in for a journey with the second and third ones."
McIver was surprised by the film's reception, but she reasoned that it made sense that people responded to something that just wants to be fun. "People want to see things that make them feel good right now," she said. "We're always challenged by a lot of upsetting news, but we can't let that shape our outlook on our entire lives."
There have only been three films in the series thus far, but McIver told Variety that she's ready and willing to do a fourth. "I'm always down to keep that story going," she insisted. "I think it's one of the funniest franchises I could ever be part of."
Rose McIver's great at accents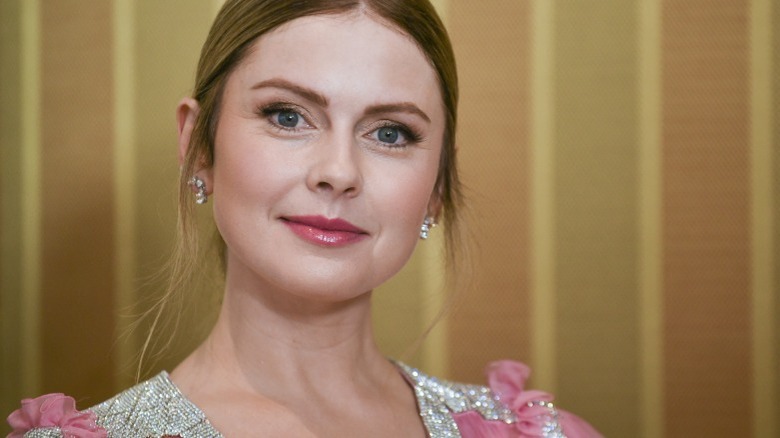 Rodin Eckenroth/Getty Images
Audiences familiar with Rose McIver's work on "iZombie" and "Ghosts" may not even know that the actor is from New Zealand. Her American accent is impeccable, and she has talked at length over the years about what it takes to develop her talent. She told Saoirse Ronan in Interview magazine that growing up on set around American actors definitely helped. In fact, according to an interview with NZEdge.com, her accent work might just be the reason she's been able to break into Hollywood. "Mastering an American accent was key. If you can do that, it's fair game," she said. "You've done the training and done the hard work and you have what it takes."
In the aforementioned chat with Backstage, she recalled, "I developed a very specific ear to what sounded natural. There's a definite intonation change between accents, but you don't want that to be too exaggerated and to take away from the natural tone of your own voice." In addition to working with dialect coaches, McIver said she sometimes turns to free resources like YouTube in order to study up on what different accents sound like. "Don't break your neck to spend your money," she advised.
McIver doesn't mind switching up her accent, it seems, because she thinks her native Kiwi accent is "ugly." While appearing on "Conan," McIver joked, "It's pretty ugly... I love our country, but I don't like our accent."
iZombie prepared her for Ghosts
When "iZombie" ended, Rose McIver quickly found her next project. She signed on to hit CBS sitcom "Ghosts," a remake of the British show of the same name. McIver stars as Sam, a woman who gains the ability to see the spirits that haunt the upstate New York bed and breakfast she opens with her husband Jay (Utkarsh Ambudkar). Sam is the only one who can interact with the ghosts, which means that many scenes are shot twice — once with just the living characters, and again so that the audience can see all the ghosts that Sam sees.
McIver told Collider that a lot of the lessons she learned on "iZombie" made her a "technical actor" in ways that have helped her on "Ghosts." She explained, "There are very technical components when you're acting to people who visually might appear or not appear to be there. We had divisions and all the ins and outs with 'iZombie.' It actually really did help me, technically, in preparing for this, which is pretty complicated on set."
She elaborated on those technical challenges in an interview with Variety. "We do have a lot of fun on set," she said, "but it's definitely some of the most focus that I've had on a project — trying to remember physically where people are located, whose voice was coming from where, the energies that they were each giving in each take." Thankfully, it works; the show has received rave reviews.
She is open about having OCD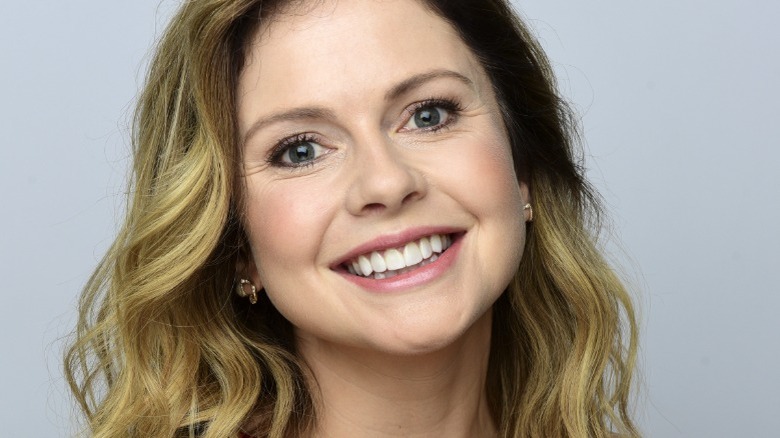 Vivien Killilea/Getty Images
In recent years, Rose McIver has been open about her own obsessive compulsive disorder diagnosis. "Being diagnosed helped me start a longer journey of understanding how my mind works," she told Stuff. In particular, she has found therapy beneficial. "Having set times to talk to somebody about it means it takes over less of the rest of my life and I'm able to function better, but it's an ongoing journey," she reflected. In some ways, McIver finds that having OCD actually makes her life easier; as an actor, she is often faced with an unclear future. "Luckily, and weirdly, I'm comfortable with work uncertainty and not knowing where my next job's coming from because I've had to embrace that throughout my life," she said.
During the COVID-19 pandemic, McIver discovered that her past experiences with OCD worked in her favor. "I actually felt fortunate I have OCD," she realized. "Everybody else was going, 'Oh my god, we can't control this.'" That was a familiar feeling to McIver. "I want to fix things and can't always do that, but I've done enough therapy that I was prepared to cope with the anxiety," she said.
She doesn't do her own stunts
One of Rose McIver's earliest roles was as the Yellow Ranger on "Power Rangers RPM." She told Collider that she appreciated the show's practical effects, meaning real people were doing real stunts in real costumes. She, however, was not actually fighting monsters. "Every time I put on my Power Rangers helmet, a really wonderful Japanese guy would perform all my stunts," she said. "He had brace pads and hip pads and things, and he would do everything impressive, and then I'd pull the helmet off and it's me ... It was really picking up the tail ends and pieces of everybody else's really hard work."
That same ethos has carried over to "Ghosts," even though it's a relatively low-key show whose comedy comes mostly from its joke-a-second dialogue. In other words, McIver's role is not a particularly action-packed one. In the first episode of the show, however, McIver's character gains her supernatural ability after a near-death experience caused by a fall down the stairs. McIver didn't do the stunt herself, but she told Collider that she nearly injured herself anyway. To film the final shot of the stunt, McIver had to drop her head down two inches onto a mat. "Somehow, I managed to smack my head really hard when I did that," she recalled. "I was like, 'Thank goodness, they did not entrust me with the full roll.' Two inches and I was already embarrassing myself."
She married photographer George Byrne in 2023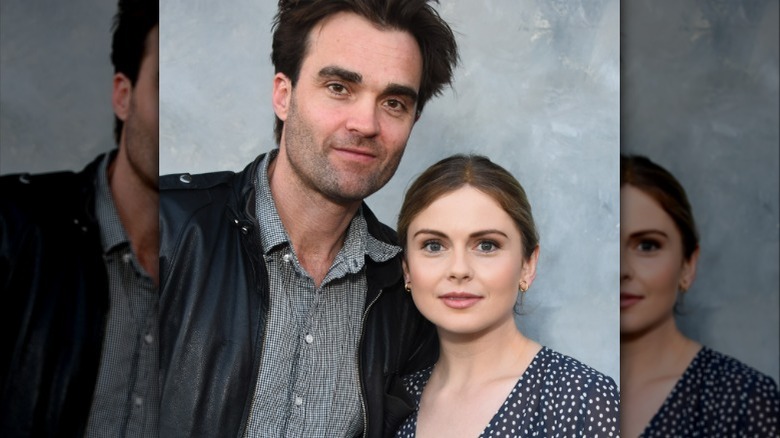 Araya Doheny/Getty Images
For the last several years, Rose McIver has been in a long-term relationship with Australian photographer George Byrne. She often supports his artistic pursuits on Instagram, having shouted out a successful show in 2021. "I couldn't be prouder of the incredible outcome of his book release and show," she wrote. "If you were lucky enough to see it, you understand. I get to see first hand the phenomenal amount of dedication and hard work that goes into everything he does. Congratulations to you my love." Back in 2020, she posted a photo of the couple wearing masks, and she wrote, "2020 has only made it even more apparent how wonderful (read: patient) you are. I especially love how you designed our outdoor fireplace out of la croix boxes. Innovation is key."
In 2023, the lovebirds took their relationship to the next level. Fans on Reddit screencapped an Instagram story announcement of their wedding, depicting Rose McIver and George Byrne getting hitched. "Very lucky me," the groom wrote. Reposting his photo, McIver added, "Actually I'm the lucky one."
There are no signs that McIver plans to change her name now that she's married. After all, that would make her "Rose Byrne," and there's already someone famous by that name. In fact, "Bridesmaids" star Rose Byrne is none other than George Byrne's sister, making her Rose McIver's new sister-in-law.